Few ordinary South Africans were aware that this "process" had begun in high secrecy more than two years before Mandela's release, when the ANC in exile had, in effect, done a deal with members of the Afrikaner elite at a stately home, Mells Park House, Frome, Somerset . The prime movers were the corporations that had underpinned apartheid.   
Dis hier waar die vergaderings in Engeland plaasgevind het, alles agteraf en ook in geheim.  Later het daar ook in ander lande plaasgevind, veral in Afrika.   Hul betrokkenheid by Kodesa is die oorsaak waar ons vandag is.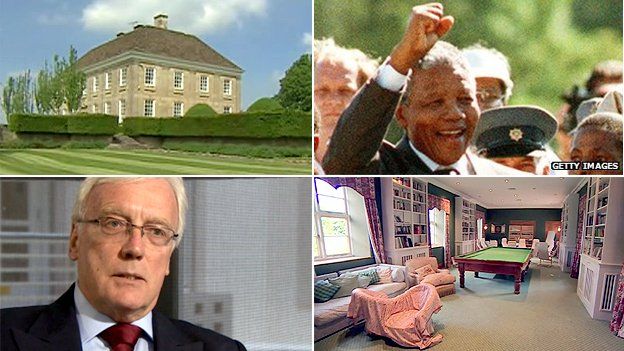 *
Around the same time, Mandela was conducting his own secret negotiations. In 1982, he had been moved from Robben Island to Pollsmoor Prison, where he could receive and entertain people. The apartheid regime's aim was to split the resistance between the "moderates" that it could "do business with" (Mandela, Thabo Mbeki, Oliver Tambo) and those in the front-line townships who were leading the United Democratic Front.
On 5 July 1989, Mandela was spirited out of prison to meet P W Botha, the white-minority president known as Die Groot Krokodil ("the big crocodile"). Mandela was delighted that Botha poured the tea.
With democratic elections in 1994, racial apartheid ended and economic apartheid had a new face. The Botha regime had offered black businessmen generous loans, allowing them to set up companies outside the Bantustans. A new black bourgeoisie emerged quickly, along with a rampant cronyism. ANC chieftains moved into mansions in "golf and country estates". As the disparities between white and black narrowed, they widened between black and black.
The liberation government, Mandela had promised, would take over the apartheid economy, including the banks – and "a change or modification of our views in this regard is inconceivable".

But once in power, the party's official policy to end the impoverishment of most South Africans, the Reconstruction and Development Programme, was abandoned, and one of his ministers boasted that the ANC's politics were Thatcherite.

https://www.newstatesman.com/2013/07/nelson-mandelas-greatness-may-be-assured-not-his-legacy

*
*
*

RELATED


Mells Park house:
At the time the estate was owned by mining company Consolidated Gold Fields (CGF), which had major assets in South Africa. In a bid to protect those assets, employee Michael Young put himself in great danger by becoming the instigator of the talks. Mells Park House is currently owned by the Earl and Countess of Oxford and Asquith. Its secret guests have since been the subject of a book by Robert Harvey – The Fall of Apartheid: The Inside Story from Smuts to Mbeki – and a film by Daybreak Pictures called Endgame.
https://www.bbc.com/news/uk-england-somerset-22990166

&

Gold and Diamonds – South Africa

ANC, MK, Zuma and their struggle
Mandela : revolution

Mandela – terreur- terrorism

Mandela, Mbeki and the Guptas

Mandela and Soros

Black Pimpernel

FW de Klerk en Nelson Mandela (Nobel)

"Mandela rules" (United nations)

Goldman Sachs – Mandela

FW de Klerk under EFF rules of order debates 2020 – Zindzi Mandela

1995 – Mandela en Pienaar
Sweden – Riksdag – Mandela

Mandela – Culture Watch

Mandela and the Elders 2007

Mandela and George Bizos
Mandela's military training

Mandela and his guests

Mandela-Winni-Connection

Joe Biden and "his Mandela factor"

Kill the boer song

In the name of "democracy"
How else, then, has Soros been here since the 1980s, with the previous regime's permission – or what do you all call Helen Zille and Ramaphela as workers or trustees in the OSF.SA ?
Afrikanerbond – Afrikaner-Broederbond in SA


Romanian communism – Nicolae Ceausescu
Amerika – Dakar – London – Switzerland
Vanaf 1980 tot ongeveer 1994, het die liberaal verligte blankes, broederbond en kommuniste verskeie spreekbeurte gehad in verskeie dorpies buite ons landsgrense en wat later in Suid-Afrika onder Kodesa voortgesit is vir die "daarstel van 'n grondwet".  Daar was Dakar, Zambië, Mellspark huis in London, Amerika, Switzerland, Swede en heelwat ander lande.  Daar was bykans geen landsregering wat nie hier aanboord was nie.
Negotiations started by the Broederbond (Afrikanerbond), most meetings were secret and took place outside South Africa.
Codesa Constitution – Kodesa Grondwet
Afriforum en liberale grondwet
Kodesa – liberale en kommunistiese grondwet skrywers
Swart bemagtiging – Regstellende Aksie – Dokumente B-BBEE – AA – documents
LIBERAAL VERLIGTE BLANKES – KLASSIEKE LIBERALES – "die twee stoele" waarop gesit en afgewissel word. Let op na Cato Instituut aan wie dit behoort en wie bevorder die saak van George Soros. Saam FW de Klerk en sy stigting.
Cato Institute and Koch Brothers (Muckety)
Kogh Brothers – George Soros – Cato Institute and others
Rina en haar erkenning in haar boek, dit was op die NP agenda – Regstellende aksie wat skeefgeloop het – hoe het sy gehoop – dit verloop 100% uitwissing?
Sien al haar video materiaal hieroor.
Rina Venter – Legkaarte – die leuens
&

Corruption under ANC sky high – Korrupsie hemelhoog onder ANC
"Kleptokrasie" – "Ongeloofwaardig"

Ramaphosa and Zuma's missions

Ramaphosa and the R20 billion
Ramaphosa faktor

"Development of One Plans" – Ramaphosa

Fifteen key points on the ANC manifesto

Ramaphosa – Captured in advance! – Chief Justice Mogoeng Mogoeng

'Apartheid' sanksies / sanctions (1987)