What needs to happen is that the ANC, the ruling party and the others, like EFF have to take responsibility for the violence and the destroyed businesses, burnt shopping centres and houses.  Members of parliament and those leaders behind this arsons and violence must take responsibility for the terrorist actions.   The ANC must take the necessary actions against their own members – also other political parties.   What has been lost by all businesses country wide?
*
Who gave those gangsters the right to do that and declared war against the public?   Agree with the leader of the DA and thank you for that.  But what about the fear on public and especially on old people, pensioners and children?  Who will pay for medical attentions?
Dit help nie Ramaphosa erken al die chaos dat hulle die "bal" verloor het nie, hulle moet verantwoordelikheid neem vir al hierdie uitgawes en opbou/herstel werk.  Dis nie deur die publiek veroorsaak nie.   ANC regeer die land .
Dit is tyd dat Boere hul eie Boere republieke terugkry soos dit hoort al vanaf 1900.  Ons het nie die vandalisme en rassisme teenoor ons nodig nie.  Ons het 'n reg om onsself te regeer in ons eie onafhanklike gebiede.
*
The Democratic Alliance has acknowledged President Cyril Ramaphosa's address on the crisis in KwaZulu-Natal and Gauteng. But DA leader, John Steenhuisen, insists that Ramaphosa must clean up his cabinet. Faith Mangope speaks to him for more informaition.
*
Ramaphose must take action against those terrorists.
Ramaphosa has acknowledged that his government failed to foresee and prepare for a possible attack on our democracy. He should have gone further and announced his decision to immediately fire police minister Bheki Cele and intelligence chief Ayanda Dlodlo.    The president called for the country to unite to clean up the mess. The first step to cleaning up the mess must surely be to fire these two cabinet ministers who have so utterly failed in their duty to protect South African lives, property and livelihoods.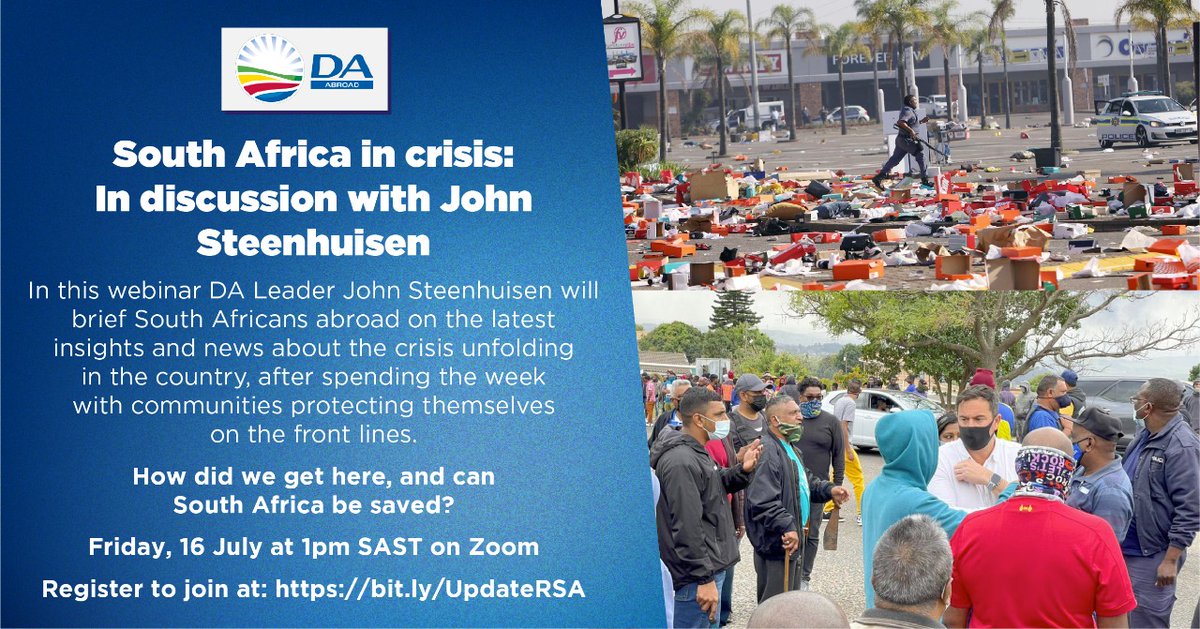 https://twitter.com/jsteenhuisen/status/1416118141491494919
*
MORE FROM DURBAN
ARSON attack in Durban
A fire has engulfed a building on Grey Street in Durban. Officials say they can't confirm yet if the blaze is part of the recent unrest
*
The army chief has warned those trying to destabilise the country that with troops now on the ground – they have met their match. General Rudzani Maphwanya was in Alexandra and he did not mince his words. Slindelo Masikane has this eNCA exclusive.
*
Mooiriver plaza
The country's strategic corridor has reopened. The N3 highway is finally safe for transportation of good and services. This after unrest in the past week that saw trucks torched and the highway shut down. eNCA's Slindelo Masikane reports
*
Looting do have an impact on Children and old people – some must walk now 15-50 km to get food or water.
According to UNICEF, the last week of unrest across South Africa resulted in the reported deaths of at least three children – a 15-year-old boy, a 14-year-old boy and a 14-year-old girl. The organisation says it is devastated for the individuals, families and communities affected. UNICEF says it has also seen widely shared and shocking images of a two-year-old girl thrown from a building to be saved from a fire in Durban, with other social media content showing the participation of children in looting. We are now joined by UNICEF South Africa Chief of Child Protection and Social Policy, Mayke Huijbregts to talk to us about the impact of this unrest on Children.