The British Empire is called the British Commonwealth.   They started the separate areas with the different blacks and khoisan / griqwa peoples, not us or Dr Verwoerd.  It was started after the Mfecane wars.    Rhodes believed in British Rule and the superiority of Englishman.   He was sure, that it is his God given task to expand the Empire for its glory and the good of all peoples ruled by it. 

Being considered as an architect of apartheid.    Also read the Shepstone Policy of 1854.

Rhodes
*

In his pursuit of this scheme, he was both incredibly successful and ruthless, which brought great deal of controversy at the height of his influence back in in Britain.    He is the ultimate representation of colonialism and played a dominant role in law restriction and marginalisation of indigenous Africans in the Cape Colony.   

*
Baie "beskerm" die Britse ryk vandag met aparte gebiede omdat hulself agter die deur staan en ander onskuldiges daar soek.   Ons blankes of Dr Verwoerd, word beskuldig dat ons alle grond gevat het, en Apartheid begin het. 
Die Britte het nie net die twee onafhanklike Boere republieke geannekseer nie, maar hul het alle mynregte in die hele Suid-Afrika in 1902 geannekseer en vanuit London beheer – dit volg net na die twee Anglo Boere oorloë (ABO).   Dis die Britse regering wat hier kom oorlog maak het, nie andersom nie.  Daar was ook liberale Blanke groepe in veral die Kaapkolonie, wat Rhodes en die Britse ryk gesteun het in hul dade.
Terloops na 1994 het nie een Swarte of Khoisan volke hul grond prysgegee nie.  Die Zoeloes het in 1994 hul ou Tuisland Zoeloeland, oorgedra na hulself onder Ingonyama Trust en wetgewing.  So het daar ander Trustgebiede ontstaan sowel as Kroongebiede, wat bykans almal reeds na 1994 aan hul oorhandig is.   Dus is nie een grondloos nie.  Kroongebiede was oor die algemeen Khoisan en Griekwa grondgebiede wat ook CPA's geword het.  Reservate en Tuislande, het later die Trust of CPAs gevorm.  Tans is daar oor die 8840 tradisionele Khoisan en Swart leiers as bewys daarvoor.
Aparte gebiede bestaan steeds, dit word net iets anders genoem.
>
KIMBERLEY
Colonel Kekewich and Lieutenant Colonel Scott-Turner: Siege of Kimberley, 14th October 1899 to 15th February 1900 during the Great Boer War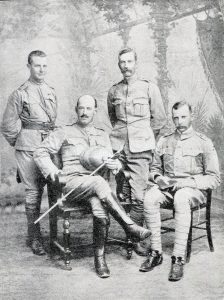 *
Where Did All The Boer Gold Go? For an Entire CENTURY South Africa Was The World's Largest Gold Producer, by far, and also a Top 5 Diamond producer!     THIS Video Will Make ALL Boers and South Africans "The Moer In!" – Boer Gold in SA has been plundered for an entire century, AND STILL IS… 
How much gold was discovered in Zuid Afrika and where has it all gone?   
BOER GOLD: After the Boers discovered massive Gold and Diamond deposits in their two internationally recognised independent Boer Republics in the late 1800's, the British made two attempts to annex these Boer Republics. The Brits lost the first Anglo Boer War to only a handful of Boers, great embarrassment, but finally imported 200,000 troops (total of 450 000 troops) and resorted to a Scorched Earth strategy to brutally conquer the Boer nation in 1902, killing 34,000 women & children in their newly invented concentration camps, forcing the Boer men to surrender.
The "bounty" was more than half the world's Gold reserves and an estimated quarter of the world's Diamond reserves… 
…but that was only the beginning of the century long story…
The genocidal 'scorched earth policy' was initially introduced by Lord Roberts and later expanded by Horatio Kitchener during the Second Boer War to starve out the Boer guerrilla fighters.   In complying with this policy almost all the Boer homesteads were burned to the ground, livestock killed, crops burned and the women and children were sent to concentration camps. In the camps there were inadequate food and medical services and during 1901 about 25,000 children and 3,000 women died in these camps.  
In total, more than 35,000 Boer women and children died. After the war there was an estimated tens of thousands of orphans.   This is where the word "concentration camp" was first used – in British camps that systematically imprisoned more than 115,000 people. In fact, more men, women, and children died of starvation and disease in these camps than did men actually fighting in the Second Boer War of 1899 to 1902, a territorial struggle in South Africa.   By the end of the Boer War, an estimated 46,370 civilians were dead – most of them children. It was the first time in the 20th century that a whole nation was systematically rounded up, imprisoned, and exterminated.   
It was a horror that the world had never seen anywhere outside of the Bible. As one woman put it,  "Since Old Testament days was ever a whole nation carried captive?"
After the British scorched earth strategy had forced the Boers to finally surrender, a treaty was signed in 1902 called the Sand River Convention.   
Clause 7 of the treaty stated that the Boers would govern themselves once again when they had recovered from the war. To this day they are still waiting for self governance! After the war however, the British flooded the Boer ZAR with Afrikaners & Africans from the Cape & Natal, & incorporated it into the Union of South Africa without a referendum! 
To this very day, Boers are fighting, being killed, incarcerated & demonised as "racists" in their struggle for the restitution of their two Boer Republics!  So, when the British backed ANC said they wanted to "make South Africa ungovernable" in the violent ANC led coup d'etat of of multiple nations in 1994, was this done to preclude "self governance" being returned to the Boers? 
When the British took Transvaal & Freestate from the Boers, there were only a million Africans living there…  The British imported millions to work on their newly won mines, and now over 30 million live there, many on grants, dependent on the wealth being created mostly by whites…
Is it any wonder UK "virtuously" dishes out a few million everytime a despotic Black South African leader comes begging?  But the story does not end there… Someone is stealing the gold being exported now, or at least the payments for the gold…  
Between 2000 and 2014, under-invoicing of gold exports from South Africa amounted to $78.2 billion, or 67% of total gold exports!   Trade with leading partners were missing the highest amounts: India ($40 billion), Germany ($18.4 billion), Italy ($15.5 billion), and the UK ($13.7 billion).
>>>
N M ROTHSCHILD & SONS
Rhodes has left to the diamond fields of Kimberley, where he met John X Merriman and Charles D. Rudd, the latter became his partner in establishing the world's largest producer and distributor of diamonds.
Over the years of investments, he managed to buy all the smaller diamond mining operations in this area being mainly financed by N M Rothschild & Sons.   In 1783 he returned to England to study at Oriel College Oxford, he managed only for one term and came back to South Africa. In 1876 he has returned for his second term, but continued to prosper in Kimberley. It came to his realisation that due to the changing laws in the area, only the larger companies will be able to operate in the mines.
Together with Charles Rudd, they decided to consolidate a number of mines and bought the costly claim, the Vooruitzicht Farm, that was known as old De Beers. Named after two brothers who previously owned it. 
Rhodes made an offer that his competitor Barney Barnato couldn't resist, and eventually they launched together The Beers Consolidated Mines mining company in April 1888. the Company owned the largest interest in mines in South Africa, with its 200 000 pounds' capital. In 1890 The London-based Diamond Syndicate entered the partnership which became strategic in acquiring the monopoly on the most of the world's diamond supply, that led to maintaining high prices by total control of the world supply.
In 1902 and 1908 the control of the market got weakened due to the discovery of other diamond mines along the coast of South West Africa in Namibia and Pretoria. The new competitor aggressively grew in power and gained control of the South West Africa mines. Ernest Oppenheimer's Anglo-American Corporation created a new diamond syndicate in 1925.
He became a chairman of De Beers's 1929 and strengthened the diamond marketing monopoly.
Rhodes health worsened after the siege of Kimberly town where he was organising the defence during the Anglo-Boer war in 1899. He died in Muizenberg on 26 March 1902 at the age of 48.
He left £6 million (approx USD 960 million in 2015). Many institutions benefited. Part of the funds was used for establishing the world's first international study programme, Rhodes Scholarship for creating an opportunity for students from British colonies, Germany and United States at the Oxford University.
https://steemit.com/travel/@highonthehog/the-king-of-diamonds-rhodes-an-englishman-in-south-africa
Wat maak Engeland met al die GOUDstawe?
>


*




Op verskillende stadiums voor die ABO het die Britse regering alle gebiede, soos die van die Zoeloes, Xhosa, Khoi San, Griekwas en ander volke wat hier was na 1800 geannekseer, met ander woorde gesteel. Hulle het fisies ook met die Zoeloe volk verskillende veldslae deurgemaak en hulle in suidelike Afrika kom aanval om nog kolonies by te voeg. Vir jare word die indruk gewek dit was die Boere.

*

Wie het dan soveel beswaar gemaak teen die Tuislandbeleid, as die hele Afrika oortrek was met Tuislande in 1900? En wie het Dr Verwoerd vermoor in die parlement vir sy "Tuisland beleid". Afsonderlike ontwikkelings of Tuislande was met toestemming van die burgers in daardie gebiede gedoen met amptelike verkiesings na 1961.


*

There was not such a country like South Africa in 1870, only "British colonies" – Brittanica explained it as a "country".

South Africa experienced a transformation between 1870, when the diamond rush to Kimberley began, and 1902, when the South African War ended. Midway between these dates, in 1886, the world's largest goldfields were discovered on the Witwatersrand. As the predominantly agrarian societies of European South Africa began to urbanize and industrialize, the region evolved into a major supplier of precious minerals to the world economy; gold especially was urgently needed to back national currencies and ensure the continued flow of expanding international trade. British colonies, Boer republics, and African kingdoms all came under British control. These dramatic changes were propelled by two linked forces: the development of a capitalist mining industry and a sequence of imperialist interventions by Britain.
https://www.britannica.com/place/South-Africa/Diamonds-gold-and-imperialist-intervention-1870-1902



*

GEEN burger van die Boere republieke het Swartes of Khoi san of ander se grond ingepalm nie. Dit was onmoontlik, want die Britte het dit reeds gedoen en Swartes en Khoi San se gebiede is of Britse Kroongebiede of Reservate gedoop sedert 1854.


Die Twee Boere republieke was twee onafhanklike lande, soos wat Botswana is. Boere is en was onnodig en onmenslik aangeval deur die Britse regering en maak of dit ons skuld is. Hulle stel aparte wetgewings in onder koloniale bestuur, lees op oor 1854 Shepstone beleid, en dan word die blaam voor ons en Dr Verwoerd se deure geplaas.

Dit was ook heel onlangs dat die Britse regering hul steun kom verleen het aan Ramaphosa om alle grondgebiede van die Blanke volke te neem, sonder vergoeding, solank daar gepaste wetgewing gedoen word, is dit mos "wettig".

Dit was wel gedoen en Mandela het 'n groot rol gespeel om die onafhanklike Tuislande te stop om alles te laat terugkeer onder een "verenigde land". Alles deel van die plan, veral waarin ons vandag sit met grondonteiening en alles wat geplunder of afgebrand word? Die Britte het dieselfde beleid met ABO gehad.
Swart en Khoi san het voor 1961 op kommunale gebiede gebly wat Reservate of Britse Kroongebiede genoem was. Dit wil sê, onder Britse beheer en die Shepstone beleid van 1854, is daar slegs lewensreg toegeken op die miljoene hektaar grond.

Die 1961 – Tuislande van Verwoerd vir alle ander volke sou elkeen hul eie onafhanklike land en grondgebied verkry het. Ons sou ook ons gebiede verkry het.

Die Tuislandgebiede is ook die beste landbougrond en is almal binne 'n goeie reënvalstreek geleë. Daar was geen sprake dat Blankes of Boere hul gehelp het aan die beste grondgebiede nie.
Na 1994 is daar teruggekeer na die Shepstone beleid van 1854 se kommunale reg en nuwe wetgewings onder ANC beheer. Daar is tans oor die 8840 tradisionele leiers (in Hansards weergegee).

Die Ingonyama Trustgebied, wat slegs vir die Zoeloevolk is en in 1994 onderhandel, is slegs kommunale reg met eie wetgewing.

Elke grondeise wat na 1994 ingesit is, ontvang slegs kommunale reg en daar word 'n CPA geregistreer, slegs vir daardie burgers wat grondeise ingesit het.

Dit word aan miljoene voorgehou, dit was ons Boere en Blankes wat die Khoi san en Swartes se grondgebiede gesteel het, wat nie waar is nie.

Na 1994 het al die inwoners van 10 Tuislande en groot hoeveelhede Britse kroongebiede, steeds daar gebly en slegs CPA's gekry met grondeise of Trustgebiede.


> > >

"Diamonds, Gold and War: The British, the Boers and the Making of South Africa" was explained in the video, by the speakers and it is how South Africa became an Artificial state – Land was annexed by the British empire and not by us, or as some do believe we created that state with the Union of South Africa.
Diamonds, Gold and War: The British, the Boers and the Making of South Africa
*
Voor Tuislande in 1961 ontstaan het, was daar reeds sulke gebiede, genoem as Reservate of Britse kroongebiede. Na 1994 is die Tuislande omskep met nuwe name as Trustgebiede of CPA – grondeise. Verwoerd het dit nie geskep nie, in 1854 het die Britte dit geskep onder Shepstone beleid.
Trustgebiede – Tuislande -Reservate
Was slegs vir die Zoeloes en ou Zoeloe tuisland genoem (selfregering) of voor 1961, reservaat. Voor 1960 het die Zoeloe reservate reeds 100% bestaan en was in unie dokumente vervat.
Zulu people – Ingonyama Trustland

*
Miljoene hektaar grond is reeds sedert 1994 gebiede wat Swartes en Khoi san bewoon het in 1854 deur die Britte geannekseer. Swartes het ook nie grond aangekoop nie, daar is in die Mfecane oorloë bewyse hiervan dat hul uit die noorde opgedaag het.

>

Ideal. Zimbabwe leader, Tinashe JONAS has made the shocking claim that Julius Malema's father was an illegal immigrant from Zimbabwe which changed his name from Marema to Malema.

https://www.youtube.com/watch?v=BPERmN5t5i4

>
Richtersveld – Miljoene hektaar grond is deur Thabo Mbeki oorhandig in 2007. Meeste Khoisan en Griekwa gebiede was Britse Kroongebiede genoem.
Richtersveld – KHOISAN AND CPA
*
Richtersveld area was also a land claim from the Khoi san people and that changed the property (ies) as a registered CPA (s). Die gebiede het almal 'n magdom en rykdom van minerale.
Richtersveld – Diamonds