A grim revolutionary war started in Algeria in 1954 between the indigenous Arab population, mainly represented by the Algerian National Liberation Front (FLN), and the French on behalf of the white settlers. The casualties numbered around 300 000 with two million Algerians displaced and one million settlers returning to France.    Mandela was an ardent freedom fighter in the early days of South Africa's liberation struggle – he co-founded the ANC's military wing Umkhonto weSizwe in December 1961.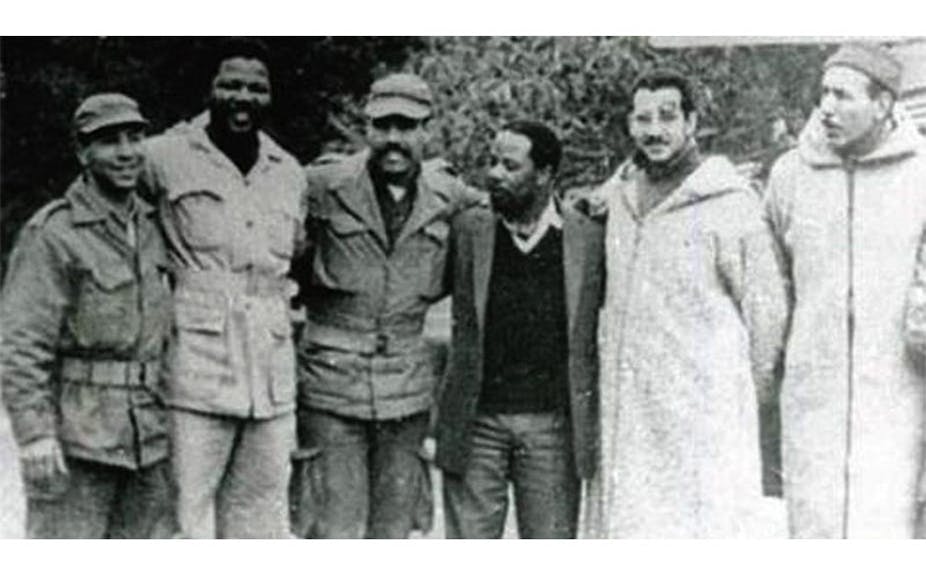 *
He believed that violence was necessary in resisting the repressive and brutal apartheid regime. He was eventually imprisoned for attempting to overthrow South Africa's apartheid regime. Mandela and seven of his comrades were convicted of sabotage in 1964.  Mandela  visited troops of the FLN in Morocco earlier in 1961 during a tour of Africa designed to establish Umkhonto weSizwe as the armed wing of the African National Congress (ANC). Later that year he travelled to Algeria to participate in joint exercises between the ANC and the FLN.
https://theconversation.com/what-mandela-and-fanon-learned-from-algerias-revolution-in-the-1950s-107736
**
It has come to our attention through media reports that at a recent conference in South Africa, the renowned Russian historian Vladimir Shubin used the case of Mr Mandela's military training to illustrate how archives "can lie".     He was reported as saying that "book after book" claims that he received military training in Algeria in 1962 and that "if some of the writers had taken the trouble to ask Mandela, he would have been able to clear this up and avoid further confusion".    While it is true that a number of publications have got it wrong, many more have got it right, not least those produced by Mr Mandela himself, or authorised by him.  In March of 1962 Mr Mandela received training from the Algerian National Liberation Front at bases of the latter across the border in Morocco.
In his famous speech from the dock during the Rivonia Trial in 1964, Mr Mandela said the following:
"In Africa I was promised support by such men … Ben Bella, now President of Algeria …It was Ben Bella who invited me to visit Oujda, the Headquarters of the Algerian Army of National Liberation, the visit which is described in my diary, one of the Exhibits."
The diary details his training in Oujda and other Moroccan locations.
Today it is in the custody of the National Archives.
*
TRAIN ON PENSION – TREINE IS MOEG
Trains abandonnés au Maroc
*
OUJDA CITY / Morocco
(kentekens)
*
*