Recently, according to Conservative Base, several dozen Roman Catholic theologians, priests and academics formally accused Pope Francis of spreading heresy and are suspicious of his relationship with American left-wing political figures such as multi-billionaire radical George Soros.     Billionaires David and Charles Koch have been handed the ability to buy our democracy in the form of giant checks to the House, Senate, and soon, possibly even the Presidency.
While most of the news outlets in the United States have ignored the Soros relationship between the head of the Catholic Church, perhaps the latest Soros news story will receive more coverage from the likes of CNN, MSNBC, New York Times, Washington Post, and other leftist news purveyors.

Koch Brothers Join Forces with George Soros to Change America

*

Left-wing billionaires like George Soros have been influencing higher education for decades, but The Chronicle focuses on faculty resistance to Charles Koch Foundation money, saying it has "borne fruit." Citing Ralph Wilson, one of the founders of UnKoch My Campus (UKMC), The Chronicle reported that Koch "ended the year adding only 44 first-time campuses, falling below the average gain of the previous five years for the second straight time. And with 69 campuses dropping off Koch's list in 2016, it was also the second straight year in which the foundation lost more campuses than it added." Wilson added that "the more that faculty know about Koch's contracts and strategy, the more they are trying to resist its influence."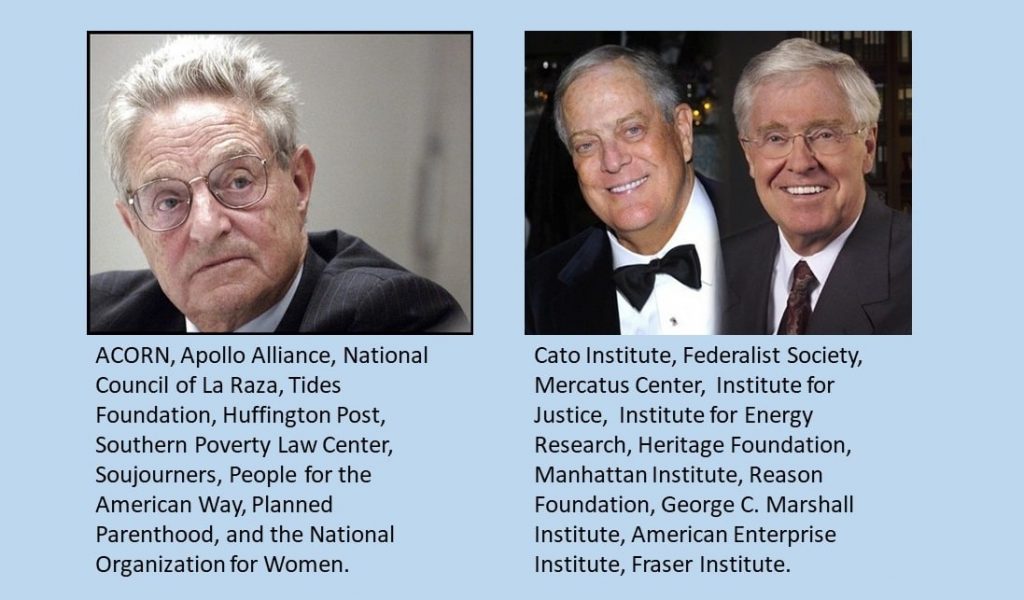 As UnKoch My Campus stages protests, demands meetings with administrators and launches chapters at George Mason University and other institutions, no one seems concerned that progressive donors have spent decades shaping higher education.

When Democratic mega-donor Tom Steyer gave more than $40 million to the TomKat Center for Sustainable Energy at Stanford University—whose aim is to influence energy policy, The Chronicle of Higher Education did not publish an excited article, "How Left Wing Billionaires Infiltrated Higher Education."

And, no one has begun an UnSoros My Campus group to protest the fact that George Soros has given much more money for left-wing causes on college campuses throughout the country than Koch has for right-wing ones.

Promoting his own political agenda, Soros gave a grant to MIT to provide support for the Deferred Action for Childhood Arrivals (DACA). Bard College, a tiny liberal arts school in New York state is the recipient of a $60 million multiyear commitment from Soros.

The Soros money is intended to fund Bard College's "Center for Civic Engagement"—a broadly defined Center designed to promote the progressive causes that Soros endorses.

When Georgetown University received $100,000 from Soros to host Guatemala's former Attorney General as a Visiting Scholar at the school's Institute for Women, Peace, and Security, none of the progressive Catholic organizations complained. And, when Fordham University received a $400,000 grant from Soros to study the role of money in the democratic process, the National Catholic Reporter was unconcerned—even though Soros has long championed anti-Catholic initiatives-including expanding access to abortion—throughout the world.

Focus on George Mason

Most of the criticism from UnKoch My Campus has focused on George Mason University, the recipient of more funding from the Charles Koch Foundation than any other school. In 2013, the Foundation donated more than $14.4 million to George Mason University—on top of the tens of millions in Koch dollars that the University and its affiliated research centers have collectively received in recent years. The Koch-funded Mercatus Center at George Mason is described by PublicIntegrity.org as the "largest collection of free market faculty" at any university in the world. Carrie Canko, Vice President for the Mercatus Center, told a reporter for Public Integrity that the Mercatus Center is a "stand-alone non-profit." George Mason University provides no direct funding for the Center, but George Mason University and its students receive millions of dollars in annual financial benefit from the Mercatus Center.

Colleges' Double Standards: Taking Soros' Money, Rejecting Koch's

*

The globalist Koch Brothers have announced recently that they will not be supporting Donald Trump's re-election campaign with their oligarch money in 2020, and they intend to support Democrats during that same election cycle.

Now, they are colluding with George Soros and other leftist thought-control organizations to enforce corporate censorship on monolithic social media platforms.

The Charles Koch Institute will be sending representatives to the second annual "After Charlottesville Project" in San Francisco, CA on July 17. The event, which is sponsored by Comcast NBCUniversal, the Kresge Foundation and the Soros Fund Charitable Foundation, intends to exploit the tragedy of Charlottesville to push for even more Orwellian censorship.

George Soros and Koch Bros Band Together to Enforce Big Tech Censorship Heading into 2020

***

George Soros & Charles Koch Team up to End US 'Forever War' Policy
*
Billionaires David and Charles Koch have been handed the ability to buy our democracy in the form of giant checks to the House, Senate, and soon, possibly even the Presidency.
***
The Koch Brothers' "Dark Money" | Jane Mayer – 2016
Investigative journalist Jane Mayer explains how the Koch brothers have used their billions to shift American policies to the far right.
***
2014  –  May 22 (Bloomberg) –- "Sons of Wichita" Author Daniel Schulman discusses the Koch brothers and their influence in the Republican party. He speaks on Bloomberg Television's "Market Makers." (Source: Bloomberg)

YouTube: http://www.youtube.com/Bloomberg "Market Makers" brings you analysis, insight and A-list guests who influencing Wall Street and the global economy. The business news show is hosted by Erik Schatzker and Stephanie Ruhle and covers the biggest companies in finance and the leaders who run them. Companies of discussion range from bulge-bracket banks:

Goldman Sachs, JPMorgan, Morgan Stanley, UBS, Credit Suisse and Bank of America to mid-size and boutique firms such as Jefferies, Piper Jaffray, Cowen and more. Whether the day's stories cover "too big to fail" Wall Street banks, billion dollar deals, the latest insider trading scheme, or the Street's reaction to Dodd-Frank, "Market Makers" taps leading analysis and A-list guests to shed light on global finance.

Broadcasting live from Bloomberg's headquarters in New York, "Market Makers" breaks news and brings viewers exclusives with the likes of Goldman Sachs' CEO Lloyd Blankfein, Goldman Sachs COO Gary Cohn, Morgan Stanley CEO James Gorman, financier Ken Langone, billionaire investor Carl Icahn, hedge fund legends David Tepper and David Einhorn, pay czar Kenneth Feinberg, Credit Suisse CEO Brady Dougan and many, many more. The show airs daily at 10am ET/7am PT. For a complete compilation of Market Makers videos, visit:

http://www.bloomberg.com/video/market… Watch "Market Makers" on TV
*