News articles and comments on social media continue after US presidential candidate Biden said he was arrested "on the streets of Soweto trying to get to see Nelson Mandela on Robben Island" (thousands of kilometres from Soweto).       In a viral video, Biden has addressed a crowd before describing events that allegedly took place three decades ago.
*
He explained it all happened 30 years ago, when Nelson Mandela walked out of prison and entered into discussions about apartheid, and had the great honour of meeting him. He said he has the great honour of being arrested with our UN ambassador on the streets of Soweto trying to get to see him on Robben Island."

The original video was posted on the SouthCarolinaETV YouTube channel on February 11, 30 years after Mandela was released from prison after the unbanning of political organisations such as the ANC, PAC and SACP.
*
*
Former Vice President Joe Biden meets supporters in Columbia as results continue to roll in from the New Hampshire primary on Feb. 11, 2020.  (15:50)
https://www.youtube.com/watch?v=axiitI2Yb70
*
Biden's claims were thrust into the spotlight again when a New York Times article  revealed that Biden had never spoken about the arrest until the 2020 presidential race.

According to the publication, former civil rights activist and Georgia congressman Andrew Young, who was a US ambassador from 1977 to 1979, recalled travelling to the country with Biden, but not getting arrested.    "No, I was never arrested and I don't think he was either. I don't think there was ever a situation where congressmen were arrested in SA."

The claims have been questioned and the geography has left social media users in stitches —
Robben Island, in Table Bay, is 1,239km from Soweto.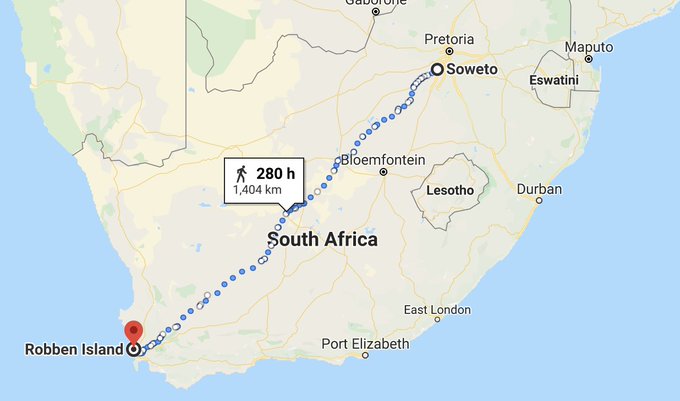 Twitter …

(shame)    🙂  (runner)
*
@JoeBiden ….  lying 3 times this month about BEING ARRESTED in South Africa while trying visit Nelson Mandela during Apartheid. This is OUTRAGEOUS. This never happened. People who were there say it never happened.
*
21 February 2020 – In at least three campaign appearances over the past two weeks, Joseph R. Biden Jr. has told a similar story as he tries to revive his campaign in states with more diverse voters. On a trip to South Africa years ago, he has said, he was arrested as he sought to visit Nelson Mandela in prison.   "This day, 30 years ago, Nelson Mandela walked out of prison and entered into discussions about apartheid," Mr. Biden said at a campaign event in South Carolina last week. "I had the great honor of meeting him. I had the great honor of being arrested with our U.N. ambassador on the streets of Soweto trying to get to see him on Robbens Island."

Mr. Biden referred to his own arrest twice more in the next seven days, including at a campaign stop here on Tuesday where he spoke of getting arrested in South Africa between efforts to coax his wife to marry him. That proposal occurred in 1977, both Bidens have said.

But if Mr. Biden, then a United States senator from Delaware, was in fact arrested while trying to visit Mr. Mandela, he did not mention it in his 2007 memoir when writing about a 1970s trip to South Africa, and he has not spoken of it prominently on the 2020 campaign trail. A check of available news accounts by The New York Times turned up no references to an arrest. South African arrest records are not readily available in the United States.

Andrew Young, a former congressman and mayor of Atlanta who was the U.S. ambassador to the United Nations from 1977 to 1979, said that he had traveled with Mr. Biden over the years, including to South Africa. But Mr. Young said that he had never been arrested in South Africa and expressed skepticism that members of Congress would have faced arrest there.    "No, I was never arrested and I don't think he was, either," Mr. Young, now 87, said in a telephone interview.  Mr. Young added: "Now, people were being arrested in Washington. I don't think there was ever a situation where congressmen were arrested in South Africa."

https://www.nytimes.com/2020/02/21/us/politics/biden-south-africa-arrest-mandela.html
*
Former Vice President Joe Biden admitted that his recent claims of being arrested during a congressional delegation trip to South Africa in the 1970s were false.

Biden has faced scrutiny over the claims, made repeatedly over the past few weeks, that he was arrested with former U.S. Ambassador to the United Nations Andrew Young "on the streets of Soweto," a township in Johannesburg, attempting to see imprisoned anti-apartheid leader Nelson Mandela.

The former vice president appears to have made no reference to being arrested in South Africa before campaign appearances this year. But in an interview on CNN's "New Day" Friday morning, Biden walked back the claim himself for the first time.

"When I said arrested, I meant I was not able to move," Biden said, after recounting what had happened to him. "Cops would not let me go with them. I wasn't arrested, I was stopped. I was not able to move where I wanted to go."

His campaign communications director Kate Bedingfield first walked back the claims after Tuesday's Democratic primary debate in Charleston, S.C., acknowledging to reporters that "he was separated" from the rest of the Congressional Black Caucus delegation he was traveling with, not arrested.

In Biden's campaign trail retelling, Mandela later thanked him for getting arrested while attempting to see him during that trip, the timing of which has also been disputed by fact-checkers.

Biden divulged more about the separation, saying that authorities attempted to have him enter the airport through a "white only" door while steering his black colleagues in a different direction.

"I said, 'I'm not going to go in that door that says white only. I'm going with them.' They said, 'You're not. You can't move, you can't go with them.' And they kept me there until finally [they decided] it was clear I wasn't going to move," Biden explained. "And so what they finally did, they said, 'OK, they're gonna not make the congressional delegation go through the black door. They're not going to make me go through the white door. They took us — memory serves me — through a baggage claim area up to a restaurant and they cleared out a restaurant."

That description is more in line with an incident Biden referenced in a 2013 statement mourning Mandela's death.

Biden has faced similar scrutiny about other anecdotes he's shared on the campaign trail, most notably when The Washington Post raised questions about whether he conflated multiple real life events when speaking about his past meetings with Afghanistan war heroes.

At the time, he refuted those criticisms, asserting that "the central point" of the stories were "absolutely accurate" and denying "that there's anything I said about that that wasn't the essence of the story."   The latest questions about his campaign trail recollections come as the former vice president is facing a do-or-die test in the South Carolina primary this weekend on the heels of disappointing performances in the first three Democratic primary contests.
*
*
CultureWatch blogger Bill Muehlenberg also has strong reservations about Mandela, citing South African missionary Dr. Peter Hammond, who notes that "Mandela was the head of the military wing of the African National Committee (ANC)," which Hammond referred to as "the abortion, necklacing and corruption party."
Mandela – Culture Watch
Mandela and the red revolution
Mandela : revolution
Nothing has been changed since 1920
Suid-Afrika se ANC rewolusie
REVOLUTION SINCE 1955 AND EVEN BEFORE
ANC "Freedom charter 1955"
Radical revolution is their lifestyle.
Red Revolution – EFF – ANC – DA and others
Communism –  Liliesleaf Farm on the 11th of July, 1963
Liliesleaf Rivonia – Mandela