During 1961-1994 there were various elections that took place in the old Homelands – each culture elected their own leaders, have an anthem of their choice, a flag, own schools and businesses, Bophuthatswana also develop their own money and handle most of their own exports.
For any people to get their independence worldwide, it is an international right, and it is or never was an apartheid state – Most Tswana people are still living there, and some in poverty, like the rest of us, but they live on their traditional lands with their own leaders – before 1994 it was a 16 piece area – while the Zulu homeland  have more (18) but today have 9 different areas in Ingonyama Trustland.
MOST OF THOSE TRADITIONAL GROUPS ALSO HAVE CPA'S OF THEIR OWN – LAND CLAIMS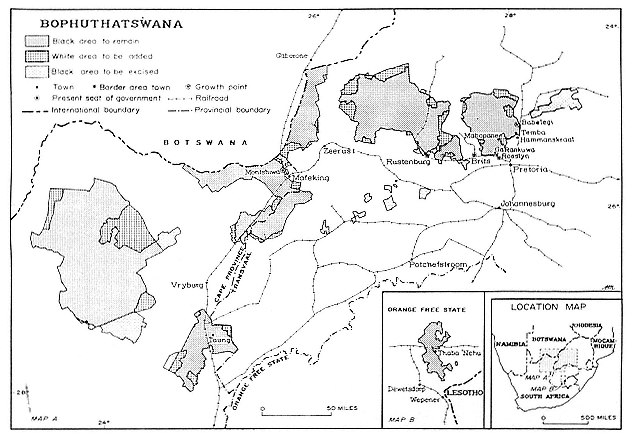 1992 – Bophuthatswana National Anthem
***
WATCH THE PEOPLE OF BOPHUTHATSWANA
Funny meetings of Bophuthatswana – sure there are sweet memories to work for their own country and people
***
The Tswana people were proud of their leadership – Bophuthatswana under Kgosi Lucas Mangope
A pictorial remembrance of Bopthuthatswana accompanied by Lefatshe Leno La Borra rona , the Bophuthatswana national anthem. The Bop territory was a self-government state within South Africa between 1977 and 1994. Its capital city was Mmabatho close to Mahikeng. This was a territory of the Tswana people. Hence the Bophuthatswana anthem is entirely in Setswana. So Setswana was the official language together with English and Afrikaans. The Bophuthatswana president was President Lucas Manyane Mangope who was also commander in chief for the Bophuthatswana Defence Force.
***
For any people to get their independence is an international right, and not an apartheid state – a 16 piece area – while the Zulu Trustland have 9 different areas in Ingonyama Trustland.
The following video material will show you their own army.   They were trained by South African army, but to watch over themselves one day
RR7801A – INDEPENDENCE FOR BOPHUTATSWANA
***
READ MORE
Ingonyama Trustgebied (en andere)
Zoeloes (Ingonyama Trust) > Ramaphosa
Trustgebiede>Tuislande>Reservate
South Africa: Traditional leaders