Daar is heelwat inligting oor Tuislande en Trustgebiede oor die besonderse en verskillende area in ons land, wat bygevoeg sal word.   Die kommuniste en liberales wil natuurlik al hierdie geskiedenis totaal en al ontken en dooddruk.  Daarom verander hulle name soos byvoorbeeld Anglo Boere Oorlog na Suid-Afrikaanse oorloë, terwyl daar geen Suid-Afrika was wat 'n oorlog gemaak het teen Brittanje nie.   Dit was twee onafhanklike Boere republieke teen wie Brittanje kom oorlog verklaar het omdat ons voorouers nie onder Britse bewind wou leef nie en skaars 'n paar maande later neem hulle al die myne oor wat hul uit London beheer en bestuur.  Diegene wat weet, sal verder weet dat Tuislande na 1994 Trustgebiede geword het.  Niks het verander nie.    Soos inligting verwerk word, sal dit ook bygevoeg word of aangevul of nuut bygevoeg word.   Saam die Zoeloevolk was groot groepe van die Tswana volke wat ook nie in 1994 deel wou vorm  met die "reënboogland" nie.     Dit gaan hier oor die ou Bophuthatswana.  Hoe het dit in 1977 se kaart gelyk.  Interessant dat Bophuthatswana selfregering gehad het, op pad na hul eie vryheid toe en het selfs hul eie muntstukke ontwikkel.
Stuur gerus staaltjies of ondervinding wat u meegemaak het aan:  volksvryheid9@gmail.com
Vingers word daagliks verwys dat Afrikaners, Boere en Blankes wat na 1961 of selfs voor 1910 gebore is,  vir hierdie aparte gebiede betrokke gewees het, wat onmoontlik is,  as dit voor 1910 reeds bestaan het.  Dis in unie dokumente ook vervat.  Die Shepstone beleid spreek dit duidelik uit, dat die Britse koloniale tydperk was hiervoor verantwoordelik vir die beleid, en nie ons nie.  Dit was ook swart leiers se eie keuses, net soos wat Trustgebiede na 1994 ook hul eie keuses was om steeds in hul eie gebiede te bly.  Shaka was ook betrokke saam Lord Shepstone met die beleid in 1848-1854.    Inteendeel word dit verder as 'n Internasionale reg beskou dat volke die reg het om hulself te regeer in hul eie gebiede.
Fingers and speeches always pointed directly to today's Afrikaners, Boers and Whites born after 1961 or even our ancestors before 1910, for these separate areas.   While it is just impossible because all those areas already existed before 1910 – it was smaller if you study the old maps.   It is also contained in union documents, called Reserves or Crownland, and written by the British lords from London. The Shepstone policy clearly states that the British colonial period was responsible for this policy and not any us. It was also black leaders' own choices, as with the Trustland areas after 1994,  it was their own choices where they want  to stay on their own tribal areas.   Shaka was also involved with Lord Shepstone with the policy in 1848-1854. On the contrary, it is regarded as an International Law that ethnic peoples have the right to govern themselves in their own territories.
~
Bophuthatswana

Daar was verskeie Nasionale simbole voor 1994  – daar was ook verkiesings wat in die ou Tuislande plaasgevind het.  Baie roem daarop dat daar nie verkiesings was nie, daar was.  Na 1994 het Trustgebiede aanhou bestaan, wat die woord "tuisland of reservate" vervang het.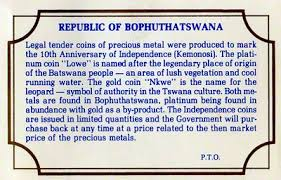 Trustgebiede>Tuislande>Reservate
Read also information on the Zulu "homeland" today known as Ingonyama Trust.
Ingonyama Trustgebied (en andere)
~
Video materiaal is redelik oud , en het gegaan oor Bophuthatswana se onafhanklikwording.  Die gebiede bestaan uit sowat 16 verskillende gebiede en is vandag meestal (na 1994) erkende Trustgebiede, nes wat die ander etniese volke Trustgebiede het.  Die nuwe vlag is ook hier gehys sou daar onafhanklikheid gegee word.
Die pad van onafhanklikheid van Tuislande het skipbreuk gelei en was nie "apartheid" nie, dit was daardie jare gemik dat volke hulself moet regeer soos Botswana en Mosambiek, ens
~
The old homeland was set up to house the Setswana speaking speaking peoples. In 1983, it had more than 1,430,000 inhabitants; in 1990, it had an estimated population of 2,352,296.    Only 10% of Bophuthatswana's total land area was arable, and much of that was covered with scrub brush.  Bophuthatswana homeland had a surface area of approximately 40 000 km2 and consisted of seven enclaves dispersed over the former South African provinces of the Cape Province, old Transvaal and Free State.  Even before 1913 it was smaller groups of Setswana people in the same areas.  There are old maps available as well.
Safety and Security in Bophuthatswana
Towards the end of its existence, the Bophuthatswana Defence Force (BDF) had an estimated number of 4,000 troops, mostly infantry.   It was organized into six military regions, and its ground forces included two infantry battalions, possessing two armoured personnel carriers.  There was even an Air Force in Bophuthatswana of 150 personnel possessed three combat aircraft and two armed helicopters.   The president was commander-in-chief and was authorised to deploy the armed forces in both cross-border operations as well as domestically.    During its last days in 1994, the Bophuthatswana Police had 6,002 police officers, operating from 56 police stations throughout the territory.   After 1994 they all were incorporated into the respective South African services.
~
ECONOMY
BOPHUTHATSWANA COINS
1987
Bophuthatswana was the first and only Bantustan to produce its own coins – 1987. Two coins were minted as a proof set only, the South African Rand remained the official currency.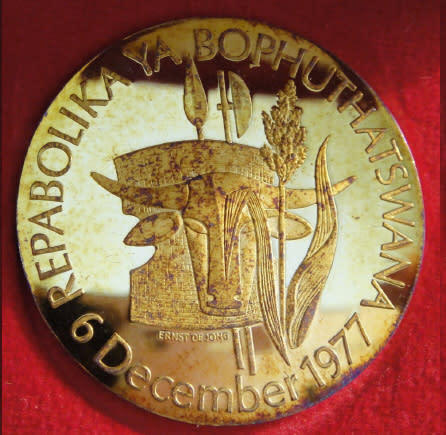 ~
TRADISIONAL LEADERS OF NORTH WEST OF SOUTH AFRICA
Global Africa Network interview with Kgosi Nyalala MJ Pilane the King of Bakgatla Ba Kgafela from the North West(South-Africa) on the Bakgatla Ba Kgafela Traditional Authorities Projects .
The Traditional leader of North West
National Anthem
Volkslied van Bophuthatswana Tuisland
Toespraak
Dr L M Mangope speaks at the Union building
Hier praat hy graag met SY eie mense met respek
Leier van Bophuthatswana Tuisland: Mangope
~
MEMORIES OF DR MANGOPE – his visions
Former employees of Lucas Mangope had fond memories of the late Bantustan leader. Mangope died at age 94 – at his home in Motswedi village near Zeerust yesterday. What emerged was a strong personality, stern but a devoted family man.
The X workers remember him as a leader
The Bakgatla-Ba-Kgafela (BBK) Tribal Authority and Sedibelo Platinum Mines which operates in the mineral-rich BBK area formalised their seven-year partnership. This partnership is envisaged to boost socio-economic development in the BBK region. In this special CNBC Africa gives insight into the partnership.
In this CNBC Africa Special we take a look into the business behind tribal groupings of Africa with a focus on Bakgatla Ba Kgafela, one of the go-ahead groupings doing business in the North West Province of South Africa.
MORE TO FOLLOW SOON