Chief Matanzima –Transkei was the first homeland to be created and was the first to adopt a flag. The Transkei flag was adopted on May 20, 1966 and was officially hoisted for the first time on (South African) Republic Day, May 31, 1966. The flag remained unchanged when Transkei was granted independence on October 26, 1976 and continued in use until the Republic of Transkei was reincorporated into South Africa on April 27, 1994.   The flag was a simple horizontal tricolour of ochre over white over green. Ochre symbolized the soil of the territory signifying security and self-sufficiency. White stood for Christianity and peace and green represented vegetation.
*
*
Luister na die onderskeie video materiaal van Dr Verwoerd en Tuisland leier.
*
Their own flag and colours – with their Anthem, basic the same as South Africa today.
*
1976
Speech on Independence of Transkei
(20 Oct 1976) Leader of the Bantustan of Transkei, Kaiser Matanzima visits South Africa.
*
(14 Sep 1977) The leader of the first black territory to be given independence by the South African government, Chief Kaiser Matanzima of Transkei, arrived in Pretoria to begin talks with Prime Minister John Vorster. The talks come at a crucial moment, as the death of black leader Steve Biko, allegedly as the result of a hunger strike while in police custody, has left South African leaders apprehensive about the possibility of violence in black areas. Some viewers see the visit of Matanzima, whose nation is recognised by no countries other than South Africa, as an effort by Vorster to calm the potentially volatile black population. The Foreign Minister Pik Botha is also in attendance.
*
1978
(10 Apr 1978) Prime Minister of Transkei Chief Kaiser Matanzimainterviewed in Umtata after decision to break relations with South Africa.
*
AL SEPARATE FROM EACH OTHER
AFTER 1994 – SA PARLIAMENT – TRADITIONAL LEADERS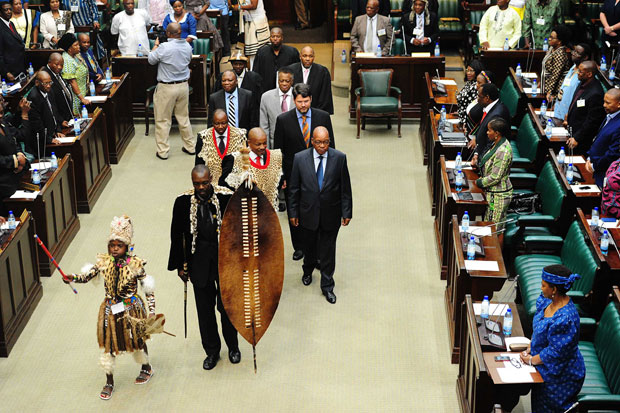 *
There were distinctive flags for the law enforcement and security forces in the Transkei and these included: flags for the Transkei Defence Force, Transkei Prisons Service, Transkei Army and the Transkei Police. 
The flags of the Transkei Defence Force (TDF) and the Transkei Prisons Service (TPS) follow the same design as that adopted for many flags of South African Homelands, namely having the national flag in the canton with a badge in the fly. However, the flag of the Transkei Army does not follow this general pattern, but has instead a green malachite field charged in the centre with a yellow bull's head, the emblem of the Transkei Army. A smaller version was also used as a car flag by the Commander of the Transkei Defence Force.
The flag of the Transkei Police also has a somewhat unusual design. The flag consists of three equal horizontal stripes of blue white and blue, with the national flag of Transkei being placed in the centre of the white stripe. The badge of the Transkei Police is found in the canton. All these flags ceased to be used following the re-incorporation of Transkei into South Africa in 1994.
http://flags.mainzone.com/south_africa.html
*
MORE INFORMATION
AGTERGRONDSINLIGTING
Die kommunistiese grondwet (wat onder die vals vaandel van "demokrasie" leef)  in Suid-Afrika laat enigiets toe as en wanneer dit hul pas.  Dis ook so geskryf – meestal is dit liberale blankes wat nie deel van ons volk is nie en ook hulle wat dit steun.  Die grondwet laat toe dat ons volk se identiteit, taal, kultuur en menseregte totaal en al geskend word.
*
THE TRUTH
Segregation was created in 1854 by the traditional leaders and Lord Shepstone (policy) in London.  The great media and other propaganda lies told against apartheid countermanded:   In 1988, a German book (The lie of apartheid and other true stories from Southern Africa) reported how benevolent the "White Giant of Africa' actually had been under so-called apartheid.  After 1994 and the so-called democratic "rainbow nation",  the same ethnic groups and even more, are still living either on Trustland or different CPA's (Landclaims legislation).  It is not only South Africa, but the whole of Africa and other continents do have varioius ethnic groups of people and they all differ from each other.   In South Africa the ethnic groups and leaders blame the white minority people for their own segregation choices.
It was recently declared that the South African traditional leaders cost the taxpayer over R250 million a year. but it is much more than that.     Traditionally, the zulu or xhosa leaders (queen/king) are only rulers of their own people and tribes, not the traditional leaders of the Khoisan, Indian or Afrikaner/Boer people.   Khoisan and Griqwa do have their own leaders as well lands.   There are 8840 traditional leaders at the moment – living on Trustland or CPAs (old homelands and landclaims).   Therefore, it is not the  "Government" that pay the bills, but the "taxpayers".     But who are those 8840 black and coloured traditional leaders?   All of them, were "appointed" after 1994 in their own separate lands.
Traditional leaders South Africa: 8840
*
During 1961-1994 there were various elections that took place in the old Homelands – each culture elected their own leaders, have an anthem of their choice, a flag, own schools and businesses, Bophuthatswana also develop their own money and handle most of their own exports.

*
Hoekom was daar slegs met SWART en KHOISAN onderhandel vir Trustgebiede en CPA, elkeen afsonderlik van mekaar, net soos wat dit was in die ou Tuislande.   Inteendeel is daar vandag steeds meer tradisionele leiers, hoofmanne, wat ons finansieel moet onderhou, terwyl hulle niks van die Afrikaners en Boere is nie, inteendeel hulle stel swart bemagtiging, regstelaksie wetgewing in, asook onteiening, en maak dit wetgewing in lyn met die sogenaamde liberale grondwet.
During the Kodesa negotiations there were agreements to sign "peace on the table" – Ingonyama Trust and Ingonyama trust legislation.  After 1994 other legislation, like those for the Khoi khoi and San as well as the separate CPA legislation, where certain people have the opportunity to claim land and rule there own "chiefdoms" or whatever the case maybe.    Inkatha was founded on the 1912 principle of nonviolence and refused to abandon the fundamental principle that maintained our struggle on the moral high ground.   The Inkatha Freedom Party (IFP),  pushed for power to be decentralised and advocated a federal state in which provinces could design tailor-made solutions, rather than being dictated to in a conveyor-belt system of governance from the top.
"Zulu kingdom" Ingonyama Trust
*
Wat het Verwoerd nou eintlik gedoen dat mense hom haat – dit was en is steeds liberale propaganda om dit waarvoor Verwoerd eintlik gestaan het, reg en edel was.  Hy het vir elke volk gegun om te oorleef, maar is vermoor daarvoor.  Apartheid is nie deur hom begin nie, dit was 'n liberaal geskepte woord.  Segregasie het reeds in 1854 ontstaan waar etniese stamme onder Brittanje se hand reservate gekry het.  Nie Verwoerd nie.   Ook nie ons nie.  Leiers het self gekies om so te bly en hulle leef vandag steeds so in CPA en Trustgbiede.
Verwoerd : Goeie buurmanskap
*
Politieke partye sowel lede van parlement is soms nie net arrogant nie, maar plaas verskillende monderings op as hul hul volgelinge toespreek.  Daar is hierdie alewiges wat altyd beweer dat daar weggedoen is met "aparte" gebiede.     En die allerbeste leuens is dat dit ons is wat daaragter sit (dis nou 1961-1994).    Dis uiters belangrik om kennis neem wat 'n politieke party se beleid is en die einddoel wat hul met hul mag wil vertoon.  Dit help nie daar word 100% steun gegee aan rassistiese en diskriminerende wette teenoor blankes op nasionale vlakke en dan die blankes verantwoordelik hou vir die wan administrasies of die sogenaamde "agtergeblewenes" nie.   Wees ook ingelig wat het regtig in Tuislande voor 1994 plaasgevind en waar kom "apartheid" vandaan.
Trustgebiede – Trustlands (segregation)
*
Daar bestaan vandag, meer as 25 jaar na die sogenaamde demokrasie in 1994 sowat 8840 tradisionele leiers onder die verskillende swart en bruin volke in Suid-Afrika.     Dit beteken egter nie ons het nie ook regte hier nie, verseker het ons 'n reg tot gebiede wat aan ons behoort.  Suid-Afrika het nog altyd uit blankes, swartes, bruin en indiër volke bestaan.