Die Zoeloekoning, Goodwill Zwelithini is al jare in beheer en Trustee van die Ingonyama Trust, wat slegs vir Zoeloes is.  Hy  hou gereeld en soms jaarliks samesprekings wanneer hy sy zoeloe volkslede bymekaar wil kry of soms as daar kommervrae is – normaalweg sal hy ook sy hoofmanne inlig en raad vra.   Sy jaarlikse 'indaba', soos dit soms bekend staan, vind gereeld plaas met duisende wat dit bywoon – soms in Durban of Ulundi.  Oktober 2018 was dit weer sulke tyd.    Wat uitstaan, is dat hy hom weer eens ten sterkste uitgespreek het met onteienings en waarmee die regering besig is en dit nadat daar "versekering" gegee is deur Ramaphosa in Julie 2018.  Ruik mens 'n vrot rot hier of het die tradisionele leiers ook rede tot kommer?  SOROS leuens?    Daar vind ook heelwat politieke moorde plaas, nes voor 1993.    Alhoewel daar heelwat ooreenkomste gemaak was tydens Kodesa onderhandelinge en sedert 1994, tussen die tradisionele leiers, FW de Klerk en die ANC, is die tradisionele leier, spesifiek Zwelithini,  in 2018 nog meer ongemaklik met die "woord" van die ANC leier, Ramaphosa.  Ramaphosa was onlangs in KwaZulu-Natal oor die Trustgebiede wat volgens hul eie rekords oorgedra is aan hulle en daar nie aan geraak gaan word nie –  maar stof het allermins gaan lê.
Die Zoeloekoning gaan saam met Afriforum  –  Die Ingonyama Trust is deur FW de Klerk, ANC en Zoeloe leiers opgestel – voor 1994.  Dit is die ooreenkomste wat toe bereik is.  Maar die grond is net in naam – Zoeloe koning is slegs 'n Trustee – lees gerus die wetgewings betrokke.  Kodesa is ook deur George Soros befonds om die Grondwet op te stel, voor 1994.
FW de Klerk was hierdie Kodesa onderhandelinge betrokke, veral die "oordrag" van die Tuislande na Trustgebiede.
Ingonyama Trustgebied (en andere)
Trustgebiede>Tuislande>Reservate
Dis in die Grondwet vervat, net soos wat onteiening in dieselfde dokument vervat is.
Swart Bemagtiging ANC
Daar was onlangs in Parlement gesien hoe Afriforum die Grondwet probeer beskerm om ons ander se regte te probeer beskerm, dit is nog in 25 jaar nooit beskerm nie.
"parlement fokus op rassisme en witmense voor/agter."
Roets on Land and other issues
Leuens en nogmaals leuens wat verkondig word deur die SA parlementslede – EFF
EFF and their ancestors on land
Al ons regte is al weggeneem en vernietig.  Hoekom sal onteiening beskerming word, dit is deel van die Grondwet.  Swart bemagtiging is ook in die Grondwet vervat.  Die aanstel van regters is ook in die Grondwet vervat , waar die president die aanstellings doen.
LEES OP OOR DIE BRUG/BRIDGE
Velaphi Khumalo (haatspraak)
Afriforum, nes ander organisasies,  kan steeds net namens hulself of hul lede praat en nie namens die Afrikaner of Boerevolk nie.  Hulle is 'n multi-kulturele organisasie(s) en is nie daar vir enige spesifieke volk nie.
Afriforum het ook nog nooit enige mandaat gehad om namens enige spesifieke volk of hul regte te praat nie.  Dit sluit Solidariteit en AgriSa herby in, wat nie namens ons volkslede kan praat nie.  Niemand het daardie mandaat nie.
quote
King Goodwill Zwelithini is planning to join forces with Afrikaner supremacist group AfriForum in an effort to oppose land expropriation without compensation.
Zwelithini, who was speaking at the Moses Mabhida football stadium in Durban at the weekend during Umkhosi Welembe — the annual commemoration of former Zulu King Shaka — said in July he met with AfriForum chief executive Kallie Kriel at the Enyokeni Palace in Nongoma to discuss land reform.
"That's why I'm asking AfriForum of the boers to come and help us, as they've introduced themselves to me that they are willing to work with me and my father's people to uplift agriculture in our land in order to have food. Because when government started talking about the appropriation of land expropriation without compensation, boers downed tools. There is no food in South Africa," he continued.
Afriforum has been accused of fuelling tensions in the country because of the way it has chosen to oppose proposed land reform amendments to the Constitution. The group has called land expropriation without compensation "racist theft" and has travelled to the United States to lobby support for "white rights"
unquote
~~
Loop terug op die spore
In 'n vergadering in Julie was daar ook uitsprake gemaak oor Ingonyama Trust.   Daar is 9 afsonderlike gebiede in Ingonyama Trustgebied, dis netso oorgedra deestyds aan "provinsie".   Volgens Hansards en wetgewing self, is dit kommunale grondgebiede, dis regeringsgrond (as dit aan provinsie oorgedra is).  Daar was heelwat besprekings en debatte wat in Hansard vervat is.    Die idee was dat eienaarskap oorgedra sal word aan die tradisionele leier, maar nie volgens die wetgewing nie.  Volgens wetgewing is dit slegs kommunale grondgebiede (lewensreg).
Speel die regering ook kat en muis met die tradisionele leiers.   Hulle word steeds heelwat uit die staatskas vergoed vir salarisse – nie net die leiers nie, maar die hele hiërargie.
Vir die oningeligtes of die wat hul gesiggies wegdraai en wat saam De Klerk is.  Wat het nou sedert 1994 met Tuislande verander.  Dis ook aparte gebiede nes Tuislande en ook wetgewings wat slegs kommunale grond waarborge gee.
As Afrikaners en Boere, kan ons op geen tradisionele gebiede, (Trustgebiede of Tuislande) of selfs grondeise wat sedertdien goedgekeur en toegeken is, met verskeie kompensasies, aanspraak maak nie.   Daar is verskeie wetgewing in plek wat rassisties en diskriminerend is teenoor ons.  Nie dat ons as Afrikaner of Boere al ooit gedink het dat die Zoeloe gebiede is ons sin nie.  Ons weet al vir jare, voor 1961 dat daar Reservate was.  Hoekom sal ons dan dit wou vat as dit nog nooit aan ons behoort het nie?
Reservate het Tuislande geword, wat op pad was om onafhanklikheid te verkry, toe word dit deur De Klerk, Broederbond en ANC gestop.
Khoisan of khoikhoi wat hulle ookal wil wees of wettig genoem word, het sover 6 baie groot tradisionele Trustgebiede na 1994 ontvang.   Heelwat is ook in Thabo Mbeki se tydperk toegeken en oorgedra (via ooreenkomste geteken).  Wat is hierdie ooreenkomste werd as daar heeltyd na Ingonyama verwys word, geld dit ook vir al die ander tradisionele Trustgebiede.
Die idee word geskep dat swart/bruin geen grond het nie, en ons blankes al die grond besit, terwyl dit onwaar is.   Die beste gebiede, wat reënval aanbetref is juis in al die ou Tuislande aka Trustgebiede geleë.
Ingonyama Trustgebied (en andere)
Trustgebiede>Tuislande>Reservate
~
quote
Zwelithini says war has been declared on Zulus and a new regiment, known as Ingaba, will be formed to defend the Ingonyama Trust.
KwaZulu-Natal's Zulu king today told scores of loyal supporters that they must not allow themselves to be further provoked by the proposed scrapping or amendment of the controversial Ingonyama Trust Act.
King Goodwill Zwelithini kaBhekuzulu was speaking at a sports stadium in Ulundi at a land imbizo that he had called.
The imbizo also marked the 139th anniversary of the Battle of Ulundi, where the British army broke the military power of the Zulu nation. It was the last of the major battles of the Anglo-Zulu War.   Traditional leaders, loyalists and representatives from several civil society movements attended the event. Police Minister Bheki Cele and KZN Premier Willies Mchunu were also in attendance.
The Ingonyama Trust Act was pushed through on the eve of the 1994 elections to secure the involvement of the Inkatha Freedom Party in the country's first democratic election.
Speaking in isiZulu before a crowd of close on 4 000 people, Zwelithini said the Zulu nation inherited the land from their ancestors and any attempt to strip them of their ownership would be an insult to the ancestors.
"I did not choose to be black and I did not choose to be a king. What we see today is that we are being discriminated against. It has become clear that the Zulus are not wanted. War has been declared against all Zulus."    and YES,  we as Afrikaners and Boers are all white and also did not choose to be white – we are on the same platform with different racist laws against the white people of South Africa.  
The Ingonyama Trust owns about 29.67 percent of mostly deep rural land in the KwaZulu-Natal province. The king is the sole trustee of the land, which is divided according to clans and is overseen by traditional leaders.
Zwelithini said that a new regiment, known as Ingaba, would be established to 'defend' the Ingonyama Trust.
unquote
~
In die geskiedenis …
Delf mens dieper in die Ingonyama Trustgebiede se wetgewing in en sien wat kenners oor die oordrag van die ou Tuislande was, was daar slegs 'n "naamsverandering" (Tuisland na Trustgebied).    Daar is terugbeweeg na (Shepstone beleid), volgens die wetgewing na die 1854 Britse kommunale wetgewing, waar die gebiede destyds geannekseer is deur die einste Britte, wat nou so diep in is by Ramaphosa en Britse statebond.
Terloops, die Zoeloes het ook 'n onafhanklike gebied gehad, nes die ZAR (ou Transvaal) en Vrystaat, maar dit was die Britte (lord Shepstone en sy ander lords) wat dit eenvoudig (ONWETTIG) afgeneem het vir minerale ontginnings wat reeds begin plaasvind het voor Suid-Afrika se ontstaan.
Sedert 1900 het al die Britse diskriminerende wette in plek geval, dis op ons almal, ook die twee Boere repubieke afgevorseer om later die Unie van Suid-Afrika te vorm.   In 1902 is al die myne deur LONDON beheer, en nie deur enige van ons nie.   Die wat wel later met die 1910 en 1948 regerings betrokke was, was almal die Britse regering goedgesind – en lees op oor die betrokkenheid van die Broederbond vanaf 1918 in die "regeringsvorms"
Die Mynhuis is deur Lords uit London bestuur en daar was van 1902 tot ongeveer 1931, meer as 400000 immigrante ingevlieg, veral net na die Anglo Boere Oorlog, is meestal uit Afrika of China afkomstig.   Hierdie is ook met opset gedoen.  Op die stadium was daar reeds etniese kommunale gebiede deur die Britte in werking gestel – die Shepstone beleid.  Die Unie van Suid-Afrika se wetgewing is in LONDON afgekondig, nie in die nuwe land wat Unie gedoop is nie.
~
Verseker word tradisionele leiers hoog geag volgens hul eie tradisies.       Die Zoeloe se tradisie verskil ook hemelsbreed met die van die Pedi, Tswana, Xhosa en selfs ander volke soos die Khoikhoi en San.   Ons eie volkskulture verskil 110% met die van die swart tradisionele byeenkomste en kulture.    Indien ons vorige leier , Dr H F Verwoerd se onafhanklikheid geskied het, het al hierdie swart en selfs khoisan groepe hul eie lande gehad en hulself regeer.   Hoeveel mense is nie sedert 1994 al vermoor nie?
Volke het vandag 'n plek ook in die internasionale reg en om onafhanklikheid te verkry.  Dit is goed as leiers opstaan vir hul eie regte, want dis presies wat konserwatiewes ook doen vir voortbestaan op ons eie grondgebiede, wat ons sin is.   Tradisionele leiers word 100% gesteun en ook selfbeskikking – volle onafhanklikheid.
~
Dit was in Julie 2018
Daar was oor grond en veral oor Ingonyama Trust gepraat nadat die parlement volledig hul eie ondersoeke gedoen het.  Daarna het Ramaphosa egter meer op blanke eiendomme gefokus en dit so aan die internasionale gehoor genoem dat dit ANC is wat daaroor sal besluit.  Ten spyte daarvan dat dit 'n internasionale misdaad is wat die ANC onderteken het in verdrae met die VN.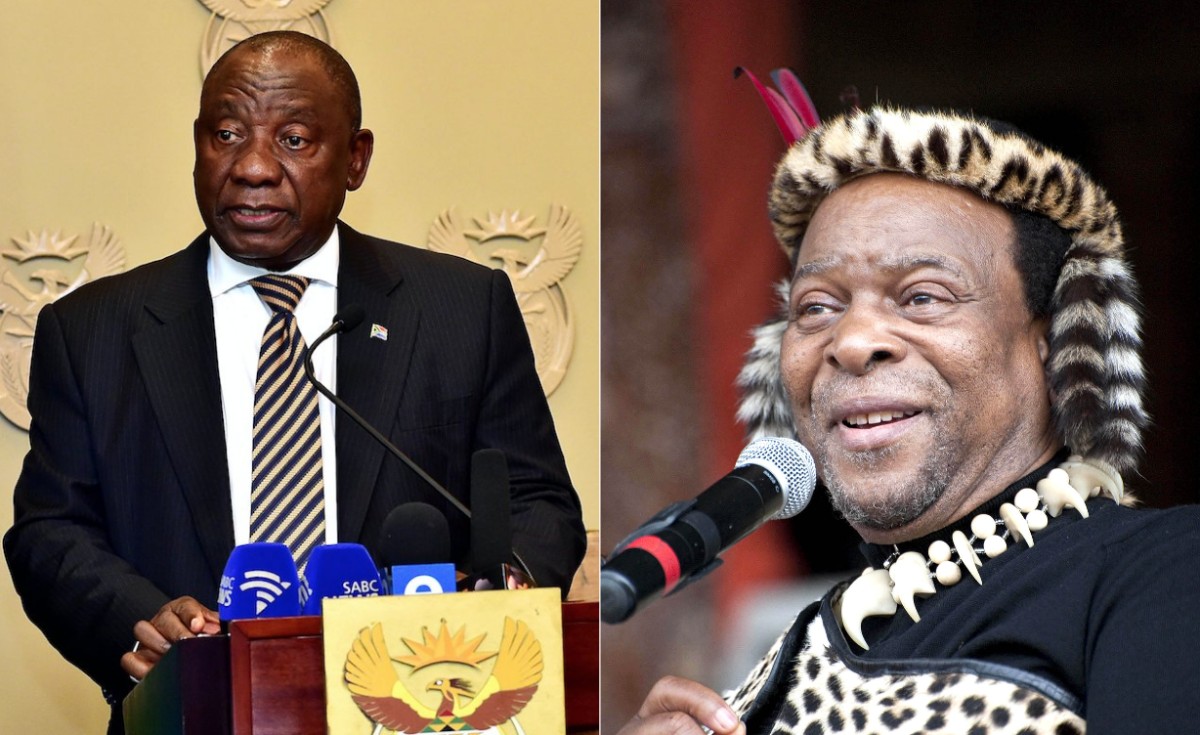 President Cyril Ramaphosa has assured King Goodwill Zwelithini that land administered under the Ingonyama Trust would not be subject to proposed plans for expropriation without compensation.
DURING JANUARY 2018 there were also discussions and meetings.
We can make this country the Garden of Eden
MAYBE RAMAPHOSA WAS TALKING ABOUT HIS OWN EDEN
Ramaphosa visited Zwelithini on land
Quote  Newly-elected African National Congress president Cyril Ramaphosa has told Zulu king Goodwill Zwelithini that the ANC's policy of land expropriation without compensation should not be done in a way that harms the South African economy.
"Taking land should not be equal to destroying our economy," Ramaphosa said while providing feedback on the ANC's 54th national conference to Zwelithini at his Osuthu Palace in Nongoma in KwaZulu-Natal on Sunday afternoon.
While praising the king's "passion" for development and agriculture, Ramaphosa said that at the December conference a "far reaching decision" was taken when it was decided that "the land would be returned to our people" by expropriation without compensation.
"We are going to make sure that our people get land and that they get back to the land. We also said, and this revolves around the key issues you always articulate, that this must be based on looking at the economic activity in our country and that as we take land we do not harm the economy, we do not harm agricultural production, and we do not sacrifice food security," said Ramaphosa.   unquote
.
Nes almal gedink het die stof het behoorlik gaan lê, is dit nou twee maande later en peul die kommunistiese ANC wurms oor grondhervorming met mag en mening uit en kan Ramaphosa dit ook nie stopsit nie.  
Videos:
7 October 2018
We are taking you to Kwazulu-Natal at the Moses Mabhida stadium. This is where Thousands of AmaZulu are gathering for the annual Umkhosi weLembe celebrations. This in celebration of the life of King Shaka the founder of AmaZulu nation. King Goodwill Zwelithi is currently on the podium, lets listen in
Zwelithini
AmaZulu King Goodwill Zwelithini has called on President Cyril Ramaphosa to provide clarity on the land reform issue. The King wants an assurance in black-and-white that his nation's land won't be touched under land expropriation without compensation. He's addressed thousands in Durban for uMkhosi weLembe, formerly known as King Shaka Day. eNCA's Siphamandla Goge was there.
King Zwelithini of the Zulu – Land reform and Ingonyama Trust
Earlier on 4 July 2018
King Goodwill Zwelithini the King of the amaZulu dressing traditional leaders and his people at the Ulundi sports complex in KwaZulu-Natal. He called an imbizo with his Traditional Leaders to discuss the land question. Government's plans of land expropriation without compensation and how this might affect the land he presides over along with his traditional leaders under the Ingonyama Trust
Ingonyama Trustboard
4 July 2018
Thousands of people have gathered at the Ulundi stadium in northern KwaZulu-Natal for an Imbizo called by King of AmaZulu, Goodwill Zwelithini. The Chairperson of Ingonyama Trust judge Jerome Ngwenya and KwaZulu-Natal House of Traditional Leaders inkosi Phathisizwe Chiliza are also in attendance. At the centre of the imbizo – the monarch wants to consult his people on the recent debate of land expropriation and the scrapping of the Ingonyama Trust
King of the Zulu at Ulundi 4 July 2018
QUOTE
The king insists the president should visit KwaZulu-Natal to assure all the Zulus that their land will not be touched.
Land belonging to the Zulu nation will not be expropriated by the national government, King Goodwill Zwelithini told thousands of people attending the annual Shaka Day celebration in Durban on Sunday.   Using his annual speech at the event – which marks the death of the Zulu nation's most famous leader Shaka – Zwelithini demanded that President Cyril Ramaphosa not only visit him again but give guarantees that the Ingonyama Trust would not be targeted in the country's much debated land reform programme.Ramaphosa's previous visit in June caused a stir when he was accused of kneeling before the king at the official palace in Nongoma in Northern KwaZulu-Natal. Ramaphosa later explained he was merely bending down to show the king a book on cattle.   Zwelithini has been particularly vocal about the nationwide debate on whether or not to change the Constitution to allow the state unfettered power to expropriate land without compensating the owner.
His anger stems from recommendations made in a report called the "High level panel on the assessment of key legislation and the acceleration of fundamental change", chaired by former president Kgalema Motlanthe and released in November last year.   In the report it was stated the Ingonyama Trust was likely unconstitutional and its existence should be reviewed in any land reform debate. It also questioned why the trust provided few services to those occupying the land, yet it generated in excess of R96 million from rentals.
The trust owns about 29.67% of mostly deep rural land in KwaZulu-Natal, which covers an area of 94 361 km². While Zwelithini is the sole trustee of the land, it is divided according to clans and overseen by traditional leaders.   Speaking in isiZulu as he addressed the crowd at Moses Mabhida Stadium, Zwelithini said Ramaphosa "must come down to KwaZulu-Natal with something in black and white to assure all the Zulus that their land will not be touched".
The Shaka Day celebration was expected to be held on September 24, but was postponed after the sudden death of Zwelithini's son Butho Zulu. Butho was the son of Zwelithini's second wife queen Buhle kaMathe.
Shaka Day is the presumed date of Shaka's death in 1828.   In a wide ranging speech he also urged government to be better organised and to enhance protection for people living with albinism and the disabled. He also called for an end to high levels of crime and political killings in KwaZulu-Natal.  The province has been rocked by political violence in recent years, culminating in the Moerane Commission of Inquiry which investigated political killings since 2011. The commission made its findings public in September.
UNQUOTE
~
BACKGROUND
CULTURE OF THE ZULU PEOPLE
Every year at the end of September the Zulu nation holds the Reed Dance, where more than 20 000 maidens gather from every part of Zululand, bare-breasted & wearing their traditional beadwork, to dance for the King.
Yearly Zulu cultural dances – Reel dancers
Indlondlo
Ushaka Marine Zulu Dance Finals, 2015..The best ever Zulu Dance we performed with 44 Zulu Warriors on Stage.
Zulu dancers 2017
HULLE GLO TOTAAL EN ANDERS AS ONS AFRIKANER, BOERE EN BLANKE KULTURE
The Zulu Culture documentary is packed with fascinating visuals of the rich traditions of Zulu culture, this video takes the viewer into the heart of Zululand where archaeological diggings show a heritage extending back into the iron-age and where ancient traditions are still practiced in the cultural villages. Experience the excitement of the energetic Zulu traditional dancing Ngoma – once used to consolidate Zulu impis into a formidable force in preparation for battle.
Zulu culture
CIRCUMCISION (UKUSOKA)
The king of South Africa's Zulu people wantes to revive male circumcision in an effort to stem the spread of HIV-AIDS. Ritualised circumcision was common among Zulus until the beginning of the 19th century, when King Shaka halted the practice because it robbed him of young warriors for months at a time.
Authorities in South Africa's KwaZulu-Natal region are currently meeting with King Goodwill Zwelithini to discuss the possibility of reintroducing male circumcision.  Zwelithini is referring to studies made by the World Health Organization (WHO) that say that circumcising men can halve their chances of contracting the virus.
"What has been shown to occur in Africa is that men who are circumsized in order to prevent HIV believe they are immune to HIV and decrease their use of condoms, which increases their rate of infection," said Brian O'Donnell.    "WHO and UN-AIDS are staffed by Americans with biases in support of circumcision and have disregarded the ethics involved in educating men about normal anatomy," he told RFI.   Zulu believes and traditions
~
Male circumcision (ukusoka) is a phase that a boy has to go through before he is declared as a man. This practice has been very popular amongst the Xhosa culture and it has also created a lot of mixed feelings amongst South Africans and that is because some boys have lost their lives during this practice. Certain public figures of South Africa have gone through this practice namely former President Nelson Mandela and most recently the Deputy Minister of Police Fikile Mbalula. It was during the ukweshwama ritual which created a lot of clashes between the traditional Zulu's and the Animal Right Africa organization, the Zulu King Goodwill Zwelithini announced that male circumcision is to be re-introduced amongst the Zulu community. To the young generation the King's announcement was a surprise because for as far as they know circumcision was not for the Zulu nation. According to History male circumcision is not new for the Zulu nation it is a ritual that was practiced decades ago and was banned during the rule of King Shaka Zulu who died in 1828.  King Shaka Zulu decided to ban Zulu male circumcision because it disturbed Zulu male who were being prospered to become Zulu warriors since the practice lasted three months.
During this ritual young Zulu male will leave their homes and go to the hill (entabeni) where their will be no females but men who are matured enough to help the young men undergo the circumcision practice.  During this practice the young men will also be given lessons on how to live life responsibly after being certified as men which is why they had to spend three months in the mountain, it was more than just circumcision.
Inisiasies
~
Other rituals of the Zulu people
Zulus do not have a circumcision ceremony, like the Xhosas, but they do have a coming of age ceremony. We saw about 15 young men come from the small hut with the Sangoma – white painted on their faces, and wearing traditional costume. They were greeted by the king, but were obviously shit-scared.
The Zulu kraal is a sacred place. It is the place where the cows are kept at night – both for safety and as a means to collect their dung for use as fertiliser or building materials. Women are not allowed in the Kraal, except for a sangoma during any ceremony. A deceased family leader is often buried in the kraal.
The Zulu king has a number of palaces scattered around Zululand, but his palace at Nongoma is his only traditional palace, built as a larger version of the traditional Zulu homestead. The kraal is huge, traditionally fenced with a thick, woody fence of living trees. Inside at the top end (all kraals are built on a slope) there is a small hut used in ceremonies by the sangoma.
read MORE
To kill the bull