For blacks only.   The Tourism Equity Fund (TEF) is a collaborative initiative between the Department of Tourism and the Small Enterprise Finance Agency (sefa). As part of South Africa's Economic Reconstruction and Recovery Plan, this fund aims to drive transformation through advancing equitable opportunities in the sector to ensure inclusive economic growth in the Tourism sector.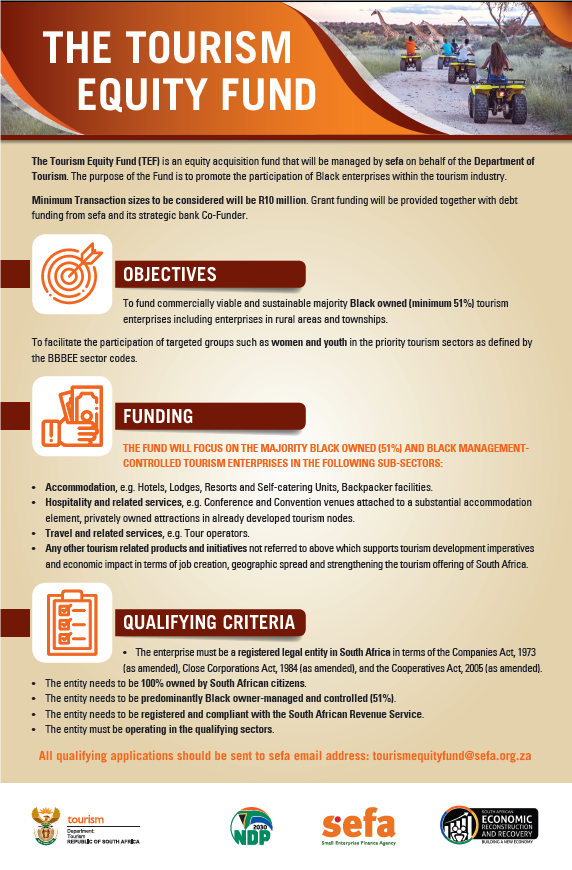 *
Dat daar effe afgewyk word van anc se eie B-BBEE (swart bemagtiging) wetgewing, is nie ter sake nie, hulle steur hul nie aan enige wetgewings nie. Dit word in elk geval vir 27 jaar plus toegepas.
*
The fund recognises that the capital-intensive nature of the industry is preventing new and existing black owned tourism enterprises from meaningfully participating in and contributing towards this sector. By providing access to finance for black-owned commercially viable tourism projects, the TEF is intended to address one of the major challenges to transformation of the tourism sector.
The TEF is a dedicated fund that provides a combination of grant funding, concessionary loans and debt finance to support equity acquisitions as well as new and expansion developments in the tourism sector by black entrepreneurs.
The objectives of the TEF are as follows:
To fund commercially viable and sustainable majority black owned (minimum 51%) tourism enterprises including enterprises in rural areas and townships, to promote alleviation of poverty, inequality and the growth of black controlled tourism enterprises.
To de-risk the funding provided to tourism enterprises through patient capital that will ease the debt repayment ability of black controlled enterprises.
To facilitate the participation of targeted groups such as women and youth in the priority tourism sectors as defined by the Amended tourism B-BBEE sector codes.The minimum project value for TEF applications is R10 million. The funding provided to a successful applicant will include a grant up to a maximum of R 20 million, a

concessionary

loan

, a sefa

loan

up to a maximum of R15 million and the balance to be covered by a loan from a commercial bank.
Financial support for projects will be provided on the following basis:
Funding to acquire controlling equity in entities in the tourism sector.
Funding of the assets of existing entities in the tourism sector for the explicit purpose of setting up a new entity operating in the sector.
Asset finance and working capital that would be required in relation to the acquisition of the tourism entity for expansion or operational purposes.
New developments and expansion projects as applicable and in relation to the identified tourism subsectors.The eligibility and scoring criteria for applicants, places significant weight on majority

black ownership (>51%)

and

level of black management control

, as critical developmental factors. Other factors that will be considered include

women ownership, youth ownership

, jobs facilitated, location and stage of the business cycle.
The Fund will focus on tourism enterprises in the following sub-sectors:
Accommodation, e.g. hotels, lodges, resorts and self-catering units and backpacker facilities.
Hospitality and related services, e.g. conference and convention venues attached to a substantial accommodation element, privately owned attractions in already developed tourism nodes.
Travel and related services, e.g. tour operators.
Any other tourism related products and initiatives not referred to above which supports tourism development imperatives and economic impact in terms of job creation, geographic spread and strengthening the tourism offering of South Africa.
Eligibility criteria:
To be eligible for funding:
The enterprise has to be a registered legal entity in South Africa in terms of the Companies Act, 1973 (as amended)
The entity needs to be 100% owned by South African citizens.
The entity needs to be predominantly black owner-managed and controlled (51%).
The entity needs to be registered and compliant with the South African Revenue Service.
The entity must be operating in the qualifying sub-sectors.
Application procedure:
Applicants should submit their application forms and supporting documents directly to sefa, who will assess applications for commercial viability and TEF eligibility.
More detailed information on the TEF as well as an application form and checklist can be downloaded from the sefa website: http://www.sefa.org.za
Note that incomplete applications will not be considered for funding.
https://www.tourism.gov.za/CurrentProjects/Tourism_Equity_Fund/Pages/Tourism_Equity_Fund.aspx
HOE GAAN JY LENINGS TERUGBETAAL MET GEEN EKONOMIESE VOORUITGANG?
*
CONCESSIONARY LOANS
A concessionary loan is a loan granted to or received by an entity on terms that are not market related.    Concessionary loans are granted by public sector entities to achieve particular policy objectives.
The loan component of concessionary loans issued by an entity is accounted for as a financial asset. The non-exchange (social benefit) component of arrangement is  accounted for using the Framework for the Preparation and Presentation of Financial Statements.    Classification as an instrument at amortised cost or fair value will depend on:
(a) The management model for concessionary loans.
(b) The characteristics of the cash flows of the loans.
Amortised cost – Management model indicates that the entity holds the loan to collect the contractual cash flows, and the cash flows of the loan are solely payments of principal and interest (SPPI).
Fair value through surplus or deficit – Management model is not to realise the cash flows by holding the instrument, and/or the cash flows are not solely payments of principal and interest. Measurement at fair value includes a management model where an entity holds financial assets to collect contractual cash and for sale.
An entity should consider the existence of any contingent repayment features, e.g. repayment of the loan (and or interest) is only required when certain profitability indices are met, certain level of income demonstrated, an individual finding employment, an entity acquiring certain contracts etc. and whether these affect the classification.
An interest free loan will not in itself fail the SPPI requirements.
Read more:
http://www.asb.co.za/wp-content/uploads/2019/04/Fact-sheet-4-Concessionary-loans-iss.pdf.
*
*
*
*
Wat het die ANC in bykans 30 jaar vermag?
For any people (volk) to get their independence worldwide, it is an international right, and it is or never was an apartheid state – Most Tswana people are still living there, and some in poverty … and … you are still poor, with no services, no food, radical resolutions (for whom?) and unemployed?
WHAT DID THE ANC DO FOR YOUR PEOPLE SINCE 1994?
Ask your parents how was the old homelands.
*
'n Eie onafhanklike gestelsel en het toe al gewerk, maar die "magte" in beheer, het dit weggeneem van die volk wat ver ontwikkeld was.   Nou is alles vernietig.
Bophuthatswana was the first and only Bantustan to produce its own coins – 1987. 
*
READ MORE
Ingonyama Trustgebied (en andere)
Zoeloes (Ingonyama Trust) > Ramaphosa
Trustgebiede>Tuislande>Reservate
South Africa: Traditional leaders