The organisation administers the Commonwealth Women Parliamentarians (CWP), a network across the Commonwealth which promotes greater representation for women in Parliament, the CPA Small Branches network, representing parliaments and legislatures with populations below 500,000 people, and the Commonwealth Youth Parliament, an annual gathering of young people hosted by a Commonwealth Parliament.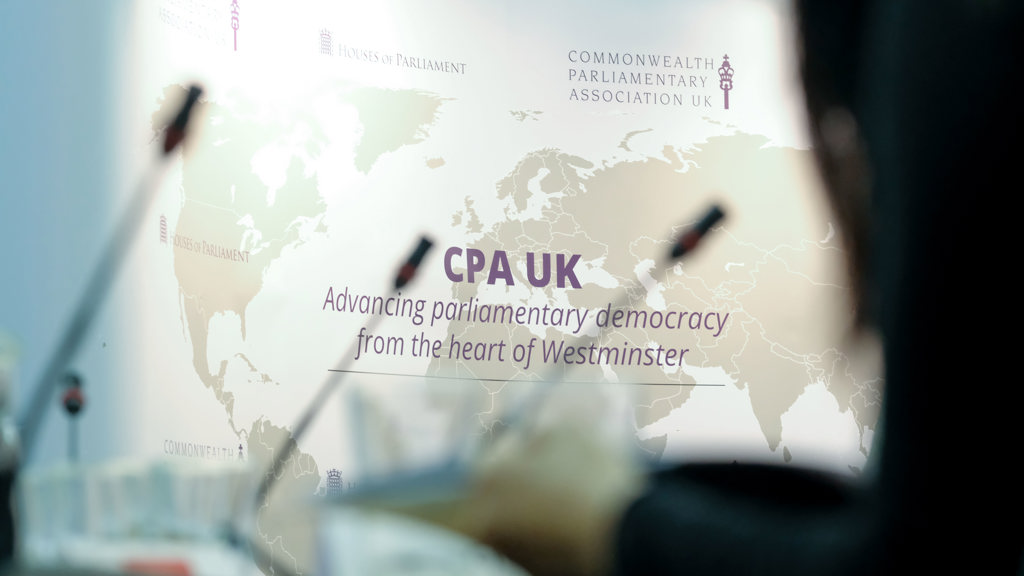 CPA UK (Commonwealth Parliamentary Association)

The "Association" since 1911….

The CPA Commonwealth is governed by an International Executive Committee which controls the management of activities and business of the Association. The Committee consists of 35 Members: the Officers of the Association, the Chairperson of the Commonwealth Women Parliamentarians and three Regional Representatives from each Region except Africa which, as a large Region, has six Representatives.   The Committee meets just prior to the General Assembly, to which it reports, and holds a second meeting in another Commonwealth country midway between General Assemblies.

Based in the heart of the UK Parliament, CPA UK has worked to support and strengthen parliamentary democracy across the Commonwealth since our establishment in 1911.

Working with over 60 countries and jurisdictions across the Commonwealth our approach of peer to peer learning is central to our methodology. We design bespoke programmes and projects between parliamentarians and staff in the UK and other Commonwealth parliaments to enable and facilitate knowledge-sharing and development of good-practice.

https://www.uk-cpa.org/who-we-are/the-commonwealth-parliamentary-association

Commonwealth nations work together to implement our shared values and principles which are in the Association.
** **
The Commonwealth Parliamentary Association – The CPA was founded in 1911 at a meeting of Heads of Government in Westminster Hall as the then-Empire Parliamentary Association and its affairs were administered by the UK Branch. The original members were Australia, Canada, Newfoundland, New Zealand, South Africa and the United Kingdom.
1911 – South Africa – Commonwealth Parliamentary Association
** ** ** **
Ramaphosa paid  a courtesy call on Her Majesty the Queen at the Windsor Castle during a working visit to London to attend the Commonwealth Heads of Government Meeting (CHOGM 2018) taking place on 19-20 April 2018.   This is the place of "gold".   Where did they get the gold?    MAY visited SA and supported "land theft" accusations.
British rules, Commonwealth, Trustlands
*
Let gerus op ooreenkomste tussen Britse koloniale bestuur in Afrika met die van Ierland, wanneer die "HOME RULES" ook op die Ierse volk van toepassing gemaak is en bloedige gevegte daaruit voortgespruit het. Alle "bestuursake" word onder die dekmantels van wetgewings gedoen sodat dit vir almal moet lyk of die heersers die regte kanale volg – en ook koppel aan "demokrasie".
Statebond – Commonwealth
*
The world's primary feudal landowner is Queen Elizabeth II. She is Queen of 32 countries, head of a Commonwealth of 54 countries in which a quarter of the world's population lives, and legal owner of about 6.6 billion acres of land, one-sixth of the earth's land surface. Her position is a relic of the last and largest land empire in history, rumours of whose demise would appear to be somewhat premature based on her position and possessions. But her power is real, or at least legally real, and it derives from a tradition based on a specific and unbalanced relationship between rulers and the ruled.
Commonwealth – Billionaires
*
Wat is in hul manifes vervat?  And they are still involved here, even on all other colonial states.   Read the Charter of the Commonwealth.
"British rule" Colonial rule
*
Kenya do have "reserves" like it was here in South Africa – 1854-1961.   Today they also have "TRUSTLANDS" like in South Africa.   Land alienation in Kenya : During the colonial period, land in Kenya was divided into three parts, namely the Scheduled Areas, the Coast and the Trust Lands. The latter were also known as Native Reserves or non-scheduled areas.  
Kenya – Trustland and british colony
*
Britse setlaars het net na die Anglo Boere oorlog hierheen gekom met opdragte om uit te voer. Daar is spesifiek plase uitgedeel en ander gekoop, nadat die Britse regering die Vrystaat en ZAR geannekseer het
Britse Setlaars – 1904 – Westminster
*
Duke of Westminster, worth £9.3billion, planned to kick dozens of families out of London council homes to build luxury flats – he is the world's richest person under the age of 30 after he inherited £9.3billion and his father's title after dying three years ago.
Duke of Westminster, London
*
In the foothills of the Maluti Mountains, Prynnsberg forms part of a string of gentleman's country estates established for British ex-servicemen in the eastern Free State – few of them grander than Prynnsberg, the century-old home of Charles Newberry, a carpenter who immigrated to South Africa in 1864, before making his way to Kimberley where he made his fortune.
Prynnsberg – Estate of Grace
*
Kgosi Lucas Manyane Mangope, one of the previous Homeland leaders had ruled a showpiece state, Bophuthatswana.  Bophuthatswana was one of the 10 homelands and independence (TBVC) was part of their future with Hendrik Verwoerd's twinkling words, "a policy of good neighbourliness" (various speeches).
Wyle Dr H F Verwoerd – 6 September 2019