Daar was heelwat soldate vanuit Australië wat hul tydens die Anglo-Boere oorloë aan die kant van die Britse ryk geskaar het om oorlog te voer teen ons twee onafhanklike Boere republieke.   Immers was Australië deel van die grondgebiede wat deur Brittanje geannekseer is.   Duisende soldate het die oorlog gevoer teenoor 'n handjievol Boere.   Die Britte wou seker maak dat hulle nog meer grondgebiede annekseer as dit wat hul reeds in Afrika gehad het.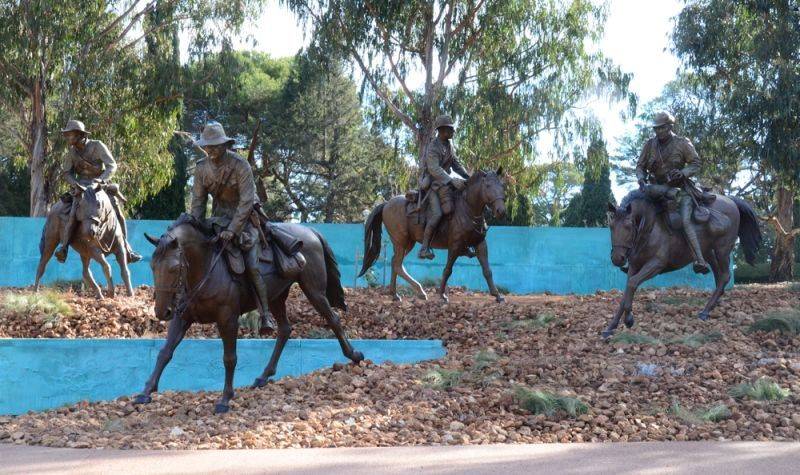 *
The monument shows Australian troopers mounted on horses breaking through the trees of ANZAC Parade. The significance of the four troopers is that they represent a four-man section, a formation for fighting and patrolling. When they went into combat, three men would dismount while the fourth would lead the horses to cover. Letters from veteran Frederick Harper Booth are at the feet of the horses.
From 10th October 1899 to the end of May 1902 a bitter conflict raged across the South African veldt between Britain and her Empire and the two largely self governing Boer Republics of the Transvaal and the Orange Free State. When a Boer ultimatum to the British expired, Boer commandos streamed across the borders into the British colonies of the Cape of Good Hope and Natal.
The six Australian States (colonies) were quick to make troops available to Britain .The first formed unit of troops from Australia, a squadron of the New South Wales Lancers landed in Capetown on 2 November 1899, less that one month after hostilities began. The Boer War was the first full commitment of troops by all the Australian Colonies to a foreign war and with the formation of the Australian Commonwealth on 1st January 1901 it became our country's first military involvement as a nation.
https://monumentaustralia.org.au/themes/conflict/boer/display/99622-national-boer-war-memorial-
*
Article 31 July 2017 in the Sydney Morning Herhald

It was stated on this day that 42,000 died in Anglo-Boer concentration camps.     
*
The memorial's roots are well embedded in Australian mythology: Larger than life horsemen ride across the landscape, the Man from Snowy River multiplied by four. Only this time they are not in the business of rounding up horses.
The monument celebrates the Australian volunteers who participated in the Boer War. But is this an appropriate monument?    Australians represented around six per cent of the more than 400,000 men who fought on the imperial side in that war.    Their contribution was therefore modest, although it was occasionally important.
For example, at Diamond Hill near Pretoria (11-12 June 1900), troops from NSW made a crucial breakthrough that turned a large battle in favour of the Empire.   At one level, Australians can be proud of the men and women who went to South Africa. Unfortunately, there is a wider story.   In this war, Britain, in full flight of colonial might, set out to add two small, independent countries to its grand Empire.
Sir Alfred Milner, the British High Commissioner for South Africa in Cape Town, needed the war to achieve his ambition of bringing the two republics into the British Empire and thereby consolidating all southern Africa within the Empire.     It was an achievement he perceived would bring him great honours. Some of the largely British-owned gold mining companies supported Milner and urged Britain to take control. But Milner needed a better justification for his war, and he found one.
As the existence of the goldfields became known, fortune seekers poured in, mainly from England.
The republican government, afraid of being swamped, set a 14-year residential qualification period for the franchise. Milner used this as one of the key issues to foment war, arguing, in emotive language, that British subjects were being treated as "helots". He got his war.
Britain expected a short, cheap war. But after suffering three defeats at the hands of the Boers, all in one week in December 1899, it shipped in tens of thousands of additional soldiers, eventually hundreds of thousands, and appealed to the countries in its far-flung Empire for support.
That's when Australians, New Zealanders and others got involved. With overwhelming power, the combined imperial troops then conquered the capitals of the two republics, Bloemfontein and Pretoria. But contrary to expectations, the war did not end there. The Boers fought on.
The country was vast, the population thin. The Boers had local knowledge and local sympathies and were more mobile.   The majority of the British soldiers were infantry – on foot; the Boers were all mounted. For Roberts and Kitchener, successive Commanders-in-Chief, this presented a great difficulty. They did not have the means to corner and defeat their adversaries. So, instead, they attacked the static, civilian population.
Roberts did it locally and punitively, in response to individual attacks on his men, but Kitchener was an engineer and he sought a comprehensive solution.      He decided to clear the countryside. His soldiers, including Australians, formed lines 50 to 70 km long, advanced across the land and removed everything that could sustain human life.
Farms were burnt to the ground, food and horses were commandeered, crops were destroyed, livestock was confiscated or simply killed, farm equipment was removed (especially wagons), wells were poisoned, and farm dams breached.   Small towns and villages suffered a similar fate. There were several such "drives" and each continued for months. By the end of the war, the countryside in the two republics was wasteland.
There was, of course, a complication. There were people on those farms and in the villages. While the men were mostly in the Boer forces fighting for their countries, the Boer women and children, the elderly, the sick and the disabled were still at home when the troops arrived.   And there were black people on the farms and in the villages too, men, women and children.
At first, they were simply abandoned besides their burnt-out homesteads with no food, shelter or transport. As they drifted into the towns, often in a pitiful state, a different approach was adopted.
They were rounded up and railed off to camps. Blacks and whites. The total number in the camps exceeded 200,000 by the end of the war. Kitchener called them "concentration camps".
The camps were appalling. At least 42,000 people died in them. By far the majority of the fatalities were children, especially little children. In one camp where detailed information is available, virtually no child below the age of four survived.
Which brings us back to The Man from Snowy River. Its author Banjo Paterson was over there, a war correspondent for The Sydney Morning Herald.
In the beginning, he was an ardent imperialist, writing enthusiastic stories of the great things our boys were doing. But as events unfolded, he began to think differently.
After he saw pleading women and terrified children being evicted from their house, and all their possessions going up in flames, he wrote no more from over there. He came home.    When the war was over, and the Boers had been defeated, Milner was still the High Commissioner for South Africa and his area of authority now included the former republics.
He could remedy the wrongs over which the war had supposedly been fought. But he enfranchised no one, not the transient fortune seekers nor the previously resident population.
Especially not the black population. Instead, in the ensuing years and for the duration of his term in office, he appointed every member of the legislative councils in the two former republics himself and formalised the racial segregation that would become a hallmark of South Africa in the decades that followed.
The two small, comprehensively devastated countries had to cope somehow with their own complex societies, with tensions between English and Afrikaner (BOERS), black and white, complexities that were immensely more difficult in the bitter, impoverished aftermath of the war.
The social scars remain to this day. But for Sir Alfred Milner things went rather better. By the end of the war he was Lord Milner and later Viscount Milner.     It is appropriate to commemorate wars, to reflect on the great tragedy that war is, and to grieve for the dead and damaged on both sides. But this monument glorifies a deeply unjust and shameful war.
Is there a reason why we are only now erecting a national monument to the Boer War, the first war in which Australia participated as a nation?
Did intervening generations remember what happened in this war and decide to forget about a national monument?
https://www.smh.com.au/opinion/42000-died-in-concentration-camps-is-it-appropriate-to-glorify-the-boer-war-20170524-gwbt95.html
*
Selfs vir toekomstige gebruik is die wettige privaatbesit nog meer bemoeilik en die blaam is op die blankes na 1961 geplaas dat ons die skuld kry vir 'apartheid' of dat 'ons kwansuis al die grond gesteel het' .   Dis selfs in die Unie grondwet, 1910 vervat dat niemand die Khoisan, Griekwas of Swartes se grond kon afneem nie – steeds het die kinkels in hierdie kabels nie eenvoudig net verdwyn nie.
Ongeveer 1847 is heelwat Khoisan en Griekwagebiede ook afgeneem sowel die Zoeloegebied wat nie baie lank ontstaan het in die oostelike gebiede van suidelike Afrika.   Hulle het reeds Port Natal en Kaapkolonie verower.
Al die Khoisan, Griekwas en Swart volke gebiede wat geannekseer is, is as Reservate vir swartes en Kroongebiede vir Khoisan en Griekwas gehou.   Met slegs kommunale regte en geen (eienaar) privaatbesit – verwys na Shepstone beleid van 1854 asook na Rhodes se wetgewing in 1894.
Shepstone – Natal, roots of segregation
Jan Smuts – Churchill – Rhodes  –  apartheid   : British rules
Elkeen van die volke/stamme was reeds apart van mekaar gevestig voor dit geannekseer is en weens stamgevegte wat knaend uitgebreek het (Mfecan oorloë 1805-1830) is dit so behou.      Dis nie lank na al hierdie verowerings dat die Victoria ryk begin het met die geweldadige oorlog teen ons voorouers nie.
Hul redes was ook dat die destydse president, Paul Kruger nie vreemdelinge en uitlanders wou vestig in die ZAR en omliggende gebiede waar goud ontdek is nie.    In een artikel was glo bevind dat die ZAR en Vrystaat bankrot was, wat natuurlik 'n spul leuens is.   Dit was minerale wat die lokaas was.  Later jare na hierdie verowerings, het die Randlords hul tuisgemaak en alle minerale wat hul kon kry, opgeslurp.  Minerale regte is in 1902 geannekseer.
Johannesburg – Man-Made Urban Forest in the World –  others
Gold and Diamonds –  South Africa
Gold and diamonds – Griqualand West
*
In menige artikels word verwys na die 24000 sterftes van die Boere, vroue en kinders in die Anglo-Boere konsentrasiekampe.   Destyds het die Britse ryk die verskroeide aardebeleid gevolg, waar alle voedsel en huise afgebrand is op plase en landelike omgewings.  Oor die 30000 plase met hul eiendom en voedsel is verbrand om sodoende die gebrek aan voedsel te versterk en hongersnood het nie lank daarna uitgebreek nie.
British concentration camps   –   ABW (Rudie Rousseau)
Concentration camps by the British empire
Geskroeide aarde  –  Scorched earth (1)
*
Oorloë is soos ons weet, altyd 'n groot meerderheid wat minderhede manipuleer, viktimiseer en afpers om alles te oorhandig.
Daar is net 'n handjievol Boere wat geveg het teen die magtige Engeland en haar koloniale hulp  om van ons handjievol Boere en gesinne ontslae  te raak.
Die Artikel hierbo is redelik onlangs in Australië geplaas dat daar oor die 42000 dood is in die Anglo Boere konsentrasiekampe.
*
British in ZAR and Free state   –  ABWars
Die Vryburgers het destyds juis uit die Kaapkolonie gevlug onder Britse beheer omdat hul vryheid geskend is.
Oral waar daar Vryburgers was is dorpies gestig en Boere republieke wat nooit erken is tot hul 100% geslaag het in die twee onafhanklike Boere republieke in die binneland, naamlik ZAR en Vrystaat.
Die onafhanklikheid was internasionaal erken, maar die erkenning en vryheid is weer eens aangeval deur 'n magdom van Britse soldate met meestal perde, gewere en kanonne.   Duisende perde (250000)  is ook afkomstig vanuit Amerika wat tot die steun en hulp van Engeland gekom het.
Meer agtergrond en inligting:
Background and other information
Camps during Anglo Boer wars
ABW concentration camps – Rudie Rousseau ea
Anglo Boer Wars – concentration camps
Concentration camps – ABW
From America and Australia
British horses during the Anglo-Boer wars
Dus, hoe kan ons dan EEN groot land wees – dis LEUENS.
British Empire and their colonial rules/flags
Richtersveld  –  KHOISAN AND CPA
Ingonyama Trust – King Goodwill Zwelithini
The 7.5 million black ownership in SA
*

Ron Gold History Series Part 1 – What made the Boers such formidable adversaries?
https://www.youtube.com/watch?v=TkfzRbyOBcQ
*
Ron Gold – The British Army in South Africa in 1899