Not so long ago – Cyril Ramaphosa paid  a courtesy call on Her Majesty the Queen at the Windsor Castle during a working visit to London to attend the Commonwealth Heads of Government Meeting (CHOGM 2018) taking place on 19-20 April 2018.   This is the place of "gold".   Where did they get the gold?   Pictures of a puzzle will fit in.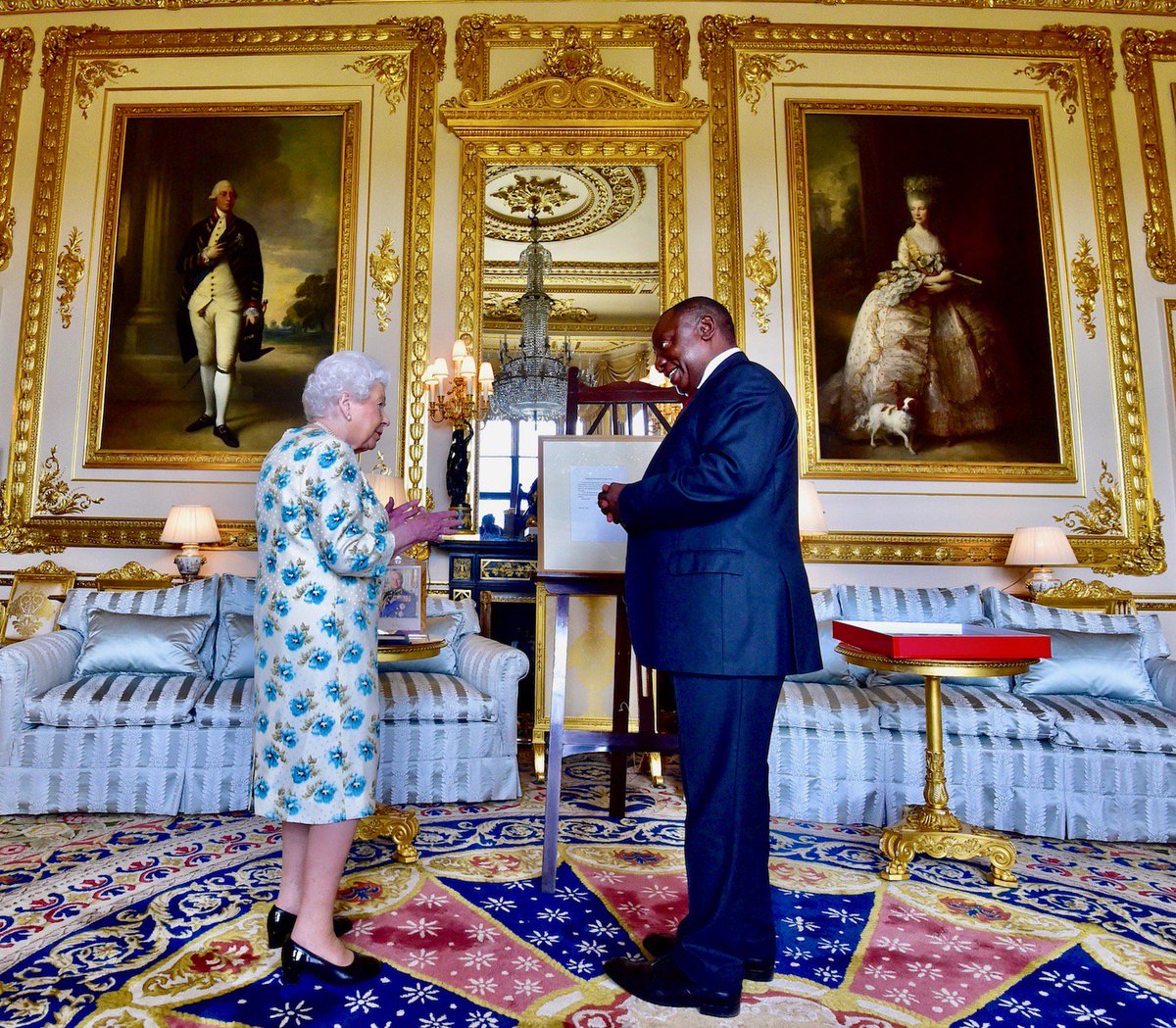 *
TRADITIONAL HOMELANDS (1961-1994)
The name of Homelands were changed in 1994 to Trustlands, "transferred as per agreements made with the leaders and supporters" each with their own legislations.   Today there are 8840 traditional leaders (December 2018) in South Africa, living in segregation from others.
Another part of "segregations" was formed in the name of Landclaims – each of them became registered CPAs, under that particular legislation and also apart from other tribal peoples.   The Khoisan people only rule their own, like the Zulu people, Ingonyama Trustland, by Zulu king, Zwelithini.
Try and buy or even build a house or guesthouse on any of those tribal lands – it will not be yours – it is "communal lands".
***
WE ARE LIVING IN A "FALSE FLAG COUNTRY"
FW and Mandela told all of us and the world, "apartheid" is gone.   There was only a change of names and legislations.
In the meantime the members of parliament, told the world they want the white people's properties (not only land) – shares, any other property, because we are the owners of all the lands.   It is all lies.   They told everybody we as Afrikaners and Boers stole their lands.   It is all lies.  In 1652 there were nothing.   In 1850 there were still nothing after the Great Trek.
*
Note:  Most of the articles and links referred to,  are from the SA Parliament and Hansards (Minutes of meetings)
*
A white paper of SA Parliament – most of the ethnic peoples are not part of the so-called rainbow nation (30++ millions with the khoisan and others in the CPA's)
Ooreenkomste – Agreements
December 2018
Traditional leaders South Africa: 8840
What perks are there for the traditional leaders
Ramaphosa's new cabinet, mp's and perks and traditional leaders
It is also written in their constitution.
South Africa: Traditional leaders
***
PREVIOUSLY … 1806 … southern Africa
WHO WERE THE BRITISH COLONISERS OF SOUTHERN AFRICA?
At this stage we were not a solid country.
And FOR SURE – NOT THE BOERS OR THE AFRIKANERS – perhaps, the liberal whites that time were with the British people.
The mine diggers and mine companies – Rhodes and his crownies.
DO NOT FORGET THE AFRIKANERBOND AS WELL and other  Foreigners.
***
The British empire ruled with legislation over all the mines in southern Africa since 1902, directly with legislation from the London House of Mines.
It was NOT from the Union of South Africa in 1910.   It was already in place with the "randlords" (mostly Johannesburg – Kimberley – Barberton areas).   Even the 1920 revolution in mines, started with them.
***
British empire and Commonwealth
Today it is the Government of the Day (ANC) that only permits people, companies or countries to mine in South Africa (Q: do they received their briefings or missions from the British empire to give out permits?)
(Renwick and Soros)
Also ZIMBABWE and other colonies – to destroy – Ukraine too.
(and with the PAC) – look at them!!
***
George Soros financed the constitution of South Africa, parliament, black sash and legislations.
Suid-Afrika Parlement /South Africa Parliament
***

HISTORICAL FACTS

Only in short – a little history about Reserves / Locations and British Crown lands AND independent countries in the borders of South Africa today.
Previously, the ZAR (old Transvaal areas – excluded the reserves/tribal lands) and Free state, were independent countries that the British took away from all of us.
The British empire with the wars they started,  annexed both those areas, as well as Zululand (that was also an independent country, under the rule of zulu monarchy from 1816).
The British empire soldiers, with the help of other commonwealth countries' soldiers,  came from the islands and British colonial areas, and made war with our peoples in Southern Africa.
It was here, within the boundaries of SA,  they put our old people, the old grandfathers, mothers and small children in concentrations camps, burnt  down ALL houses and farmlands, food as well.   They confiscated cattle and horses to use by their soldiers.   There were little food left, only for them to survive.   Some of our people (men and sons) were banned to islands, like Ceylon and St Helena.
They took our ancestors' human rights and dignity away, forced our Boer fighters to sign agreements to be part  of their UNION, and later it became COMMONWEALTH countries.
***
BEFORE 1900
It was the British empire and black/brown leaders that created the segregation of reserves or crown lands.  NOT US with the creation of the Lord Shepstone, and his  Shepstone Policy 1854.   That time the policy stipulated that reserves, locations or crown lands were only communal lands.
When we left the Commonwealth in 1961, Verwoerd tried to give every tribe their own lands, same as the reserves, but it was bigger in 1961 as in 1900.   It was then called Homelands, as the rest in Africa as well.
ALL ethnic black leaders decided to go for independence (10).
There were elections during the Verwoerd period as well, they all have elections to elect their own leaders.  WE as whites, did not rule them, they ruled their own peoples and  did not force any of those tribal peoples into our own systems , but to have their own parliament and own legislations and rules as they like.
Even the Zulu tribe/people are different from the Xhosa, Sotho and different Khoi san groups.

AFTER 1994 
Blacks and Khoisan are still living in segregation by their own choices today.   Not by force.   There were agreeements in place and discussed at the Codesa time.  They did not want to be part of the failed and so-called "rainbow nation".
The very same areas as Tribal lands, Reserves, Crown lands, Homelands the black and khoisan leaders, the ANC made special arrangements to call that Trustlands or CPA's (under land claims).   Each people have their own tribal lands, they are not landless.
We have a problem that the millions of immigrants, some 70-80 % from African countries or Asia are living in South Africa.
The current government, the liberal media, the previous Dakar liberals created that idea that those are still the people that were part of the so-called "apartheid" sistems.   Look around you a
***
AFTER 1994
The liberal movement, the ANC government accepted that in 1994 to be part of the British again,  after Dr H Verwoerd left the Commonwealth in 1961 to be an independent country.
Conclussion –  we are still under British rules today.    And where did they get all the gold?
***
Please note how quick Theresa May visited South Africa about the "expropriation of white properties"
She interfered openly in South Africans dignity and freedom we do not have – but why – because we are part of the COMMON WEALTH COUNTRIES?  OR WAS THAT ABOUT THE MINERALS IN SOUTH AFRICA?
"PROPERTIES:   LAND / BUSINESSES / ALL SHARES / PENSIONS / EVERYTHING OF THE WHITES" (AND OTHERS WILL FOLLOW SOON LIKE IN ZIMBABWE – they will take from the Whites first, then other business related properties and shares as well.
During a trip to South Africa, British PM Theresa May confirmed her support for South Africa's land expropriation.
It's ok though guys, don't worry! May said that Britain supports it as long as it's done fairly and legally.   So racism and hatred towards white people is cool as long as it's "democratic"… or something.
***
***
Jack Buckby of TheRebel.media:
"It's ok though guys, don't worry! May said that Britain supports it as long as it's done fairly and legally – August 2018