Nie alle blankes, oftewel Boere of hul nageslagte van die twee onafhanklike Boere republieke (Transvaal en Vrystaat) het met die 1910 Uniewording saamgestem om een land te vorm nie.  Daar was immers 'n ooreenkoms, die Vredesverdrag om die oorloë te beïndig.
*
Photo – Commonwealth Prime Minister's Conference, London, 1 May 1944. L-R: W.L. Mackenzie King, Canada; Jan Smuts, South Africa; Winston Churchill, UK; Peter Fraser, New Zealand; John Curtin, Australia. (Library & Archives Canada.)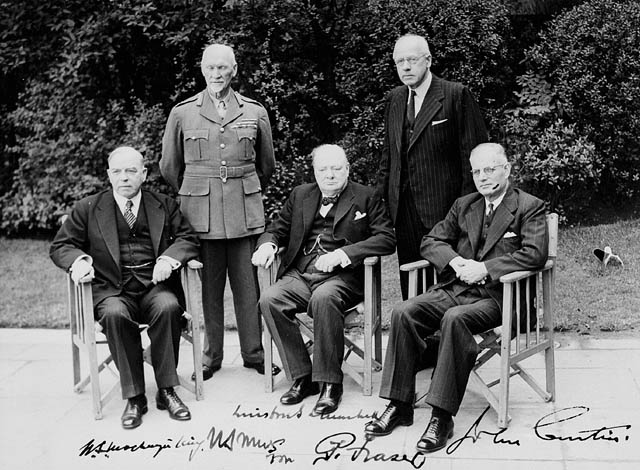 *
Verdrag is onderteken en daar was bepalinge wat tot vandag toe nie nagekom is nie,  waar die burgers van die twee Boere republieke hul onafhanklikheid en vryheid sou behou het of teruggekry het.
Dis nie nagekom nie en is ons voorgeslagte ingedwing in situasies waarin hulle nie wou wees nadat die Britte alles van hul plase en eiendomme vernietig het.
Wat sal gebeur as Rusland, Engeland, China of Amerika inval en al hul bates en eiendomme afbrand en grond annekseer, of selfs andersom?   Daar is geen manier dat enige land daarmee sal saamstem nie.  Hoekom moet ons as minderwaardige burgers gereken word met swart bemagtiging en onteiening?
Feite in Hansards, Witskrifte en Grondwet
NA 1994
Die feit dat Khoi san en verskillende swart etniese swart volke uit die Mfecane (1805-1835) oorloë ook nie saamgestem het nie, is bewys daarvan aangesien daar destyds reservate en Britse kroongebiede (Griekwa en Khoi san gebiede) gevorm het waar slegs kommunale regte toegeken is met Shepstone beleid of wetgewing vanaf London.    Lewensreg.
Die grondgebiede is opgeneem in die Unie grondwet en word beskerm.  Waarom is al hierdie gebiede Kroongebiede of Reservate genoem en nie deel van die groter Unie van SA of later Republiek nie?    Dis waar miljoene gebly het voor 1961 en ook steeds na 1994.  Verwoerd kon ook nie die Reservate of Kroongebiede net vat of annekseer en maak of dit ons sin is nie.  Nou waarom word die Boere republieke nie aan hul regmatige eienaars gegee soos daar ooreengekom is nie.
*
Na 1994 kon swartes / khoi san hul eie (reservate of kroongebiede) gebiede weer terugeis, onder ANC wetgewing, tewete Trust of CPA.   En dis steeds so, Ingonyama Trust was daar weer eens 'n ooreenkoms voor 1994 bereik waar die Zoeloes hul gebiede behou het onder ANC wetgewings en die wetgewing stipuleer dit uit.  Alles onder die wetgewings is kommunale grondgebiede, nes die Shepstone beleid van 1854.
Ongeveer in 2007 is die Richtersveld en ander Khoi san en Griekwa, sowel ander ou Tuislande geëis waar hul steeds woonagtig is vir dekades sedert Britse anneksasies.   Hierdie gebiede was nie deel van die Unie of RSA nie.
Enige Boer of selfs Afrikaner kan nie grond opkoop in enige van die Trustgebiede of CPA (ou Reservate of Kroongebiede) nie.
Dit is oorsee dieselfde, heelwat lande het steeds Trust / Kroongebiede of Reservate wat nie deur ander opgekoop kan word nie.   Moontlik verhuur, maar dis waar dit bly, dieselfde geld hier in SA ook.    Al die Britse kolonies tot datum.
Dis ons burgers van die twee Boere republieke wat wederregterlik moes afstand doen van alles en so ons vryheid verloor.     En dit gaan voort in 1994 tot datum.  Dis steeds so met swart bemagtiging en onteiening sonder vergoeding – vergelding is slegs teen blankes gemik met wetgewings.  Ons blankes (Boere) word daagliks vals beskuldig van iets wat reeds aan ons voorgeslagte behoort.
*
Anneksasie van twee onafhanklike lande deur Brittanje met die Anglo-Boere oorloë en daarna het Brittanje minerale regte geannekseer (goud en diamante) in 1902.
The two independent Boer Republics came under British control – the Orange River Colony and Transvaal Colony.
Two independent Boer republics
*
*
*
*
*
Die BLAAM van Apartheid – dit word deur die Britse anneksasies ontwerp en uitgevoer.   Daar is heelwat kaarte van voor 1900 wat aandui hoe daar Kroongebiede en Reservate geskep was, dis netso in die Unie van SA opgeneem.   Swartes en Khoi San het nie daarmee saamgestem nie.   Selfs voor 1900 het hulle apart gebly in hul stamme (chiefdoms).
Ons in 1961 het beslis dit nie geskep nie, dit was reeds daar en dis hier waar wyle Dr Verwoerd hierdie gebiede, saam die leiers en verkiesings, laat onafhanklikheid verkry.   Hulle het stemreg gehad en ook hul eie skole, al was dit grotendeels sendingskole of kerkskole.   Daar was ook plaasskole op sommige Boere se plase.   In 1955 het Dr Verwoerd hierdie vals onderrig vanaf Unie ontvang, want dit was Britse beheer.    Toe eers word dit ons baba en ons in veral die ou Boere republieke word vals beskuldig dat ons nie vir hulle wil voorsiening maak nie.   Ons is ook tenagekom toe ons gebiede deur die Britte beset en geannekseer is – alles was afgebrand en vandag word dit steeds gedoen.   Ekonomiese kommunistiese rewolusie.
*
Quote – Article about busting four myths about Winston Churchill from The Federalist.
Interesting statement:
"Apartheid was made in Britain:   Richard Dowden explains how Churchill, Rhodes and Smuts caused black South Africans to lose their rights." (The Independent, 19 April 1994.)  – David E., Ohio.   Unquote
ALL  Boer peoples (white Trekkers that left the Cape Colony) living in the ZAR and Freestate also lost their freedom, their two independent countries and have to live under British rule again  (like those in the Cape Colony).
That started way back before 1900 with the two Anglo Boer wars and even Zulu wars.  The British empire with their other assistants and colonies,  came mostly from England and made war, not only with the Boers, but also with the Zulu and other peoples.
The British colonial rules already have "apartheid" on their books, the British empire created the "passbook", not Dr Verwoerd.
Various other legislations were created by them, long before 1910.    The Union of South Africa, was also ruled from London.
*
(POPULATION CONTROL)
*
Accurate, But Not Dispositive
Mr. Dowden's article seems to me broadly accurate, but not dispositive.
It is true that Britain dropped its opposition to making South Africa a "white man's country" in 1909 by passing the Union of South Africa Act.     Winston Churchill supported that Act because he saw it as the way to ease lingering tensions with the Boers. He justified his support by saying explicitly that it was the best possible solution, but he did not like it.
Churchill was a political man. He needed, and thought he needed, the votes of a majority. If he lived in an age of prejudice (and every age is that) then of course he would be careful how he offended those prejudices. See "Churchill and Racism."
*
Apartheid and Smuts
It is quite true that Smuts (Remember, he was always on the side with the British Empire) believed in a "white man's country" and in segregation in his earlier years. But the article doesn't mention that when the pro-Apartheid National Party won the 1948 election, it defeated Smuts, who had run in support of the Fagin Commission, which had recommended relaxing segregation.
(Apartheid was already in legislations and Shepstone Policy)
Early on, Churchill and Smuts expressed very unfashionable attitudes toward races their societies generally considered inferior. In 1899, Churchill tells his Boer captors that blacks are entitled to the same rights as any others in the British Empire.
(But not foreigners that gave the problems in the old Boer Republics).
*
In 1939, Smuts writes an essay for a commemorative book on Gandhi's 70th birthday. Although Churchill and Smuts were Gandhi adversaries at times, they had a mutual respect and even admiration for each other. See "Welcome, Mr. Gandhi."
*
Pretoria, 1899
QUOTE
Churchill's Boer captor: "No, no, old chappie, we don't want your flag; we want to be left alone. We are free, you are not free."

Churchill: "How do you mean 'not free'?"

Boer: "Well, is it right that a dirty K…r should walk on the pavement [sidewalk]—without a pass too? That's what they do in your British Colonies. Brother! Equal! Ugh! Free! Not a bit. We know how to treat K…rs….

We know how to treat K… rs in this country. Fancy letting the black filth walk on the pavement!….

Educate a K…r!  Ah, that's you English all over.

No, no, old chappie. We educate 'em with a stick. Treat 'em with humanity and consideration—I like that.

They were put here by the God Almighty to work for us. We'll stand no damned nonsense from them. We'll keep them in their proper places."

Churchill: "Probing at random I had touched a very sensitive nerve. What is the true and original root of Dutch aversion to British rule?…

British government is associated in the Boer farmer's mind with violent social revolution…. The dominant race is to be deprived of their superiority; nor is a tigress robbed of her cubs more furious than is the Boer at this prospect."

—From Winston S. Churchill, London to Ladysmith via Pretoria (1900), 59-60.
*
Liberalism has its own history and its own tradition. Socialism has its own formulas and its own aims. Socialism seeks to pull down wealth; Liberalism seeks to raise up poverty. [Loud cheers.] Socialism would destroy private interests; Liberalism would preserve private interests in the only way in which they can be safely and justly preserved, namely, by reconciling them with public right. [Cheers.]
Socialism would kill enterprise; Liberalism would rescue enterprise from the trammels of privilege and preference. [Cheers.] Socialism assails the pre-eminence of the individual; Liberalism seeks, and shall seek more in the future, to build up a minimum standard for the mass. [Cheers.] Socialism exalts the rule; Liberalism exalts the man. Socialism attacks capital; Liberalism attacks monopoly. [Cheers.]
These are the great distinctions which I draw, and which, I think, you will think I am right in drawing at this election between our philosophies and our ideals. Don't think that Liberalism is a faith that is played out; that it is a philosophy to which there is no expanding future. As long as the world rolls round Liberalism will have its part to play – a grand, beneficent, and ameliorating part to play – in relation to men and States.   [Cheers.]

Smuts en Churchill
read also
https://www.independent.co.uk/voices/apartheid-made-in-britain-richard-dowden-explains-how-churchill-rhodes-and-smuts-caused-black-south-1370856.html