Die "bedelaar" verskyn talle kere as verwysing na Brittanje se tweede Anglo Boereoorlog (1899-1902) waar soldate duisende seemyle gereis het en kom oorlog maak het met ons voorouers – die doel daarvan om geld in te samel vir families.   Hierdie gedig, wat geskryf is deur Rudyard Kipling en getoonset deur Sir Arthur Sullivan, het 'n geweldige hoeveelheid geld vir soldate en hul gesinne ingesamel.     
How many of those moneys were offered to the soldiers and families in England?
*
Dis 'n ope vraag of die geld ooit by hul gesinne uitgekom het.   Indien wel, het dit die Britse regering getroos dat die wat sneuwel hier in suidelike Afrika se gesinne versorg sou word.   Vir hierdie bloeddorstige regering het dit gegaan om ontslae te raak van 'n volk en in die proses baie minerale te kry.  Honderde duisende soldate is op ons handjievol Boere, Vroue en Kinders losgelaat.   Ons aan die suidpunt van Afrika was ook nie die enigste in Britse konsentrasiekampe nie.
Daarteenoor was dit ook 'n Britse jong dame, Emily Hobhouse wat haar veral oor die arm Boervroue, kinders en ou mense ontferm het.   Kyk na beeldmaateriaal oor die vroue, kinders en ou mense in Britse konsentrasie helkampe.   Ons is baie dankbaar vir haar menswaardige optredes in die baie moeilike tyd waarin ons voorgeslagte gedompel was.
Republiekdag  – 60 jaar 
Vandag herdenk ons 'n vals "vryheidsdag", want niemand van ons wil deel van die Britse statebond wees nie.   Dit is geen vryheid of onafhanklikheid nie.
Die liberaal verligtes of klassieke liberales, wat deel vorm en deelgeneem het aan die kommunistiese oorname, die skryf van die "sogenaamde demokratiese kommunistiese Grondwet" en daarin glo, was ook so deel tydens die Anglo Boere Oorloë.   Hulle is ook deel van onteiening en swart bemagtiging vandag asook die aparte gebiede wat Trust en CPA gebiede genoem word.   Dis die spul verligte blankes wat deel daarvan wil wees en nie na onafhanklikheid strewe nie.   
British colonial empire in Africa (SA) – Rhodes and BSAC
British Empire and their colonial rules/flags
1911 – South Africa  – Commonwealth Parliamentary Association
*
The "absentminded beggar" appears numerous times in Ulysses as a reference to Britain's second Boer War (1899-1902). This poem, written by Rudyard Kipling and set to music by Sir Arthur Sullivan, raised an immense amount of money for soldiers and their families.
Stephen clearly thinks of the song as beating the drums of war when he introduces it to the verbal textures of the book. As Mr. Best praises Mallarmé's prose poem about Shakespeare's Hamlet, Stephen silently reflects that Best makes no mention of the work's central point: Hamlet is a "Sumptuous and stagnant exaggeration of murder." To drive home this point, he translates Mallarmé's "Le Distrait" (The Distracted or Absentminded One) as "the absentminded beggar." The great playwright, in other words, was very much an Englishman.
The Blooms reference the song less subversively. In Circe, Leopold coddles up to two nightmarish policemen by inventing a war history for himself: "My old dad too was a J. P. I'm as staunch a Britisher as you are, sir. I fought with the colours for king and country in the absentminded war under general Gough in the park and was disabled at Spion Kop and Bloemfontein, was mentioned in dispatches. I did all a white man could." Molly, who reveres the British armed forces, thinks of "father being in the army and my singing the absentminded beggar and wearing a brooch for Lord Roberts." Ithaca sends up these reverent attitudes, however, by reciting a testimonial for the Wonderworker, "the world's greatest remedy for rectal complaints," from an "absentminded beggar" in the army: "What a pity the government did not supply our men with wonderworkers during the South African campaign! What a relief it would have been!"
https://www.joyceproject.com/notes/090001absentminded.htm
*
Soldiers of the British Crown
https://www.soldiersofthequeen.com/TheLimelight-AGentlemanInKhaki.html
And Rhodes during the Anglo Boer War
https://www.alamy.com/stock-photo-cecil-rhodes-rudyard-kipling-during-the-boers-war-126396165.html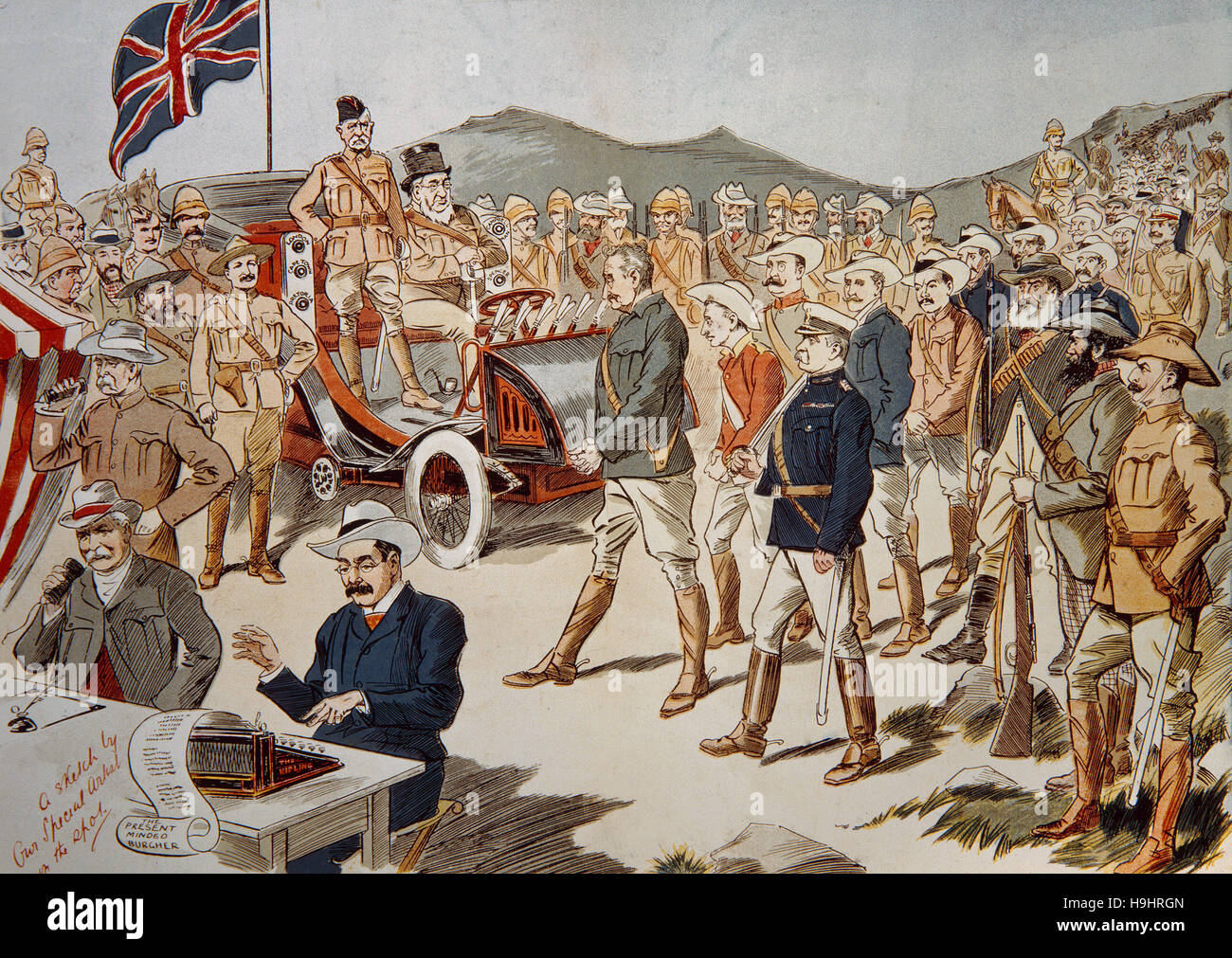 *
When you've shouted "Rule Britannia," when you've sung "God Save the Queen," When you've finished killing Kruger with your mouth– Will you kindly drop a shilling in my little tambourine For a gentleman in khaki ordered South?
He's an absent-minded beggar, and his weaknesses are great: But we and Paul must take him as we find him: He is out on active service, wiping something off a slate: And he's left a lot of little things behind him!
Duke's son–cook's son–son of a hundred kings. (Fifty thousand horse and foot going to Table Bay!) Each of 'em doing his country's work (and who's to look after their things?). Pass the hat for your credit's sake, and pay–pay–pay!
There are families by thousands, far too proud to beg or speak: They'll put their sticks and bedding up the spout, And they'll live on half o' nothing, paid 'em punctual once a week, 'Cause the man that earns a wage is ordered out.
He's an absent-minded beggar, but he heard his country's call, And his reg'ment didn't need to send to find him; He chucked his job and joined it–so the job before us all Is to help the home that Tommy left behind him!
Let us manage so as later we can look him in the face, And tell him what he'd very much prefer: That, while he saved the Empire, his employer saved his place, And his mates (that's you and me) looked out for her.
He's an absent-minded beggar, and he may forget it all, But we do not want his kiddies to remind him That we sent 'em to the workhouse while their daddy hammered Paul, So we'll help the homes our Tommy left behind him!
Cook's home–Duke's home–home of a millionaire– (Fifty thousand horse and foot going to Table Bay!) Each of 'em doing his country's work (and what have you to spare?) Pass the hat for your credit's sake, and pay–pay–pay!
Lines from the poem are cited a few times in the James Joyce novel Ulysses. The poem was written by Kipling to generate support for Britain's second Boer War (1899-1902), and people in Ireland would not take kindly to such a poem since the war seems cruel and imperialistic to the Irish.
The war pitted the Empire's military might against the Dutch citizen-soldiers of two south African republics. It was an unequal contest spurred by naked greed (England wanted the colonists' resources).
Many of the Irish sympathized with the nationalist aspirations of the Boer settlers.
The poem's subject matter is the Britain's rapid mobilization of reservists to wage the war.
These were not proper soldiers in the sense that they joined with the intention of being in uniform immediately. Instead, these were ordinary men in a militia who signed up with no knowledge if they would ever be needed in a fight.
So the war brought terrible hardships on ordinary people–the risk of death or mutilation, the loss of wages being earned at home. If you were sent to South Africa, your job was lost–someone else will be doing that job when you return.
Kipling wrote his patriotic poem in 1899 as part of a newspaper's campaign to raise money for British families impacted in their homes by the loss of men who normally would be the heads of the households.
This poem did raise money–as did the Sulivan song that uses the poem for lyrics. Money made its way to soldiers and their families. The poem itself urges readers to contribute to the cause.
Rudyard Kipling poem "The Absent-Minded Beggar" Boer War (in James Joyce Ulysses) Kruger with mouth
In total, the poem and song raised a staggering £250,000 (£31.5 million in 2018 terms), and Kipling was offered a knighthood as a result. He declined.
https://www.beckislemuseum.org.uk/the-boer-war-charity-single/
*
*
*
*

Emily Hobhouse's, a British welfare campaigner, account of the terrible suffering at the British Concentration Camp at Bethulie in the Free State during the Anglo Boer War. Emily Hobhouse also set up a spinning and weaving school to help the Boer woman.

https://www.youtube.com/watch?v=luhea9KauXg
++++
Luister gerus na die beeldmateriaal wat die Britse regering destyds aan ons voorgeslagte gedoen het.  Daar was heelwat ander lande wat hiertoe bygedra het, tot Amerika het honderde duisende perde voorsien aan die magtige Britse regering om ons voorgeslagte te vernietig.   Die Britse regering was nie alleen nie, net soos wat die liberaal verligte blankes in 1994 oorhandig het aan kommuniste, staan die ANC ook nie alleen nie. 
Leer uit ons geskiedenis en wat ons voorgeslagte gedoen het, en hierdie is maar 'n menspuntjiie van verhale.  So het hierdie selfde Britse regering wat die hele Afrika wou inpalm vir minerale, ook al die ander Swart en Khoi san gebiede geannekseer.   Daarna in 1840 is Reservate en Britse kroongebiede geskep – apart van mekaar, Beleid van Shepstone 1854 en die wetgewing van Rhodes in 1890.
Destyds was hierdie volke almal apart van mekaar  – ons het hulle nie so geplaas nie.  Die hele Afrika getuig vandag steeds van stamme wat apart van mekaar woon en deur hoofmanne (chiefs / indunas) beheer word.  In 1900 was daar oor die 2000 Tuislande in Afrika, nie net in Suid-Afrika (na 1961 nie).   
Na 1994 bly hierdie stamme en volke steeds apart van mekaar in Trust of CPA gebiede onder ANC regering.  Die indruk wat die media oordra is dat ons verantwoordelik was vir al hierdie APARTE gebiede – LEUENS.
*
BOERVOLK CONCENTRATION CAMPS IN SOUTH – AFRICA
*
*
*
RELATED – VERWANTE INLIGTING
ABW concentration camps –  Rudie Rousseau ea
Monumente : Geskiedenis simbole ZAR
Geskroeide aarde – Scorched earth (1)