Our national debt just went through the R3 trillion mark today. Each man,woman and child owes R55 276 000! Our interest we pay is now R170bn per annum.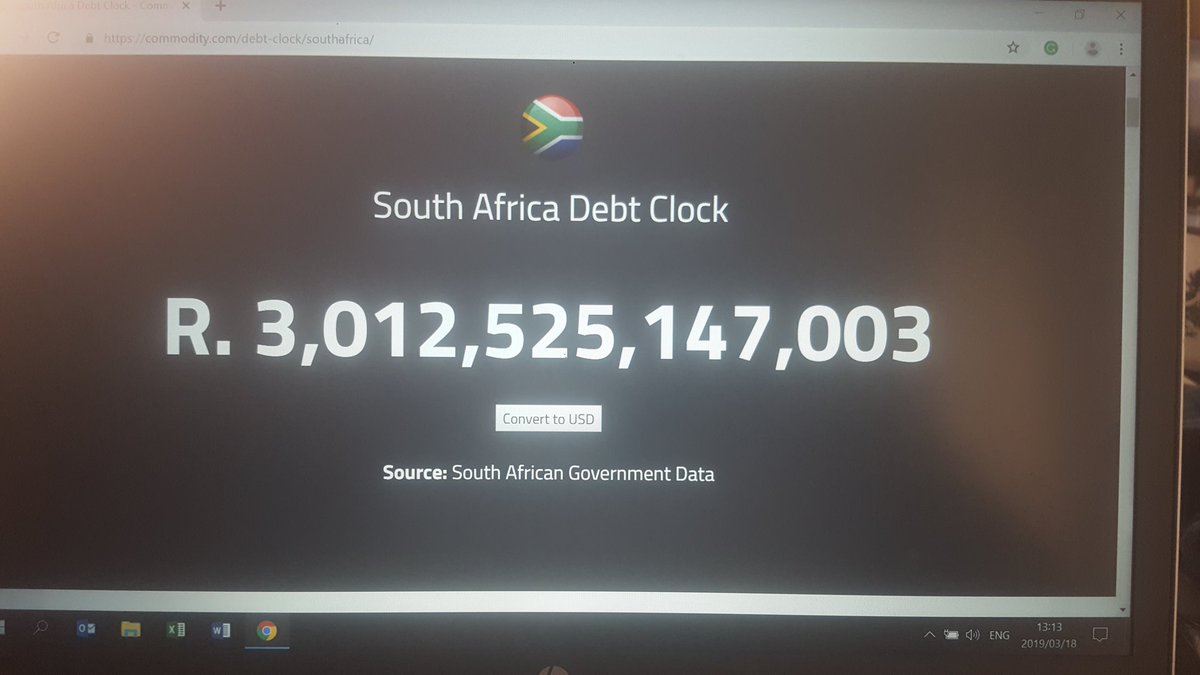 ***
PLAASAANVALLE
PLAASMOORDE
Headed to the Netherlands – raising a cry for the beautiful white farmers of South Africa. Cruelly bludgeoned, blow torched & murdered on their farms at the hands of ANC / EFF inspired black gangs pic.twitter.com/ylGlbjvsuT
***
Hoeveel korrupsie is daar in 25 jaar gewees?
Hoekom moet daar nooit vir die ANC gestem word nie, daar is baie redes.
Die ANC bly 'n liberale radikale beweging en is nie 'n politieke party nie.  Alhoewel die wêreldlande dink die son kom op as daar van hulle of hul "ikoon" mandela gepraat word.
Kommunisme is sieldodend, aftakelend, dit vernietig volksregte en identiteite, menseregte word totaal en al vernietig.
Bly weg van liberales, klassieke liberales en verligte liberales want hulle hardloop saam met die ANC en sommige ook saam die DA en ook EFF – rooi bene en blou bene, en dalk groen en geel bene.  Klink soos 'n seekat wat lankal hier in Suid-Afrika rondsluip en vernietig..
Soros:
Soros en sy agente werk en beplan goed al van 1979 wat hy in SA is of wat rekenskap gegee kan word van sy Open Society.   Zille en Ramaphela werk ook vir hom.
Hy finansier die parlement
Hy finansier die grondwet en opvoeding
Hy finansier monsanto
Hy finansier swart bemagtiging, immigrante en protesaksies
***
Classical liberals – SA – IRR – IRV
Suid-Afrika Parlement /South Africa Parliament
**
The following list of reasons not to vote for the African National Congress (ANC) in South Africa's upcoming 2019 Election was created as a Twitter thread by Gareth van Onselen from the IRR (CLASSICAL LIBERAL)
Thread: 150 things to think about before voting ANC in 2019:
1. The "Arms Deal".
2. Police Commissioner Jackie Selebi fired for corruption.
3. Schabir Shaik.
4. Nkandla.
5. 2007 and 2019's rolling blackouts.
6. The commission of inquiry into the collapse of the rand.
8. State capture.
9. The tragedy created by moving psychiatric patients from Life Esidimeni care.
10. Marikana.
11. The firing of finance minister Nhlanhla Nene.
12. Million-rand bailouts for the SABC.
13. Billion-rand bailouts for SAA.
14. Trillion-rand bailouts for Eskom.
15. Maths and science pass rates.
16. Junk status.
17. A ballooning public-service wage bill.
18. Oilgate.
19. Chancellor House.
20. Silent diplomacy.
21. HIV not causing Aids.
22. Cadre deployment.
23. Nationalisation of mines.
24. Expropriation without compensation.
25. A media-appeals tribunal.
26. Tenders.
27. Forty-nine murders a day.
28. The South African National Defence Force (SANDF) and the Central African Republic (CAR).
29. R20bn on VIP protection in 10 years.
30. The state versus Jacob Zuma, and others.
31. New BMWs for ministers.
32. Omar al-Bashir.
33. Menzi Simelane.
34. Hlaudi Motsoeneng.
35. The biggest budget deficit of all time.
36. Cash in transit heists.
37. Service delivery protests.
38. Public destruction of infrastructure.
39. The South African Democratic Teachers Union (SADTU).
40. Road infrastructure backlog.
41. Water infrastructure backlog.
42. Racial nationalism.
43. Under-funded universities.
44. The bucket system.
45. Mud schools.
46. Farm murders.
47. Political assassinations.
48. Collapse of local government.
49. Local government audit outcomes.
50. "Radical economic transformation".
51. Attack on free speech.
52. The payment of social grants.
53. Corruption.
54. Poverty.
55. Censorship.
56. Decline of national debate.
57. Decline of parliament's authority.
58. Politically biased speaker of parliament.
59. Drought.
60. Impartiality of the National Prosecuting Authority (NPA).
61. Impartiality of the Hawks.
62. Shutting down of the Scorpions.
63. Destruction of SARS' institutional framework.
64. The impartiality of the public protector.
65. The denigration of the previous public protector.
66. The skills deficit.
67. Abuse of black economic empowerment (BEE).
68. The security and independence of the Public Investment Corporation (PIC).
69. Nationalising the Reserve Bank.
70. Violence against women and children.
71. Prison overcrowding.
72. Court backlogs.
73. Stolen dockets.
74. The intelligence services.
75. The African Growth and Opportunity Act (AGOA).
76. The Vrede dairy farm.
77. The state of public healthcare.
78. Xenophobia.
79. Border control.
80. The Waterkloof landing.
81. Death threats.
82. Transnet.
83. Denel.
84. Lack of accountability.
85. Racism.
86. Sexism.
87. Homophobia.
88. Intolerance.
89. Riah Phiyega.
90. Bheki Cele.
91. Bathabile Dlamini.
92. Sarafina.
93. Virodene.
94. Digital migration.
95. Directors-general turnover rate.
96. Red tape hampering business start-ups.
97. Collapse of the mining sector.
98. Red tape hampering mining investment.
99. Conflation of party and state.
100. Foreign direct investment.
101. Supra Mahumapelo.
102. Ace Magashule.
103. Collapse in the value of the rand.
104. Shortage of nurses.
105. Decline in tourism.
106. Reconstruction and Development Programme (RDP); Growth, Employment and Redistribution (GEAR) plan; the Accelerated and Shared Growth Initiative for SA (Asgisa); the Industrial Policy Action Plan (IPAP); IPAP II; the New Growth Path (NGP); the National Development Plan (NDP).
107. The Passenger Rail Agency of SA (Prasa).
108. Dire land reform progress.
109. Mass water loss due to poor infrastructure.
110. Road deaths.
111. E-tolls.
112. State funding of Jacob Zuma's legal costs.
113. Government compliance with court orders.
114. The response to Brett Murray's painting The Spear.
115. Extended suspensions on full pay.
116. The National Student Financial Aid Scheme (NSFAS).
117. Acting officials in permanent positions.
118. 2009 suggestion to scrap the provinces.
119. Low corruption conviction rate.
120. Number of work days lost to striking.
121. Failure to meet deadlines.
122. Gangsterism.
123. Sixty percent of children without a father figure.
124. Limpopo placed under administration.
125. Billing problems.
126. Municipality arrears owed to Eskom.
127. Political stability in the North West.
128. John Block.
129. The loan conditions from China.
130. Youth unemployment rate of 53%.
131. Student damage to university property.
132. The destruction of Nelson Mandela Bay under the ANC.
133. Ministers' failure to attend committees or question time.
134. Tony Yengeni in charge of ethics.
135. Teachers refusing to be tested.
136. Uncosted National Health Insurance (NHI) scheme.
137. Uncosted long-term free higher education.
138. PetroSA's R1.4bn loss in 2016-2017.
139. The number of small-and medium-size businesses having halved.
140. A state bank.
141. Load-shedding.
142. David Mabuza.
143. Failure to deliver textbooks in Limpopo.
144. Fake degrees and CVs.
145. Impartiality of the SABC.
146. Declining funding for arts and culture.
147. Travelgate.
148. 500 schools closed in the EC in 2017.
149. 'Poo Protestors'
Oh, and as of Tuesday: 150: A recession.