Zuma has been given five days to hand himself in to police. Failing that, the police minister must order his arrest. Zuma, 79, is accused of enabling the plunder of state coffers during his nearly nine-year stint in office.   "I am left with no option but to commit Mr Zuma to imprisonment, with the hope that doing so sends an unequivocal message … the rule of law and the administration of justice prevails.
Is dit "sien is glo", want by Nkandla dink baie dis of 'n grap of nie waar nie.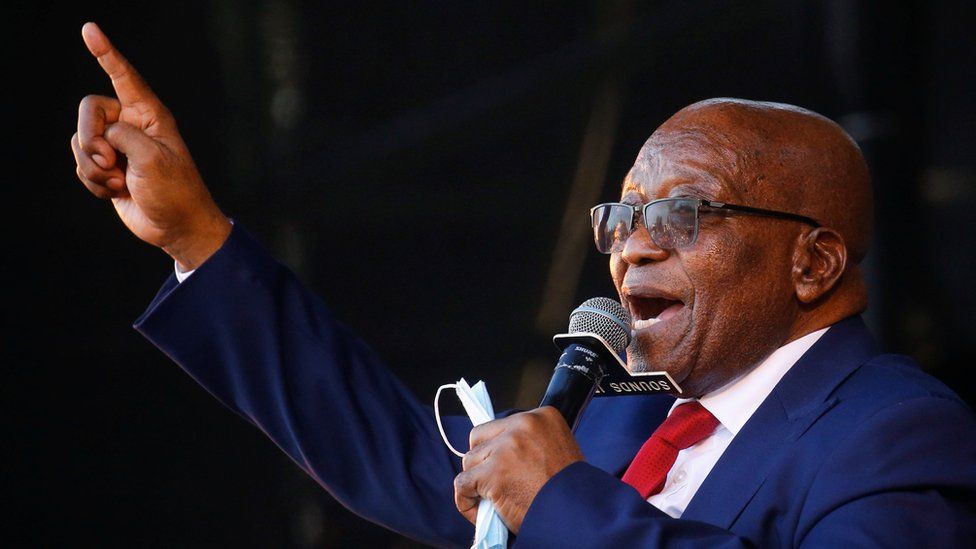 *

WHERE ARE ALL THE OTHER KADERS WITH HIM?

As die tronkdeure toemaak agter zuma moet elkeen wat gevat het, die geld met rente teruggee. SARS moet ook betaal word vir ekstra inkomste. Dit sluit alle ministers en hul kaders in – hoeveel sit nog in die parlement saam zuma, kapings, guptas, plaaslike owerhede, provinsies..     
There were more kadres part of the "zuma partnership", dealing the corruption cake.   Every cent must return where it belongs, with interest and those must pay SARS for extra income as well.  They stole TAX money.   Even the State entities like Eskom , SAL , etc.

—>
This is the first time in South Africa's history that a former president has been sentenced to prison.
South Africa's former President Jacob Zuma has been found guilty of contempt of court and sentenced to 15 months in prison for defying a court order to appear before an inquiry probing wide-ranging allegations of corruption during his tenure from 2009 to 2018.
The country's apex court, the Constitutional Court, ruled that Zuma defied an order by the country's highest court by refusing to cooperate with the commission of inquiry, which is chaired by deputy chief justice Raymond Zondo. 
Some former Cabinet ministers, high-ranking government officials and executives of state-owned enterprises are among witnesses who have implicated Zuma in corruption.
Zuma is also facing additional legal woes as he is standing trial to face charges related to bribes that he allegedly received during South Africa's 1999 arms procurement deal.
https://www.npr.org/2021/06/29/1011246235/a-south-african-court-has-ordered-ex-president-zuma-to-jail-for-contempt
&
Zuma did not appear at the inquiry led by Deputy Chief Justice Raymond Zondo in February, after which the inquiry's lawyers approached the court to seek an order for his imprisonment.
https://www.aljazeera.com/news/2021/6/29/south-africas-zuma-handed-15-month-jail-term-for-inquiry-no-show
&
He has been given five days to hand himself in to police. Failing that, the police minister must order his arrest.
*
Paul Holden SWI at Zondo Commission on Guptas
Paul Edward Holden, a researcher from London-based Shadow World Investigations, is set to return to the Commission of Inquiry into State Capture to continue to give evidence related to the flow of funds.   During his last appearance in May, Holden revealed how billions of rand was siphoned from the state and into Gupta-linked enterprises through the years of state capture.
The first was state funds paid directly to Gupta enterprises that were contracted to SOEs and government projects. 
The second was through payments made by contractors to the state in what Holden describes as first-level money laundering activities.
And, the third was through kickbacks paid directly to Gupta enterprises located outside of South Africa.
*
State Capture Inquiry –  State Capture hears Law Enforcement Agencies-related evidence
The Commission earlier heard evidence on the flow of funds from a researcher employed by Shadow World Investigations in London, Paul Edward Holden.
*
The Commission will hear Flow of Funds evidence from a researcher employed by Shadow World Investigations, London, Mr Paul Edward Holden at 09h00 on Tuesday, 22 June 2021
The Commission is also scheduled to have an evening session to hear law enforcement agencies related evidence from former KwaZulu-Natal ANC treasurer Michael Mabuyakhulu.
Mabuyakhulu previously told the Zondo commission that allegations that he accepted a R1 million donation linked to a corrupt government contract as an ANC donation were false.
Former minister Malusi Gigaba is expected to begin the cross-examination of his estranged wife, Norma Mngoma on Wednesday.
When Gigaba returned to the Commission on Monday, he continued to challenge Mngoma's testimony that his ministerial decisions were heavily influenced by the Guptas.
He also refuted claims that his special adviser, Siyabonga Mahlangu, acted like a bully on his behalf during appointment processes at state-owned enterprises while he was minister.
*
Shadow World Investigations, a London-based forensics firm, said that Gupta lieutenant, Salim Essa, owned Hong Kong companies that received kick backs from China North Rail and China South Rail.
Investigator Paul Holden is back at the state capture commission testifying about money flows.   Previously the commission heard that the Gupta enterprise made R15 billion in kickbacks out of the estimated R49 billion state capture-tainted contracts.    But this evidence showed that they were also linked to other contracts.
"Tequesta and Regiments Asia are the two companies that were controlled by Salim Essa – he was the director of both companies in Hong Kong. They were both recipients and designated recipients of kickbacks that were paid by China South Rail and China North Rail and its successor in relation to various locomotive contracts."
https://ewn.co.za/2021/06/22/salim-essa-s-hong-kong-firms-got-kickbacks-from-cnr-csr-zondo-inquiry-hears
*
22 June 2021
The state capture commission has heard that legal fees paid to former President Jacob Zuma's late lawyer Kemp J Kemp came from a Gupta money-laundering enterprise.     Investigator Paul Holden was back at the commission on Tuesday testifying about money flows to and out of the Gupta laundering network./
Shadow World Investigations presented Kemp's invoices for the case in which the Democratic Alliance (DA) wanted the courts to set aside the NPA's decision to not charge Zuma for the Arms Deal.   Kemp's invoices match transactions out of Homix, one of the offshore key companies of the Gupta laundromat.
Holden told the commission how the transactions were processed: "Of the R200,000 that's paid in relation to Kemp J Kemp, R60,667,07 was in payment for Advocate Kemp in representing President Zuma in that particular matter."
Shadow World Investigations said the total contracts awarded through alleged state capture amount to R57 billion.  This is more than the previously calculated R49 billion.    Holden said since his last appearance in May, organs of state and the Organisation Undoing Tax Abuse had approached him and the commission to say that he under reported the actual figures of state capture tainted contracts.   He said that increased the total figure by R8 billion.
"The total cost of state capture contracts payments made to Gupta enterprise is just over R57 billion."   And kickbacks to the Gupta enterprise have also gone up.   "The new number is just over R16 billion all of which was drawn from South African funds."    That figure has gone up from the previously calculated R15 billion that flowed to the Gupta money laundering network.
https://ewn.co.za/2021/06/22/holden-money-paid-to-kemp-to-represent-zuma-came-from-gupta-laundering-scheme
*
SPIDER WEB – ZUMA
Director of Investigations at Shadow World Investigations, London, Paul Holden explained to the State Capture Commission of Inquiry how the Guptas used a complex and extensive network system to launder stolen money Out of the country.
The global organization is investigating cases of grand corruption and corporate embezzlement.
Holden said the money received under corrupt contracts would flow through several local and international shell companies. 
He says their investigations show the funds would then flow to some sort of overseas endpoint, with most of the money ending up in Hong Kong and China.
Holden says the whitening system they used was complicated but had a pattern.
"Combined private investigations is one business that we identified in the report as receiving a fairly large number of state contracts from different sources providing security services among other things. And he made some pretty substantial payments to the top tier laundry network.
"And it's 1.75 million rand and he made that payment to Mejul." Mejul then transfers R1 554 245.16 to an entity called Sammid Bullion Group. The Sammid Bullion group is what I call the spider's web, "Holden explains.
https://eminetra.co.za/zondo-learns-how-guptas-used-complicated-network-system-to-launder-sa-money-sabc-news/307591/
*
3 October 2018
Dubbed Project Spider Web, the document would spell out a range of key staff changes at Treasury, supposedly to be implemented with the aid of then Barclays Bank group CEO, Maria Ramos.      The bizarre report alleged that South African old-money families, the Ruperts and the Oppenheimers, had funded a plot by old guard intelligence types to retain control of South Africa's finances during the dying days of apartheid. 
The sinister document, purportedly containing a grand Treasury plan, referred to Ramos as the "Queen of Leaves," as finance minister, Nhlanhla Nene's supposed "handler," and mentioned the names of various senior Treasury officials, including then deputy finance minister, Mcebisi Jonas, then DG Lungisa Fuzile, Andrew Donaldson, Kenneth Brown and Ismail Momoniat among others.
Nene state capture testimony reveals web of deceit and lies wound around Treasury and officials
SPIDER WEB PLAN
https://www.politicsweb.co.za/documents/project-spider-web-the-full-document
December 2020
Compelling evidence
Although the process is taking days, and is slow going, what is being built up is a seemingly impenetrable body of proof which is likely to send to prison any and all shown to be connected with it.
During his 27-month long inquiry, Zondo has heard evidence ranging over many areas of concern, especially what happened in indebted and poorly managed state-owned enterprises, and who was paying bribes to whom.
This week his commission has been laser-focused on one apparently "minor" instance where relatively small amounts were involved.
This is because, as Zondo is closing in on the end of his commission's allotted lifespan, broad allegations of misconduct have now to be pinned down to fine and irrefutable details for prosecutors to act on.
These details involve many acts of money-laundering and fake accounting moves which are, when revealed, merely the same money being moved back and forth between accounts to create deception, as well as "dead ends", forensically speaking, created by usually untraceable cash movements or involving third party associates.
Between company records of the Gupta businesses, their associates and related entities, and from information gleaned from the so-called 'Gutpaleaks', an anonymous public dump of thousands of emails in early 2017, the forensic trail has been almost completely filled in.
The specific project focused on by Zondo this week involved the uplifting of hundreds of impoverished indigenous (black) farmers in the Free State province, the idea being floated nearly a decade ago, and green-lighted under Magashule.
The Estina Dairy Farm was meant to be both a showcase for emergent dairy farmers, as well as a training context for such farmers to learn the necessary skills to be successful.
Some US$19 million was allocated for the project, the monies coming from the public coffers controlled by the Free State provincial government of which Magashule was political head.
In the end, only about US$1.4 million was actually spent on the project.
The rest was siphoned off, as detailed by Holden.
Damning trail
Under a strap headline, one TV news channel dubbed its coverage of the Estina Dairy Farm debacle as "Estina: Land of Milk and Money".
For example, some Estina funding, about $2m, was used to pay for a lavish Gupta family wedding which saw a plane-load of guests flown into SA from India, their charter flight irregularly landing at Waterkloof Airforce Base – ostensibly on the nod of 'Number One', meaning former president Jacob Zuma – and entertained at Sun City, famed for golf tournaments, casinos and high-end vacationing.
Most of the rest ended up in Gupta pockets, sometimes via multiple obfuscating transfers, including to and from bank accounts in Dubai.
The slow going of the evidence has been heavily offset by its significance.
A damning trail has been laid out of "where the money went", putting some senior ANC figures in the legal firing line, but most of all, painting the Free State under Magashule as being something of a "Wild West" where anything went, there being other corrupt tenders and projects unveiled and under investigation.
One such involved the auditing of the poorest in Free State who were – and still are – living under asbestos-cement roofs or between asbestos-cement walls, and the planned replacement of these toxic materials.
Millions were allocated from the province's coffers but no discernable work was done.
Adding to the mounting pressure on Zuma, Magashule and other implicated high-profile politically-connected persons in the Zuma-supporting faction within the ruling party, is the determination of Zondo to force Zuma into the witness box.
Zuma recalled
Zuma walked out of the commission, where he had been due to testify for five days, eventually not testifying at all and putting himself in line for fines and jail time through contempt of the commission, which carries the powers of a high court.
Zondo's Commission has recalled Zuma – whose walkout has been forwarded for investigation and prosecution – for two spells, from January 18-22 and February 15-19, amounting to two full weeks on the stand.
It is considered highly likely that, like some before him implicated in state capture shenanigans, Zuma will repeatedly exercise his constitutional right to decline to incriminate himself, once in the box.
But it is clear, say sources close to the commission, that Zondo wants to make a point with the extended duration of Zuma "squirming" under close cross-examination – no-one, not even a former president, is above the law, and certainly not the person who for years oversaw extensive damage to SA's economy through run-amok thievery of public funds.
https://www.thecitizen.co.tz/tanzania/news/africa/the-spider-web-of-dodgy-deals-behind-s-africa-state-capture–3219184
17 March 2016
At times of political uncertainty, the country's spooks get to work. Remember the 2001 "plot to oust Mbeki" by Tokyo Sexwale, Cyril Ramaphosa and Mathews Phosa? Or how about the 2007 "Browse Mole Report" which suggested that Jacob Zuma was receiving covert funding from Libya and Angola?
Remember the report that former head of the Defence Force, General Georg Meiring, slipped to then President Nelson Mandela in 1998 about a coup by the unheard of FAPLA or Front African People's Liberation Army who planned to assassinate Mandela, murder judges and occupy Parliament?
Then there was the 2012 "Ground Coverage Report" signed off by former crime intelligence head Richard Mdluli (he claims the signature was forged) that then Human Settlements Minister Tokyo Sexwale, KwaZulu-Natal Premier Zweli Mkhize and Bheki Cele plotted to overthrow Zuma?
State Capture: Bizarre Project Spider Web report contained clues long before Nene was fired




*

Zuma, bomme – moorde en plaasmoorde – ook voor 1994

Vula Secret Safari

Zuma – Zondo commission

ANC corruption

State capture – Ramaphosa

Ramaphosa – Corruption – Zondo

Zuma – sage