Nuwe voertuie word vernietig en verbrand – dis nou die spul terroriste wat ronddans in die strate en paaie ontwrig.  Die polisie skitter in hul afwesigheid.  Daar word beweer deur bende groepe hulle steun Zuma en doen dit vir Zuma wat in die tronk slaap nadat hy nie die hofverrigtinge van Zondo bygewoon het nie.  Natuurlik beskadig alle brande teerpaaie, infrastrukture en val daar gate in, sodat daar nog meer mense op ons paaie kan sterf en veral mediese onkostes moet betaal (15% BTW gaan aan regering vir al hierdie skades aangerig wat vervang moet word deur versekerings).   Al hierdie besoedeling veroorsaak ook skade aan mense en diere.  Wat 'n eentonige lewe – die lewe van terroriste wat alles rondom hul verwoes en vernietig, het geen lewe nie.
*
Ander voertuie het ook in die slag gebly – danksy terroriste wat maar nie ophou met hul terreurdade en sabotasie aan Suid-Afrika.   
*
ANC spokesperson, Pule Mabe, speaks to #eNCA about the protests taking place in Kwa-Zulu Natal.
IFP
&
Zuma foundation
More than 25 trucks have been set alight in KwaZulu-Natal as protesters calling for the release of the imprisoned former president Jacob Zuma ramped up their campaign.
&
Resolving the unrest before it spills over
&
Fears that protests might spill into Gautenghttps://www.youtube.com/watch?v=Ourqv3hsQf8
&
Dit pas die ANC en ander wat radikale vernietiging en kommunistiese rewolusie steun – dit gaan al so vanaf 1900, en dit het sedertdien nooit opgehou nie.  Indien die ANC of ander politici wel omgegee het, sou dit nie so gebrand het nie.
(Boere krisis aksie foto's)
Trokke aan die brand gesteek deur terroriste.
On the N3 at the Mooi River Toll Plaza, protest action turned violent last night going into this morning, with over 20 trucks being burnt. The N3 at Mooi River remains closed, as some of the trucks are still burning and clean-up operations continue. 
This morning (July 10), roads leading in and out of Ladysmith are open to traffic, with swift clean-up operations having taken place yesterday evening after the N11 and R103 roads were closed by protesters, with burning tyres all across the roadway. An update just in is that Helpmekaar Road is currently closed, so be cautious.
Various other routes and video material available.
https://zululandobserver.co.za/lnn/1155196/turmoil-erupts-as-free-zuma-protests-shut-down-parts-of-kzn/?fbclid=IwAR389nN5MsCcamyp4Y3oYDssuGY1WvFbgobmHxqnt52pkqVSD7J-IzDv-P8
Videos in Kwazulu-Natal
&
Scores of Zuma supporters embarked on violent protest action since yesterday morning calling for the former President to be released from prison.
WATCH: Motorists urged to avoid travelling as protests ensue
Video
*
*
Die terroriste dink natuurlik hulle is so oulik om alles met vullis te versier en later te verbrand.   
KZN VIP Phoenix Crime Watch.
Situation Critical in KZN with petrol bombings especially of trucks and thr disruption of traffic yesterday and last night through out KZN. Just use your common sense make the right decision. Pls avoid these areas and where necessary make a U turn safely and drive away.
Dis hoe hierdie terroriste se lewens is, van binne vrot en soek geen dissipline nie en nog minder die regering en polisie wat dit toelaat.   Sou dit bv. blankes gewees het, was hulle almal in die tronk aangehou.
Strate word beskadig, daarna val daar gate in die teer as dit brand, wat weer reggemaak moet word.  'n Bose kringloop.
Verbasend hoe fluks word klippe en sakke rondgedra , gestrooi, besoedel, maar sommiges kan nie werk nie.

Blankes word vervolg … maar die res …

*

Zuma Ondersteuners (supporters)

Zuma in jail

Supporters of Zuma Nkandla 5 July 2021
ConCourt send Zuma to Jail – Zondo – "spider web"

*

Compare the photo of Zuma and his neighbours

Traditional leaders South Africa: 8840

Parliament – Salaries 2020 – the elites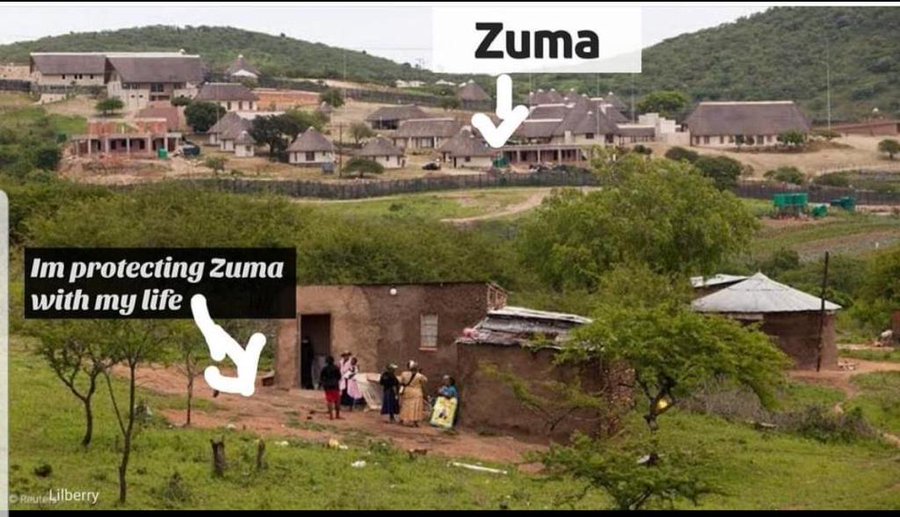 *

News of former President Jacob Zuma's incarceration has sent shockwaves through Zimbabwe. There have been mixed reaction from citizens – some saying it's unfair to send the former head of state to prison, while others believe it was in the interest of justice. Zuma has a strong following in our northern neighbour and developments in his case have been followed intensively.

https://www.youtube.com/watch?v=gJKADrWGXn0

*

November 15 – Jacob Zuma's neighbours are reluctant to comment on the Nkandla saga as Thuli Madonsela's preliminary report on Nkandla takes centre stage.

https://www.youtube.com/watch?v=EecIZWjWUGE