It is not just ports that are closed to improve South Africa's economic condition – no trade means no growth at all. All businesses are closed in KZN province, schools and residential areas are also targeted and burned. Many houses are in ruins. Large shopping centrums, housing hundreds of small businesses have been destroyed and will never be restored. All a planned revolution of the communists! Everyone is now putting the cause as 'Zuma in jail' before our noses. That's nonsense. What has the public got to do with Zuma? Zuma appointed Zondo, not the public. Zuma laughs about all the chaos, but the revolution was also part of Zuma before 1994 and it is far from democracy. Will he or the ANC or EFF provide income for the unemployed – no?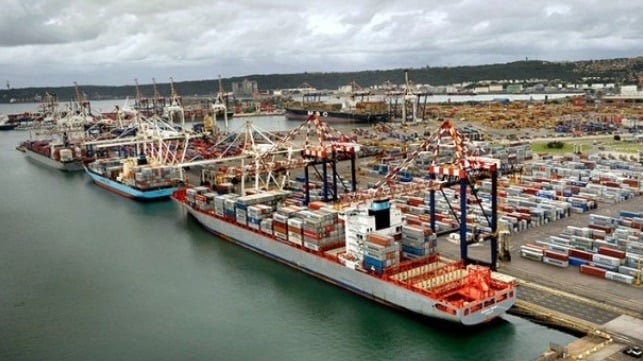 *
The South African logistics company Transnet that oversees the operations of the country's ports and terminals declared force majeure on July 12 announcing that it is suspending terminal operations in both the ports of Durban and Richards Bay. The company cited concerns for the safety of their employees and the inability to travel safely in the cities, but the company denied a report of looting at the ports.
The closures followed days of violence that is now spreading across South Africa after the country's former president was jailed on contempt of court charges for not appearing at a corruption inquiry. After former president Jacob Zuma handed himself in to police to begin serving a 15-month sentence, there were initially demonstrations in his home province in eastern South Africa, where the ports are also located. 
After days of scattered efforts to block roads in the local area, the protests escalated and spread to other major areas including Johannesburg. On Monday, July 12, there were reports of a shopping mall being looted and set on fire, warehouses looted, and major roads being blocked. The Wall Street Journal is reporting that at least 72 people have been killed while the Associated Press reports that more than 400 people were arrested as the South African security forces attempted to stop the violence.
South African President Cyril Ramaphosa addressed the nation and in a series of Tweets has appealed for calm and a return to order. He is vowing that they will not hesitate to arrest and prosecute the perpetrators. He has said they will do everything to guard against the threat of violence, intimidation, theft, and looting.
wow WOW wow 
Transnet in its statement however said that "the violence has now reached proportions beyond the control of the local law enforcement and security services." Unfortunately, due to the civil unrest the company said it had to suspend work at the general terminals in both ports, although S&P Platts is quoting sources saying that coal operations appeared to be continuing, but that additional disruptions were expected at the ports.
After a video began circulating online showing a container being vandalized, Transnet issued a further statement denying reports of looting at its facilities. They reiterated, "We can confirm that the container is not at any of our ports, or at any of Transnet's facilities."
South African media reported that Shell and BP South African Petroleum Refineries have also declared a force majeure. The operations reportedly are responsible for 35 percent of South Africa's refinery capacity.
End of June, the mining giant Rio Tinto also declared a force majeure on customer contracts at its Richards Bay Minerals project. At the time, they cited "an escalation in the security situation at the operations."
https://www.maritime-executive.com/article/force-majeure-declared-as-violence-disrupts-south-african-ports
MAVERICK
South Africa's largest crude oil refinery, Sapref, said on Tuesday it was shutting down and declaring force majeure on contracts in the face of the ongoing social unrest partly triggered by the "jailing of former president Jacob Zuma". 
The Shell/BP joint venture made the announcement in a letter to clients. 
"Sapref has been obliged to make the difficult decision to shut down the refinery.
"As a result of the aforegoing, Sapref hereby declares the occurrence of an event of force majeure, excusing Sapref from performing under the agreement," the letter, dated 13 July, says.
"Due to the civil unrest in the country and disruption of supply routes in and out of Kwazulu-Natal, suppliers of materials critical to Sapref operations communicated the suspension of deliveries to the refinery due to safety concerns for their staff and damages to their vehicles on the roads."
Sapref is South Africa's largest refinery and accounts for 35% of the country's refining capacity, according to its website. 
The Engen refinery in Durban and the Chevron refinery are currently out of commission, leaving Natref, a joint venture operated by Sasol and Total, the only major source of refined fuel in the country.
The consequences in the pipeline for the wider economy are truly massive, with shortages of other goods and services that rely on the transport sector to get to market threatened. The damage of looting to South Africa's economy, from the top enablers of State Capture to those on the streets today, is mounting. We are all poorer as a result. DM/BM 
https://www.dailymaverick.co.za/article/2021-07-13-sapref-oil-refinery-declares-force-majeure-shuts-down-a-third-of-south-africas-fuel-supply/
*
30 June 2021
Rio Tinto has declared force majeure on customer contracts at Richards Bay Minerals (RBM) in South Africa due to an escalation in the security situation at the operations. This has led to the decision to cease operations until the safety and security position improves.
Rio Tinto chief executive Minerals, Sinead Kaufman, said: "The safety of our people is our top priority. We continue to offer our full support to the investigating authorities and I would like to acknowledge the ongoing support of the regional and national governments and South African Police Service as we work together to ensure that we can safely resume operations."
All mining and smelting operations at RBM have been halted until further notice. The Zulti South project has remained on full suspension since the security and community issues in 2019.
This announcement is authorised for release to the market by Steve Allen, Rio Tinto's Group Company Secretary.
https://www.businesswire.com/news/home/20210629006102/en/
https://www.riotinto.com/en/news/releases/2021/Rio-Tinto-declares-force-majeure-at-Richards-Bay-Minerals


*



*

Dis nie net hawens wat gesluit is om Suid-Afrika se ekonomiese toestand te verbeter nie – geen handel beteken geen groei.  Alle besighede is gesluit in KZN provinsie, skole en residensiële gebiede word ook geteiken en gebrand.  Heelwat huise is in puin.   Groot winkelkomplekse wat honderde klein besighede huisves, is vernietig en gaan nooit weer herstel nie.  'n Beplande rewolusie van die kommuniste !   Almal plaas nou die oorsaak as Zuma in die tronk voor ons neuse.  Dis nonsens.   Wat het die publiek met Zuma uit te waai?  Zuma het Zondo aangestel, nie die publiek nie.   Zuma lag lekker oor al die chaos, maar die rewolusie was ook deel van Zuma voor 1994 en dit is ver van demokrasie af.  Gaan hy of die ANC of EFF vir die werkloses van inkomste voorsien – nee?
Alle toegangspaaie is en word versper wat na dorpe en stede gaan, veral deur die brand van motorbande en plundertogte asook hewige geweld wat plaasvind.  Inwoners het dit ook begin doen om hulself te beskerm.   
Die spul maak aanspraak op protesaksies as hul reg, volgens hul grondwet as dit hulle pas, maar dis alles behalwe vriendelik en met geen geweld, want hier word elke burger en inwoner geraak waar huise, geboue, komplekse, besighede geplunder en afgebrand word. 
Na 1994 het ANC ekonomiese rewolusie begin, wat reeds van 1961 plaasgevind het meg bloedige geweld.   Nou het dit in nog meer geweld uitgebars in veral Gauteng, maar veral Kwazulu-Natal.   Dis alle vervoer en ook voedsel wat geraak word. 
Danksy baie hulp van buite, veral finansiële steun van buite ons land, sit ons vandag waar ons is.
Kosrakke is leeg in Kwazulu-Natal, want dis of gesteel of eenvoudig verbrand en heelwat mediese voorrade is uit apteke verwyder of gesteel.  Tot bloedbanke is gestroop.  Dis identies wat met die Anglo-Boere oorloë gebeur het wat dekades geneem het om op te bou. 
Swartes wat dink blankes, die Boere het alles gratis na die ABO gekry, maak die grootste fout in hul lewe.    Ons voorgeslagte het alles opgebou wat ons het.  Ons blankes van ZAR en Vrystaat, selfs gedeeltes van die Kaapkolonie, was nie verantwoordelik vir die sogenaamde "apartheid" nie, dis geskep deur die Britse koloniale meesters wat die land kom oorneem het.    Britse wetgewings, gaan spoor dit maar na.   
In 1902 is alle myne geannekseer deur die Britte vir die Kaapse seeroete, sowel al die ryk minerale.   Voor 1900 is daar reeds begin om oor die 400000 immigrante uit Afrika en 60000 chinese in te voer vir hul myne.  Dis in London afgekondig, nes die Unie van Suid-Afrika uit London beheer is. 
*
Swart besighede – Black owned entities
NOT SO LONG AGO ..
Nico Swart, Richards Bay assassinated

Vula Secret Safari

Zuma in jail

Zuma Ondersteuners (supporters)

ConCourt send Zuma to Jail – Zondo – "spider web"

State Capture-Ramaphosa-Zuma-Manyi-Chinese-GUPTAS



*

Klink Britse statebond bekend? *Commonwealth

Hul CPA is in 1911 gestig. Vir baie wat dink dis niks, dink maar weer daaroor en gaan leer die geskiedenis van ons land.
Empire Parliamentary Association (1911) changed to Commonwealth Parliamentary Association (1948)
1911 – South Africa – Commonwealth Parliamentary AssociationBritish Empire and their colonial rules/flags