WHO WERE THE CONSTITIONAL WRITRS AND COMMITTEES OF THE "RAINBOW NATION"
Who was involved during the Codesa negotiations and are still on the "green chairs" of George Soros today?  Soros finance the SA Parliament and the Constitution with other liberal /communist organisations or foreign governments.
There was no mandate given to FW de Klerk.
It was only accepted by the liberals and communists.   Conservatives that did not vote during 1992 referendum (more than 25%) were not add to the results of this referendum.  Therefore, where is or was the mandate then?
Constitution of South Africa – liberals and communists document
CODESA / KODESA
On 20 and 21 December the first session of CODESA (Convention for a Democratic South Africa) was held. There were 19 political groups at this event. All parties agreed to support the Declaration of Intent, which said that they would begin writing a new Constitution for South Africa.
W I E / W H O
FOKUS OP NAME / FOCUS ON NAMES
MULDER EN GROENEWALD
~
Namens watter volk praat Mulder, en watter mandaat :
Selfbeskikking en Volkstaat
CORNE MULDER
GRONDWET BETROKKENHEID – INVOLVEMENT AT CODESA

CONSTITUTION COMMITTEE
Cornelius Petrus Mulder obtained a B.Juris degree from the University of Potchefstroom, with International Politics and Political Science as elective modules in 1980. In 1982 he completed an LL.B at the same institution. He later completed doctoral research at the Institute for Advanced Legal Studies at the University of London and the Max-Planck-Institut für Ausländisches öffentliches Recht und Völkerrecht at Heidelberg, Germany. He has been in Parliament since 1994. Mr Mulder is the FF+ Chief Whip in Parliament and leader of the Western Cape FF+ constituency. He chairs the party's Policy and Constitution committee.
C P Mulder – report
~
Ultimately, the Constitution we write for South Africa and the constitutional dispensation we work out for South African, will succeed if it is autochonous. It must be the product of what is in the hearts and the minds of all South Africans, not only the majority. Sometimes the people say that the majority agrees, but one must take into consideration that it is sometimes the minority that causes problems. However that can be prevented by being accommodating, and accommodating all South Africans in writing a Constitution which in the end we can say is truly a home-grown product, which we have created on our own."
Dr C.P Mulder, MP, Freedom Front, Constitutional Assembly, 15 August 1994.
Annual report – Mulder
~
"The problem of satisfying the Afrikaner's desire for self-determination is a very complex matter. The reality of history has left us without any area that is big enough to immediately be a volkstaat without the relocation of Afrikaners which will have to take place over a period of time. In the second place, the principle of Afrikaner self-determination is clear to everyone, but because the Afrikaner is woven into the South African situation the principle can only succeed in the long term if there can be mutual agreement with the rest of the country regarding its implementation. Thirdly, forcefulness and demands are things of the past. Particularly in this complex situation, the political reshuffling which is necessary in order to establish a volkstaat will affect the entire country. In short, a volkstaat is not available off the shelf. It also affects some people's vision of an undiluted and true self-determination. Naturally, this is and remains the ideal, but the Freedom Front believes that its systematic realisation must occur by means of the process in which we are currently engaged." Dr CP Mulder, MP, Freedom Front, Constitutional Assembly, 24 January 1995.   
Annual report 1996 Mulder
~~~
NOTE THE NAMES OF CONSTITUTIONAL COMMITTEE
NEEM KENNIS VAN DIE NAME VAN DIE GRONDWET KOMITEE
The permanent members of the Sub-Committee are:
Matamela Cyril Ramaphosa (Chairperson);   Wessels L (Deputy Chairperson); Green L; Meshoe KR (alt); Moosa MV; Myakayaka-Manzini M; Chabane OC; Eglin C; Andrew K (alt); Mulder C;     Groenewald P;   Meyer R; Marais PG; De Beer S (alt); Van Breda A (alt); Rabie J (alt); King T (alt); Sizani R;   De Lille P (alt)
~
Constitutional Committee
The Constitutional Committee is the main negotiating and co-ordinating structure reporting directly to the Constitutional Assembly. It consists of 44 members, appointed by parties on a proportional basis.   The Constitutional Committee met at first on a weekly basis to receive reports from Theme Committees. It met less frequently after the establishment of the Sub-Committee, but continued to function as an important decision-making structure.
Members:
Ramaphosa MC (Chairperson); Wessels L (Deputy Chairperson); Ackermann C; Andrew KM (alt); Asmal K; Bhabha M; Camerer S (alt); Chabane OC; Dalling D (alt); De Beer SJ (alt); De Lange JH; de Lille P (alt); Du Toit DC; Eglin C;   Fourie A; Fraser-Moleketi GJ; Ginwala FN; Gogotya NJ; Gordhan PJ; Green LM (alt);    Groenewald PJ (alt); Hofmeyr WA; Holomisa SP; Kgoali JL; Kgositsile B; King TJ; Landers L (alt); Ligege MG; Lockey D; Love J; Mabandla BS; Maduna PC (alt); Maharaj M (alt); Mahlangu MJ; Mahlangu NJ; Makhanya DW; Malatsi DM (alt); Mapisa-Nqakula NN(alt); Marais PG; Maree JW (alt); Mdladlana S (alt); Meshoe KR; Meyer RP; Moosa MV; Moosa MW (alt); Mti LM 9alt); Mtshali LPHM; Mulder CP; Mulder PWA (alt); Myakayaka-Manzini YLM ; Mzimela S; Ngcuka BT; Nzimande BE; Omar D (alt); Pahad EG; Pandor GNM; Rabie JA; Rabinowitz R; Ripinga SS; Routledge-Madlala NN (alt); Schoeman SJ (alt); Schreiner J (alt); Schutte DPA; Seaton SA (alt); Serote WM (alt); Sisulu L (alt); Sifora TV ; Sizani RK; Skweyiya Z (alt); Smith PF; Steenkamp PJ (alt); Surty ME (alt); Suttner RS; Swanepoel LJ (alt); Vadi I (alt); Van Breda A; Van Deventer FJ; Van Heerden FJ (alt); Viljoen CL Staff: Margaret Keegan,
Minute Secretary; Laetitita Meter, Administrative Secretary
Writers/Commiittees Constitution – Grondwet Skrywers/komitees
Theme Committee 3
Dealt with the Relationship between Levels of Government, and was mandated to discuss the following issues with regard to Constitutional Principles XVI, XVII and XXIV: • Nature and status of the provincial system and local government • National and provincial executive and legislative competencies • Intergovernmental relations • Local government • Financial and fiscal relations
Chairpersons:
Andrew KM (DP); de Lille P (PAC); Du Toit DC (ANC); King TJ (NP)
Members: Abraham M (alt); Albertyn JT (alt); Appelgryn MS (alt); Bhabha M; Blaas A; Carrim YI; Chuenyane LD (alt); Coetzee MP; Cronje PC; Dingani ZA (alt); Dyani MMZ (alt); Eglin CW (alt); Farisani TS (alt); Geldenhuys BL; Golding MJ (alt); Goosen AD (alt); Gordhan PJ; Gous PJ (alt); Groenewald PJ; Gxowa NB (alt); Khasu MJ (alt); Khobe ON; Kondlo N (alt); Koornhof GW; Kota ZA; Lamani NE (alt); Leeuw SJ (alt); Loots HG (alt); Losabe LK (alt); Mabude NI (alt); Mahlalela AF; Mahlangu SJ (alt); Maine MS (alt); Malebo SM (alt); Manie MS ; Mapisa-Nqakula NN; Marais G (alt); Maree JW; Mashamba HJ; Mathews VJ (alt); Mayimele HW (alt); Mchunu ES (alt); Modisenyane LJ; Mongwaketse SJ (alt); Montsitsi SD; Moosa MV (alt); Mukhuba TT (alt); Nzimande BM (alt); Peires JB (alt); Peters ED (alt); Rabinowitz R; Rajoo K (alt); Richards I (alt); Saaiman PW (alt); Seperepere MS; Shandu EEN; Sisulu MV (alt); Smith PF; Sulliman MA (alt); Tsenoli SL (alt); Verwoerd M; Vilakazi MI Technical Committee: Prof D Basson; Prof D Davis; Prof B Majola; Prof F Venter
On Local Government: A Boraine; A Cornelissen; B Moseley Staff: Mbasa Mxenge, Managing Secretary; Sandra Haydon, Minute Secretary; Vanessa Calvert and Beverline Thomas, Administrative Secretaries
~
TER INLIGTING / FOR INFORMATION
Dr. PJ (Pieter) Groenewald
Dr. Groenewald is the Parliamentary Leader and Federal Chairperson of the Freedom Front Plus and provincial leader of the party in North West.
He obtained his B.Iuris degree at the Potchefstroom University for CHE and completed a post-graduate diploma in communication. He obtained his master's degree in management and development and a doctorate degree in political studies at the North West University.
Dr. Groenewald was elected as a Member of Parliament for the Stilfontein constituency and in 1994 he was a founding member of the Freedom Front.
At present he is serving in the Portfolio Committees on Defence and Police. He previously served in the Portfolio Committees on Safety and Security, Labour, Communication, Justice and Local Government.
Dr. CP (Corné) Mulder
Dr. Corné Mulder is the Chief Whip of the Freedom Front Plus in Parliament and also the Provincial Leader in the Western Cape. His formal entry into politics was in 1988 when he was elected to the Randfontein constituency.   In 1980 he obtained a B.Iuris degree at Potchefstroom University for CHE, with political science and international politics as additional main subjects. In 1982 he completed a LLB degree with distinctions in various subjects.   In 1984, at the age of 26 he obtained his doctorate (LLD) in constitutional law.
Dr. Mulder is also a founding member of the Freedom Front and is currently a member of the Portfolio Committees for International Relations and Home Affairs. He was involved in the process of drafting the South African Constitution as member of the Constitutional Committee of the Constitutional Assembly.
Mr. PJ (Pieter) Vorster
Mr. Vorster was Mayor of Bloemfontein and has served his community many times as a DA Municipal Councillor. For many years he served on the DA's Federal Council. Until Monday he was the Chairperson of the Afrikanerbond and resigned as Chairperson in order for him to give his full attention to the election. He still serves on the organisation's National Council. He is prominent in the Free State's legal circles and has his own legal firm in Bloemfontein. He has B.Iuris, LLB and LLM degrees.
He was the Administrative Head of the Small Claims Court in Bloemfontein.   He resides on a farm outside Bloemfontein, is married to Alida and is the father of two children and grandfather of two grandchildren.
Dr. Lourie Bosman
Dr. Bosman was a Member of Parliament for the Democratic Alliance (DA) for the past five years and was this party's Shadow Minister for Higher Education and Training.    His career started as a chemist (B.Sc. (Pharm) MPS) in Lichtenburg from 1965 to 1978. He also started a successful cattle and maize farm and has an extensive Brahman herd in the Warm Baths region.
Dr. Bosman played a leadership role in various agricultural organisations and was amongst others, Vice President of the Transvaal Agricultural Union (TAU) (1997 – 1998), TAU's personality of the year (1993), President of Agri Mpumalanga (1998 – 2004), Vice President of Agri SA (2000 – 2004) and President of Agri SA (2004 – 2008). He has provincial colours of the Western Transvaal and Griekwa City-West for hockey and excelled on the cricket field.
Ms. Amanda de Lange
Ms. De Lange started her career in Human Resources at JCI where she qualified as a psychometric specialist. She later joined Mondi Timber's mining section and started her B.Com studies in Business Management while she was part of a team that did product research and marketing.
She started her own flower farm with 18 tunnels and became involved in community safety and served as Chairperson of the Community Policing Forum. After resigning as chairperson in 2011 she took up the challenge of becoming involved in politics on a full time basis.
De Lange is a co-founder of the NABIFSA, a national security organisation. In 2013 she was appointed as the FF Plus Municipal Councilor in Mogale City
Kandidate VF plus – Candidates
~

THE MAIN TABLE:   CAN YOU RECOGNISE SOME OF THEM?
***
"the main man and negotiators – Ramaphosa, Mandela, Zuma"
***
All smiles from a communist liberal movement – ANC
Communist negotiators: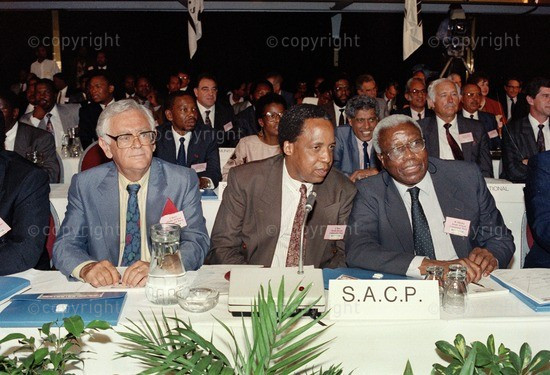 Kodesa – the liberal leaders were so happy to give the country to the communists: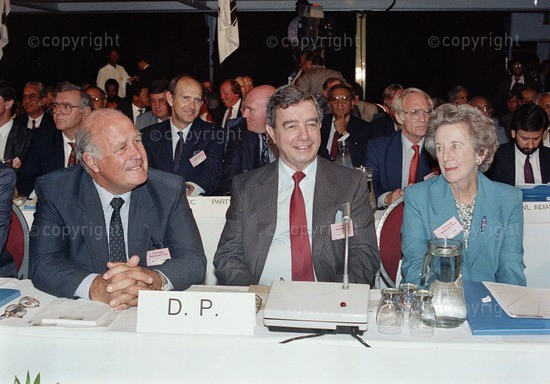 ***
IT WAS EVEN CONFIRMED THAT WE AS PEOPLE (AFRIKANERS AND BOERS) HAVE A RIGHT TO RULE OURSELVES)