The Economic activity in South Africa has been focused on mining activities.  South Africa's political, social and economic landscape has been dominated by mining industries.  The country's stock exchange in Johannesburg was established in 1887, a decade after the first diamonds were discovered on the banks of the Orange River, and almost simultaneously with the gold rush on the world-famous Witwatersrand.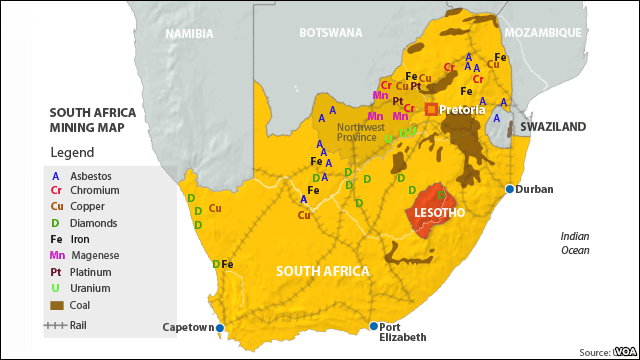 South Africa is famous for its rich mineral resources. It has many kinds of mineral resources, such as manganese, platinum group metal, andalusite, gold, chromium, fluorite, diamond, vanadium and so on. At present, there are more than 70 kinds of minerals that have been proved reserves and exploited. With a total value of more than the US $200 billion, it is the richest country in the world with the highest value of mineral resources excluding energy. This paper makes an in-depth analysis of the important mineral resources including manganese, platinum group, chromium, gold. Make a list of mines and list of mining companies in South Africa.
In 2018, South African gold reserves were 6000t, accounting for 11% of the world's total reserves, only after Australia. The Whitworth Sland basin and the Barberton area are the main gold distribution areas. In the Whitworth Sland basin mine, the gold belongs to the gold-bearing paleo gravel type, produced in the gold-bearing paleo-conglomerate which upper on the unconformity surface of Neoproterozoic and Early Proterozoic. The reserves are huge, which is the main object of gold production and mining in South Africa, and it is also the largest deposit type with the largest reserves among all kinds of gold deposits in the world. the gold in the Barberton area belongs to the green stone type( main gold-bearing quartz vein type) and produced in the Archean greenstone belts.
South Africa is the world's largest manganese ore resource country, with 200 million tons of manganese reserves in 2018, accounting for 29.5 percent of the world's total reserves. The manganese deposits in South Africa are mainly concentrated in Northern Cape Province, including the Postmasburg mine and the Kalahari mine, in which the grade of the Kalahari deposit is high and the manganese ore can reach 56%. In addition, manganese deposits are also distributed in the northeast of South Africa (from Krugersdorp westward to the border of Botswana).
In 2018, the reserves of platinum group metals in South Africa were about 2.2 billion oz, accounts for 91% of the world's total reserves, ranking first in the world. The platinum group metal deposits in South Africa are mainly distributed in the northwest, Limpopo and Mpumalanga provinces, and the platinum deposits in the Bushveld Complex are the most concentrated.
According to S & P Statistics, there are 154 platinum mine projects in South Africa and 69 active mine projects, accounting for 44. 8% of the total number of mines. In which, 69 of platinum mining are a domestic corporation.
In last year, the output of chromium ore in South Africa was 16.6 million tons, accounting for about 50 percent of the world's total output. According to S & P's statistics, South Africa has a total of 30 active chromium mine projects, accounting for 43. 5% of the total number of mines. In which, 64% of the chrome projects handled in a domestic company. Major chrome mining companies in south africa.
https://www.jxscmachine.com/new/south-africa-mineral-resources/
*
In 2018 the mining sector contributed R351 billion to the South African gross domestic product (GDP)
A total of 456,438 people were employed in the mining sector in 2018
Each person employed in the mining sector has up to nine indirect dependants
The mining sector has, for many years, attracted valuable foreign direct investment to South Africa
https://www.mineralscouncil.org.za/sa-mining
>
In 2017 mining contributed R334 billion, in 2018 it contributed R351 billion to the country's gross domestic product (GDP) employing a total of 456.438 people in the sector. From the second quarter of 2019 GDP from mining increased from the 2284480.61 ZAR million which was identified in the first quarter to 220907.55 ZAR million in the first quarter of 2019. Between 1993- 2019 the GDP from mining has averaged 233780.85 ZAR million. Evidently, this proves that even though the numbers have gown down over the years, mining makes a significantly large contribution to the country's GDP.
https://www.magzter.com/article/Business/Leadership/Mine-Closures-in-South-Africa
>
https://m.miningweekly.com/article/south-african-mining-far-from-former-glory-needs-to-focus-on-tech-esg-2020-02-04

*
South Africa has a relatively high degree of economic openness and good infrastructure. The industrial system is the most complete in Africa, and its per capita living standard is among the best in Africa.    South Africa is rich in mineral resources and is one of the five largest mineral countries in the world. Mining is the mainstay of the South African economy, and deep mining technology is among the highest in the world.
South Africa is famous for its rich mineral resources. There are more than 70 kinds of minerals with proven reserves and mining.
The reserves of gold, platinum group metals, manganese, vanadium, chromium and aluminosilicate rank first in the world; among which gold reserves accounts for 60% of the world; Vermiculite, zirconium, titanium, fluorite ranks second in the world; Phosphate, ranks fourth; Uranium, lead ranks fifth; Coal, zinc ranks eighth; Iron ranks ninth; Copper ranks fourteenth; Diamond, asbestos, vanadium, mica are also extremely rich.
The production of gold, diamonds, vanadium, manganese, chromium, antimony, uranium, asbestos are among the highest in the world. Rich resources, cheap labor, and advanced management make South Africa the most developed country in Africa today. Mining, manufacturing, construction and energy are the four major sectors of South Africa's industry.
Exports of mineral products account for about 50% export revenue, about 12% of the country's labor force is engaged in mining. proven reserves: 36,000 tons of gold (40.1% of the world's total reserves, the same below), 70,000 tons of platinum group metals (87.7%), 4 billion tons of manganese (83%), 12 million tons of vanadium (32%), 80 million tons of vermiculite (40%), 5.5 billion tons of chromium (81%), 341,000 tons of uranium (7.2%), and 27.81 billion tons of coal (6.1%) ), iron ore 1.5 billion tons (0.9%), titanium 244 million tons (16.9%), zirconium 14 million tons (19.4%), fluorspar 80 million tons (16.7%), phosphate 2.5 billion tons (5.0%) , 200,000 tons (4.7%) lead, 3 million tons (2.0%), zinc 15 million tons (3.3%), and copper 13 million tons (1.4%).

*
*
*
*
Inligting wat verkry is vanaf die Chinese webtuiste Emsez dui aan dat die huidige regering, Ramaphosa, alle infrastrukture wat ons opgebou het, erken, maar hulle ontken ons as burgers in die land, terwyl elke Chinees en ander immigrante, selfs onwettiges, in die land verwelkom word.
Dis verbysterend hoe die Chinese in die verlede uitgenooi is om hier te kom werk en bly,  selfs persone uit Kuba is verwelkom.   Duisende van ons volkslede sit of verarm in plakkerskampe of ander het landuit gevlug vir beter heenkome weens swart bemagtiging en regstelaksies, maar ander lande kry voorkeur.   So iets is ongehoord en het reeds gefaal in wat hulle doen.
Suid-Afrika het 'n relatiewe hoë mate van ekonomiese openheid en goeie infrastruktuur, danksy die vorige regering en die persone wat mildelik daartoe bygedra het.
Die ANC het alles in 1994 op 'n skinkbord in werkende toestande ontvang, maar hulle laat toe dat radikales soos hul eie ondersteuners en  EFF  letterlik plunder, afbreek of in rook opgaan.  Niks word onderhou nie.
Danksy die vorige beplannings en uitgawes is daar heelwat opgebou deur vorige belastings aan die industriële gebiede en stelsels, wat die mees volledige in Afrika is, en die lewenstandaard per capita is van die beste in Afrika.   Selfs die ou Tuislande was volgepomp maar dit word verkondig daar was geen werk verskaf nie.   Allesbehalwe.
Suid-Afrika is ryk aan minerale bronne en is een van die vyf grootste mineraal lande ter wêreld. Mynbou is die steunpilaar van die Suid-Afrikaanse ekonomie, en diep myntegnologie is van die hoogste in die wêreld.    Mynproduksie in Suid-Afrika het ook reeds in die jare van die onafhanklike Boere republieke, ZAR en Vrystaat begin en voortgevloei nadat die Britte die myne in 1902 ten volle geannekseer en beheer het uit London.
Suid-Afrika is bekend vir sy ryk minerale bronne. Daar is meer as 70 soorte minerale met bewese reserwes en mynbou.
Die reserwes van goud, platinumgroepmetale, mangaan, vanadium, chroom en aluminosilikaat is die eerste plek ter wêreld; waaronder goudreserwes 60% van die wêreld uitmaak;    vermikuliet, sirkonium, titaan, fluoriet is tweede in die wêreld; fosfaat, vierde; uraan, lood staan ​​vyfde; steenkool, sink staan ​​agtste; yster geledere negende; Koper is veertiende; diamant, asbes, vanadium, mika is ook buitengewoon ryk.
Die produksie van goud, diamante, vanadium, mangaan, chroom, antimoon, uraan, asbes is van die hoogste in die wêreld.   Ryk hulpbronne, goedkoop arbeid en gevorderde bestuur maak Suid-Afrika vandag die mees ontwikkelde land in Afrika. Mynbou, vervaardiging, konstruksie en energie is die vier belangrikste sektore van die Suid-Afrikaanse bedryf.
Die uitvoer van minerale produkte beslaan ongeveer 50% van die uitvoerinkomste, ongeveer 12% van die land se arbeidsmag is besig met mynbou. beproefde reserwes: 36.000 ton goud (40.1% van die wêreld se totale reserwes, dieselfde hieronder), 70.000 ton platinumgroepmetale (87.7%), 4 miljard ton mangaan (83%), 12 miljoen ton vanadium (32% ), 80 miljoen ton vermikuliet (40%), 5,5 miljard ton chroom (81%), 341,000 ton uraan (7,2%), en 27,81 miljard ton steenkool (6,1%), ystererts 1,5 miljard ton (0,9) %), titanium 244 miljoen ton (16,9%), sirkonium 14 miljoen ton (19,4%), fluorspar 80 miljoen ton (16,7%), fosfaat 2,5 miljard ton (5,0%), 200,000 ton (4,7%) lood, 3 miljoen ton (2,0%), sink 15 miljoen ton (3,3%), en koper 13 miljoen ton (1,4%).
http://emsez.com/en/tqys.php?id=25&lm=15
>
SELFBESKIKKING – SOEWEREINE ONAFHANKLIKHEID
Die ANC is geweldig haastig om die vorige bedeling se "apartheidstelsel" af te breek maar dis juis oor ons goeie vakmanskappe en standaarde wat dit gebeur het.   Alle volke het die reg tot eie regering en om hulself te regeer, onafhanklik.
In dieselfde asem word wetgewings uitgevaardig waar Swart en Khoi san volke steeds apart bly in Trustgebiede of CPA's.   Daar word wyd en syd verkondig dat "apartheid" weg is.    Dis leuens,   Destyds toe Dr Verwoerd Tuislande volle onafhanklikheid wou gee, is dit as "apartheid" gesien, maar inderwaarheid is dit 'n  internasionale mensereg dat volke hulself mag regeer.   
En nee, Swartes en Khoi san is nie grondloos nie,  dit is nie apartheid as elke volk sulke gebiede verkry nie en binne internasionale reg.   
Dus is ons as volk op dieselfde en selfs meer geregtig om ons in ons eie land onafhanklik te regeer, weg van kommunisme af – soos ZAR en Vrystaat.   ANC sit basies op twee stoele indien hul in ons pad staan om dit te verkry.   
Hierdie hele aangeleentheid rakende waar ons gebiede is, was amptelik en wettig onderneem, mede-onderteken deur die ou NP en ANC, en daarna is ondersoek deur die 1994 Volkstaatraad gedoen, waar ons in die meerderheid is.     Al ons menseregte is al geskend, ons word vertrap en onderdruk, met swart bemagtiging weerhou uit enige ekonomie uit.
Ons as volk word stelselmatig aangeval en uitgemoor maar ook met swart bemagtiging, word ons in plakkerskampe ingedryf of oorsee waar ons vreemde kulture moet aanneem as ons sin,