On 4 December 2018, it was stated that a report recommended that Section 25 of the Constitution be amended to allow land expropriation without compensation.   All included.   The National Assembly has passed the Constitutional Review Committee report on land expropriation without compensation with more than 200 votes in the National Assembly.  The report recommended that Section 25 of the Constitution be amended to allow land expropriation without compensation.


*
Two years later 

Parliament, Friday, 30 October 2020 – A large number of residents in the West Coast have today declared their support for the amendment of Section 25 of the Constitution to allow for the expropriation of land without compensation.    The delegation leading the hearings in Saldanha Bay today was told that this expropriation will guarantee redress and ensure equitable redistribution of land in South Africa. Ms Faranaaz Gaffoor told the delegation:

"The state, including Parliament, the executive and the judiciary carry an obligation to redress the imbalances of the past through enactment of laws that will achieve this redress."

Amongst her amendments, Ms Gaffoor proposed that Sub Section 3 of the Bill should be replaced with "The state should be the custodian of all South Africa's natural resources, inclusive of land, mineral resources, and water; and relevant legislation should be passed to clearly define and contextualise custodianship of natural resources."

Several submissions, including that of Ms Theresa Rossouw, are of the view that clauses 1, 4, 5, 6 and 9 should remain the same. On clause 2, they make the following amendment: Add a new clause 2 c, which should read as follows: "subject to without compensation or nil compensation under conditions laid out in a law of general application".

These views also maintain that clause 3, which speaks about property, should after the first line be replaced by: "Where compensation is payable, the amount of the compensation and the time and manner of payment must be just and equitable".

Notwithstanding the views of those who support and submitted views on how the Bill should be drafted, a few residents also submitted views against the amendment of Section 25. Mr Deon de Jager maintains that the state merely seeks to own land to distribute this to the politically connected. The end goal, he said, is for the government and not the people to own the land. "Look no further than the fact that only 6.3 per cent of land bought by the government has been transferred to private ownership" he said.

According to Mr Jannie Strydom, there should be a clear differentiation between land for housing and land for farming. "Do not destroy the value of property," he said, further stating that "no finance, no farming, no business".

Several people of the Khoisan communities also shared their views. These views shared the sentiments of Ms Kathleen Haynes in questioning exactly which land will be expropriated. According to Ms Haynes, there are many communities still waiting for land claims to be approved.

The leader of the delegation, Mr Cyril Xaba, reiterated the importance of the public participation process and said that the delegation came here today to get the views of the people on this crucial legislation. He thanked the residents of Saldanha Bay for their valuable inputs. Although the turnout was lower than expected, each view shared today will be taken into consideration and will have an impact on this legislation, he said.

The delegation will continue their public hearings at the Thusong Service Centre in Khayelitsha tomorrow at 11:00.

ISSUED BY THE PARLIAMENTARY COMMUNICATION SERVICES ON BEHALF OF THE LEADER OF THE DELEGATION OF THE AD HOC COMMITTEE ON THE AMENDMENT OF SECTION 25 OF THE CONSTITUTION, MR CYRIL XABA.

https://www.parliament.gov.za/press-releases/west-coast-residents-largely-support-amending-section-25-constitution



>

1082 of 9 October 2020
PUBLICATION OF EXPLANATORY SUMMARY OF THE EXPROPRIATION BILL, 2020
http://www.gpwonline.co.za/Gazettes/Gazettes/43798_09-10_PublicWorksInfrastructure.pdf

>

The Land Expropriation Bill was drafted in consultations that included around 50 000 comments from South Africans along with business, labour and community stakeholders.  Government says the Land Expropriation Bill has been certified as constitutional by the Chief State Law Adviser which paved the way for it to be gazetted and sent to Parliament for consideration.   The Bill was drafted in consultations that included around 50 000 comments from South Africans along with business, labour and community stakeholders.   
Public Works Minister Patricia De Lille was addressing a virtual media conference along with Land Minister Thoko Didiza following a meeting by the Inter-Ministerial Committee on Land Reform, chaired by Deputy President David Mabuza. De Lille says the Bill will bring certainty to investors; thereby increasing investment and growing the economy.
"Government is committed to restitution, redistribution and tenure also as recommended by the panel. The Bill will also bring certainty to South Africans and investors because it clearly outlines how expropriation can be done and on what basis. The legislative certainty is critical as we rebuild our economy and invest in our communities."
Government says the Land Expropriation Bill provides that in some circumstances, the amount of compensation to be paid for the expropriation of land will be determined by the courts.
De Lille said the Bill brings certainty about how expropriation can be done, but does not replace the separate parliamentary process considering Section 25 of the constitution and expropriation without compensation.
She also outlined the circumstances in which no compensation will be paid.
"The Bill further states it may be just and equitable for no compensation to be paid where land is expropriated in the public interest, where the land is not being used and the owners main purpose is not to develop the land, where an organ of state holds land it is not using for its core function, where an owner has abandoned the land by failing to exercise control over it. When the nature or condition of the property poses a health, safety, or physical risk."
Agri SA Western Cape not in support of the Bill
Agri Western Cape said in February that it does not fully agree with the amendment of Section 25 of the Constitution to allow for land redistribution and reform. The agricultural union said it had submitted its comments to Parliament.
Chief Executive Officer, Jannie Strydom, said the proposed amendment which will allow for land expropriation without compensation will not fix institutional ineffectiveness such as lack of budgeting and corruption.
"The real problems are a lack of implementation and poor implementation of existing legislation and programs, an insufficient budget and corruption. Agri Western Cape is dedicated to be part of the solution for successful land reform and contribute to a solution-driven land reform policy ensuring increased agricultural production and food security for the Western Cape and South Africa."
https://www.sabcnews.com/sabcnews/land-expropriation-bill-certified-as-constitutional/

>

2018

Land expropriation without compensation is here to stay. And those who fear the proposed policy must not panic. That's the assurance from President Cyril Ramaphosa. He was answering questions in the National Assembly.
https://www.youtube.com/watch?v=FWgRQzqnlNQ&feature=emb_logo

*

PREVIOUSLY

Background

2018 – The SABC reported that the Democratic Alliance (DA), Freedom Front Plus (FF-Plus), African Christian Democratic Party (ACDP), Congress of the People (COPE) and Inkatha Freedom Party (IFP) were against the report.      The DA described the EFF-ANC land expropriation proposal as an election roadshow and a hoax.   DA Member of the Constitutional Review Committee Glynnis Breytenbach says the party does not support amendments to section 25 to allow land expropriation without compensation. She however says the DA does not deny the effects of what she calls – traumatic land dispossession. Breytenbach was speaking during the debate on the Constitutional Review Committee report in the National Assembly – before it was passed by the House.   The Democratic Alliance is opposed to an arbitrary amendment of the constitution. It is totally unnecessary. The constitution already allows land reform and encourages it.  This election roadshow for the EFF paid for by parliament and supported by the ANC is nothing but a cruel hoax.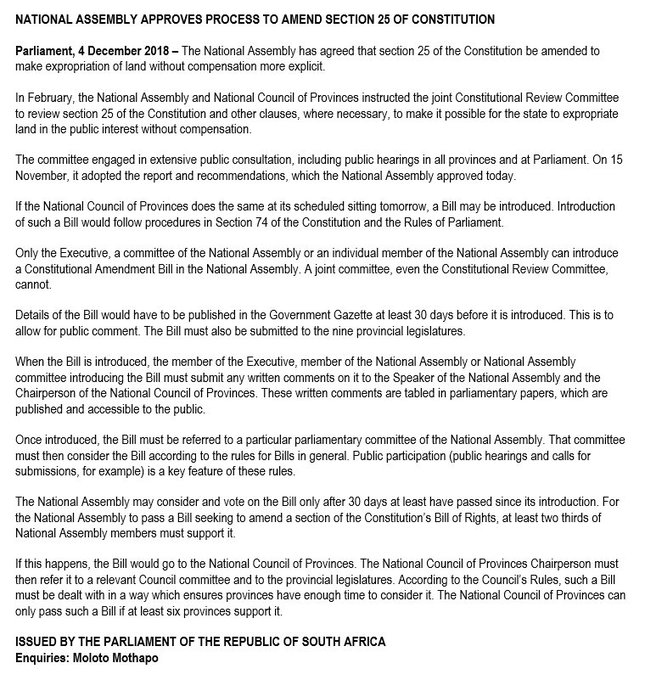 THE LIES OF SOUTH AFRICA
Daar was nie "apartheid in die res van Afrika nie" maar tog roem hul daarop dat daar heelwat Tuislande was, nie net in Suid-Afrika nie.  Vandag bestaan daar 8840 tradisionele Khoi san en Swart tradisionele leiers, oor duisende CPA's en Trustgebiede – ALMAL APART VAN MEKAAR,  So waar is "aparte gebiede afgebreek".   Dit was nog nooit afgebreek nie.

 What is the reasons behind the whole Africa crisis then?   The  pattern for food security in Africa looks not very good.    Conflict in Africa continues to be a major contributor to the continent's food security challenges. 

Why are there more than 8840 traditional leaders in South Africa, all separate from each other.   They are not landless as the ANC and EFF said.   Blacks and Khoi san claimed millions of hectare of land only for them (mostly from the previous Homeland-reserves or British Crown lands. 

These different separate areas were already there in 1900, created by the British Empire, since Rhodes and other legislations from London, the Shepstone Policy of 1854.

In South Africa it is always the fault of the White minority or "so-called apartheid" system.   
Land expropriation without compensation – South Africa

>

Die wetsontwerp is 'n raamwerkwetgewing wat uiteensit hoe en wanneer onteiening kan plaasvind.    ONTHOU – Ons het as volk, 'n internasionale reg tot selfbeskikking en volle onafhanklikheid.  Daar was reeds 'n intensiewe ondersoek gedoen vanaf 1994 vir ons volk.
Land Reform – 2020 -Expropriation Bill

>

Hiermee erken Ramaphosa hoe swak sy eie sisteem is – dis in Hansard vervat, maar steeds dring blanke en klassieke liberales daarop aan dat swart bemagtiging steeds toegepas word.  Dit sluit onteiening in asook die duisende plase wat reeds aangekoop is met belastinggeld en onproduktief nie gebruik word nie.
Ramaphosa voorlegging: Commission

>
(B-BBEE) Black Economic Empowerment (BEE) is a racially selective legislations launched by the South African government to redress the inequalities of Apartheid by giving black (Blacks, Coloureds and Indians) South African citizens economic privileges not available to Whites.  Chinese people are part of it to apply for work under B-BBEE .    He further discussed weaknesses.
Ramaphosa – swart bemagtiging kommissie
>

…. land and any improvements thereon are expropriated for the purposes of land reform, the amount of compensation payable may be nil, be Gazetted.
Parliament SA: Expropriation without compensation – Constitution

>


ALL PEOPLE HAVE A RIGHT TO RULE THEMSELVES IN THEIR OWN AREAS.
The Zulu kingdom is here to stay and their land is going nowhere as long as he is alive – Zwelithini.   There are various black and khoi san kings and leaders (8840).   What about all the other Trustlands and CPA's claimed by Khoi san and Black groups of people?   Will the ANC change all those legislations and take all the CPA and Trustlands too, only for themselves?
Ingonyama Trust – Zulu king – expropriation



*

*

Praat van – "speel vir tyd" en dit is nie 'n verkiesingsfoefie nie.   Die wat so gretig aan die grondwet geskryf het, waar is al daardie grondwetskrywers heen en menseregte wat "veronderstel om te beskerm".    Sit hulle dalk oorsee in hul eie vyfster verblyf, want sedert 1996 het baie die land verlaat.   Heelwat van ons mense moes, weens swart bemagtiging,

Hoeveel van die liberales en klassieke liberale blankes sit en handjies was in kommetjies wat gevul is met bloed – bloed van mense wat sedert 1994 al vermoor is?  Lag van oor tot oor hul sisteme vernietig.

Afgesien daarvan dat 'n Dirk Hermann in 2003 ook verder gepoog het om ons blankes verder in die grond af te druk met hul voorleggings hoe om van 750000 blankes ontslae te raak, gaan die wetgewing steeds voort.  Hoeveel sit vandag oorsee weens hierdie swart bemagtiging wetgewing, en dit sluit nie die Artikel 25 hierby in wat ons verder gaan vernietig.

Nie so lank terug nie, 2003,  maar lank genoeg om heelwat van ons blankes in armoede te dompel, waaruit ons moeilik gaan kom, slegs met baie Genade van Bo – maar verseker gaan mense boet vir hul dade.   Asof die Grondwet nie genoegsaam was nie, het Swart bemagtiging die tol ge-eis, met armoede, hongersnood, korrupsie, misdaad en die ANC regsbank die kersie op die koek (of is dit nou die Broederbond regsbank),

Dirk Hermann, Rina Venter, FW de Klerk, Roelf Meyer, grondwetskrywers,

Swart bemagtiging – B-BBBEE

Codesa Constitution – Kodesa Grondwet

*

Soos dit in die 1996 grondwet staan, kan enige eiendom geneem word en niemand gaan 'n haan meer oorhê om te kraai nie.   

Maak nie saak hoeveel liberale en klassieke liberale blankes hul kan skaar by die ANC regering of die finansiers van Cato Instituut (George Soros) nie.  Dit sluit die magdom liberale media hierby in.    Dit kom al 'n geruime tyd aan hoe leuens verkondig word hoe blankes grond gesteel het.   Indien blankes grond gesteel en banke betaal het, maak hierdie banke, wat grotendeels deel is van die ANC se oorname, hul netso skuldig aan grusame menseregteskendings vir elkeen wat met swaar rentekoerse eiendom of bates bekom het, wat so afgevat kan word, sonder vergoeding.
Die skrif is al sedert 1982 aan die muur, toe die Broederbondleiers met die ANC begin samesprekings voer het.   Later het George Soros en Joe Slovo samesprekings gevolg in Dakar en ander plekke, buite ons landsgrense.   Hierdie liberale blankes moet in die sewende hemel wees vir hul praatjies op vreemde grondgebiede waar ook swart bemagtigingsaadjies geplant is.   Alles "wetlik" saam die sogenaamde kommunistiese grondwet in plek, is de klerk en al sy grondwetskrywers in hul noppies oor hoe maklik kan dinge oornag in Suid-Afrika ontaard in 'n radikale geweldadige plek waar misdaad en korrupsie die land regeer.   

Dis lankal 'n feit dat die meerderheid is kommunisties georienteerd in die land.  Danksy 'n paar oorsese liberale regerings en organisasies, beheer die meerderheid kommuniste in Suid-Afrika letterlik alles.   Hulle beheer die regsbank en die meerderheid sal die grondwet verander soos dit hulle pas, nie soos dit die liberale Kodesa gangers behaag het nie.   Daarmee saam al die grondwetskrywers wat kwansuis so hard gewerk het om die konserwatiewes of ander se menseregte in 'n demokratiese kommunistiese grondwet te beskerm.   Hofsake loop op niks uit nie.   Dit maak nie saak hoeveel mosies ingedien word nie, die meerderheid steur hulle nie aan die internasionale reg dat dit wat hulle wil doen, Boere en Afrikaners  se menseregte skend nie.  Hiermee saam gaan ook beleggingsvertroue en besighede wat nog meer deure gaan sluit.   Onteiening beteken alles, nie net grond of plase nie.  Nie eers die feit dat burgers eiendom 100% aangekoop het met hoë rentekoerse beteken veel nie, en dit sluit daardie vakansiehuis of voertuie en duur plaasimplemente in.  Dit kan alles in 'n oogwink verander…..