Wie en wat is Soros en sy betrokkenheid by regerings om hul ekonomiee in duie te laat stort, oorlog, protesaksies, alles deel van die Soros plan.   "The Deep state" is deur Alex Newman ondersoek.   Daar is geen land waar Soros of sy familielede nie betrokke is nie.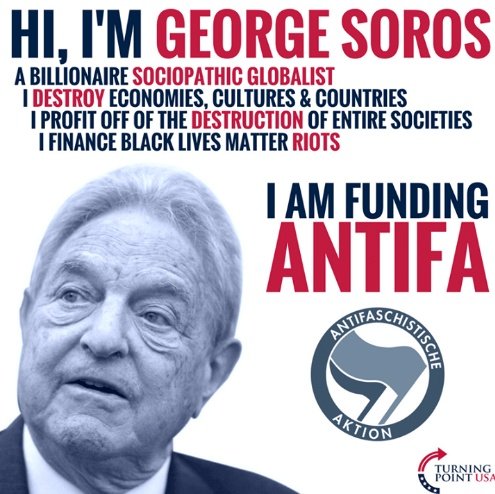 *
By Alex Newman . . . In this episode of Behind The Deep State, host Alex Newman follows the Deep State money trail right to George Soros aka Dr. Evil. Alex discusses the different causes and organizations Soros funds, his ties to the Rothschild dynasty, his enormous ego including self-deification, his insider trading, his help for the Nazi regime, and much more.  
Follow The Money Bags to George Soros  –  Behind the Deep State
In this episode of Behind the Deep State, host Alex Newman exposes the truth about South Africa. He dives deep into history and comes all the way up to the present day, where genocidal racist communists are working to exterminate the Afrikaner Boer people group. South Africa, where the Deep State forced diverse nations to live under one unitary regime, is a microcosm of what is coming to the entire world if humanity does not wake up.
*
14 October 2019
*
We all know in South Africa how deeply the same man and his different organisations are involved on various levels of crime, mass migrations, open borders, wars, etc.  He is also not alone, but do have other support.
*
At the United Nations – Ramaphosa – 2018
Ramaposa en Verenigde Nasies
*
Soros is deeply involved in South Africa since the late 1970's – Black Sash – Codesa – constitution and parliament funding – legislations – B-BBEE against white minority, etc.
Soros bedrywig in Suid-Afrika
*
Founded in London in 2012 as a Community Interest Company, control of the organisation passed to the SA-registered Trust at the start of 2019. Information on 2012-2017 accounts is available on this link at UK Companies House. 2018 accounts will be added once audited. 2019 accounts will be published in South Africa.  OSF funded.
Africa Check and funding – South Africa – Africa – OSF.SA George Soros and others
*
Ramaphosa's involvement .. and more … he is not the only one..
George Soros & Ramaphosa
*
"the kiss" of black sash.
Protest actions in South Africa,- even Parliament and the Constitution (FW de Klerk and Codesa negotiations) were and still are funded by Soros and his Open Society in SA, started also with Black Sach where Zille and her mother were involved.   He and his so-called societies are involved in SA since and before 1980.
*
WHO IS IN CHARGE OF SOUTH AFRICA – weet ons mense ooit wie ons beheer en bestuur vanuit die groen stoeltjies – moenie net alles glo wat mense of veral politici vertel nie.
Parliament – Constitution – Codesa – Writers of the Constitution – Idasa
ALL is part of Soros – even constitution and legislations – are you as liberals happy to be part of Soros and his dynasty – we as conservative Boers and Afrikaners want our own independent country like Botswana.
Suid-Afrika Parlement /South Africa Parliament
*
Mandela was destyds al deel van die Soros deelname – kodesa, parlement en alles wat gevolg het, wetgewing, parlement, alles word befonds.   Mandela was part of Soros and his claims and funding in South Africa.  He was all part of the scheme of FW de Klerk. We do have not any rights today.
Waar is ons identiteit, kultuur, werksgeleenthede in die sogenaamde demokrasie, 'reenboognasie' wat sedert 1994 steeds nie werk nie, met al die aparte trust en cpa gebiede vir swart en bruin?
Mandela and Soros
*
The Presidency proudly tweeted pictures of President Cyril Ramaphosa meeting with US billionaire and liberal activist, George Soros and his son, Alexander in New York recently during September 2018.
Soros and Ramaphosa
*

Dr Steve Turley made a video of George Soros and his Open Society Foundation  that was banned from 6 well-known nations.  Philippines, Russia, Poland, Turkey, Hungary, Pakistan.   Hope there are more countries that will follow soon and ban all liberal organisations and foundations of Soros as well as all the family members as well, from their countries.   Cato Institute and Kogh brothers with Soros.
George Soros – Open Society Foundation
*
A US military helicopter flies near the site of a massive explosion the night before near the Green Village in Kabul on September 3, 2019.
Kogh Brothers – Soros – Afghanistan War
*
Recently, according to Conservative Base, several dozen Roman Catholic theologians, priests and academics formally accused Pope Francis of spreading heresy and are suspicious of his relationship with American left-wing political figures such as multi-billionaire radical George Soros.     Billionaires David and Charles Koch have been handed the ability to buy our democracy in the form of giant checks to the House, Senate, and soon, possibly even the Presidency.
Kogh Brothers – George Soros – Cato Institute and others
*
Legislation – racism and discrimination
Swart bemagtiging – B-BBBEE
*
Judges – "regstelsel"  – regters word deur die President aangestel !!!
The Bridge – Die Brug
*
Ramaphosa faktor
ANC "Freedom charter 1955"
Soros Plan – Hongarye
Soros planne – OSF.SA Monsanto
Suid-Afrika vs Zimbabwe
Codesa Constitution – Kodesa Grondwet
Communist Constitution
Radikale onteiening en GEWELD
Grondhervorming -besetting: Suid-Afrika
Swart bemagtiging Wetgewing
Alex
https://www.thenewamerican.com/world-news/item/33674-follow-the-money-bags-to-george-soros-behind-the-deep-state