Quote STRASBOURG, FRANCE (Reuters) – South African President Cyril Ramaphosa told the European Parliament on Wednesday that South Africa will enact land reforms in adherence to the country's constitution and with respect for the human rights of all its people.  "This problem of land will be resolved through adherence to the rule of law and adherence to the constitution," Ramaphosa told lawmakers.   South Africa's ruling African National Congress aims to change the constitution to allow for land expropriation without compensation to address racial disparities in ownership that persist more than two decades after apartheid's demise in 1994.  Unquote
Ramaphosa
Mandela was until his death a communist leader in South Africa.   Read also the manifesto of the ANC of 1955 – based on communism and bolshevism.   refer to: ANC FREEDOM CHARTER.
To respect human rights – what a joke – most people and liberals are in denial in South Africa.  What is B-BBEE (only against whites in South Africa) and what is the black on white attacks and farm murders, tortures and rapes then?   This is violation of human rights, not "violation of the constitution".
'n Grondwet word nie geskend nie, maar menseregte, die blankes se menseregte word geskend met swart bemagtiging en om grond weg te neem sonder vergoeding.  Dit is teen internasionale reg en ook teen die verdrae van die Verenigde Nasies wat die ANC onderteken het. 

~
Ahead of an address at European Parliament, the president was forced to defend his policy on land.
President Cyril Ramaphosa gave a quick interview with members of the European press ahead of his addressing European Parliament in Strasbourg, France on Wednesday.  The president appeared alongside European Parliament president Antonio Tajani and used the opportunity to promote trade between Europe and South Africa as well as to talk about the centenary of Nelson Mandela.  Ramaphosa also had to field an uncomfortable question about land, after a journalist asked him if his rhetoric about the legacy of Mandela was contradicted by his presidency's adoption of what was termed the "Marxist route" of land expropriation without compensation.
In response, Ramaphosa said the issue of land in South Africa, which may seem intractable, would be resolved just as apartheid had before it.  Economists and analysts have questioned whether the adoption of expropriation, which Ramaphosa has said several times is needed to address the "original sin of land dispossession", conflicts with his desire to encourage investment in South Africa.
In July, Business Unity of South Africa (BUSA) said the issue of land expropriation and the debate over whether section 25 of the constitution should be changed had put the brakes on long-term investment commitments by foreign investors.    Ramaphosa, meanwhile, has taken pains several times to try and calm both South Africans and potential overseas investors.   Speaking to the House of Traditional Leaders in March, he said that people should not panic about expropriation, adding that it would not be a "smash and grab".   In August, he told a room full of investors that "anarchy" would not be tolerated and that expropriation would be carried out in an orderly way.
He echoed these sentiments at the beginning of November at the Discovery Summit 2018 in Sandton attended by, among others, former US secretary of state Hilary Clinton and former UK prime minister David Cameron.    "We will not allow this to lead to degradation of economy. We won't allow land grabs. As we heal this wound, we will do it how Mandela taught us. We must have discussions, and reach agreements that contribute to social cohesion and nation building," he said.
>>
Tajani: "We need to look at Africa not with European glasss. Relationship with Africa is key point. Work on industrialization, research, policy."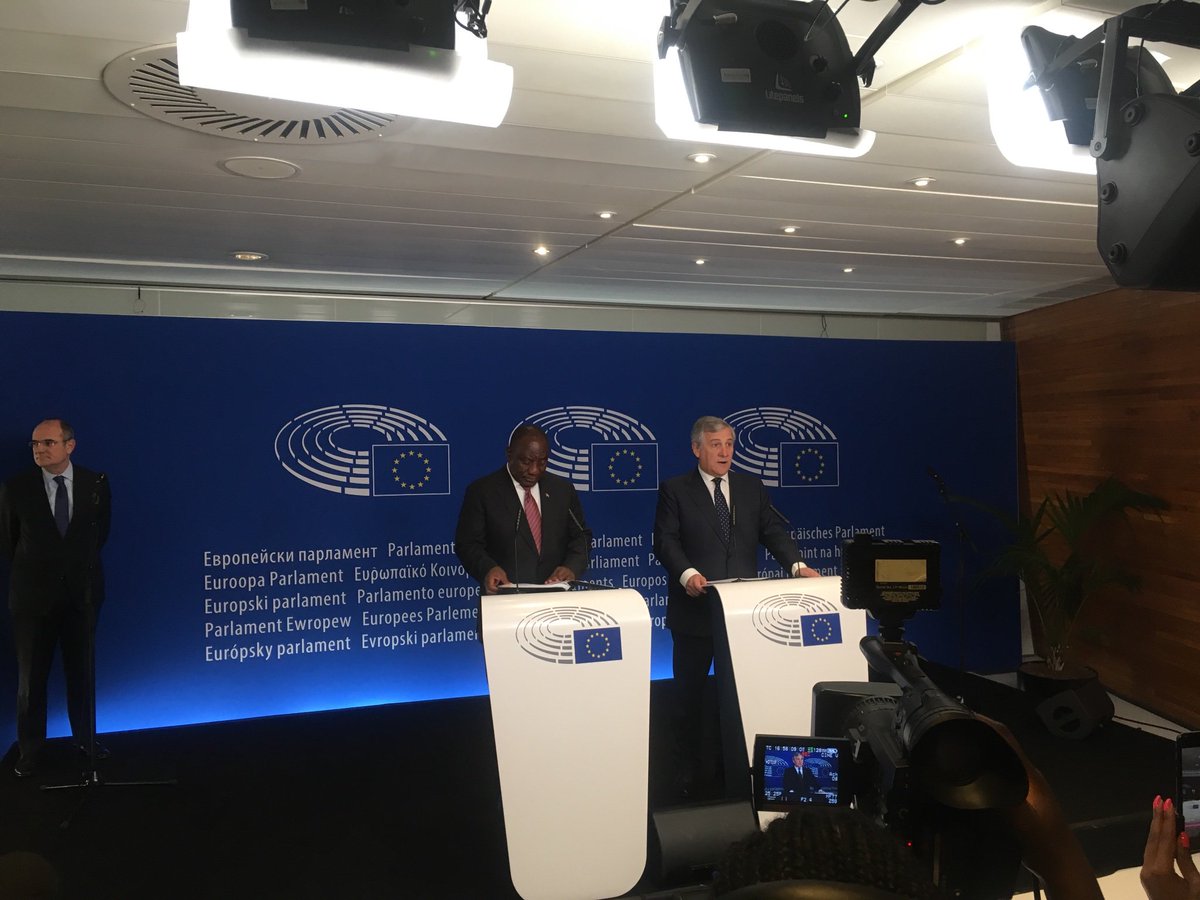 President Ramaphosa: "Just four months after his release from prison, Nelson Mandela was in #EuropeanParliament to receive the Sakharov prize. We thank Europe for the help they gave in fighting apartheid. (Applause). Please continue to support us in rebuilding the country"
President Ramaphosa launches into a patient explanation of land, saying it will be resolved just as the apparent intractable problem of apartheid was solved. European parly President Tajani looks like he's worried they will end up being late for the sitting
Question from a European journalist who says it's an apparent contradiction that President Ramaphosa wants to uphold Mandela's legacy and follow "the Marxist route" of expropriating land. Listen here on the radio about the "original sin" …
~
President Ramaphosa: "Just four months after his release from prison, Nelson Mandela was in #EuropeanParliament to receive the Sakharov prize. We thank Europe for the help they gave in fighting apartheid. (Applause). Please continue to support us in rebuilding the country"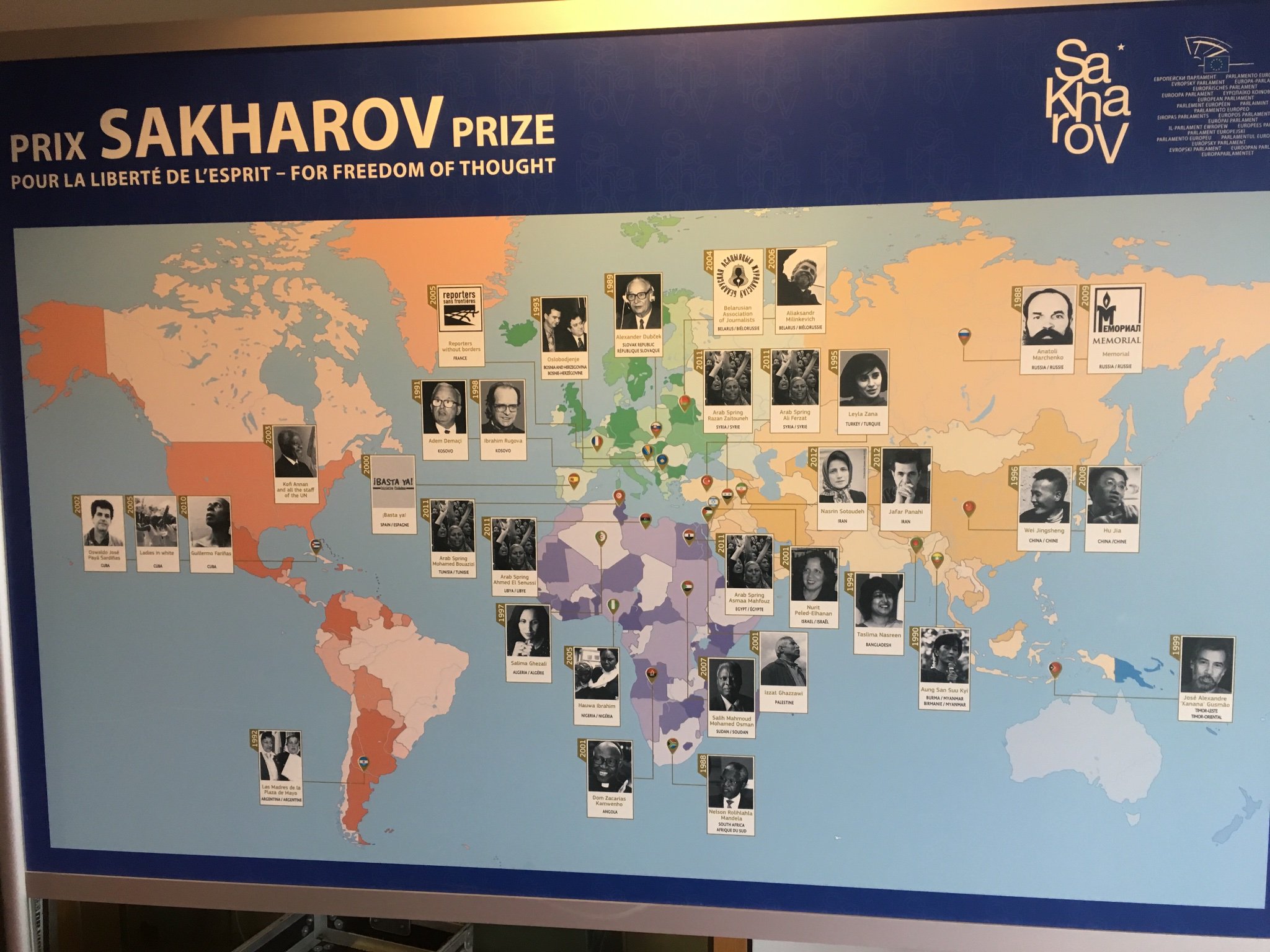 President Ramaphosa: "Nelson Mandela was an ardent advocate of pan-Africanism, and we can draw lessons from Europe on integration and unity." #EuropeanParliament
President Ramaphosa talks about the benefits of the African Continental Free Trade Area, but also mentions migration. "We need to work together to address the root causes of irregular migration with solidarity and humanity, and respect for human rights." #EuropeanParliament
~~~ +++ ~~~
A government like the ANC can not "violate" their own rules based on communism and bolshevism.    The current Constitution is not democratic, but it is furthermore totally focussed on the ANC's communist manifesto of 1955.     Just to take land from whites is unconstitutional and discrimination against all whites in South Africa, but it is also against United Nations Conventions.   B-BBEE is an international crime against whites of South Africa.  George Soros financed the South African parliament and their Constitution since 1994.  
Die ANC regering kan nie hul eie grondwet skend wat gebou is op die kommunistiese en bolsjevistiese manifes van 1955 nie.   Mens skend menseregte, mens skend nie 'n grondwet nie.   Dis die blankes in Suid-Afrika wie se menseregte geskend word al sedert 1994 met swart bemagtiging, grondbesettings, taal en identiteit vernietiging.  Om so 'n Grondwet te verander is eensydig, dis ongrondwetlik en verder voldoen dit nie aan die Verdrae van die Verenigde Nasies dat eiendom nie sonder vergoeding weggeneem kan word nie.
+
Ramaphosa, his families and members of parliament also have various farms and properties as well as shares, then those must be taken away first and give to the poor withoug compensation.  The ANC bought more than 5000 productive farms since 1994 – why did the ANC not reform that farms to the poor people?   But instead , all those farms belong to the government.
Ramaphosa, sy familie en lede van parlement, al die ryk miljoeners het heelwat plaasgrond en ander eiendomme, sowel aandele, laat dit maar eerste aan die armes uitgedeel word SONDER vergoeding.   Die ANC regering het na 1994 meer as 5000 produktiewe plase aangekoop wat steeds aan die ANC behoort, waarom word dit nie aan die armes hervorm en uitgedeel nie?

++
Opinion:   What Ramaphosa have said to the European parliament and what the ANC and government do are two different things.   Landreform is already ongoing since 1994 and mostly against the white minority people of South Africa.  That is why there are so many farm murders and attacks against the whites in South Africa.   Black economic empowerment (B-BBEE legislations) are only against the WHITE minority people of South Africa to take away businesses or otherwise close doors.
Daar gebeur reeds grondbesettings in Suid-Afrika en van die plase wat gevat wil word is aan Chinese belowe – en dis grond waarop steenkool is en wag om ontgin te word.   Swart bemagtiging is rassisties en skend alle blankes se menseregte om hul uit die ekonomie te hou en besighede word van blankes vervreem om 51% aan swart vennote te skenk.   Grondhervorming en dreigemente vind daagliks plaas in Suid-Afrika en word ge-uiter deur Ramaphosa self sowel as ander leiers soos Malema en Zuma, wat blankes wil doodmaak.
~~~ +++ ~~~
ANC and Communism in South Africa
ANC "Freedom charter 1955"
Eiendomsreg – Property rights
Swart rassisme : Jeug / Racism