SA die sinkende skip terwyl die wat die land bankrot steel, nie genoeg tasse en bankrekenings het om alles uit die land te neem nie.
'n Gesig van 'n sinkende skip sedert 1994, waar rewolusie en muitery, korrupsie en moord aan die orde van die dag is, is besig om te sink.   Armes, werk aan ekstra's veral as sassa "verdwyn".   .. .. ..  as die regering se sassa opdroog, is daar niks – wat dan?  Families moet probeer omsien na die arm nedersettings wat niks het nie.    'n Berig oor alles daarmee heen is, die ondersteuners wat so vir al die korruptes gestem het moet nou maar die land dra en die geld terugkry van hul meesters wat die land bankrot gesteel het, met rente.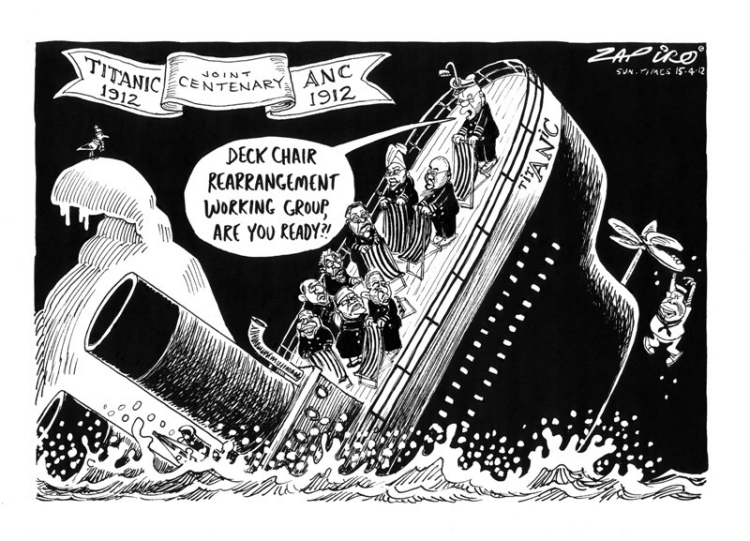 TO TAKE ANY PENSION FUNDS FROM A CITIZEN, MEANS YOU ARE STEALING THAT DO NOT BELONG TO YOU –
Government want to take all of us down with them,  if they have all the hardworking citizen's money in their private bank accounts to take it oversea.
Pensioners contributed for years and years on tax as well, and all SOE's as well.  They did not receive millions of rand on bonuses each month from the pension funds like directors and ceo's (SOE's).
*

ESKOM – CORRUPTION – BRING BACK THE MONEY – Bosasa – Gupta – rdp housing
South African Pension funds and NHI – Capture in making – Nationalisation
Eskom – Koketso Choma – Matshela Koko
Corruption: Bosasa – Gavin Watson – Papa Leshabane
ANC – Lethuli-house can of worms – "Nyani skeletons" – so-called "apartheid" (segregation) and 'white privileges"
"Capture of the State pensionfunds" – ANC-Ramaphosa
Petition – against Eskom to use pensionfunds
*
THEY WANT TO STEAL THE FUNDS OF PENSION FUNDS
South Africa's President, Cyril Ramaphosa, has appointed a judicial inquiry to look into the operations of the $ 142 B state pension fund, following corruption allegations. The announcement comes after the collapse of VBS Mutual Bank early this year where the fund has a 25% stake, and the resignations of two PIC employees linked to the fraud. The Public Investment Corporation, or PIC, is Africa's biggest pension fund and the biggest investor in South Africa's economy. It holds a large volume of bonds issued by government and state-owned firms. The firm also has stakes in blue-chip companies across various sectors such as Anglo American Platinum, Barclays Africa and the retailer, Shoprite. Ramaphosa said the inquiry will investigate persistent negative reports about alleged impropriety, and issue a final report by April 2019.
https://www.youtube.com/watch?v=xfj1TYEtYls
**
RAMAPHOSA
*
BO DIE WET VERHEWE
Ramaphosa on CR17: There was no wrongdoing, no criminality 
https://www.msn.com/en-za/money/news/south-africas-ramaphosa-calls-for-discussion-on-utilising-pension-funds-for-projects/ar-AAGbUwk#image=BBSzjPe|2
*
PARLEMENT het geen verantwoordelikheid om te regeer nie
Hoe skuldig is al hierdie ringkoppe nie aan korrupsie en misdaad, waar so baie gesteel is in die laaste 25 jaar?   Hulle almal dink hulle kan met vet bankrekenings spog of 'n aantal huise oorsee waarheen hul kan vlug as totale chaos uitbreek.  Daar is al soveel rewolusie aan die gang en die wat dit veroorsaak, was hul handjies in bloed.  Natuurlik alles goed beplande taktiek van die ANC en hul rooi kappie bendes, wat veral haat en rassisme teenoor blankes sing.   
Dis ook nie om dowe neute wat die anc en ondersteuners se president nie optree teenoor korrupsie nie.  Misdaad is 'n groot inkomste vir regering en hul agente.  ANC soek ook alle pensoene moet aan hulle behoort sodat dit ook leeggesteel kan word soos die res.
En al die staatsmaatskappye, was 100% in 'n werkende toestand (SOE's) saam munisipaliteite en provinsies.   Dis omdat hierdie mense nie weet wat 'n vorige regering alles gedoen het, waar daar nog minder belastingbetalers was, en waar daar nog meer uitgawes was, en tog was die rand meer werd as vandag.   Nie net was dienste beter onder die sogenaamde "apartheid" nie, maar die land het ook nie gebrand nie en was daar opgetree teenoor kriminele. 
*
Die DA is eintlik nog erger as die ANC, maar die EFF se swak beskuldigings, maak van al hierdie partye skuldig aan diefstal van publieke fondse, en almal is netso skuldig aan wanbesteding en korrupsie in die land, hul rekord is nie skoon nie.   Die DA is kwansuis die opposisie, maar hul opposisie is niks werd in daardie groen stoele nie.   Hoe lank vind korrupsie al plaas en hoe lank word Eskom en ander besteel en word daar nooit opgetree om al hierdie geld met rentes terug te kry nie.
Pensoene sal gesteel word, nes hulle die e-tol pad gebou het en daardie fondse is nog nooit teruggeplaas nie.    Wie het dit in die parlement toegelaat?    As geld geneem word, sal daar niks oorbly as die ANC daarmee klaar is nie.  Die neem van pensioenfondse is diefstal en het niks met die land se armoede te doen nie, die ANC het die armoede geskep al vir 25 jaar.  Daar was nie soveel armoede in die ou Tuislande nie. 
Pensioenarisse het vir etlike jare hard gewerk, hard gewerk bou aan alles om sodoende 'n klein pensioen te kan kry.  Niemand is ryk nie.  Die ryk elites is die wat nou die B-BBEE gebruik om hulself nog meer te verryk, nie die pensioenarisse nie.  Hoeveel van die armes is afkomstig uit ander lande uit, wat nie eers burgers van hierdie land is nie?     
Die groenstoelsitters,  wat nou galbraak oor veral die pensioenfondse, wat het julle om die Kodesa tafel beding?   Lieg lekker vir die mense wat so vir julle gestem het al vir 25 jaar.     Almal erken nou skielik dit was nie bedoel om "regstellende aksie of swart bemagtiging in te stel nie – Pik Botha, Rina Venter, FW de Klerk, Dirk Hermann – maar wie het die hardste geskryf aan wetgewings – daar is dan nog steeds aparte gebiede vir swart en bruin – Ingonyama Trust, Richtersveld en vele ander CPA's en selfs die 8840 tradisionele leiers bewys dit.
The DA, which called the debate, started off proceedings with MP Geordin Hill-Lewis, who claimed that instead of fixing SOEs government is opting for a policy from the apartheid regime.   "The ANC has resorted to copying policies of a failing apartheid government. Some may call it moral and political bankruptcy," Hill-Lewis said.

https://www.fin24.com/Economy/prescribed-assets-are-an-apartheid-era-policy-thats-blatant-theft-of-pensions-mps-20190910
STEM saam – dis om nog meer van die armes te steel om hulle totaal en al, nie net ekonomiese vlak, uit te wis nie.
Pension theft

He warned that the policy would leave South Africans with smaller pensions when they retire.   "It is pension theft," he said. "This government is proposing to steal pensions of hardworking South Africans to pay for their mismanagement.   "Stealing from people's future pensions is still theft and should be fought by every South African who has diligently saved for their retirement," he told the National Assembly.   In response, ANC MP Phoebe Abraham defended the policy proposal. "The ANC is not a reckless government. We are a caring government," she said.

Abraham went on to explain the ANC's reasoning for considering the policy. With the economy being under strain the governing party is coming up with solutions and wants to support the president's "exploratory direction", she said.

Abraham recalled how the policy was used by the apartheid government to stimulate economic growth and while the white minority benefited from it, the majority of the oppressed remained "uncatered" for.   She echoed a previous statement by President Cyril Ramaphosa that the ruling party is pursuing policies that will advance the interests of South Africans.

*

ANC MP Gijman Skosana also defended the ruling party for taking the responsibility to lead and bringing an intervention to address the poverty, inequality and unemployment challenges in the country.

He slammed the DA for only being concerned about the quality of return from the pension funds and not growing the economy and creating jobs – which is what the prescription of pension funds is envisioned to do.

The EFF seemed to side with the ANC as their MP Floyd Shivambu called the DA out for "raising false alarms" about the prescription of assets. "There is no debate worthy of the sensationalism created by the DA," Shivambu said before adding that regulation 28 of the Pension Funds Act regulates how pension funds should be invested.

He said there is nothing wrong with the prescription of assets – as long as it falls within a defined development programme.    He suggested that the various municipal pension funds be consolidated into one and that an asset manager should be appointed to invest a portion of the funds towards developments such as municipal infrastructure, job creation and labour absorbing sectors in the economy.

*

IFP MP Elphas Buthelezi, however, was not on the same side of the fence as the ANC and EFF, and said that government would be "gambling" pension funds with the prescription policy.   "We cannot trust the government to make the right investment decisions for people … Take hands off the pension kitty," he said. The majority of South Africans are saving money in funds not to necessarily enjoy retirement but to make provision for their families, he added.

Apartheid policy

FF Plus Wouter Wessels warned the ANC from following implementing a policy with good intentions, without considering the unintended consequences.    He urged government to learn from the mistakes of the apartheid government, who sought to stimulate the economy through the prescription of assets – but this strategy left the government employee pension fund "completely depleted" by 1994.   "Learn from the past," he said.

"Pension fund holders will have to increase their contributions and work longer and contribute for a longer time to account for the poor performance of investments," Wessels said.

He said government should rather fix SOEs, which have been plundered, than look into a policy of prescribed assets. "The poorest in South Africa will suffer the most through this policy," he said before adding that history repeats itself and that the ANC is following the path of the now defunct National Party.

NFP MP Shaik Emam shared the view that government should rather make sure SOEs turn profitable before investing any more funds in them.

"Until we get our house in order and manage affairs better, we must leave funds alone," he said.

"The idea is good but the timing is not good," he added.

https://www.fin24.com/Economy/prescribed-assets-are-an-apartheid-era-policy-thats-blatant-theft-of-pensions-mps-20190910
*
AND THE PEOPLE WORK HARD FOR THEIR PENSION FUNDS, DID NOT STEAL FROM POOR PEOPLE LIKE POLITICAL LEADERS AND THEIR FAMILIES
The state's proposal to force pension funds to invest in bonds issued by government and state-owned enterprises, like Eskom, is effectively theft, Parliament heard.   The National Assembly on Tuesday debated the proposal to investigate the policy of prescribing assets, with most opposition parties expressing their disapproval.   The prescription of assets refers to a policy where the state obliges institutions such as pension funds and insurance companies to invest a part of their funds in state institutions or bonds. The apartheid government had maintained the policy for 33 years (between 1956 and 1989).
*
 It's official: the South African state is bankrupt. President Cyril Ramaphosa confirmed it three weeks ago when he responded to questions in parliament.   Ramaphosa's exact words were: "Our resources are now depleted."   In simple terms, this means the government has run out of money.

In a normal country, such a statement by the head of state would have, at best, made national headlines. That it went unnoticed reveals a great deal about our journalists' obsession with the fluff that constitutes the vacuity of our daily politics.

If you want to understand what it means for a state to run out of money, look at South African Express. It has grounded its planes. Last week, it told MPs it is struggling to pay salaries.

SA Express is not unique. Employees at Denel are not sure for how long their salaries will be paid. Eskom pays salaries from debt. It needs about R70bn for operations and debts. But its revenue is about R30bn.

Those who work for government departments must not think that their salaries are safe either. After state-owned companies have been bankrupted, the rot is coming their way. When Zimbabwe collapsed, the financial mess eventually reached nurses and teachers.

A collapsing banana republic protects its security forces from salary shortages because politicians know that if they are not paid, the police and the army can use their guns to extract rent from citizens.

There was a time in the last days of Robert Mugabe's regime when there were roadblocks across the country, where citizens were expected to pay bribes to the police for every nonsensical small thing. Even today, the police in Zimbabwe are still bribe collectors.

Now that South Africa has run out of money, what's next? Ramaphosa says we must begin discussing the use of pension funds to finance "developmental needs". That is all fancy talk. His call is simple: now that the ANC comrades have looted the state to its knees, he wants them to raid the pension of teachers, nurses, cleaners and other workers.

If you are a police officer, prison warder or soldier, Ramaphosa says the money you have worked hard for and saved must be used to finance what he calls "developmental needs".

"Developmental needs" include rescuing the ailing Eskom. If workers allow that to happen, they will live to regret it in their old age.

What we know is that the ANC and its government cannot run any budget without stealing. Everything they touch turns to dust.

Truth be told, we are where we are now because ANC cadres in the government have been looting public money. Anyone who tells you a different story is a liar.

The most shocking thing is that the organisation that is supposed to protect workers, Cosatu, agrees with Ramaphosa that ANC comrades in government must begin looting pensions.

Cosatu says it is better to raid workers' pensions than go to the International Monetary Fund. The assumption is that the pensions will not be exhausted. The truth is they can. When they are finished, just as ANC cadres looted the state until it collapsed, the IMF will not be avoided.

In The Communist Manifesto, Karl Marx and Frederick Engels urged workers of the world to unite.

This is the time for real trade unions to call for all workers to unite, for they have nothing to lose except their hard-earned pensions.

In our post-modern information economy, Marxism is helpful mainly as a tool for analysts.

In South Africa today, we can use it to understand how parasitic forces in the private sphere use the state to loot national resources in the name of "developmental needs". Look at Medupi and Kusile to grasp the scale.

The greatest problem facing South Africa today is not a lack of money. It is the looting of money by a symbiosis of private parasites and venal politicians who run our state.

That is why you will not fix the state before you fix our rotten politics.

https://www.sowetanlive.co.za/opinion/columnists/2019-09-02-sa-is-broke-thanks-to-thieving-by-anc-cadres-in-government/?fbclid=IwAR2RIbWiKGhktzywpo47AmcURJ3E1E1pRmf8YhjxVkSH53hqWboX_N88VEI