Kan die voedselketting se gedagtes gelees word of is dit omdat tegnologie verbeter het om die waardes van voedingswaardes daar te stel vir ons om te gebruik?    Uit vorige ervarings is ook gebruik gemaak van aantekeninge oor sekere siektes wat voorkom as daar tekorte in sekere voedselsoorte is.  Eet elke dag net 'n stukkie brood vir 'n jaar en sien wat gebeur.   Soms is daar ook 'n ander, groot hartseer maatskaplike faktor wat juis begin het met ekonomiese hervorming, swart bemagtiging en regstelaksies wat die grootste oorsake is, veral onder ons blanke volksgenote. 
*
Tegnologie maak dit vandag makliker vir almal van ons.  Daar is 'n verskeidenheid van voedselsoorte op die Suid-Afrikaanse markte en oorsee om van te kies en kan afwisselende voedselsoorte in eie gesondheid aangewend word vir 'n beter en meer gesonde lewensstyl.   Elke persoon besluit vir hulself hoe hul wil lewe, maar soms is dit omstandighede buite hul beheer wat aanleiding gee tot siektes.
Armoede bring heelwat wanvoeding en siektestoestande mee.   Ongelukkig is daar 'n groot deel en persentasie van ons blanke volkslede op die armoede agterstoepies van bome of plakkerskampe weens swart bemagtiging en regstellende aksie.   Dit maak hul uiters vatbaar vir wanvoedings en siektes, emosionele afbrekings en menseregteskendings.   
Die toestande gaan nie oornag verbeter nie.  Wetgewing is juis deur blanke liberaliste en klassieke liberale blankes geskep sodat die ANC dit kan afdwing – so hul was hul handjies skoon dat hulle onskuldig is.
Submission by Solidarity 14 May 2003 in Parliament
Wetgewings SEB-RA : B-BBEE-EE legislations
Dit is lankal tyd dat ons ons oor hul ontferm en probeer uitlug uit die put van armoede, intrek waar ons kan.  Dieselfde geld vir ons duisende afgetredenes en pensioenarisse wat ook daar lewe en nie altyd die mas opkom nie.  Heelwat families is landuit en het van hulle hul families gelos en gehoop dit sal beter gaan.  Ouer gardes is trots en sal nooit kinders of families vra vir ekstra nood benodigdhede nie.
Ongebalanseerde gesondheidstoestande  kan eenvoudig binne 'n tydperk met nodige voedingswaardes, geduld en moontlike hulp reggestel word. Dis in belang van eie gesondheid om na te streef om die eindresultate te sien.   Hoe gesonder voedsel is om in te neem, hoe minder medikasie en uitgawes word nodig vir die handhawing van 'n verwagte lewensstyl.  Hier is maar net 'n paar uitsonderings, daar is heelwat ander.
*
No single food is going to change your cholesterol levels overnight. It can take months to see lower cholesterol levels through dietary changes alone or combined with physical activity. Focus on an overall heart-healthy diet by including foods high in fiber, healthy unsaturated fats, and high in antioxidants.
Rather than focusing on one or two foods to lower cholesterol, including several foods that lower cholesterol in different ways is more beneficial. The main dietary components of a heart-healthy diet include plenty of fruits and vegetables, whole grains instead of highly refined ones, lean protein, and healthy fats instead of saturated and trans fats.
Food has a direct impact on many aspects of your health, including your heart health. Certain foods can improve your cholesterol levels and, in turn, lower your risk of heart disease. Keeping your cholesterol in a normal range by choosing heart-healthy foods will help you live a healthier life.  Nuts might be small, but they pack a ton of nutrients, including healthy fats, fiber, and antioxidants. In a review of three large prospective cohort studies, people who ate more nuts had a lower risk of cardiovascular disease and coronary heart diseases.   Walnuts are especially great for heart health, as they contain the essential omega-3 fat alpha-linolenic acid (ALA).  ALA is associated with a decreased risk of cardiovascular disease events, such as heart attack or stroke.
Your doctor may have even recommended eating more fish, taking a fish oil supplement, or following a Mediterranean diet (fish are a major component) to help improve your cholesterol levels. This is because fish –  particularly fatty fish like salmon, tuna, sardines, mackerel, and trout  –  are full of heart-healthy omega-3 fatty acids.
It might seem counterintuitive, but adding a little dark chocolate and cocoa to your diet might benefit your heart. Studies have shown that the flavonoids present in dark chocolate and cocoa may decrease your risk of heart disease.  But it is high in sugars.
Fruit is included as part of any heart-healthy eating pattern, and for good reason. Many fruits are rich in vitamins, minerals, dietary fiber, and antioxidants. Pectin, a specific type of soluble fiber found in many fruits, including apples, citrus fruits, and berries, helps lower cholesterol in part by decreasing the amount of cholesterol made by the liver.    Antioxidant compounds called polyphenols found in these fruits also provide anti-inflammatory effects that may reduce your risk of heart disease by lowering LDL cholesterol and preventing it from being oxidized.
Tea contains antioxidative, anti-inflammatory, and cholesterol-lowering properties called polyphenols. These compounds may aid in the prevention of heart disease and stroke.  Though some studies have been mixed, the majority of research seems to agree that both green tea and black tea provide heart health benefits.
https://www.verywellhealth.com/foods-that-lower-cholesterol-5189944
*
Pistachio nuts
A high triglyceride level and a low HDL cholesterol level are among the criteria for a metabolic syndrome diagnosis.2 The more risk factors you have, the higher your risk for stroke, diabetes, and heart disease.
In one study, eating 3 ounces of pistachio nuts per day, about two handfuls, for 1 month raised high-density lipoprotein (HDL), which is a healthy type of cholesterol, up to an average of 15%.
Pistachio nuts are a nutritious snack and contain:
Thiamin (vitamin B1) helps your body change carbohydrates into energy
Potassium is a mineral that helps offset the harmful effect of sodium on blood pressure
Phytosterols and cholesterol have a similar structure and activity in your intestine to lower cholesterol absorption
Magnesium is a mineral, and a deficiency is associated with higher levels of low-density lipoprotein (LDL)
Vitamin B6 may play a role in reducing your risk of heart disease
Calories: 158 per ounce (49 kernels)
Additionally, pistachios contain fiber and high amounts of polyunsaturated and monounsaturated fats, which are linked to improving cholesterol levels and promoting heart health.
*
ALMONDS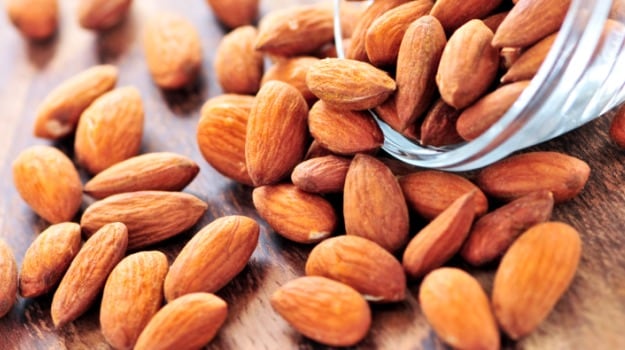 Fiber, flavonoids, and unsaturated fats  – all components in almonds – possess lipid-lowering properties. Studies have looked at a wide range of individuals, including those with high cholesterol, normal cholesterol levels, diabetes, and who are obese, consuming anywhere between 20 to 168 g of almonds a day for 4 to 16 weeks. This is roughly equivalent to 1 to 6 handfuls of almonds a day. In some studies, almonds replaced some of the fats consumed in the diet, whereas in other cases, almonds were added to a healthy diet. Almonds used in these studies were either raw, roasted, or supplemented in other healthy foods.
Almonds have numerous health benefits, which include the reduction of inflammation, treating certain skin conditions (such as eczema), promoting heart health, and aiding colon health. In fact, almonds have been used in Ayurvedic medicine to improve the health of the brain and nervous system. However, there is also mounting evidence that almonds can also improve your cholesterol levels
https://www.verywellhealth.com/can-almonds-lower-cholesterol-698131
*
Consumption of nuts and seeds is considered healthy for your heart and almonds are one of the most important nuts for heart health. According to a new review done by nutritionists and heart experts, including almonds in your diet can reduce symptoms of dyslipidemia. Dyslipidemia is known to be an important risk factor of cardiovascular diseases in Indians. The condition is marked by high levels of LDL (bad) cholesterol, low levels of HDL (good) cholesterol and high triglyceride levels in the body.
It is because of the fat profile of almonds that they are considered so healthy. Almonds contain both monounsaturated and polyunsaturated fats, which are considered as good fats. Other nutrients present in almonds include Vitamin E and dietary fibre.
Dyslipidemia can increase chances of clogged arteries in the body. People who have dyslipidemia are more prone to risks of heart attacks, stroke and other circulatory concerns. Smokers are at higher risk of dyslipidemia. Risk factors that increase chances of dyslipidemia in children include unhealthy diet, obesity and lack of exercise.
According to Delhi-based nutritionist Pooja Malhotra, almonds can help in regulating blood pressure as well.
"Almonds are rich in monounsaturated fatty acids. Many studies suggest that almonds lower LDL cholesterol and also prevent oxidation of LDL, which is crucial to preventing heart disease. Some studies suggest that almonds help to lower blood pressure.
Almonds contain high levels of bio active molecules such as fibre, polyphenol, minerals and vitamins – many of which have antioxidant properties. They are rich in Vitamin E, which is a potent antioxidant," says Pooja.
The review, funded by Almond Board of California, states that consuming 45 gms of almonds daily can reduce symptoms of dyslipidemia. Introducing dietary changes in the lifestyle can help in reducing harmful LDL cholesterol levels by reducing saturated fat. But it also reduces levels of HDL cholesterol, which is beneficial for the body. However, this is not the case with almonds.
https://www.ndtv.com/health/heres-how-many-almonds-you-should-eat-for-a-healthy-heart-all-you-need-to-know-1844929
*
RELATED – VERWANT
Immune system  Food  juices Celery

Healthy food  – Gesonde voedsel
Onteiening 'n tydbom – geen voedsel

Food and Vitamins

Netherland – Food – farming – land

Zimbabwe – "bread basket" into a "basket case" ~~~ No farmer – No food

Kiwi fruits – vrugte

Turksvye – Prickley pears

Quercetin – Onion, fruits …

Human Rights Whites/Menseregte – blankes