It is a good idea to fall back on vegetables and fruits owing to their many health benefits. And what better than beetroot and carrots along with some apples to boost your immunity system.    The flavourful combination also helps balance the blood sugar levels. This, in turn, helps keep the heart healthy.    Beetroot and carrot contain lutein, beta-carotene and alpha that are nutrients which are good for the heart.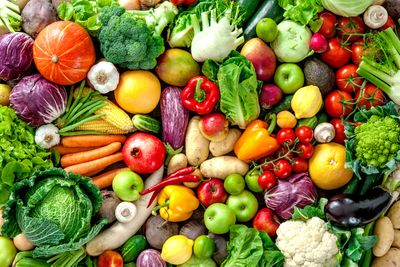 *

Maak 'n voedsame drankie van beet, wortels en appel – in die versapper is dit vinnig.

*Cut the beetroot, carrot and apple, and squeeze out the juice in a juicer.
*Blend it well and strain to remove all the fibre.
*The pulp itself is rich in fibre.
*Add half a teaspoon of lemon juice and salt to taste.
*Mix it and serve chilled.

https://indianexpress.com/article/lifestyle/health/apple-beetroot-carrot-abc-juice-immunity-detox-drink-6384960/
*

Health benefits

Carrots are also high in vitamin C, vitamin K and potassium.  Carrots are especially high in beta-carotene, which can turn into vitamin A in the body. Their high antioxidant content may help reduce the risk of lung and prostate cancer.

Onions may possess powerful anticancer properties, with observational studies linking a higher intake of this root vegetable to a lower risk of common types of cancer.    Eating broccoli may help prevent other types of chronic disease.  A cup (91 grams) of raw broccoli provides 116% of your daily vitamin K needs, 135% of the daily vitamin C requirement and a good amount of folate, manganese and potassium.
One cup (30 grams) of raw spinach provides 56% of your daily vitamin A needs plus your entire daily vitamin K requirement — all for just 7 calories .   Spinach also boasts a great deal of antioxidants, which can help reduce the risk of chronic disease. 
One study found that dark green leafy vegetables like spinach are high in beta-carotene and lutein, two types of antioxidants that have been associated with a decreased risk of cancer.
https://www.healthline.com/nutrition/root-vegetables

*

Lutein is a type of vitamin called a carotenoid. It is related to beta-carotene and vitamin A. Foods rich in lutein include egg yolks, broccoli, spinach, kale, corn, orange pepper, kiwi fruit, grapes, orange juice, zucchini, and squash. Lutein is absorbed best when it is taken with a high-fat meal.    
Many people think of lutein as "the eye vitamin." It is commonly taken by mouth to prevent eye diseases such as an eye disease that leads to vision loss in older adults (age-related macular degeneration or AMD), and cataracts. There is no good scientific evidence to support the use of lutein for other conditions.     Many multivitamins contain lutein. They usually provide a relatively small amount, such as 0.25 mg per tablet. 
How does it work?
Lutein is one of two major carotenoids found as a color pigment in the human eye (macula and retina). It is thought to function as a light filter, protecting the eye tissues from sunlight damage.

https://www.webmd.com/vitamins/ai/ingredientmono-754/lutein#:~:text=Lutein%20is%20a%20type%20of,with%20a%20high%2Dfat%20meal.

*


Lutein and zeaxanthin are powerful antioxidants that defend your body against unstable molecules called free radicals.   In excess, free radicals can damage your cells, contribute to aging and lead to the progression of diseases like heart disease, cancer, type 2 diabetes and Alzheimer's disease .   Lutein and zeaxanthin protect your body's proteins, fats and DNA from stressors and can even help recycle glutathione, another key antioxidant in your body.
https://www.healthline.com/nutrition/lutein-and-zeaxanthin#eyes

*


Sweet potatoes   —the orange, yellow and purple varieties of the root vegetable—are lower in calories and carbohydrates than the average spud. They're also higher in vitamin A, an antioxidant that boosts immunity and helps you maintain healthy skin and vision. One sweet potato provides far more than 100% of your recommended daily allotment of vitamin A, according to the USDA.

Sweet potatoes are also rich in vitamin C and vitamin B6, which is important for brain and nervous system health. They're also a good source of potassium and magnesium, which help improve heart health by helping to regulate blood pressure.   Even better, one sweet potato has about four grams of plant-based fiber, which helps you maintain a healthy weight and lowers risk of chronic diseases such as type 2 diabetes and high cholesterol. 

 "All potatoes are nutrient-dense and healthy for you," says Brigitte Zeitlin, a registered dietitian and owner of BZ Nutrition in New York. 

https://time.com/5498125/are-sweet-potatoes-healthy/

*

Sweet potatoes – You can also let them cool and whip them into smoothies with soymilk, protein powder and cinnamon; blend them into a soup; or bake them into chips and dip them in hummus. Mashed sweet potatoes are even great as an antioxidant-rich dessert: add maple syrup or honey and a sprinkle of walnuts.

*


The trio   

This trio is a great source for many vitamins, antioxidants and fiber, and has immune-regulating, anti-inflammatory and heart healthy benefits. When cooked together, they provide powerful flavor and a great aroma to compliment many dishes.       This trio is a great source for many vitamins, antioxidants and fiber, and has immune-regulating, anti-inflammatory and heart healthy benefits. When cooked together, they provide powerful flavor and a great aroma to compliment many dishes.

https://hungerandhealth.feedingamerica.org/resource/cooking-carrots-celery-onions/#:~:text=This%20video%20features%20carrots%2C%20celery,aroma%20to%20compliment%20many%20dishes.

https://www.healthline.com/nutrition/root-vegetables


*

Die driemanskap   (of meer)

Hierdie driemanskap is 'n uitstekende bron vir baie vitamiene, antioksidante en vesel, en het immuunregulerende, ontstekingsremmende en hartgesonde voordele. As dit saam gekook word, bied dit 'n kragtige geur en 'n uitstekende geur om baie geregte te komplimenteer.   Die kombinasie van drie – gekookte uie, wortels en seldery. Knoffelsous of eie speserye, sout na smaak.  Patats kan ook bygevoeg word, dit het heelwat voedselwaarde. Asook groenmielies – heelwat groentes kan benut word om beter te leef.   

Indien daar spasie is in die tuin, erf of plot, kan daar heelwat groentes self aangeplant word.   Selfversorgend is 'n plus bonus, veral in hierdie tye waarin ons leef.  Betrek ander, veral arm volkslede om te help bou aan 'n groente en ander gewasse plek.


Gerooster – Roasted

https://www.acouplecooks.com/roasted-carrots-and-onions/


*


Immune system – Food –  juices – Celery


All people need food


Food and Vitamins


Turksvye – Prickley pears