An analysis of satellite images suggests that at least one North Korean prison camp has been significantly expanded over the past decade, including since the death of former premier Kim Jong-Il. The analysis, conducted by the Committee for Human Rights in North Korea (HRNK), focuses on Camp 25, tucked in the northeastern corner of the country.
*

'n Ontleding van satellietbeelde dui daarop dat ten minste een Noord-Koreaanse gevangeniskamp oor die afgelope dekade aansienlik uitgebrei het, insluitend sedert die dood van voormalige premier Kim Jong-Il. Die ontleding, uitgevoer deur die Komitee vir Menseregte in Noord-Korea (HRNK), fokus op Kap 25, versteek in die noordoostelike hoek van die land.  Daar is heelwat ander ook.


*

Hy het Noord-Korea gaan besoek, maar ongelukkig was hy 'n jong man wat nie werklik die binnekant van die regering se prisonierskampe geken het nie.    Otto Warmbier is in 2016 in Noord-Korea in aanhouding geneem, nadat hy daarvan beskuldig is dat hy , volgens hul owerhede, 'n propagandaplakkaat gesteel het terwyl hy die land besoek het.

Hy is tot 15 jaar harde arbeid gevonnis vir die beweerde diefstal, maar is later vrygelaat en 'n jaar en 'n half in sy vonnis na die VSA teruggekeer.

Warmbier het in hierdie tyd, in Maart 2016 in 'n koma verval, op die dag toe hy tot 15 jaar harde arbeid gevonnis is omdat hy na bewering 'n plakkaat tydens 'n reis na Noord-Korea gesteel het.

Die omstandighede van hoe hy in 'n koma verval het, bly 'n raaisel.  Ook vir sy ouers.  Die Noord-Koreaanse regime is gekritiseer omdat hy vir meer as 'n jaar nie vir Amerikaanse amptenare die waarheid oor Warmbier se gesondheid vertel het nie.  Hoeveel ander word so behandel.  Gaan in 'n land in om vakansie te gaan hou, maar word eenvoudig opgesluit of doodgemartel?



*
Otto Warmbier was taken into North Korea's custody in 2016, after he was accused of stealing a propaganda poster while visiting the country. He was sentenced to 15 years of hard labor for the alleged theft, but was later released and returned to the US a year and a half into his sentence.    Warmbier fell into a coma in March 2016, on the day he was sentenced to 15 years of hard labor for allegedly stealing a poster during a trip to North Korea. The circumstances of how he fell into a coma remain a mystery. The North Korean regime was criticized for not telling US officials the truth about Warmbier's health for more than a year.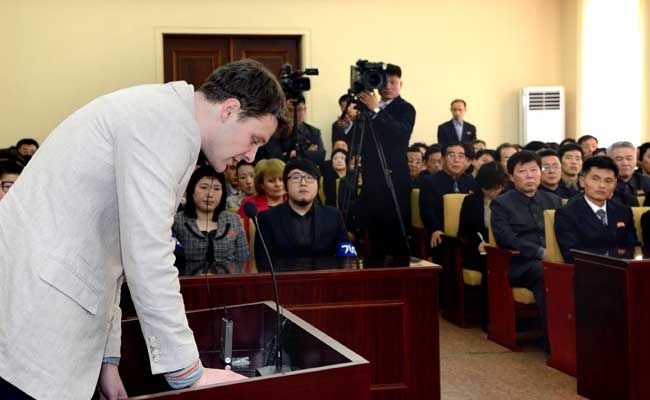 Otto Warmbier's family seeks US$1 billion in damages from North Korea, holding regime liable for torturing and killing him
Warmbier visited North Korea as a tourist on his way to a study-abroad programme but was arrested and imprisoned in 2016 for 15 years for stealing a propaganda sign
He died days after his return in June 2017, with severe brain damage and no awareness of his surroundings. Doctors said he had been in a coma for more than a year

 
Greta Warmbier climbed the stairs onto the plane in summer 2017 ecstatic, thinking it was the happiest moment of her life: Her beloved brother Otto had come home, back in Ohio, freed from nearly 18 months of imprisonment in North Korea. She had so many things to tell him: her braces had come off, she'd had her first boyfriend, she was starting to think about where to apply to college.
Then, over the roaring engine of the medical transport plane, she heard horrible sounds – screaming, crying, moaning. She saw her brother, strapped down because of his involuntary flailing, a tube in his nose, eyes bulging, and he was howling as though in terrible pain. She ran off the plane screaming. Her mother, Cindy Warmbier, fell onto the tarmac, sobbing and dizzy from the shock.
In searing, emotional testimony on Wednesday in federal court, the Warmbier family made their case against North Korea, and asked the judge to find the regime liable for taking 21-year-old Otto Warmbier hostage, torturing and killing him.
https://www.scmp.com/news/asia/east-asia/article/2178839/otto-warmbiers-family-wants-us1-billion-damages-north-korea
*
What really happened to Otto Warmbier in North Korea?
Veteran foreign correspondent Klaus Scherer sets out to try to find out. In the documentary, Scherer interviews a number of people with knowledge of the case who have been largely unheard up to now. He shows that a US court investigating a liability case against North Korea brought by Warmbier's parents also ignored important witnesses, who continue to cast doubt on the torture allegations. These include the coroner in Cincinnati who examined Warmbier's body. She believes that the account given by North Korean doctors is credible. They claim that Warmbier had inadvertently been given too high a dose of sedatives by prison staff. This, the medics say was the cause of his state of unresponsive wakefulness. Could Trump's initial torture charges simply have been motivated by political opportunism?
*
US student Otto Warmbier was sentenced to 15 years in a North Korean labor camp in 2016. Warmbier was released the following year, but he died of brain damage shortly after his return to the United States. Was he really the victim of torture?
Otto Warmbier was sentenced to 15 years hard labor in 2016 after being convicted of attempting to steal a propaganda poster during a trip to Pyongyang.
Just over a year on he was dead, having been sent home to the US in a vegetative state. US President Donald Trump tweeted that he had been "tortured beyond belief " in North Korea. The US president blamed both the North Korean leader Kim Jong Un and the Obama administration for Warmbier's death – and Trump appeared before the media with the student's parents. This was at the peak of the North Korean missile crisis. Later, as relations between Trump and Kim Jong Un became warmer, the US president changed his tune. In 2019 Trump said that he believed that Kim did not know what happened to the US student much to the consternation of Warmbier's parents.
*
Prison camps
*
https://www.theatlantic.com/international/archive/2013/02/north-korea-prison-camp-satellites/317982/
https://blog.richmond.edu/livesofmaps/2017/05/01/north-korean-prison-camps-map/
The rule of Kim Jong-Un, North Korea remains among the world's most repressive countries. All basic freedoms have been severely restricted under the Kim family's political dynasty. A 2014 UN Commission of Inquiry found that abuses in North Korea were without parallel in the contemporary world. They include extermination, murder, enslavement, torture, imprisonment, rape, forced abortions, and other sexual violence.
North Korea operates secretive prison camps where perceived opponents of the government are sent to face torture and abuse, starvation rations, and forced labor. Fear of collective punishment is used to silence dissent. There is no independent media, functioning civil society, or religious freedom. The North Korean government abuses the human rights of its citizens. According to (Human Rights Watch) "North Korea operates secretive prison camps where perceived opponents of the government are sent to face torture and abuse). (Dictionary.com) defines civil rights as being able to "protect individuals' freedom from infringement by governments". North Korea clearly violates the civil rights of its people because the government is infringing their human rights. There are "80,000 to 120,000 prisoners in concentration camps" according to (Human Rights Watch).
*
Amnesty International has published satellite imagery and new testimony that shed light on the horrific conditions in North Korea's network of political prison camps, which hold an estimated 200,000 people.
The images reveal the location, size and conditions inside the camps. Amnesty International spoke to a number of people, including former inmates from the political prison camp at Yodok as well as guards in other political prison camps, to obtain information about life in the camps.
According to former detainees at the political prison camp at Yodok, prisoners are forced to work in conditions approaching slavery and are frequently subjected to torture and other cruel, inhumane, and degrading treatment. All the detainees at Yodok have witnessed public executions.
North Korea can no longer deny the undeniable. For decades the authorities have refused to admit to the existence of mass political prison camps," said Sam Zarifi, Amnesty International Asia Pacific Director.
*
Robert Mugabe (Shona) gee in Januarie 1983 opdragte aan sy eie opgeleide 5de Brigade van "noord-korea" om Ndebele's uit te wis.   In January of 1983 Robert Mugabe, a member of the ethnic Shona majority, ordered his North Korea-trained Fifth Brigade to carry out what he called a gukurahundi against the Ndebele people.
Ian Smith  –   South Africa and Rhodesia-Zimbabwe
Trump, Kim Jong Un, Moon  – Korean Demilitarized zone
*
Camp 14 is one of North Korea's prison camps for political prisoners, located in Oedong-ri, Gaechon, South Pyongan Province. It faces another camp, Camp 18, which sits two kilometers to the southeast across the Daedong River.
The inmates dig coal in underground mines or work hard in the fields. North Korean defector Shin Dong-hyuk was born and raised at Camp 14, despite having generated controversy and earned censure for claiming he was at Camp 18. The home in which he grew up is in the prisoner lodgings on the right side of the image (see 38 North's DPRK Digital Atlas).