*
From America – Alex Newman.  There is a catastrophic food shortage being engineered right now by global elites for the purpose of subjugating humanity, journalist Alex Newman tells Dr. Lee Merritt in this interview on her Brighteon TV show.    From destroying the supply chain and paying farmers not to grow food, to restricting fertilizer supplies and burning down food processing plants, the signs are obvious.
*
Libertysentinel – Deepstate in America
Meanwhile, the same tyrants who deceived humanity and stole liberty worldwide with the COVID plandemic are working on the next big one already: Bird flu.
Listen to the Deepstate vide of Alex
LONGTERM STARVATION GLOBALLY AND FEMINE
(Listen about the CO2)
(What is happening in South Africa with all the corruption, revolution, destroying of businesses, shops and food supplies, etc like destroying all the infrastructure, State entities and all levels of governments).

VIDEO: Food Crisis Looming, With Dr. Lee Merritt & Alex Newman
*
Dit is kommerwekkend – niks is ooit toevallig in hierdie komplekse, liberaal verligte, kommunistiese wat daarop uit is om die mensdom, diere en omgewing te vernietig en te verwoes nie.   Dit gaan al vir jare aan en diegene wat nie kan sien wat agter die 'gordyne' plaasvind nie, is blind gebore en sal blind bly.   Alles sal en gaan onbekostig word indien dit wel beskikbaar is, gaan rakke leeg wees.
In Suid-Afrika het die huidige leiers geglimlag en nooit gedink dit gaan so maklik wees toe ou fw en sy broederbond, asook ander liberales, die land oorhandig om wel later totaal en al te vernietig nie.   Dit is wat sedert 1994 aan die gang is.   Rewolusie op rewolusie, besighede wat geplunder en gebrand word, besighede wat onderhewig moet wees aan wetgewings soos swart bemagtiging.
Maar is ons die enigste land?   Nee.   Let op hoeveel lande is verwoes en vernietig, plase wat voedsel produseer het,  is vernietig en BOERE wat regtig voedsel produseer is in die tydperk, veral die laaste 100-150 jaar totaal en al vernietig.     Om plek te maak vir ietsie anders soos die NWO of 'ryk bevoordeeldes' wat dink hulle het al die mag in die wêreld.
In Afrika, is dit Zimbabwe, wat eens Rhodesië geheet het, wat totaal gestroop is van haar voedsel.   'n Afrika land wat geskitter het met haar vooruitsigte en lewensverwagtinge.   In die proses van vernietiging is nie net miljoene uitgehongerdes agtergelaat nie.   Daar was heelwat swart volkere totaal en al uitgewis en uitvermoor wat nie saam hul diktator leier wou gaan nie.
Heelwat wat uit Zimbabwe na die Republiek van Suid-Afrika en Zambië gevlug het, kon 'n beter lewe moontlik gehad het.   Min het hulle ook geweet dat Suid-Afrika gaan net soos Zimbabwe opeindig – ons is nie ver daarvandaan nie.
Daar is oral Boere en landbouers verwilder vir die inhoud van minerale in die grond veral deur groot reuse van maatskappye wat eenvoudig, soos in Suid-Afrika nie omgee oor wie hulle loop nie.   Grondgrype is nie net in Suid-Afrika aan die gang nie, dis die hele Afrika so.  Noord van die ewenaar vul hulle na Europa en ander lande vir 'n beter lewe, maar sommige word deur die woestyn en oseaan ingesluk.
Natuurlik kom dit teen 'n prys.  Baie is te gewillig om saam die vernietigende snare te slaan, want hulle word waarskynlik betaal om die vernietigingswerk te doen.   Dit is nie net van 1994 tot datum aan die gang in Suid-Afrika nie.  Die dag toe die ANC en PAC hul uitgegee het as rewolusionêr en plekke soos ons elektrisiteitvoorsieners teiken het daar ook plaasaanvalle plaasgevind.
Hul verweer was dat "apartheid' hul gepootjie het en stief behandel het as rassisme.   Gerieflik het hul hul eie reservate en kroongebiede, saam die Britte geskep, en dit apartheid genoem, maar ons blankes die skuld daarvoor gegee.  As hul hul geskiedenis nagaan sou hul agtergekom het dit was daardie jare 1850-1961 onder Britse beheer (koloniale bestuur) en nie onder ons beheer nie.     Die Britte het al hul grondgebiede geannekseer, selfs die twee onafhanklike Boere republieke.
Dus, die dubbelstoele waarop gesit word.  Al daardie aparte gebiede is deur swart/khoi san leiers geskep saam die Britte, vanaf 1854 (Shepstone), 'n Britse plan om die handjievol konserwatiewe Boere die skuld te gee vir alles wat hulle onder 'apartheid – 1854" begin het.
Swart en khoisan het nie waarlik kapsie teen die Britte gemaak nie, inteendeel nie swart of khoisan leiers doen dit vandag nie.   Hul het steeds aparte huise en aparte wetgewings onder die ANC.   Al hul gebiede is steeds apart van mekaar.
Khoisan en Griekwas het hul kroongebiede behou en so het die swartes al hul ou reservate, wat na 1961 tuislande geword het, die geleentheid gehad om vanaf kodesa al hul grond kwansuis te eis, met ruim vergoedings, en in die proses word ons blankes afgemaak as die sondebokke wat hul grond dan nou gesteel het.  Hul beweer hul het geen grond nie, maar dit was hulle keuses om dit so te bewerkstellig saam die Engelse (statebond 1994).  Miljoene het grond.  Inteendeel is daar bekendgemaak dat oor die 7 miljoen reeds in besit is van titelaktes – hoe kan hulle dan nie grond besit nie?
Rakende die geskiedenis van die Anglo Boere Oorlog, en wat dit voorafgegaan het deur Rhodes en genote,  waar die Engelse regering later die vernietigende aarde beleid toegepas het veral op alle Boere wat vry wou wees en wat ook twee onafhanklike Boere republieke gestig het wat internasionale erkenning geniet het.    Die helkampe van konsentrasiekampe wat oor die 39000 vroue en kinders uitgewis het.
Na 1994 het meeste plase eintlik in hel-plase ontaard in Suid-Afrika weens al die aanvalle en moorde teenoor spesifiek sekere Boere wat voedsel produseer, al is dit op kleiner skaal geboer, is hul nie net van lewens beroof nie, maar is die families in sak en as omdat hul inkomstes weg is.
Honderde duisende van ons volksgenote het die land verlaat juis weens onveiligheid en swart bemagtiging.   Ander regerings en lande was ook maar te gewillig en maak hul hande wyd oop vir die opgeleides wat hulle ontvang, plus al die immigrasievereistes wat miljoene inkomste vir daardie lande inbring.    Al hierdie nuwe gesigte koop almal voertuie, huise en ander bates om te vestig in hul nuwe tuistes.  Intussen is daardie regerings gewillig om ooreenkomste met die SA regering aan te gaan rakende minerale en ander besighede, onder swart bemagtiging en regstelaksies.  Dus, hierdie regerings sluit ooreenkomste met die ANC en hul aanvaar om te diskrimineer teen elke blanke in Suid-Afrika sodat hul nog meer geskooldes in hul eie lande kan verwelkom.
n Dag of wat gelede doen die huidige anc president ook beroep op Boere om grond waar daar reeds geboer word, af te staan aan swartes.   Wat 'n klap in elke Boer se gesig is dit nie.  Die huidige regering kon geen staat of regering in stand hou nie, dis gekaap en misluk.  In dieselfde asem is alle staatsentiteite van alles beroof soos Eskom wat eenvoudig alles in duie stort, juis as gevolg van kaping, korrupsie en swart bemagtiging.  Nou verwag die regering dieselfde van elke Boer in die land om hulle werk prys te gee vir swart bemagtigers wat alles om hulle wil verwoes.   Daar sal nie geboer word nie, maar geplunder, want nou maak die regering dit soveel makliker met hul versoek om van dieselfde plaas alles te stroop en alles gratis te ontvang van die Boer wat 24/7 werk en al die bankrekenings en uitgawes moet betaal.   Werkers het in al die jare nooit 'n sent bygedra tot hierdie Boere se plase of plotte nie, netso het geen munisipale werks 'n sent bygedra tot die munisipaliteit se werkings nie, wat in elk geval ook bankrot is.   Dus, as die regte Boer nie gaan voedsel produseer nie, sal alles eenvoudig afgebrand word en niemand sal voedsel hê aan die einde nie.  Die regering het al oor die 5000 plase aangekoop en duisende grondeise is reeds toegeken, maar van die produktiewe plase het niks oorgebly nie.
*
The term "breadbasket" is a term used to refer to an area with highly arable land. The breadbaskets of the world are the regions in the world that produce food, particularly grains to feed their people as well as for export to other places.
*
The region is formed by 10 nations and together they form the ASEAN, meaning Association of Southeast Asian Nations. Southeast Asia is one of the breadbaskets in the world, producing a large percentage of the food consumed worldwide. It produces rice, corn, sugarcane, cassava, soybeans, tropical fruits like pineapples and litchi, bananas, palm oil, sea food, coffee and many others. 
Out of the top ten rice producing countries in the world, the region claims 5. In 2016, ASEAN exported about 16 tons of rice, constituting 33% of the global exports. Vietnam and Thailand from the region constitute 97% of the world's cassava exports and the entire region produces 25% of all the coffee exports globally. The Philippines, which is a member of the region is the second ranked state in the world in pineapple exports. Another significant food product from the region is sea food, mainly prawns, and shrimps which make up 30% of the global exports.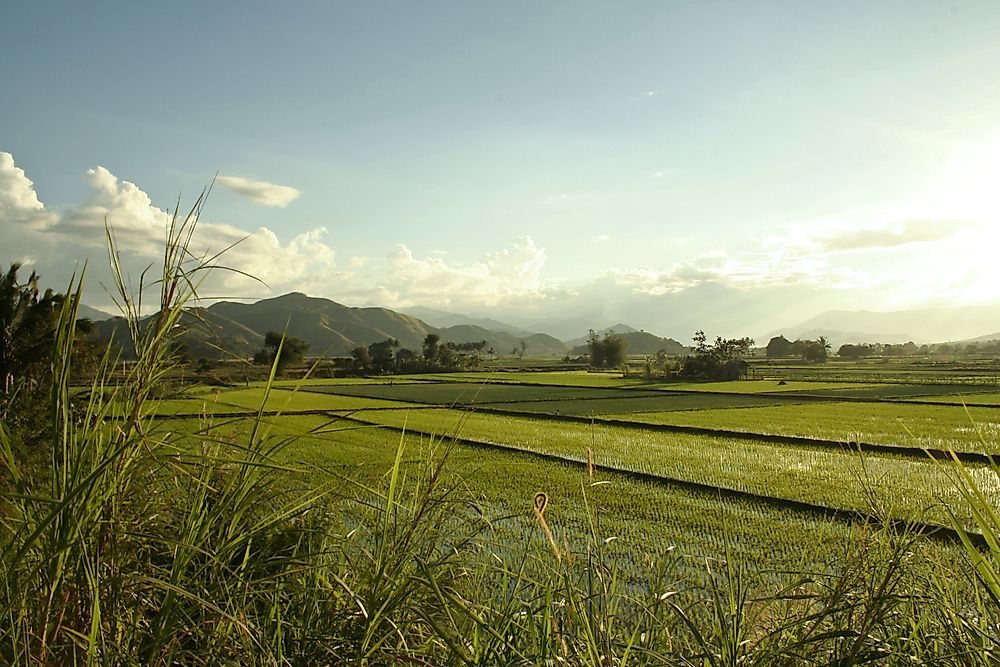 The region, also known as Chernozemie, is found in Central Russia. It is renowned for its rich soil known as Black Earth. The soil is rich with a high humus percentage and other soil enriching nutrients like ammonia and phosphorous. It is also deep and its clay like qualities give it water retaining properties. This makes the area an agricultural powerhouse of Russia and it became the country's breadbasket in the 20th century.
*
Zimbabwe, formerly known as Rhodesia, was known as the breadbasket of Africa until 2000, exporting wheat, tobacco, and corn to the wider world, especially to other African nations.
*
The Canadian Prairies made up of Alberta, Manitoba and Saskatchewan provinces are very important in the world due to their grain production. The region's backbone is agriculture and its industries process the agricultural produce. Crops cultivated in the area are durum wheat, canola, barley, oats, lentils, brassica and horticultural products. They also keep sheep, cattle, and poultry.
Kansas and Nebraska, the country's leading wheat states, produce about one-quarter of the total U.S. crop. Iowa and neighboring Illinois harvest roughly two-thirds of the country's corn and one-third of its soybeans.
*
The Russian tanks and missiles besieging Ukraine also are threatening the food supply and livelihoods of people in Europe, Africa and Asia who rely on the vast, fertile farmlands of the Black Sea region — known as the "breadbasket of the world.     The rich dark soil and the vast fields of wheat and other food products have earned Ukraine the nickname "bread basket of Europe." According to the CIA World Factbook, Ukraine produced 25% of all agricultural output in the former Soviet Union.
*
The United States has long been the breadbasket of the world, as large swathes of fertile farmland and cutting-edge agricultural innovations have enabled it to both feed its own people and populations across the globe.
California is often referred to as the breadbasket of the world due to its rich agricultural industry. Water supply and water quality are topics I would hear about almost every day as the most recent drought brought uncertainty to the industry.
The Midwest is called "America's Breadbasket" because Midwestern farmers grow a lot of the wheat we use to make bread.
*
China's agricultural sector employs more than 300 farmers and the food produced by the country constitutes about 20% of the total world exports. The country has the largest agricultural output in the world, and 75% of its farming focuses on food crop farming. The country's primary food crop is rice, with rice fields occupying approximately 25% of its cultivated land. 
The second most cultivated grain is wheat, followed by corn, millet and oat. The country also produces sweet potatoes, white potatoes, vegetables, tropical fruits, oil seeds, tea, sugar cane and coffee amongst others. China also invests heavily in aquaculture, and its fish production constitutes a third of the world's total. Some of the country's top agricultural regions are Sichuan, Guizhou, Zhu Jiang Delta, Wei and Fen River valleys and Hubei. Most of the food produced in the country is consumed by the country's large population, hence the country is also its own breadbasket.
https://www.worldatlas.com/articles/the-breadbaskets-of-the-world.html
*
Brazil has increasingly grown in importance as a breadbasket of the world, exporting five of the world's major crops. The country has two main agricultural regions. There is the Southern region which is more fertile with higher rainfall and the drier North Eastern region. The former produces a big percentage of the nation's grains, oil seeds and export crops while the latter produces cocoa and tropical fruits.
*
*
*
LANDGRABS
She never saw the big tractor coming. First it plowed up her banana trees. Then her corn. Then her beans, sweet potatoes, cassava. Within a few, dusty minutes the one-acre plot near Xai-Xai, Mozambique, which had fed Flora Chirime and her five children for years, was consumed by a Chinese corporation building a 50,000-acre farm, a green-and-brown checkerboard of fields covering a broad stretch of the Limpopo River Delta.
"No one even talked to me," the 45-year-old Chirime says, her voice rising with anger. "Just one day I found the tractor in my field plowing up everything. No one who lost their machamba has been compensated!"
Local civil society groups say thousands lost their land and livelihoods to the Wanbao Africa Agricultural Development Company—all with the blessing of the Mozambican government, which has a history of neglecting local farmers' rights to land in favor of large investments. Those who managed to get jobs on the giant farm are working seven days a week with no overtime pay. A spokesman for Wanbao denied such allegations and stressed that it's training local farmers to grow rice.
Little of that bounty has trickled down to the nation's 24 million citizens, more than half of whom still live on less than $1.25 a day. A return to civil unrest is the only thing that could upset the river of cash flowing into Mozambique. After riots over food prices broke out in Maputo in 2010, President Guebuza fired his agriculture minister and replaced him with Interior Minister José Pacheco, an agronomist, who has continued courting investors at conferences around the world.
Of its 89 million acres of arable land, the government deems almost 85 percent "unutilized." Since 2004 some six million acres have been leased to both foreign and domestic investors for everything from forestry products to biofuels to sugarcane, roughly 7 percent of the country's arable land—among the highest rates in Africa.
*
Daar is nog ander lande soos die Ukraine wat as 'n teiken gebruik word deur groot moondhede, en nou praat mens nie van Rusland wat self voedsel produseer nie.   Waarom het al hierdie 'Nato' lande toegelaat dat soveel wapens, militêre basisse en selfs laboratoriums wat dodelike virusse van die VSA berg, eerstens in die land toegelaat is?   Die vraag is, watter reg het hierdie lande van 'Nato" om ander lande rondom Ukraine so te bedreig, nie net Rusland nie?    Vreemd dat daar ook virusse hier uitgebreek het in 2009 en min mense weet daarvan.    Die Ukraine se voedseloeste is waarskynlik al sedert 2014 totaal en al vernietig, want dis hoe lank daardie oorlog aan die gang is.   Hoeveel voedsel word ingevoer sedert die tydperk?  Hoeveel foto's wat so gewys word, is regtig 2022 gebeure en nie al 'n paar jaar oud nie?    Rusland het ingegryp weens hul eie redes, en dis naamlik om vreemde lande se wapens te vernietig in die Ukraine asook al daardie 30 laboratoriums waarvan gepraat word waar siektes geberg word.
Daar is die vele brande wat nou in die VSA uitgebreek het wat almal voedselverwante besighede is wat in as verander het.
Daar is nog meer inligting wat bygevoeg kan word, nog lande wat die afgelope 100 jaar deurgeloop het.
*
*
*
*
Henry Kissinger spoke about this as well !!!
Ons as volk moet nader aan mekaar beweeg en mekaar van voedsel en sekuriteit kan voorsien.
*
*
*
*
RELATED INFORMATION
IN SOUTH AFRICA
What happened with Landbank and the farmers?   Landbank is a state bank in any way – FARMERS, PLEASE do not get a loan from the ANC.
Gewapende grondbesetters in SA
*
Kroondal –  Rustenburg  –  besettings (Aug 2020)  Illegal landgrabs
Nationalisation  –  Nasionalisering
Unemployment –  SA  – communism  –  bolshevism
Communism:   Bolshevisme – Kalergi
MIND CONTROL – BRAINWASHING – From coldwar to human and cyberspace-attacks
Onteiening – 'n tydbom – geen voedsel
Gaan ORGANIES – ORGANIC FOOD
Healthy food – Gesonde voedsel
Zimbabwe  "bread basket" into a "basket case" ~~~ No farmer –  No food
Zimbabwe – food insecurity disaster
Kommunisme, voedselsekuriteit en onafhanklike gebiede vir ons as volk
Terrorists, attackers and killers in South Africa