What has the ANC been doing since taking power in 1994 to build South Africa?    They bought over 5000 productive farms – today, those farms are down the drain.   The huge corruption factor since 1994 – one corruption act on the other, corrupt tenders, the building of big stages, the arms scandal, textbooks, trains that do not fit, nkandla, etc. If any person walks into a cafe or store, takes goods and walks out, it is shoplifting.   You will sleep in jail.  Just because the ANC supposedly wants to make it legal under their constitution does not mean it is legal. Why is no one being prosecuted with the corruption so far?   The Guptas?   The others?   South Africa could already have been a 7 star country in 26 years, but we are in the sinking titanic.   Down, like Zimbabwe and other African states.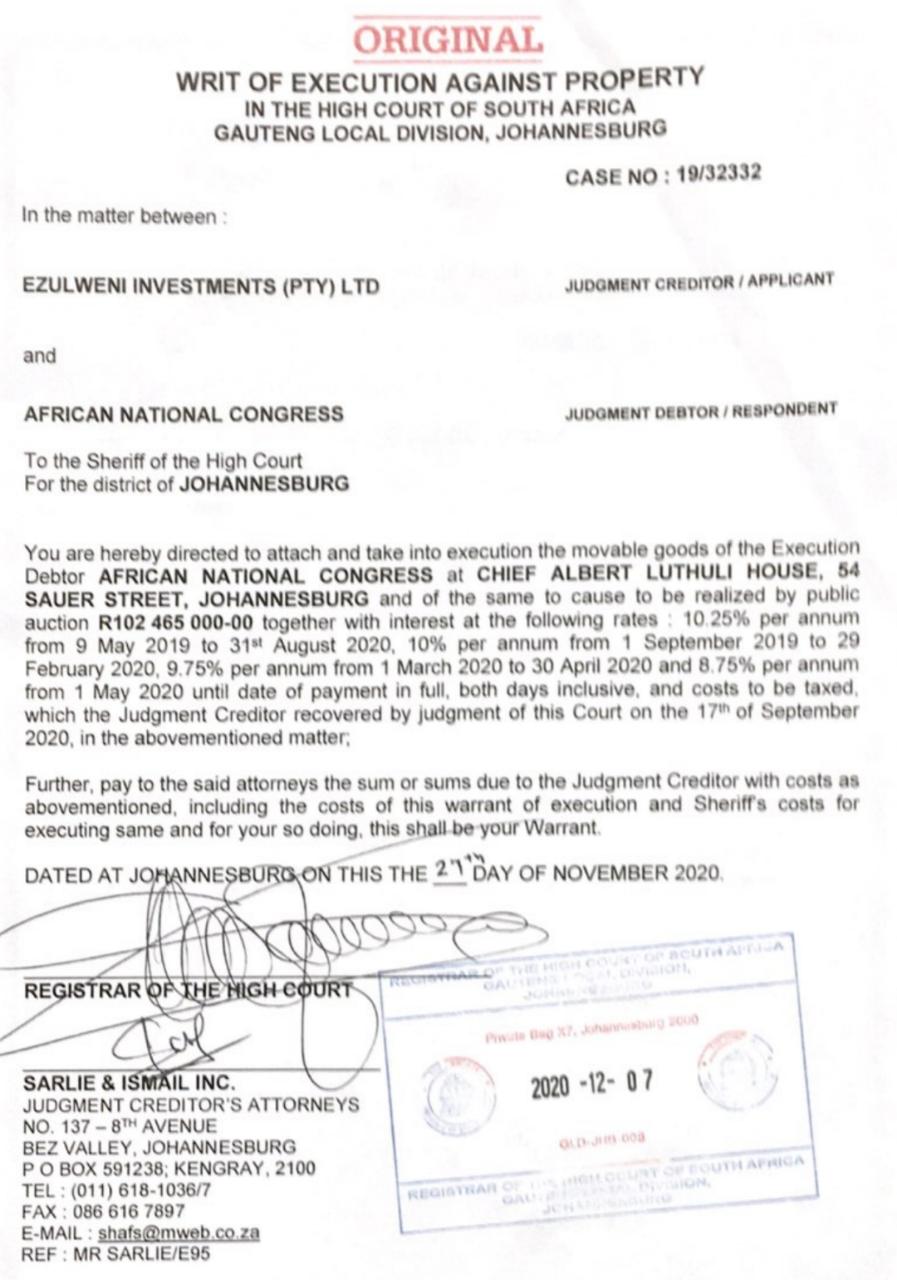 *

Wat doen die ANC sedert hul die bewind in 1994 oorgeneem het.  Die een korrupsie daad op die ander, korrupte tenders, die bou van groot stadiums, die wapenskandaal, teksboeke, treine wat nie pas nie, nkandla en so duur dit voort.  Indien enige persoon by 'n kafee of winkel ingaan, goed neem en uitstap, is dit winkeldiefstal.   Net omdat die ANC dit kwansuis wettig wil maak onder hul grondwet, beteken nie dit is wettig nie.   Waarom word niemand met die korrupsie vervolg nie.   Suid-Afrika kon al 'n 7 ster land gewees het.   
Vir etlike jare betaal elke bewoner hul besigheid, grond of huis met rentes, aangegaan by banke.   Dus, laat die banke ook toe dat hierdie miljoene rande afbetaal word en nou kom die kommunistiese regering en wil alles inpalm.   Of is dit nou die NWO wat agter alles sit?  Die "new dawn".

Waarom het hierdie liberale blankes die grondwet help opstel as dit reeds in die 1955 ANC manifes staan? – die spul by Kodesa het nie konserwatiewes se mening gevra of gekry nie.  FW de klerk en sy broederbond het geen mandaat gehad in 1992 nie,

Inteendeel dieselfde liberales en klassieke liberales steun die grondwet nes dit is.   En daarin kan daar ook grond geannekseer word net soos wat die Britse regering in 1900 met ons Boere republieke gedoen het.  Dus verloor ons al die pad. 

Ons het as volk die reg om onsself in ons eie gebiede onafhanklik te regeer, weg van die misdaad, korrupsie, diefstal en skending van menseregte.



*

Opinion – Elmien du Plessis, Associate Professor of Law, North-West University
The definition of "expropriation" provides that an act will only be an expropriation if the state acquires the property. The concern is whether, if the property is expropriated for land reform purposes and transferred to a private beneficiary, it will be deemed an "acquisition by the state". The bill obscures this a bit in clause 9(1)(a) where it seems to suggest that a private beneficiary can also "acquire" the property.   The legally correct route would be for the state to first acquire the property and then transfer it to the beneficiary. These actions can happen simultaneously in the Deeds Office and should not delay the transfer. The bill must reflect this.

The constitution changed the compensation standard from requiring the government to pay "market value" for such land to "just and equitable" compensation. The requirement that expropriation be in the public interest (which includes a commitment to land reform and other reforms) was included. The requirement that a fair procedure be followed when expropriating was included in section 33 of the bill of rights.
The constitution laid down a framework in which expropriation must happen, but did not provide the details of how. This is the role of legislation. Such legislation is necessary to bring the process in line with the constitution.  
The first attempt at an Expropriation Bill was 12 years ago, in 2008, but it was shelved because of the concern that it obscured the role of the courts in expropriation and would therefore be declared unconstitutional.
Another attempt was made in 2013. The 2013 bill was refined and became the 2015 bill, which made it onto the table of the president the same year, to be signed into law. But it was officially withdrawn in 2018 because the process of amending section 25 of the constitution was still not completed. Communities living on land in terms of customary law also had reservations about its constitutionality, including the public participation process.
The country is having another attempt at passing an expropriation law that is in keeping with the constitution. The 2015 version, with slight amendments and the addition of clauses 12(3) dealing with "nil compensation", was published again in December 2018.
This new bill, the 2020 Expropriation Bill, was recently published in the government gazette. Importantly, this bill is not a result of the process to amend section 25 of the constitution to enable expropriation at nil compensation.
Section 25 amendment
Section 25 sets down the requirements that the state has to comply with if it wants to expropriate property: it must be done in terms of a law of general application; it must be for a public purpose or in the public interest; and lastly, "just and equitable" compensation must be paid.
The proposed section 25 amendment makes it explicit that it might be "just and equitable" in some instances to pay nil compensation. But the state must still justify why not paying compensation is "just and equitable". All other requirements must still be complied with.
Section 25 of the constitution provides the framework in which the 2020 Expropriation Bill will operate, once it becomes law.
Why expropriation?
Expropriation is a mechanism for the state to acquire property for public projects, such as the building of the railways, mass housing and roads. It is not only used in land reform instances, and is not only restricted to land.
Because expropriation is an administrative action by the government, the procedure must be just and give affected people an avenue for recourse in the case of abuse.
The 2020 Expropriation Bill sets out the procedure that the authorities must follow when expropriating property, how compensation must be calculated and paid, and where and when decisions can be challenged.
It includes a comprehensive mediation process, and guarantees access to the courts as the final form of oversight.
Some contentious issues
The bill has gone through consultative processes at the National Economic Development and Labour Council, which facilitates consensus and cooperation between government, labour, business and the community in dealing with South Africa's socio-economic challenges.
Still, there are a few unclear provisions that will most probably be focused on during the parliamentary public participation process. These are the definitions of "expropriation", the provision for nil compensation and expropriating land from communities.
Nil compensation
Clause 12(3) and (4) provides that
it may be just and equitable for nil compensation to be paid where land is expropriated in the public interest, having regard to all relevant circumstances, including but not limited to …
It then lists the instances where the state possibly foresees nil compensation to be applicable. The bill clarifies that this is, for example, land that is
not being used and the owner's main purpose is … to benefit from appreciation of market value.
This might still be vague, but it does give a more precise indication that it is not property earmarked for development.
Similarly, it's not clear how "abandoned land" will be handled. Will this bear the technical legal meaning that the owner abandoned the land with the intention of no longer being owner? Or will it also include land that the owner left because it was no longer safe to stay on?
Communities
Owners of land earmarked for expropriation have specific time-frames in which they must respond. It seems as if the time-frames in the bill were written with a single owner of land in mind, and not for situations where whole communities living on land in terms of customary law are concerned.
The next steps
What is desperately needed in the land reform context for expropriation to be a useful tool is redistribution legislation that authorises the expropriation, and sets out what must happen after the state has acquired the land.
In the meantime, the bill will now go to the committee of the National Assembly that will hopefully start the public participation process. The bill will also have to go to the National Council of Provinces, the house of parliament that ensures that provincial interests are taken into account on the national level.
Considering all that, the bill will probably only be finalised some time next year, if all goes well.

https://www.moneyweb.co.za/news/south-africa/south-africa-has-another-go-at-an-expropriation-law/
*
Wanneer gepraat word van "hervorming" of "onteiening", beteken dit nie noodwendig in die wet of grondwet dit is slegs "grond" nie, dit kan enige bate wees.   Die teiken weet ons almal is veral privaateiendom (grond, bates, huise, aandele) te neem in "publieke belang. 

Landbougrond is die eerste teiken van die ANC-SAKP-EFF.   Hul het geen begeerte om voedselsekerheid in ag te neem waar die meeste Boere vandag voedsel voorsien aan almal, nie net Blankes nie.   Om in te stap by enige kettingwinkel of mark waar voedsel verkoop word, word daar nie gediskrimineer as voedsel vanaf die Blanke Boer se plase afkomstig is nie.  Die teendeel is waar, dat elke swart en khoi san in hierdie land, swart bemagtiging steun en ook die wetgewing nog nooit betwis het nie.     Met onteiening beteken dit gaan alles afgeneem word, wat inderwaarheid nie aan die publiek behoort nie, omrede die persone vir jare betaal het of afbetaal het om wel vir hul oudag onafhanklik te wees en nie van die regering nie.   Net omdat miljoene immigrante sedert 1900 hier beland het, en alles afbrand sover hul gaan (trokke, geboue, strate, infrastruktuur), beteken dit nie dit waarvoor ons volkslede gewerk het, behoort nou skielik aan die hele Afrika bewoners nie.   
Indien hulle nie soveel afgebrand het nie, was daar mos nou baie beter geriewe en werksgeleenthede vir almal vir ons.   Indien die regering nie soveel gesteel het op alle vlakke van regering nie, kon ons nommer een in die wêreld gewees het op alle vlakke.  Ongelukkig plaas die bolsjevistiese kommuniste 'n stokkie voor elke ontwikkeling in Suid-Afrika om hul base gelukkig te hou – die hele land moet sink en hulle gaan almal saam sink en van honger omkom.  Die ryk base gaan nie omgee wat van hul ondersteuners word nie, dit het ook met ons eie volk gebeur in die afgelope 150 jaar.
*
Daar is geen manier dat biljoene net kon verdwyn het in so 'n kort tydperk nie.   Hierdie word met opset gesteel sodat sekere elites bevoordeel kan word hieruit.  Hoe steel mens oornag net R500 billjoen wat nie aan jou behoort nie, maar is 'n "publieke" fonds wat aan "swart bemagtigers" behoort.    Hierdie fonds is redelik onlangs gestig, maar is onderhewig aan swart bemagtiging.   Hoe verduidelik die persone in beheer, die wat mag uitvoer, waarheen  die vermiste geld is?  Die ANC is verslaaf aan korrupsie – 'n siektestoestand.

Corruption under ANC sky high – Korrupsie hemelhoog onder ANC

*

Can we call it all WAR CRIMES –  the violation of human rights?   that started already with the Anglo Boer Wars  – What on earth can we as Afrikaners and Boers call the following different scenarios that followed?

ANC – Lethuli-house can of worms – "Nyani skeletons" – so-called "apartheid" (segregation) and 'white privileges"
*

Die ANC regering gee regtig nie om of hul naam gekoppel is aan misdaad en korrupsie nie, anders sou hul alles in hul vermoeë gedoen het om korrupsie te stop.   Voer hul opdragte uit? want korrupsie word nooit vervolg onder ANC beleid nie.   Na ramaphosa president geword het, het korrupsie en misdaad nie verminder nie – almal wou van zuma ontslae raak, min wetende het alles aangegaan.  Om alles te kroon, is hierdie "virus" rassisties verwant en kies die regering hul slagoffers wie gehelp word en wie nie.     Die hulp is swart bemagtiging wat soos 'n seer oog uitstaan en word nie alle burgers menslik behandel nie.   Skending van menseregte is hoog.  Verskeie artikels of uittreksels word geplaas.

Corruption – ANC regime – Covid-19

*
No census has been done for years – they only do "surveys", there are only "estimated" numbers of peoples available  – even the 2011 is not 100% correct.   And who are the "BLACK AFRICANS"?    100% Africans are BLACK in any case.

B-BBEE – EE – racism and discrimination
>
Legislations – B-BBEE and EE
B-BBEE – EE – legislations – other documents
>
Black middle class – B-BBEE and black privileges
Black middle class growth – B-BBEE and black privileges
>
Ramaphosa and Shanduka
B-BBEE – Shanduka black umprellas
*
Expropriation of land without compensation – refer to the Constitution
Parliament SA: Expropriation without compensation – Constitution
*


BLACK MILLIONAIRES
NAME THEM  AND HOW IS THAT POSSIBLE
29 000 millionaire civil servants
>
Billionaires
Partners of .. and more millionaires – billionaires
>
Mining – only black economic empowerment – BRM
Koornfontein mine – Gupta – Black Royalty Minerals (BRM) – AEMFC


*
Land expropriation without compensation – South Africa
Article 25 of Constitution – Expropriation – Parliament-Afriforum


Land Reform – 2020 -Expropriation Bill


Expropriation of properties – Section 25


Swart bemagtiging/onteiening


Onteiening (nasionalisering)


Radikale onteiening en GEWELD

Parliament SA: Expropriation without compensation – Constitution


Onteiening-reform – 30 farms Nothern Cape