Apartheid was still blamed for most of the unemployment in South Africa during an interview (attached) – What is the reasons behind the whole Africa crisis then?  . The  pattern for food security in Africa looks not very good.    Conflict in Africa continues to be a major contributor to the continent's food security challenges. Ongoing violence disrupts farming, livelihoods, and market functions, weakening household resilience to drought and other pressures. Conflict also restricts movement, preventing some communities from accessing humanitarian assistance.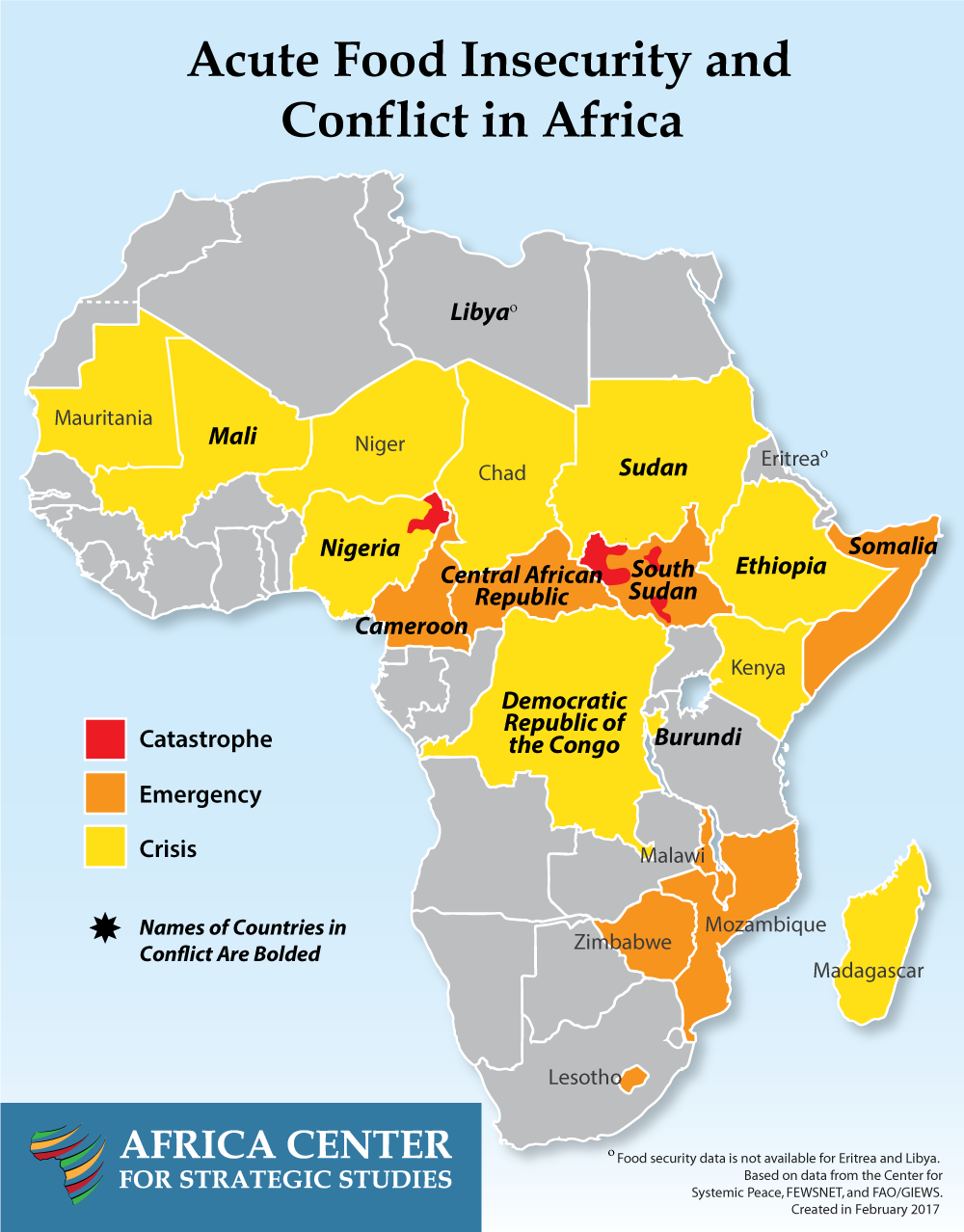 *

READ THIS IMPORTANT INFORMATION ABOUT LAND IN SOUTH AFRICA

Incisive book on how the ruling Marxist, racist ANC regime is engineering famine in South Africa. Dr Du Toit describes how the ANC commits systematic genocide against White farmers to steal their land. Absolute power flows not only from the barrel of a gun, but also from the hand which holds the food. Stalin starved 11 Million Ukrainians in 1933, Pol Pot 2 Million in 1975. Mugabe in 2000- is SA next? Read & decide for yourself. For a free PDF copy of the book, email boerboel@mighty.co.za .   

Concerned farmers are supporting the publication of this book. They see first hand every day the results of the government's land restitution program. Occasionally one reads about these catastrophes in newspapers. Some television actuality programs feature farms which have been destroyed after a handover. But there appears to have been no concerted effort by anyone to actually investigate the outcome of these transactions, both for the benefit of the public which paid for the land, and in light of the broader problem of decreasing food production in the country.

>


Foreword

Chapter 1 – The Letsitele Valley, Limpopo Province

Chapter 2 – Botshabelo – The Pride of Middelburg

Chapter 3 – Vryheid, KwaZulu/Natal

Chapter 6 – The Dunns of KwaZulu/Natal

Chapter 7 – Levubu, Limpopo Province

Chapter 8 – Mpumalanga Province

Chapter 9 – The Limpopo Province

Chapter 11 – The Northern Cape

Chapter 12 – The North West Province

Chapter 13 – The Province of Gauteng

Chapter 14 – Blydevooruitzicht No More

Chapter 15 – The Road to Poverty

Chapter 16 – Slaughter – The Farm Murder Plague
*
In South Africa, the 1.   ANC Government bought more than 5000 productive farms, with tax money – what happened to those farms and children/unemployment?  What happened to the old homelands that were replaced with Trustland and/or landclaims that became registered CPAs.
In Hansard of 2018 there were 8840 traditional leaders – how many of them are in food production?
In terms of a White Paper of Parliament there are millions and millions of black ethnics and khoi san living separate on those "landclaims" only claimed for themselves.   They all received billions of rand of benefits, in the form of animals, seed, financial assistance and other assets like tractors, etc.
CPAs (landclaims) were given free to people (Blacks and Khoi san peoples), with cattle, animals, financial assistance and nothing happened to those CPAs.   What happened to the children in those Trustlands or thousands of registered CPAs?  Ingonyama Trustland is like landclaims, CPAs, separate from each other, each with their own chiefsmen, indunas and kings/queens.  Segregation is still ongoing in South Africa.     The Richtersveld is one of 6 huge areas, that is millions of hactares of land given by Thabo Mbeki in 2007 and today, nothing is going on on that farms.   Even those productive farms in the Limpopo and other areas has nothing left, only poverty and empty buildings.
*
What really happened before 1961 and after 1961. 
Episode S0132, Recorded on March 13, 1974
Guest: B. J. (Balthazar Johannes) Vorster
*
LAND SCANDAL
WHO IS BEHIND LAND REFORM AND EXPROPRIATION?

March 2019 – Farmers union TLU SA has accused President Cyril Ramaphosa of implying farmers are land thieves and demanded that he provide proof.
Ramaphosa : "Farmers/Whites are thieves" – accusations > expropriation
THE FIRST FARM EXPROPRIATION, THE CHINESE BEHIND IT AND THE FRONT ORGANISATION LEADING
Is this really Land expropriation?
*
President Cyril Ramaphosa has signed a deal with the Chinese to build a new 4,600-megawatt coal power station in Limpopo.
China-staat in Limpopo
*
AFRICA

An assessment of Africa's areas of acute food insecurity reveals these findings:

Three quarters of Africans experiencing stressed, crisis, or emergency levels of food insecurity—more than 107 million out of 143 million total—live in conflict-affected countries.
Eleven of the 12 African countries in conflict are experiencing acute food insecurity.
Emergency levels of food insecurity in large parts of South Sudan and northeastern Nigeria are nearly entirely a result of the disruptions caused by conflict.
More than half of the population in four African countries (South Sudan, Cameroon, Burundi, and the Central African Republic) are experiencing acute food insecurity. All are facing conflict. In South Sudan, nearly 80 percent of the population is acutely food insecure.
More than 15 million citizens in 3 African countries (Nigeria, Sudan, and Cameroon) are facing acute food insecurity. Each of these countries is experiencing conflict.
Unresolved African conflicts tend to amplify food security crises over time. Conflicts in the 4 countries experiencing stressed levels of food security have been ongoing for 5.5 years on average. In contrast, conflicts in the 7 countries facing crisis or emergency food security conditions have persisted for 14.7 years on average.
Thirty-one humanitarian workers were killed in Africa—including 11 in South Sudan alone—between January and June 2018. Fifty-four were kidnapped, and forty were arrested.

https://africacenter.org/spotlight/africas-unresolved-conflicts-a-key-driver-of-food-insecurity/
*
US Secretary of State Mike Pompeo says plans to expropriate land without compensation would be a disaster for South Africa's economy and the people. Speaking in Addis Ababa, Pompeo said the policy proposal is an example of centralised planning that's failed in other countries such as Zimbabwe, Tanzania and Ethiopia. Meanwhile, Parliament's land committee is holding public hearings for submissions on legislation that will amend Section 25 of the Constitution, to include a clause to allow land expropriation without compensation. Economic consultant Dr Peter Karungu and AfriForum's Campaign Officer Ernst Van Zyl join us to discuss this issue further.
*
From breadbasket to … zero

In 2000, Zimbabwe's government expropriated white farmers without compensation. Hyperinflation and food shortages followed. Now the South African government is discussing a similar law. Do the same risks lie ahead?

Just a few hundred kilometers (miles) further south from the Smart farm, history appears to be repeating itself. South Africa's ruling party, the African National Congress ( ANC) is discussing amending the constitution to implement land expropriation without compensation. South African farmers are alarmed: "Expropriation without compensation is an economic time bomb", the South African agricultural industry association AgriSA stated in a tweet. If the country were to follow the example of Zimbabwe, the consequences could be dramatic, not only for its mostly white farmers.


https://www.dw.com/en/land-reform-will-zimbabwes-economic-downfall-be-repeated-in-south-africa/a-41972001

*

Coffee farming in Ethiopia is currently being threatened by climate change. In parts of Ethiopia, spring and summer rains have already declined by fifteen to twenty percent since the 1970s. The frequency of droughts has increased in recent years, affecting coffee growing regions as well. Ethiopia could lose from thirty-nine to fifty-nine percent of its current coffee-growing area to climate change by the end of the century, according to a new study published in Nature Plants. However, coffee farmers could adapt by moving their plantations to newer, more suitable regions in the coming decades. As lower-altitude regions become too inhospitable for Arabica coffee, it may be possible to grow them at increasingly higher altitudes. While there are some large, commercial farms, most are smallholder farms. Many farmers don't even have their own transportation and can't afford to take steps to mitigate the effects of climate change. Many smaller farmers are switching out of coffee into farming other drought-resistant plants.

https://weaverscoffee.com/blogs/blog/ethiopian-coffee-the-birthplace-of-the-coffee-bean

*

Agriculture is Tanzania's economy mainstay, contributing nearly 30% to its GDP and 67% to total employment. Agricultural land in Tanzania was last measured at 396,500sq.km in 2013 (45% of total land area) versus 369,744sq.km in 2008, representing an increase of 7% over the 5–year period.

*

Agricultural land (% of land area) in Kenya was reported at 48.55 % in 2016, according to the World Bank collection of development indicators, compiled from officially recognized sources. Kenya – Agricultural land (% of land area) – actual values, historical data, forecasts and projections were sourced from the World Bank on March of 2020.  Agricultural land refers to the share of land area that is arable, under permanent crops, and under permanent pastures. Arable land includes land defined by the FAO as land under temporary crops (double-cropped areas are counted once), temporary meadows for mowing or for pasture, land under market or kitchen gardens, and land temporarily fallow. Land abandoned as a result of shifting cultivation is excluded. Land under permanent crops is land cultivated with crops that occupy the land for long periods and need not be replanted after each harvest, such as cocoa, coffee, and rubber. This category includes land under flowering shrubs, fruit trees, nut trees, and vines, but excludes land under trees grown for wood or timber. Permanent pasture is land used for five or more years for forage, including natural and cultivated crops.


https://tradingeconomics.com/kenya/agricultural-land-percent-of-land-area-wb-data.html