As Suid-Afrika se ekonomie so sleg is as wat daar vir ons voorgehou word, waarom is daar soveel swart miljoeners na 1994 – dan word daar openlik gelieg oor swartes wat miljoeners geword het, maar in dieselfde asem word dit aan die klok gehang dat die rykdom aan blankes behoort?   Gerieflike leuens van die ANC – vandag is daar beslis baie meer as die 29 000.  Miljoeners is nie net wat die bankstaat tekenne gee nie, maar baie meer as finansiële status.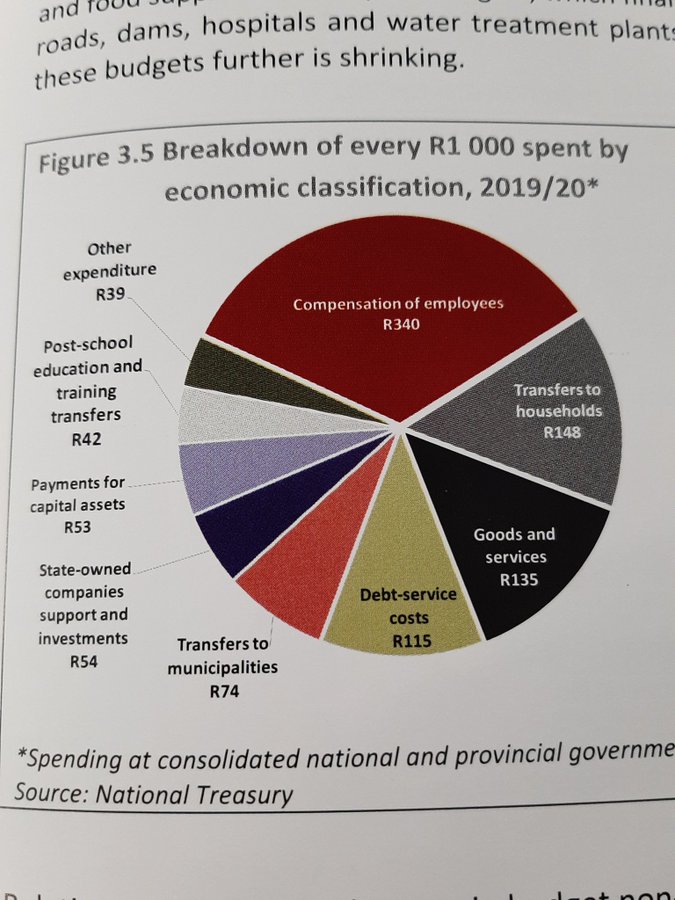 *
What happened to all the deals and corruptions, tenders from tax payers?   They are working for the state and became millionaires.    Take note,  it was said it is only 29 000, but is there evidences how do they became all of a sudden millionaires while working for the state as civil services.   Names of all should be made public – they all are civil servants .   Perhaps they are more than 1000 times and not only 29 000.   
*
Is in publieke belang dat hierdie miljoeners se name, besighede en alles bekend gemaak word, aangesien hul staatswerkers is, dws vir die belastingbetaler.  Watse geld het hulle gebruik om hulself te verryk of ryker te word?   Daar is so iets dat selfbelange verklaar moet word in enige besigheid, selfs in parlement.
*

By Jackie Cameron

South Africa's budget deficit is set to come in at just under 6%, from the previously estimated 4.5% and last year's 4.3%, it was confirmed when Finance Minister Tito Mboweni released his Medium Term Budget Policy Statement. The budget deficit gives the country similar financial ratios to Pakistan and Argentina. Mboweni has told urged Parliament that "Clearly we need to do things differently – there is no status quo option."

In other highlights, it was revealed that: a staggering 29,000 public servants earn over R 1 m a year. To put this into perspective, the government wage bill has risen not far off 70% in a decade, with double the number of doctors, police officers, Members of Parliament and other civil servants who were earning the equivalent about 10 years ago, after adjusting for inflation.

Mboweni has his eye on dramatically cutting this wage bill, and the spending perks associated with working for the South African government, including cars, phone and subsistence allowances. Also underscored on Wednesday is tax collectors will bring in a whopping R53 bn less than expected; and state-owned entities continue to eat up vast chunks of taxpayers' funds, with Eskom leading the way.

The government is throwing more money at SAA – about R5bn.

The SABC gets an additional R3.2bn.

For the full details of the 'mini budget' and independent analysis on the statement and what's next for South Africa, visit BizNews.com where you can listen to and read fascinating and useful insights from BizNews editor-in-chief Alec Hogg, who caught up with Mboweni after the announcements.

Some disappointing news for the 450k people who follow Finance Minister Tito Mboweni on Twitter, the finance minister has decided to give up Tweeting. He broke this news in a Tweet:

"After a long thought process, I have decided not to do any original tweets anymore. I might, just might, retweet (not endorsement). I came to the conclusion that Twitter is no longer about its original purpose: ie to create a networked society. It is now an abusive platform."

South African Airways is up for sale. South Africa's government is talking with potential investors in the state-owned airline to ease the continuing burden the company puts on the national budget, reports Bloomberg. "I am pleased to learn that there are conversations involving South African Airways and potential equity partners, which would liberate the fiscus from this SAA sword of Damocles," Finance Minister Tito Mboweni told lawmakers in Cape Town Wednesday. The government, says Bloomberg, will repay loss-making SAA's outstanding government-guaranteed debt of R9.2bn ($629 million) over the next three years, the National Treasury said in the medium-term budget policy statement. Lenders are demanding a firm repayment plan as a condition for agreeing to extend more funding, SAA has said. "Identifying an equity partner to invest in SAA has been proposed in the past, though no buyer has officially come forward. Ethiopian Airlines Group Chief Executive Officer Tewolde Gebre Mariam said earlier this month his airline would consider taking a stake — if the South African government made the request," says Bloomberg.

The rand plummeted and bonds extended declines as investors faced the stark reality of what bailouts for the embattled state power utility will cost South Africa, says Bloomberg. "The currency retreated 2.95%, the most since September and the biggest drop in emerging markets, to 15.05 per dollar, as of 10:30 a.m. in New York. The yield on local-currency debt due 2026 jumped 23 basis points to 8.44%."

Without plans to contain the fiscal deficit, the nation's credit ratings may be imperilled. Moody's Investors Service is due to review South Africa's score this week and is the only major ratings company to still assess it at investment grade, reports Bloomberg.

"The South African rand is traveling back toward the 15 level as the medium-term budget statement compounds investors fears," Simon Harvey, a London-based market analyst at Monex Europe Ltd, is reported as saying. "Ballooning projected debt-to-GDP levels, increased government support for Eskom, and a widening budget deficit doesn't bode well for an economy struggling for growth while under the microscope of both foreign investors and rating agencies."

Brexit is still a dream for Boris Johnson, who faced his arch rival Jeremy Corbyn their first face-to-face clash of the UK's general election campaign. The prime minister called for the poll on Dec. 12 as a way to break the deadlock over the country's divorce from the European Union, says Bloomberg. He has no majority in Parliament and has failed to get his Brexit deal ratified in the House of Commons. "If he wins a majority, Johnson says he will be able to deliver the deal he negotiated with the EU and turn the country's focus onto his domestic agenda. But there's a risk his gamble backfires and Corbyn's Labour Party capitalizes, regaining power for the first time since 2010," says the news wire.

*