*
The Jameson Raid caused enormous interest and controversy at the time and arguably was one of the main causes of the Anglo-Boer War of 1899-1902.  It was led by Cecil Rhodes' lieutenant and closest confidant, Dr Leander Starr Jameson, it was an unskilful attempt at overthrowing Paul Kruger's Transvaal Republic (Dutch: Zuid-Afrikaansche Republiek; the ZAR) with the help of the English-speaking 'uitlanders' and the gold barons of the Rand Reform Committee and substituting some form of British government.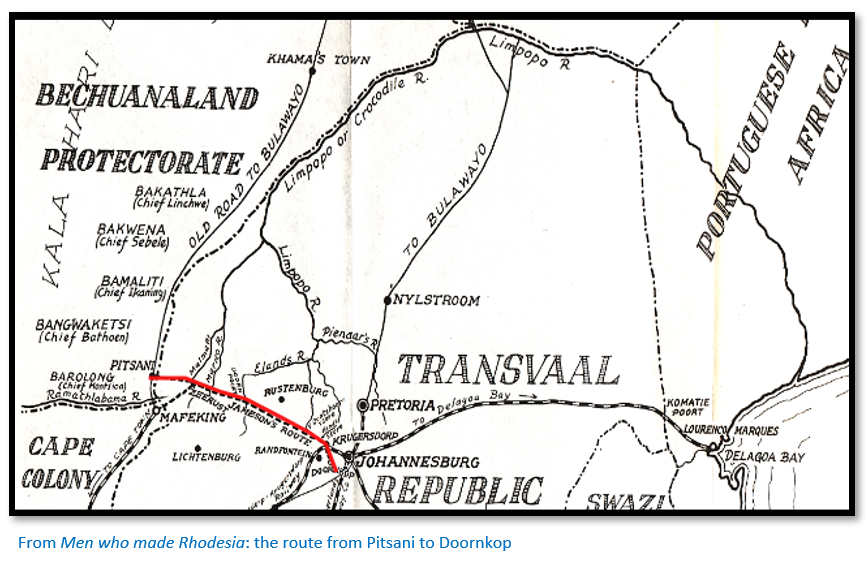 *
The plan went wrong from the start and Jameson's troopers of the Matabeleland and Mashonaland Mounted Police (MMP) and ex-Bechuanaland Border Police (BBP) were easily defeated by the Boer Commandos.
*
Indien die volgende berig of wat geboekstaaf is, waar is, waarom het die Britse regering dan voortgegaan met die oorlog om ons mense uit te moor.   Iets is beslis meer as verdag met hierdie dubbelsinnige uitlate oor hulle kwansuis nie saamgestem het met die wat die oorlog begin het en die ZAR binnegeval het nie.    Die Anglo Boere oorloë, spesifiek teen ons voorgeslagte, sluit die helkampe, die hongsnood en verbrandeaardebeleid hierby in.  Hierdie stellings word met 'n knippie sout geneem – selfs die Vredesverdrag van Vereeniging, wat nooit uitgevoer is dat die Boere republieke hulself sal regeer, het plaasgevind nie….    Dus hoekom iets vat wat nie aan jou behoort nie, en later gerieflik 'ontken' dat hulle daarmee saamgestem het.
*
Later the same morning with the column halted at Van Oudtschoorn's farm at another of Woolf's food depots, two mounted Boers brought the following message from Sir Hercules Robinson:
"Her Majesty's Government entirely disapprove your conduct invading Transvaal with armed force: your action has being repudiated. You are ordered to retire at once from the country and will be held personally responsible for the consequences of your unauthorised and most improper proceeding."
Doornkop
The raiders were treated with "rough consideration" by their captives who gave them bread and biltong whilst they collected their arms and Cronje prepared a report for President Kruger. The uninjured prisoners were taken to Krugersdorp and then transferred to Pretoria, whilst the serious casualties were treated at a temporary hospital by Dr A G Viljoen in the newly constructed store of Harvey Greenacre. [Elsa Goodwin Green volunteered to nurse the wounded here.
Members of the Reform Committee, including Frank Rhodes, Hammond, Phillips and Farrar were taken into custody on the 9 February 1896, charged, and found guilty of high treason and sentenced to death. The sentences were soon commuted to fifteen years gaol, before being released after a few months on the payment of heavy fines.
https://zimfieldguide.com/bulawayo/jameson-raid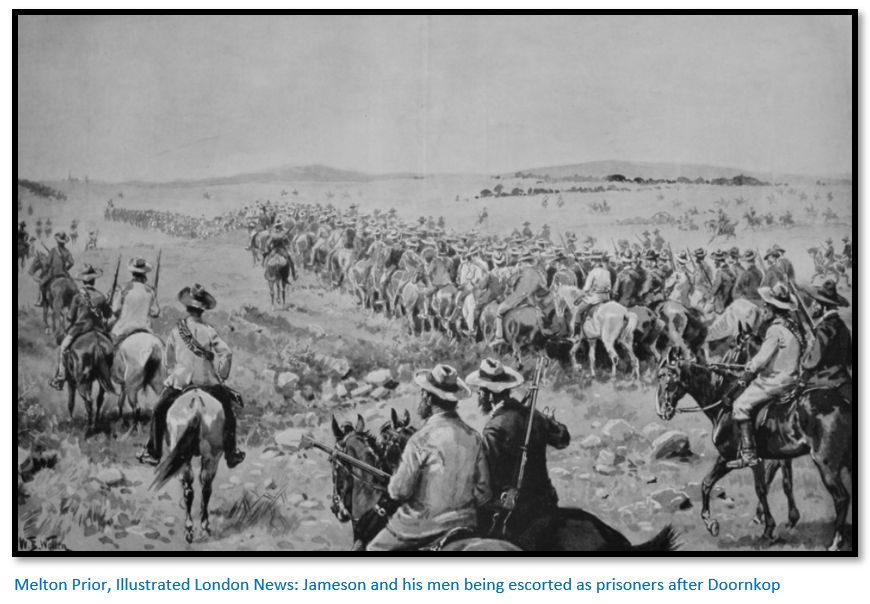 &
Sir Hercules Robinson …
Rhodes and the Afrikander bond
https://repository.up.ac.za/bitstream/handle/2263/12646/005_p150-199.pdf?sequence=4&isAllowed=y
&
The origins of the Boer War lay in Britain's desire to unite the British South African territories of Cape Colony and Natal with the Boer republics of the Orange Free State and the South African Republic (also known as the Transvaal – ZAR). The Boers, Afrikaans-speaking farmers, wanted to maintain their independence.    The discovery of gold in the South African Republic (ZAR) in 1886 raised the stakes.​​​​​​ A large influx of English-speaking people, called Uitlanders (literally 'Outlanders') by the Boers, were attracted by the goldfields. This worried the Boers, who saw them as a threat to their way of life.

The Jameson Raid of 1896 was an attempt to create an uprising among the Uitlanders in the ZAR. Led by Dr Leander Starr Jameson and his British South Africa Company troops, its failure was a humiliation for Britain and the supporters of confederation. It led to a further deterioration of the relationship between the British and Boer governments.
Kruger demanded that Britain drop its claim to rule the ZAR and allow external arbitration of other unresolved disputes between the two governments. Confident that the Boers would be quickly defeated, Chamberlain rejected Kruger's proposals.   On 9 October, the ZAR issued an ultimatum demanding the withdrawal not only of British troops from their borders, but of all reinforcements sent to southern Africa since 1 June 1899. This ultimatum was rejected and on 12 October the allied republics invaded Cape Colony and Natal.
After several reverses, the British mobilised their superior resources and sent more men to the Boer republics. These included troops from across the Empire, especially from Canada and Australia. Eventually, over 400,000 soldiers were involved.  Horses from America.
It is estimated that between 15,000 and 30,000 black Africans eventually served under arms with the British Army as scouts and sentries. Another 100,000 worked as labourers, transport drivers, blacksmiths, wheelwrights, farriers and builders.
*
Suid-Afrika beskik nie oor 'n reënboognasie nie, het nog nooit nie en sal nooit nie.   Ook nie in 1900 waar Brittanje ons voorouers probeer dwing het met oorloë en vele in die tye oorlede is in die Britse helkampe, sonder voedsel en mediese behandelings.   Trekboere en Vryburgers het juis padgegee weg onder Britse heerskappy.
*
Toevallig, meng en bly die Khoi san, Griekwas en verskillende etniese swart stamme ook nie as een groot groep saam nie, maar bly steeds apart van mekaar in hul eie gebiede, ongeveer vanaf 1840.   Vanaf hierdie tydperk is dit die Britse regering wat almal in suidelike Afrika se grond en minerale wou inpalm en onder hulle beheer plaas (NWO).
Trustgebiede  –  Tuislande  –  Reservate
Jan Smuts  – Churchill  –  Rhodes  –   apartheid : British rules
Shepstone  –  Natal, roots of segregation
Khoi san, Griekwas en verskillende swart rasgroepe beskik elkeen oor hul eie tradisionele gelowe en kultuurhuise, stamhoofde en 'konings/koninginne' in hul onderskeie paleise.   Hul het selfs hul eie inisiasieskole onder hul jeuglede wat nog nooit deel van ons blanke volke was nie.
Richtersveld –  KHOISAN AND CPA
Vanaf 1840 tot 1954 was dit die sendingkerke en Britse regering wat swartes in Engels onderrig het in skole.   Dis in hierdie jaar op wyle Dr Verwoerd afgedwing en moes die res van ons pa staan vir hierdie miljoene swartes wat die Britse regering eenkant gegooi het om te onderrig.   Ons Boere republieke was destyds slegs toegerus vir bykans net Afrikaanse en voor dit Nederlandse onderrig.   Oornag is en word ons die skuld gegee weens die Engelse vlakke – nugter alleen weet wat die standaard was in 1954.  Duisende skole is vanaf 1954 tot 1994 gebou, selfs in die ou Tuislande (voor 1961 reservate) is skole gebou met ons belastinginkomstes.
*
Indien persone die reënboogstorie glo, veral liberale blankes en selfs ander volke, leef hul in hul eie kokon en dwing hul wil af op ander om soos hulle te glo en dink wat die beste is vir die land.   Onderlinge volke bestaan steeds na 1994 en elkeen het 'n internasionale reg tot hul eie gebied(e) en vryheid om deur hul eie leiers regeer te word.   Alle politici is bewus wat op vlak een regering aangaan, dat daar duisende tradisionele leiers na 1994 ontstaan het.   Almal vier gereeld hul jaarlikse byeenkomste as volke, kultuurfeeste en tradisies –  daar is heelwat beeldmateriaal en Hansards daaroor.
Tans is daar meer as 8840 tradisionele khoi san en swart leiers en word deur belastingbetalers onderhou – almal kry salarisse en byvoordele.     Daar is nooit afstand gedoen van tradisionele Britse kroongebiede of reservate na 1994 nie.  Al wat gebeur het, die gebiede is onder nuwe ANC-SAKP-DA-ACDP wetgewing (Grondeise) geëis.   Gereelde stellings word daagliks deur politici gemaak dat die blankes die ander se gebiede gesteel het.   Duisende grondeise is reeds toegeken en oorhandig met 'sertifikate' aan grondeisers (Khoi san en Swartes) asook  finansiële bystand, bates, diere, saad, veral op produktiewe plase, is verleen.   Na 28 jaar is daar bykans niks oor van hierdie produktiewe plase nie.   Dis alles in Hansards, wetgewing en selfs die grondwet vervat.
Ingonyama Trustland (Zulu people)
There are currently over 8840 black and khoi san traditional leaders and there is already a plan in place with this on the ANC and communist agenda. All (most of the Khoi san and different blacks) still have their separate territories since 1854 and their lands could never have been taken away by our whites.  It was called reserves and crownland, thereafter homelands and today it is called Trust or CPA areas under anc legislations.
Traditional leaders South Africa: 8840
Dus, waarom mag die Boere (konserwatiewe blankes), nie hul eie gebiede onafhanklik verkry soos wat dit was met 1902 en die Vredesverdrag by Vereniging.  Ons is dit aan ons voorgeslagte en nageslagte verskuldig om 'n land vir onsself te hê.   Blanke Boere meng nie in op die Richtersveld wat reeds in 2007 aan die Khoi san toegeken is of die Ingonyama Trust, wat slegs vir die Zoeloevolk is sedert 1993.  Daar is veel ander gebiede, aparte CPAs,  soos hierdie, wat slegs tot voordeel mag wees vir spesifieke volksgroepe.
Om vryheid en volle onafhanklikheid te verkry berus dus by ons as volk (Boere en konserwatiewe blankes), nie by ander volkere of enige politieke party nie.   Dit was reeds so met die ontstaan van die Vereeniging se vredesverdrag na die Anglo-Boere oorloë, wat nooit uitgevoer en nagekom is nie.
&
&
&
Anglo-Boer wars
The Jameson Raid caused enormous interest and controversy at the time and arguably was one of the main causes of the Anglo-Boer War of 1899-1902. Led by Cecil Rhodes' lieutenant and closest confidant, Dr Leander Starr Jameson, it was an unskilful attempt at overthrowing Paul Kruger's Transvaal Republic (Dutch: Zuid-Afrikaansche Republiek; the ZAR) with the help of the English-speaking 'uitlanders' and the gold barons of the Rand Reform Committee and substituting some form of British government. The plan went wrong from the start and Jameson's troopers of the Matabeleland and Mashonaland Mounted Police (MMP) and ex-Bechuanaland Border Police (BBP) were easily defeated by the Boer Commandos.
Innumerable books have been written up about the main conspirators – Cecil Rhodes, Alfred Beit, Frederick Rutherfoord Harris, Sir Hercules Robinson and Joseph Chamberlain – and "who knew what" but this article concentrates on the build-up and military progress of the Raid itself. The political fallout was immense as the Raid was seen as the inexcusable invasion of a friendly country. It included Rhodes being forced to retire as Prime Minister of the Cape Colony, tensions increased between the ZAR and Britain and lit the fuse for the start of the Anglo-Boer War on 11 October 1899.
*
The smuggling of arms and ammunition into Johannesburg was organised through Gardner Williams and the De Beers organisation. However, rumours were rife amongst the miners and President Kruger was well aware of the plot and told the burghers at Bronkhurst Spruit: "Wait until the time comes. Take a tortoise; if you want to kill it you must wait until it puts out its head and then you cut it off."
https://zimfieldguide.com/bulawayo/jameson-raid
*
To achieve freedom and full independence rests with us as a Boer and Afrikaner people, not with other peoples or any political party.   It is furthermore an international law that peoples can and may acquire this, as well as certain requirements that must be met.
*
Tans word ons volksregte in elk geval nie erken deur die liberaal verligte en kommunistiese regering nie, maar met ander volkere se goedkeuring en verskillende wetgewings onderdruk.   Dit moet nie net intern stopgesit word nie, want dit is misdade wat op internasionale vlak teenoor ons volkslede gepleeg word.   Die huidige liberaal verligte en kommunistiese regering moet ons volkslede vergoed wat al vir dekades hieronder ly en medemenslikheid verloor het, moet ten volle deur die huidige regering en hul vennote herstel word.
Om vryheid en onafhanklikheid van 'n volk in 'n eie gebied te verkry, is geen maklike taak nie.   Tans word meer as een  van ons menseregte onderdruk, maar daar word nie gelukspakkies uitgedeel om vanself te heel of herstel nie.
Dit is ons, veral die konserwatiewe Boere en Afrikaner  volksgenote se menseregte wat al vir bykans 30 jaar geplunder en doodgeskok word met onderdrukkende wetgewings, soos swart bemagtiging en regstelaksies (wat uitsluitlik teenoor die blanke minderheid in Suid-Afrika uitgevoer word).
Die onderdrukking teenoor ons minderheidsvolk, word ook met heelwat internasionale steun en finansies goedgekeur, wat 100% teen internasionale reg is om enige volke te onderdruk om van hul ontslae te raak
Ons voorgeslagte het vryheid nagestreef en dit letterlik uitgevoer, deur onder die Britte uit te trek, maar is dekades later, weer op 'n brutale wyse van hul weggeneem deur die Britse heerser.   Die huidige ANC regering doen voort daarmee, veral nadat daar weer aangesluit is by die Britse statebond in 1994.  Ons hele land en volksgenote, was sedert Dr Verwoerd se bewind, weg uit die Britse statebond, maar die ANC het gevoel hulle kan nie sonder die Britse statebond voortleef nie (of is dit andersom)
*
Our ancestors (1900) pursued freedom and carried it out literally, by pulling out among the British, since 1838 and received fully independence on international level at two independent countries (ZAR and Freestate).   But decades later, were again brutally taken away (Anglo-Boer Wars) from them by the British ruler that invaded our two independent Boer Republics to make us part of them as British colonies.   Why did they invade our indepenet countries? – to get minerals and force our people later in the 1910 Union of South Africa (London legislation).
The current ANC government continues to do so, especially after rejoining the British Commonwealth in 1994. Our whole country and people have been away from the British Commonwealth since Dr Verwoerd's rule, but the ANC felt they could not do without the British Commonwealth does not survive (or is it the other way around)?
Our people's international rights are not recognized by the liberal and communist government, but are suppressed with the approval of other peoples and various legislations since 1994.
It should not just be stopped internally, but also at an international level against our people – there are various crimes against this government.
The current liberal and communist government must compensate our people who have suffered for decades and lost their humanity, must be fully restored by the current government and their partners as it was in 1994.   They took away our humanity,  incomes and businesses in just 28 years.  There is a lack of safety in their constitution against our peoples, in cities and especially on farms.
It must be mentioned, to gain the freedom and independence of a people in its own territory is no easy task – but every people have that right.   Currently, more than one of our human rights have being suppressed and the ANC and liberal supporters, will not stop it.   They make money out of Black Economic Empowerment and Affirmative Action legislations (B-BBEE and EE).   This will and can not recover on its own.    It is us, especially the human rights of the conservative Boer and Afrikaner compatriots who have been looted for years from any income, economy, businesses or work.  Hundreds of thousands of our people emigrated to other countries and others are working overseas.
It is in fact a true statement and can be seen on various websites.  The oppression of our minority people is also endorsed with considerable international governments' support and finances, which is also 100% against international law to oppress any people's in order to get rid of them.   More than one country or other organisation(s) financed the current government, legislations and constitution to humiliate our people, like the British did to our ancestors.
Facts are on international websites to.  Those are serious crimes and murders committed against our people and on farms.    We are totally pushed out of any economy and survival bus, but thrown in front of the communist wheels to be killed.   Thus, we have been impoverished for decades in every area possible to commit a successful genocide by the government since 1994.   They must pay accordingly from international levels.
*
*
*
RELATED ARTICLES AND INFORMATION
Development of One Plans – Ramaphosa
Human rights violations – Menseregteskending
Self-determination for the oppressed people
People's international right to self-determination
Selfbeskikking: Genoeg is genoeg
Selfbeskikking en Volkstaat (Akkoord)
Traditional leaders South Africa: 8840