De wet is een van duisende wat opgestaan het om te veg vir die vryheid van die Boere republieke en lewe van hom as Boere generaal het van hom 'n Boereheld en -vegter gemaak – sy naam is opgeteken in die argiewe as Boer van die Boere republieke.   As daar na sy lewe gekyk word, kan sy familie baie trots wees op wat hy verrig het.  Sy wit perd se naam was Fleur.   Hy was internasionaal 'n welbekende legende van die Anglo-Boere oorlog en veggeneraal.  Heelwat inligting is ook aangeteken oor sy sambok.    Hul perde het bygedra om hul legendes te maak.
Note:   The Anglo-Boer War broke out at 17:00 on Wednesday 11 October 1899.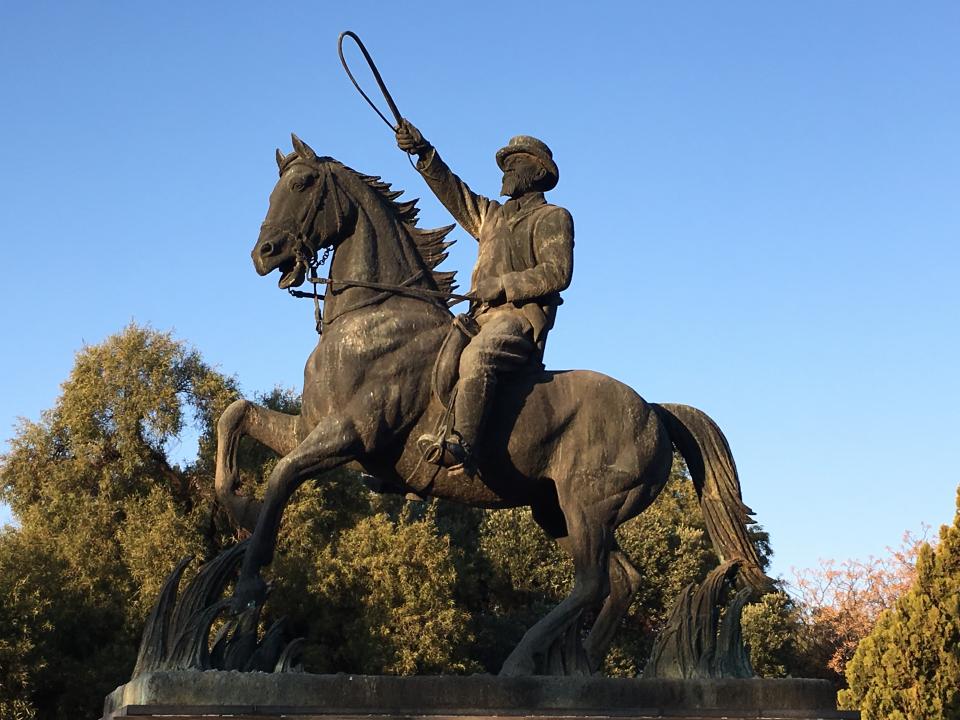 *
De Wet's ability to surprise the enemy is nowhere better to be seen than in the battle at Sannaspos on March 31, 1900, where he captures more than 300 British soldiers and raises 96 wagons and seven field guns. He also achieved great success at Reddersburg and Jammerbergdrif. 
Christiaan Rudolph de Wet was one of the greatest military personalities in the history of South Africa. He was a great lover of the open plains of the Veleuwe which reminded him of the morals, ideals and religion of the Voortrekkers.
https://telegra.ph/7-October—Birthday-of-Christiaan-de-Wet-10-07
*
Independent Boer republics
The Boers – i.e. the inhabitants of the Zuid-Afrikaansche Republiek (ZAR),
also known as the Transvaal, and the Oranje-Vrijstaat or Orange Free State (OFS) – could field a total of approximately 55 000 burghers (i.e. armed ordinary citizens who were called upon in times of war to defend their respective countries – there were very few permanent force soldiers). 
*
*

Engelse Terroristiese Beleid van Verskroeide aarde – suidelike Afrika – onafhanklike Boere repubieke
As daar na die sieldodende en skrikbewinde vernietigende / verskroeide aarde beleid van die Britte gekyk word, word opgemerk hoe gegrief, doelgerig en hatig die Britse soldate opgetree het, alles in opdrag van hul meesters, was om al hierdie gebiede as kolonies in te palm.   Dit was nie net 'n slagveld nie, maar vernietigende dorpe, stede en plaasgeboue – nie 'n vullishoop van rommel nie, maar verbrande as.  Voedsel is totaal en al vernietig.
Om so laag te daal om alles van ander mense te vernietig, dit net om minerale te bekom en burgers te beheer met hul koloniale beleid.   Dis nie ons as suider Afrikaners wat Engeland gaan teiken het nie, dis hulle wat ons kom teiken het.   Die Republieke het nog nie baie lank onafhanklikheid geniet nie en na Mfecane het swartes / khoi san net so min gehad in die land.  Dit het die Britte nie gestop om ons totaal en al te vernietig van die bodem van die aarde af nie.   Daar bestaan nie haat in die woordeboeke van nageslagte wie die Britte so verwoes het nie, woorde kan nie hierdie dade van die Engelse ooit regverdig, goedpraat of vergewe nie.   Dink net waar ons vandag kon gewees het indien Engeland nie kom inmeng het in ons sake nie.   En met die Engelse Statebond (Commonwealth) doen hulle dit steeds, nie net aan ons nie.
Scorched earth
In most wars, property belonging to the opponent is destroyed. During its colonial wars, the British Army often burnt down the houses of civilians, for example, during the Second Anglo-Afghan War (1878–1880), Roberts ordered whole villages to be plundered and razed to the ground. 
In the Anglo-Boer War, the first farm-burnings occurred at an early stage, shortly after the outbreak of the war, when the British destroyed the farms of rebels in the Cape Colony; and when a British force made an incursion into the south-eastern OFS on 9 January 1900, several farmhouses were destroyed and the livestock carried off.
The scorched-earth policy, which was part and parcel of an elaborate British counter-guerrilla strategy, was initially implemented by Roberts, but was subsequently extended in scope and intensity by Kitchener. By stripping the land of everything that could be of assistance to the die-hard Boers in their continued liberation struggle, the British hoped to undermine their adversaries' ability and will to fight on. Consequently, approximately 30 000 white farm homesteads plus outbuildings, as well as the houses of the black farm workers (i.e. more than 100 000 homes in total) were either burnt down or blown up with dynamite, while more than 40 towns and villages were also partially or totally destroyed.  . Large areas of the ORC and Transvaal were laid waste.
Internment camps or "refugee camps"
In contrast to what is popularly believed, it was not Kitchener, but Roberts who established the first camps for Boers. The first camp was set up in Mafikeng in about July 1900.  it was Kitchener who expanded the camp system, and it was under his watch that most of the deaths occurred. Of course, the term "refugee camps" is a misnomer, since these camps were the logical result of the deliberate scorched-earth policy. In conjunction with that policy, these camps comprised part of the British military strategy to defeat the Boers who were still in the field
The death of civilians in the camps was never intended, but owing to maladministration and neglect, at least 31 000 of the approximately 145 000 white inmates and at least 23 000 (but probably many more – possibly even more than 31 000) of the approximately 140 000 black inmates died in the camps. 
https://journals.co.za/doi/pdf/10.10520/EJC75929
Boer Commanders
http://samilitaryhistory.org/vol025cb.html
*
After the annexation of the Transvaal by the British , he joined  Rietfontein in   1880 to join the Heidelberg kommando and took part in the battle of Laing's Nek against the British where he distinguished himself by his courage, as well as in 1881 in the decisive battle of Majuba .    After the restoration of the independence of the Transvaal, he moved to the district of Lydenburg and was elected Veldkornet to the Parliament of the Transvaal in 1885 . He only takes part in one parliamentary session and prefers to return to the Orange Free State where he buys his father's farm.    From 1889 to  1898 , he was a member of the Volksraad (parliament) of the Orange Free State. 
On March 13, 1900 , Bloemfontein , the capital of the Orange Free State fell. De Wet then imposed a new tactic reviving the mobility of the Boer kommandos. He abandons the convoys of wagons which had slowed Cronjé's march so much to divide his troops into mobile groups of horsemen. He invents the South  African guerrilla , launching surprise attacks, harassing enemy columns. 
He supports the Afrikaner nationalism defended by General James Barry Hertzog and makes a vibrant plea on this subject.   in Pretoria . In 1913, De Wet resigned from the general staff and founded in 1914, alongside Hertzog, the National Party .   In August 1914, he was one of the leaders of the Boer rebellion which opposed the entry into the war of the Union of South Africa alongside the allies and the invasion of South West Africa . The , he is defeated and taken prisoner for the first time in his life.    Sentenced to six years in prison, he was released after a year after promising to renounce all political activity. 
He died on .  A state funeral was organized in Bloemfontein , De Wet was buried near President Steyn and Emily Hobhouse at the foot of the memorial dedicated to the women and children who died in British concentration camps during the Boer War.   
The town of Dewetsdorp was founded and named in 1880 in honor of Jacobus Ignatius de Wet, the father of Christiaan de Wet.
https://fr.wikipedia.org/wiki/Christiaan_de_Wet
*

(1854 –1922)

De Wet was a Boer general, rebel leader and politician. De Wet served in the first Anglo-Boer War as a Field Cornet, taking part in the Battle of Majuba Mountain, in which the Boers achieved a victory over the British forces. During the second Anglo-Boer War he came to be regarded as the most formidable leader of the Boers in their guerrilla warfare. De Wet continued this successful career to the end of the war, striking heavily where he could and evading every attempt to bring him to bay. De Wet took an active part in the peace negotiations of 1902.
Coert Steynberg
(1905 –1982) was a renowned South African sculptor who worked in stone, marble, bronze, copper and wood. His work is represented nationwide and internationally.


https://equestrianstatue.org/wet-christiaan-de/

*

VIDEO

This 1982 documentary tells the tale of Christiaan Rudolph de Wet (1854-1922 ), the Boer general, rebel leader and politician. https://equestrianstatue.org/wet-christiaan-de/After de Wet's death, General Smuts – his former rival – sent a cable to Mrs de Wet proclaiming that "A prince and a great man has fallen today". This truly is the story of a great man, both in victory and defeat.

Hierdie 1982 dokumentêr vertel die verhaal van Christiaan Rudolph de Wet (1854-1922), die Boeregeneraal, rebelleleier en politikus. Na de Wet se dood het General Smuts – sy voormalige teenstander – 'n telegram aan mev de Wet gestuur waarin hy de Wet 'n vors en 'n groot man noem. Dit is werklik die storie van 'n groot man, beide in oorwinning en nederlaag.

https://www.youtube.com/watch?v=a_dAbT-nOPo


*


The way in which the Boers applied guerrilla tactics at, for example, the battles of Sannaspos, Bakenlaagte, Groenkop, Yzerspruit and Tweebosch/De Klipdrift, are briefly analysed, with special reference to the role played by prominent Boer guerrilla commanders such as Generals Christiaan de Wet, Koos de la Rey and Louis Botha. The British counter-guerrilla strategy is also analysed, with special reference to the scorched-earth policy, internment camps, "psychological warfare", mobile columns, information/intelligence, blockhouses, armoured trains and drivers. The available sources that shed light on the guerrilla phase of the war will be briefly discussed, and this controversial phase of the war will be placed in the broader context of the history of twentieth-century South Africa.

Source
Volumes 4 (partially) and 5 of LS Amery (ed.)'s The Times history of the war in South Africa 1899–1902 (London: Sampson Low, Marston and Company, Ltd., 1906–1907) and Volumes 3 (partially) and 4 of the British official history of the war, i.e. JF Maurice (ed.) and MH Grant, History of the war in South Africa 1899–1902 (London: Hurst & Blackett, 1908 – 1910), deal with the guerrilla phase of the war, and in most of the approximately 2 700 books that have been published on the history of the conflict, the guerrilla phase receives some attention, albeit that in most instances the focus falls more strongly on the approximately eleven months of (semi-) conventional warfare than on the 26 months of guerrilla warfare.


https://journals.co.za/doi/pdf/10.10520/EJC75929




*


Christiaan de Wet (Vrystaat)
"Geskroeide aarde"-"Scorched earth" (1)

16 Junie / June 2021

Britse konsentrasiekampe Hester de Beer

English Crown and the Boers

Gedenkdag – onthou 16 Junie-June 2019 – Remember this day