One of many big fishes at Eskom that swam away with money – but how much money was actually stolen or extra paid into special accounts in, luxury homes bought over a long period of time, no one from public will really know. The houses purchased look durable and flashy.   Expensive houses.   Now, who is the Michael Lomas who took so much from Eskom and how did he manage it over the years? Who does he really work for? He is not alone in this either.

*
Een van vele groot visse wat met geld weggeswem het – maar hoeveel geld werklik gesteel is of ekstra's oorbetaal in spesiale rekeninge in, luukse huise wat aangekoop is oor 'n lang tydperk, sal niemand regtig weet nie.  Die huise wat aangekoop is, lyk duursaam en spoggerig.   Nou, wie is die Michael Lomas wat soveel van Eskom geneem het en hoe het hy dit oor jare reggekry?     Vir wie werk hy regtig?  Hy is ook nie alleen hierin nie.   

Waar is die jaarverslae, die oudit verslae wat gedoen is, indien wel en deur wie?  Sou daar oudits gedoen gewees het of glad nie, is hulle mos net so skuldig as hulle dit toegelaat het.  Eskom is 'n staatsentiteit, dus is dit nie net Eskom se personeel en bestuur wat betrokke is nie, daar is heelwat ministers ook dalk hierby betrokke sowel die president van die land.   Nou eers word hy aangekeer, buite Suid-Afrika – hoe gerieflik?   En nou betaal hy van sy onkostes uit geld wat gesteel is.   

Lomas se skakel met Eskom se kontrakteur is die Tubular Konstruksie projekte.  Hy bevind hom tans in Engeland waar hy op 15 April in Londen in hegtenis geneem is in verband met 'n Kusile-bedrog- en korrupsiesaak van R745 miljoen.   In die verklaring (skakel geplaas) word 2006 genoem.

Meer inligting hieroor:
*
A trial date has been set for the extradition hearing in London of a former Eskom contractor implicated in a multimillion-rand fraud and corruption case.   Michael Lomas appeared briefly in the Westminster magistrate's court which issued a trial date for December 20 and 21.
https://www.sowetanlive.co.za/news/south-africa/2021-05-21-trial-date-set-for-extradition-hearing-of-former-eskom-contractor-in-uk/
*
Video – April from London
https://www.youtube.com/watch?v=i42JpWHEHFo
*
Since 2006?
The Hawks have arrested two former Eskom senior managers and two business directors for alleged corruption. Among the accused are the ex-Eskom contracts manager at Kusile, Frans Hlakudi; Kusile general manager, Abram Masango; and Tubular Construction CEO, Tony Trindade. They appeared in the Johannesburg Regional Court today for fraud, corruption and money laundering. NPA Spokesperson, Bulelwa Makeke, joins us on the line.
*
15 May 2021 – Assets of former Eskom executives and businessmen from Tubular Holdings worth R1.4-billion has been frozen.
"Former Eskom senior manager for Capital Contracts France Hlakudi, the company's former group executive for Group Capital Abram Masango, former Tubular Construction Projects CEO Antonio Trindade, businessman Maphoko Kgomoeswana, former Tubular Holdings executive advisor Michael Lomas and six companies owned by these individuals were served with the order," said Sindisiwe Seboka, spokesperson for the ID. "In addition, their spouses' assets and family trusts were included in the restraint order. The freezing order prohibits them from dealing in any manner with any of their realisable property. The curator, Trevor Hill, who was appointed by the court in terms of the order, did an inventory of all the affected assets which have been restrained pending the outcome of the criminal trial."
Former Eskom executives' property frozen
*
They were arrested this morning for alleged fraud, corruption and money-laundering. The charges relate to contracts for the Kusile power station.
*
AFFIDAVIT 2017
https://www.forensicsforjustice.org/wp-content/uploads/2019/06/TIBERI-AFFIDAVIT-2017-02-16_Redacted.pdf
*
*
On 20 May 2021
The National Prosecuting Authority's (NPA) Investigative Directorate spokesperson, Sindisiwe Seboka, said Lomas was granted bail of £100,000 (about R1.9m) and also submitted additional surety of £250,000 (about R4.9m).     Lomas has been indicted together with four other accused in SA, who were arrested in December 2019 and are expected back in court on 1 June.
https://www.sowetanlive.co.za/news/south-africa/2021-05-20-former-contractor-implicated-in-r745m-eskom-fraud-case-due-in-court-in-london/
*
Dit wil voorkom of daar gereeld nuwer besighede "geregistreer" word en na 'n tydjie word besighede se name verander – is dit om die "bloedspoor" van korrupsie te probeer uitwis of te vertraag?  Verander name net en ook bestuurslede.

*
Parlement Hansards – Eskom 2020
SA Parliament Eskom 2 September 2020
O'Sullivan reported that he met Lomas in November 2019. 
According to him, Trindade started a company – now known as the Tubular Group. In 2008, he made contact with Michael Lomas, offering him the opportunity to come on board as a consultant. Lomas acted as a consultant for a number of years. "During that period, I suppose, there were issues at Kusile – which were a mixture of engineering and contractual issues."
https://www.biznews.com/thought-leaders/2021/04/29/michael-lomas-corruption
Eskom – B-BBEE damage -Tubular Construction – Tony Trindade
Eskom – corruption (executives)
*
There are a few questions –
Who benefits from the weak controls at Eskom?   
Who did the audits at Eskom and all other corruption in state entities?   All entities involved in State capture?
Statements were made in 2017 and it can go back when corruption started in all state entities, municipalities, provinces, etc.   
Who are responsible – not Eskom alone – The Ministers and members of parliament are responsible for this corruption, not the public.
*
"The systems are there but they are undermined and by-passed," said an Eskom employee who declined to be named. The employee said there was a weak internal audit function, while the legal and compliance department was under resourced. "Financial structures are being controlled from the top," the employee said.
https://www.iol.co.za/business-report/companies/weak-controls-crippled-eskom-11863161
*
Stated in timeslive that Pretoria high court has granted the National Prosecuting Authority's (NPA's) Investigating Directorate (ID) an order to freeze R1.4bn in assets belonging to former  Eskom executives and former Tubular Construction Projects contractors.
https://www.timeslive.co.za/news/south-africa/2021-05-04-court-grants-order-freezing-r14bn-in-assets-of-former-eskom-and-company-executives/
&

It was reported during February 2021 that Masango, Eskom contracts manager France Hlakudi, businessman Maphoko Kgomoeswana, and Antonio Trindade appeared briefly in the Palm Ridge Commercial Crimes Court for their role in the Kusile R745 million corruption matter. 

The case pertains to the construction of the Medupi and Kusile power stations where gross manipulation of contracts happened. The contracts in question were worth R745m to build two air-cooled condenser units at Kusile power station had allegedly been manipulated by the appointed companies, related entities and individuals who shared R30m among themselves between February 2015 and July 2017.   
VARIOUS PAYMENTS WERE MADE TO DIFFERENT ACCOUNTS – In the charge sheet, the state gives a detailed account of how Lomas made various payments to two companies Hlakudi Translation and Interpretation and Bon Service Telekom both belonging to Hlakudi. The amounts ranged from R 7 500 to up R1m.

https://www.iol.co.za/news/politics/former-eskom-bosses-want-state-to-reveal-evidence-against-them-d8fa13ab-07b7-421c-af63-6236d7d1a2ce
&
Joint Media Statement from Directorate of Priority Crimes Investigation (HAWKS)

https://www.saps.gov.za/newsroom/msspeechdetail.php?nid=23838
*
Was reported during the end of April that the National Prosecuting Authority (NPA)'s investigating directorate has confirmed that former Eskom contractor and fugitive, Michael Lomas, has been arrested in London.    This is in connection with a R745 million fraud and corruption case.    Lomas was taken into custody on 15 April and appeared at the Westminister Magistrates Court.   He was granted bail of R1.7 million and he further submitted additional surety in the sum of about R4.3 million.   
It was also stated that the arrest and appearance emanate from months of talks with UK authorities about the fraud and corruption case where Eskom paid R745 million for Tubular Construction Projects. Lomas has been indicted, along with four other accused in South Africa, who were initially arrested in December 2019.
https://ewn.co.za/2021/04/23/npa-confirms-fugitive-in-r745m-eskom-fraud-case-lomas-arrested-in-london
*
Tubular Construction Projects (Pty) Ltd was founded in 2003. The company's line of business includes providing residential construction services.  
https://www.bloomberg.com/profile/company/0322110D:SJ
*
Michael Lomas, a fugitive from justice in South Africa, faces the law in a London court regarding corruption in Eskom.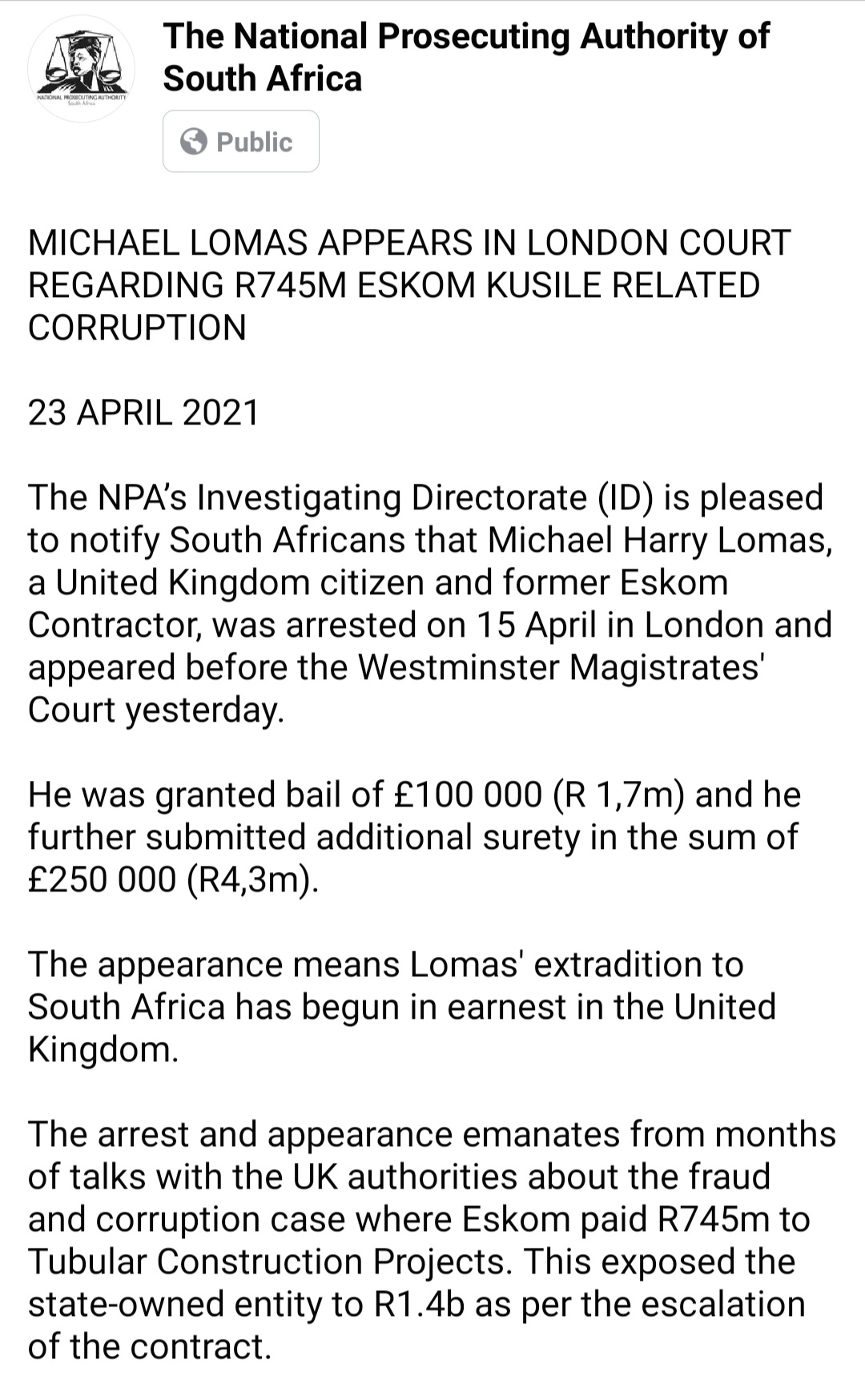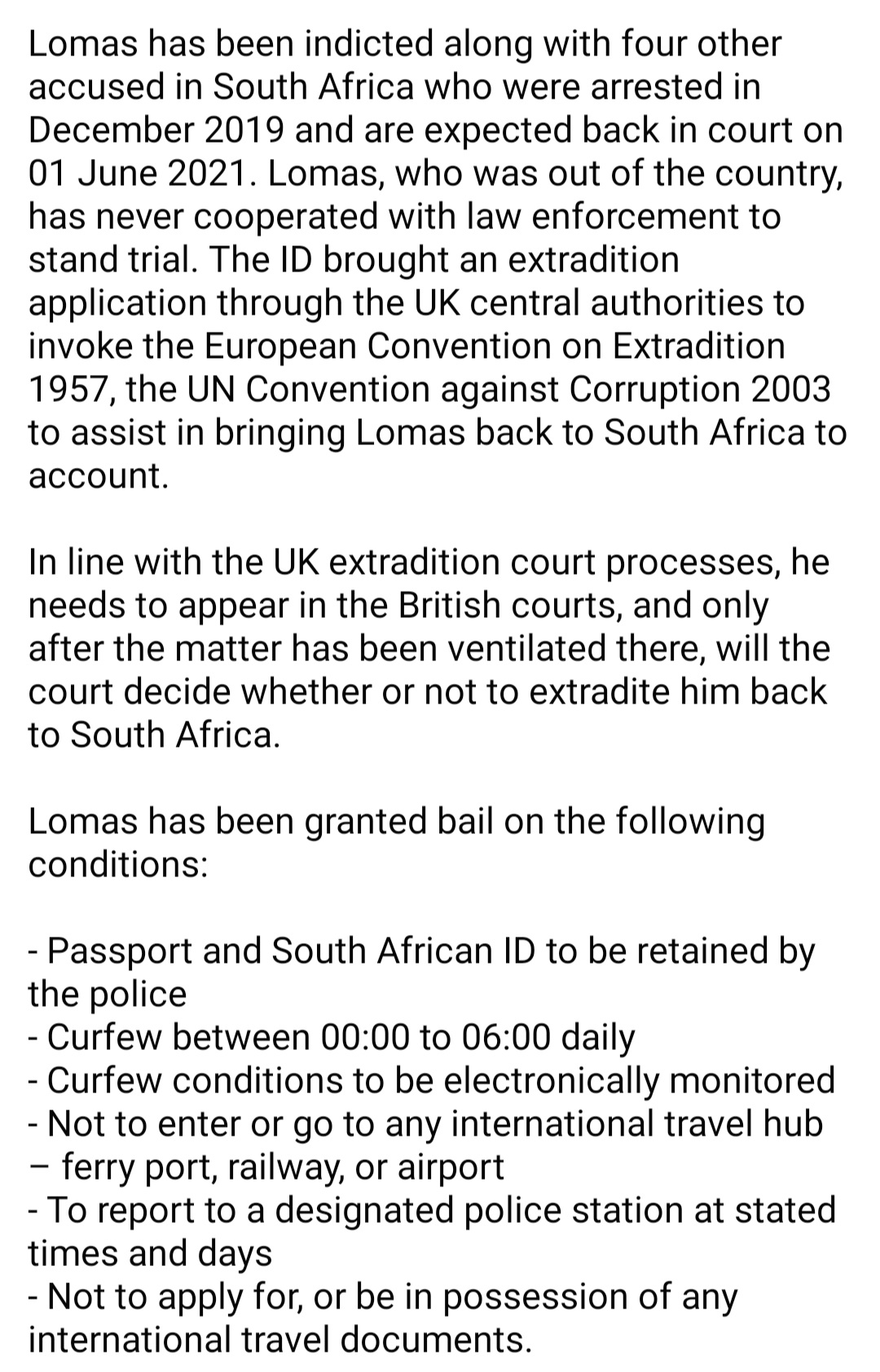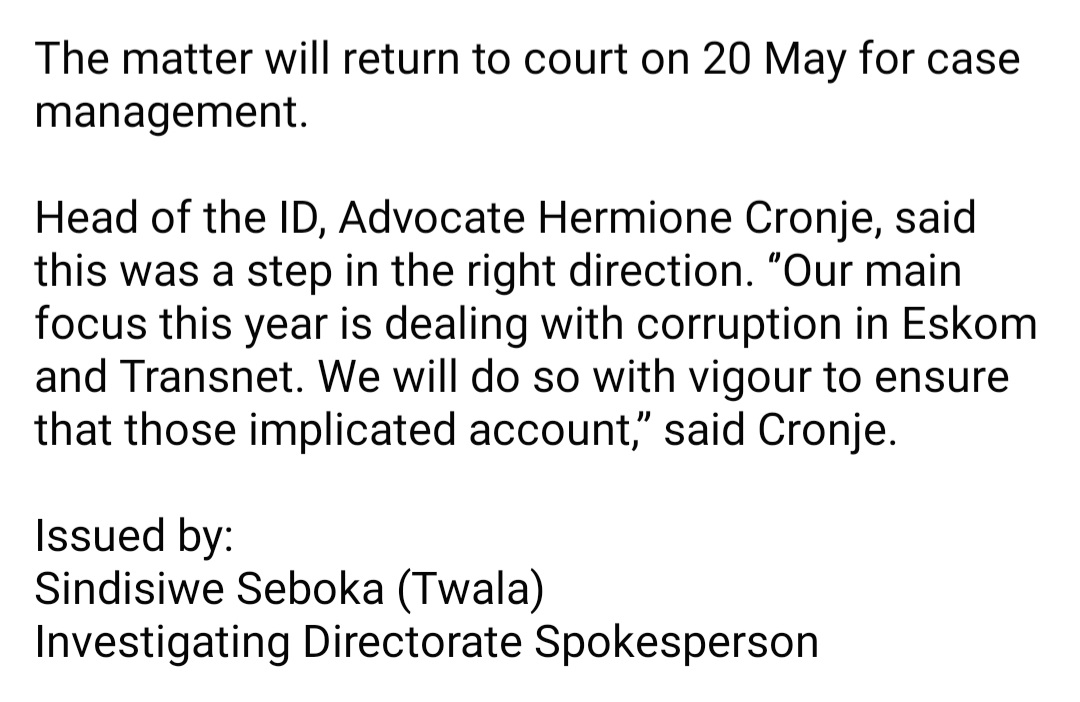 *

RELATED ARTICLES
Eskom – B-BBEE damage – Tubular Construction -Tony Trindade
Eskom corruption – Trindade – Brian Bestenbier – Paul O'Sullivan
Corruption – Eskom – Parliament
ANC – Lethuli-house can of worms – Nyani skeletons so-called apartheid (segregation) and white privileges
*