Onwettige konneksies van elektrisiteit is regdeur die land te sien, maar veral in die informele sektor.   Persone weet hoe om te konnekteer maar dis onveilig en dit kos elkeen van ons om dit wat gesteel word, weer te vervang met nog meer om te steel.   Inderwaarheid is hulle niks anders as kriminele en misdadigers nie, omdat daar baie nie sal krag steel nie.
'n 73 jarige pensioenaris van Soweto sê sy kan nie sien waarom daar betaal moet word vir elektrisiteit nie. "Ons het daarsonder grootgeword, as Eskom more die ligte afsit, dan kom ons maar daarsonder klaar."

*
Winkeldiefstal is identies dit, steel jy, is jy 'n misdadiger.  Dus hoekom moet immigrante ook inkom om hier gemakliker lewens te hê as hulle alles gratis kan STEEL.   Nou moet Eskom afsit en afhaal wat nie betaal nie.   Onwettige immigrante hoort ook nie in die land nie.   Die gereg is altyd vinnig om blankes in hegtenis te neem al "getuig" hul vir die staat soos die Agrizzi saak om korrupsie bloot te stel – duidelik volg Eskom dieselfde beleid.
*
Inwoners is van mening hulle hoef nie te betaal nie – ONDER WATTER WETGEWING?
Eskom – Soweto (outstanding)
***
Citizen – September 2018 – another man was electrocuted at the Jamila Shopping Centre, where he died instantly.    Slovo Park residents have turned their informal settlement and neighbouring areas into death traps out of desperation for electricity, with children and residents paying the ultimate price of electrocutions that seem to be a common occurrence of late, reports Westside Eldos.   The electricity supplied to Slovo Park is directly connected to the overhead power lines in Eldorado Park, with visible cables laid on the ground and hung in the air, crossing the N12 Highway which separates the two areas.
***
***
Connections are illegal and unsafe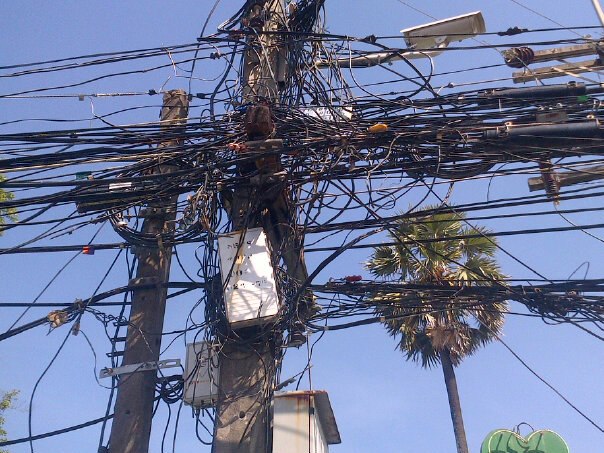 *
An Yster Crescent resident in Eldorado Park Proper said that she took matters into her own hands and walked across the bridge to Slovo Park to plead with the residents to stop the illegal connections.

According to community activist Bishop Robertson, he has been working closely with the community and can confirm that illegal connections are commonplace in all the extensions in Eldorado Park.

"A few days ago, a man lost his life under the Slovo Park Bridge. He accidentally stepped onto an electrical cable and it killed him instantly. Children from Goudpark Primary School cross this bridge every day and I am worried that one day they too will be electrocuted," said Robertson.
***
2016

She is looking after 6 grant children, but where are the parents?  Why must she steal to make a living?
***
Jika Joe straddles both banks of the Dorpspruit River in the center of the City of Pietermaritzburg, the capital of kwaZulu Natal. Jika Joe is just one of many informal settlements in South Africa.
***
April 2018
A ranging battle over electricity has left hundreds of homes in Ivory Park, east of Joburg, in the dark for a month now.   Residents of Nzo Section in the sprawling township have watched in awe and anger at their electricity being illegally diverted to informal areas sprouting near them.

And their situation will probably not return to normality soon as Eskom employees are too terrified to move into Ivory Park and disconnect the illegal connections.

"They climb over the poles and make their own connections. Our transformer burst on March 18 because it does not have the capacity to supply us and the squatter camp," said a Nzo Section resident.   "We have been using candles ever since. Our budget for food has doubled."   An elderly woman said: "We have no problem with them being here because it's not our land that they've occupied.    "But if they want electricity, they must speak to Eskom. They shouldn't do what they are doing. We're not fighting them, we just want our electricity back."    "The problem is that when Eskom disconnects the illegal electricity, they connect it again," said Gololo.

Ivory Park was one of the communities in Gauteng hit by a wave of illegal land invasions. The squatter camp near Nzo is about six months old.    Its occupants are believed to be former backyard dwellers in Ivory Park homes.

Squatter camp residents became violent against the Eskom employees who were there with the police.   "They threw rocks at us and assaulted us. I also got assaulted, our vehicles got damaged, even though we had police protection.

"We're trying to help our customers, but unfortunately things have come to a stage where it's very dangerous for us. So, we have removed ourselves completely from Ivory Park until we sit down with councillors and decide a way forward."

Tumi Moloi, Gauteng's Eskom spokesperson, confirmed the attack on the utility's employees. She said the employees would not go back to the community until tensions were diffused.
***
2019
read more:
Nersa, Salga and Municipalities
Eskom – Koketso Choma – Matshela Koko
***
Eskom – "new plans from Ramaphosa"
Eskom : Ramaphosa – Motsepe – gas
B-BBEE – swart bemagtiging – Motsepe
Precious Elizabeth Makgosi Moloi-Motsepe
Strangled Eskom "PYRAMID SCHEMES"