Dis getroue betalers wat opdok vir die nie-betalers van Eskom – Eskom behoort aan ons almal, nie aan die ANC regering nie.     Eskom buig agteroor om nie-betalers en misdadigers se skuld af te skryf en te akkommodeer.    Eskom maak hul skuldig om misdadigers te voed en grens aan bedrog.   Geen bank gaan krediet gee as biljoene geskuld word nie, Eskom is buitendien geen bank nie.   Gaan Eskom dan alles wat ons getroue betalers, meer as dubbel betaal het, ook vir ons teruggee, wat niks minder as reg is, as die wat getrou betaal, dieselfde voordeel trek as die wat so lekker kan steel of met hul sisteme peuter vir gratis krag en dan word hul skuld afgeskryf.   Dan spog hul almal dis demokraties .  Betaal of dra die gevolge moet vir almal geld.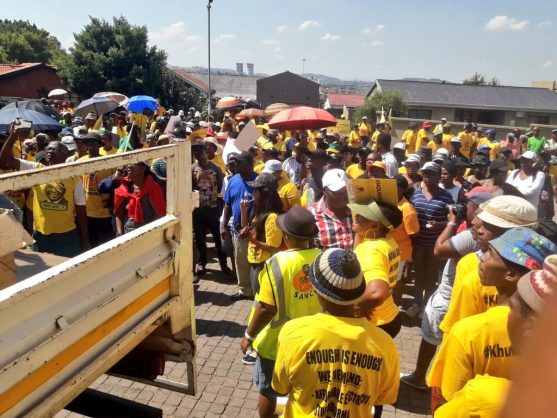 *
Wanneer Soweto, sowel al die ander munisipaliteite wat nie betaal nie en  immigrante rondom ons stede, wat so krag steel nie betaal nie, is dit net regverdig dat hulle krag permanent afgesny word tot hul betaal.  Ons betalers, wat meer as dubbeld vir ons krag betaal, kan nie vir altyd die spul dra wat aandring op gratis elektrisiteit. 
Verskeie munisipaliteite gee nie elektrisiteit aan inwoners as erfbelasting nie betaal is nie.   Beperkte water word verskaf en geen krag tot erfbelasting op datum is – hoekom word dit nie landwyd gedoen nie?  Nou word daar landwyd beurtkrag toegepas net omdat hierdie stakers en wanbetalers nie wil betaal nie.  
*
Dis nie eers 'n grap nie, maar vermetel.   Niemand gebruik net R100 'n maand vir elektrisiteit nie.    Watter Eskom doen dit?  Ook nie eers die wat dit onwettig van pale aftap nie, geen wonder dis biljoene rande skuld nie.  Dis eintlik verregaande dat ons as belastingbetalers die strooi moet opvreet en dat skuld so maklik deur Eskom en ander afgeskryf word.   
Waar is Eskom of die minister se mandaat om links en regs biljoene af te skryf omdat hul glad nie betaal nie of meters peuter.   Dis doelbewuste kaping en plundering van Eskom.
Dis 'n misdaad om kabels te steel en ook 'n misdaad om krag te steel / meters te peuter.  Om nie te betaal nie, is ook 'n misdaad.
*
Hier gebeur iets reg onder ons neuse, inwoners wat alles gratis verlang en miljoene immigrante wat deur die regering toegelaat word om ons te saboteer.  Dit is nie net die miljoene onwettiges in die land wat krag steel nie, maar die burgers in sekere dorpe, soos Soweto dink ons ander of Eskom skuld hul iets en mag aandring op gratis krag.  Eskom is netso skuldig daaraan as hierdie mense krag steel, hulle dan te akkommodeer in die misdadiger wetboeke dat dit reg en aanvaarbaar is.
Terrorist activities – Terroristiese aktiwiteite (Act/Wet 33 of 2004)
Inwoners is van mening hulle hoef nie te betaal nie – sedert wanneer?

Eskom – Soweto (outstanding)
*
Hulle lewens bestaan net uit protesaksies en rewolusie as hulle nie hul sin kry, dan gooi hul alles rond, brand alles af en die res moet spring en hulle aanhoor en gratis alles uitdeel.    En dan word jong kinders as die voorbokke opgemerk in strate om gratis skool en onderrig te kry en ons moet meer as dubbeld betaal sodat hulle gratis kan skoolgaan.  Dit gaan al so sedert die ontstaan van die ANC-SAKP.
Beurtkrag is nie net as gevolg van korrupsie nie, heelwat munisipaliteite betaal nie hul Eskom rekeninge nie, maar die inwoners gebruik dit gratis en ander steel van lamppale af, wat diefstal is en die hele sisteem saboteer.  Omdat Soweto en ander plekke nie betaal nie, moet ons almal die wat so krag gebruik sonder om te betaal, finansieel dra, wat nonsens is.   Hoekom moet ons dan duurder vir krag betaal deur die wanbetalers en die wat steel.    
Indien alle skuld gedelg is en elkeen dra hul deel by, sal elkeen van ons minder vir elektrisiteit en selfs water betaal.   Alles word gesaboteer en dan betaal ons almal die duurder pryse.   Dan sal daar ook minder beurtkrag wees as daardie munisipaliteite se inwoners hul slegte skuld delg, inteendeel.   Soweto en ander stede, wat nie betaal nie kan nie elke keer protesaksies hou, hul speelgoed uit die kot gooi of afbrand en dink ons betalers moet vir hulle misbruike of wanbetalers betaal nie. 
Indien niemand betaal nie, sal Eskom ook nie kan bestaan nie.   Dit het nog nooit so gewerk nie.   Maak gebruik van gas en ander energie wat moontlik goedkoper is, sodoende spaar elke huishouding.
Hou maar gerus optogte – maar betaal die rekeninge van Eskom, betaal die kraggebruik, niks is gratis nie en niks is net R100 nie.
*
A march from Uncle Tom's Hall to the Diepkloof Eskom offices was underway in Soweto while hordes of ANC affiliates marched to the Eskom offices to hand over a memorandum of demands.   You can demand as you wish.  Nothing is for free then we all want our electricity also for R100 per month.   Everybody is running around in an ANC t-shirt and the best clothes.
*

When Soweto, all the other municipalities and immigrants around our cities who do not steal such power do not pay, it is only fair that their power is permanently cut off to their pay. Why should we, taxpayers pay those who steal on a daily basis?

Load shedding is not only due to corruption, many municipalities do not pay their Eskom bills, but the residents use it free of charge and other stealing from lamp posts, which is theft and sabotage the whole system.   They also bypass their systems to use electricity for free.

Every resident contributes to increasing electricity if they do not pay for their electricity and demand it for free. If all debts are settled and everyone contributes, each of us will pay less for electricity and even water. Everything is sabotaged and then we all pay the more expensive prices. Then there will also be less load shedding if those municipalities pay their bad debts, on the contrary. Soweto and other cities that do not pay cannot hold protest actions every time, throw or burn their toys and think our payers should pay for their abuses or defaulters. If no one pays, Eskom won't be able to exist either. It has never worked that way. Make use of gas and other energy that may be cheaper, thus saving every household.

*

Makhubo was speaking to Thabiso Kotane on POWER Perspective about the situation in Soweto.

The City of Johannesburg mayor Geoff Makhubo has called on all Johannesburg residents to pay for the state services.    His call comes as most residents in Soweto have been experiencing power cuts. The state-owned power utility has been cutting off electricity to non-paying residents of Soweto as well as those who tamper with their meters.  Soweto owes the power utility almost R20 billion. Eskom wants Soweto residents to start paying for electricity.    They have used those electricity – what is the problem  – when I did not pay my rates and taxes they cut off my water and can not get any electricity or enough water until I have paid my rates and taxes.    Soweto and all other municipalities must learn, nothing is for free, we all pay.

"Let's divide the issues of Eskom. The first is the historical debt of Soweto, the so-called R17 billion. The government of the ANC nationally has to take a decision on what they do with that debt," says Makhubo.

(It is impossible to have a historical debt – the "so-called R17 billion.    If they used those electricity, they are responsible for that debt.)

"The Eskom infrastructure in Soweto is old. The poles are falling. It's how then do we upgrade that infrastructure to give us a reliable supply of electricity."

(When the protest took place, there was no pole falling or in the streets.)

Makhubo has questioned the reason behind the nonpayment culture of state services.

"I find it very funny that people pay for the satellite TV every month but they don't pay for electricity that enables the satellite to come to their house. I just don't understand it."

"Please, pay for the services that you use. People play lotto, pay dstv, people go to Orlando Stadium to watch Orlando Pirates and Kaizer Chiefs. They pay. They take themselves there."

He also encouraged residents to do away with littering. The mayor says people must work with the government to ensure their places remain clean.

"Everyone should look after the environment. We were in Diepsloot with general [Bheki] Cele. We found next to the taxi rank illegal dumping. We asked the community what is the issue?

"We want to involve every single person to clean their environment. We are focusing in all areas. To us, all the 135 wards of Johannesburg are important."

ANC government must deal with Eskom and Soweto historical debt: Geoff Makhubo

*

Soweto residents' R100 proposal is 'no solution' for R19bn debt

If you want to pay R100 – you only get that amount of electricity.   Pay your usage!   All of us pay ours.    NOTHING IS FOR FREE

The proposal by Soweto residents to pay a flat R100 fee for electricity is not the solution to the spiralling electricity debt of R19 billion that the country's largest township owes power utility Eskom.

The association has undertaken to go after defaulting consumers including government departments who owe municipalities R10.3bn.

According to the roadmap on Eskom recently released by Public Enterprises Minister Pravin Gordhan, Soweto residents owed the power utility about R19bn of the R36.5bn debt incurred by municipalities and individual users by the end of June.

Gordhan has warned that municipal and Soweto debt arrears to Eskom were increasing steadily and the state-owned power generator was not generating sufficient cash to cover debt service costs.

"Eskom has suffered serious financial losses as a result of non-payment of electricity accounts by certain municipalities and many Soweto residents," states the roadmap.

At the end of March this year, Eskom's long-term debt stood at R441bn, up from R255bn in 2014 and over the next five years interest payments of approximately R148bn and debt repayments of R180bn are anticipated.

Consumers in eThekwini owe over R11.6bn while Cape Town residents are more than R8.7bn in debt for municipal services.

With the help of the Lungelo Lethu Human Rights Foundation, 250 Soweto households whose electricity has been cut off, want to negotiate with Eskom over the next 18 to 24 months to discuss the flat rate of R100 for energy consumption.

The organisation wants to kill the culture of non-payment of services fostered by apartheid-era consumer boycotts.

Eskom, however, indicated that it could not negotiate separate tariffs or have preferential arrangements outside of prices regulated by the National Energy Regulator of SA.

https://www.iol.co.za/news/politics/soweto-residents-r100-proposal-is-no-solution-for-r19bn-debt-salga-36919513
*

Eskom hits back at Soweto Shutdown protesters: You owe R18bn for electricity –

ESKOM – WHY MUST THE OTHER CITIZENS PAY FOR SOWETO AND THOSE NON PAYERS?

Eskom came out guns blazing, saying Soweto currently owes Eskom R18-billion despite the fact that they scrapped the township's debt twice in the past with an agreement that customers will start paying.   That, however, has not yielded the desired results hence the huge debt, Eskom said.   "We have however agreed to park the debt for those customers on split pre-paid meters on condition that they are loyal in purchasing electricity from Eskom vendors and not bypassing the meters for a period of 36 months."

Eskom also said the government also provides free electricity to indigent people but that was a process administered by municipalities who uses their own criteria to identify deserving customers.   "In the case of Soweto, the City of Johannesburg administers this process.  Customers are encouraged to partake so they can benefit as this will alleviate pressure."  Ngwane also accused Eskom of loadshedding Soweto frequently and longer than other areas as a form of punishment for their debt, something that the power utility denies.   According to Eskom, load shedding follows a schedule on the power utility's website. However, sometimes power outages occur due to network faults, vandalism and theft of infrastructure outside load shedding, the power utility said.

Eskom also said they have over the years  tried to disconnect those who are not paying but that became unsafe for their staff as some residents resisted that effort.

"We have customers who are honouring their payments on monthly basis however most are not.    "In some cases, those that we managed to disconnect simply reconnected themselves and unfortunately this meant they had to be billed for their consumption and since it was not paid, it also accumulated interest.     "Eskom is however still disconnecting all customers found to have bypassed and bridged meters as well as illegal connections.

"It is to be noted that there has been numerous interventions supported by the Department of Public Enterprises in the past yielding no positive results on the growing debt.  We are currently converting post-paid meters to prepaid as mentioned above in order to stop the debt from growing further."    The Shutdown of Soweto that the Movement had planned on Tuesday in response to their displeasure with Eskom, however, failed to take off.   In one instance, the South African Police Services and Joburg Metro Police fired rubber bullets and teargas to disperse a group of about 30 protesters who were trying to block an intersection in Orlando.

https://www.iol.co.za/the-star/news/eskom-hits-back-at-soweto-shutdown-protesters-you-owe-r18bn-for-electricity-43431108
*
Onwettige konneksies van elektrisiteit is regdeur die land te sien, maar veral in die informele sektor.   Persone weet hoe om te konnekteer maar dis onveilig en dit kos elkeen van ons om dit wat gesteel word, weer te vervang met nog meer om te steel.   Inderwaarheid is hulle niks anders as kriminele en misdadigers nie, omdat daar baie nie sal krag steel nie.  Winkeldiefstal is identies dit, steel jy, is jy 'n misdadiger.
Eskom – Soweto – onwettige elektrisiteit
There are millions and millions of illegals and immigrants in the country.
The looting in Soweto is believed to be backlash from the SAPS raids for counterfeit goods in the Johannesburg CBD that started two weeks ago.   Gauteng member of the executive council (MEC) for economic development and agriculture Kgosientsho Ramokgopa made a trip to Soweto following the looting of business owned by Foreign nationals.
*
Soweto is not the only one that do not pay their Electrical bills.  Eskom has predicted it will lose R21 billion after tax in this financial year – yet it has written off R3.6 billion of the spiralling debt owed by Soweto.   Despite the write-off, the cumulative debt of power users in Soweto is R16.1 billion.
Eskom – Soweto – R3.6 bn – ander wanbetalers