Dr Motsepe is the founder and Executive Chairman of African Rainbow Minerals (ARM). He is also the founder and Chairman of Ubuntu-Botho Investments, African Rainbow Capital (ARC), African Rainbow Energy and Power (AREP) and is the Chairman of Harmony.  Dr Motsepe was a partner in one of the largest law firms in South Africa, Bowman Gilfillan Inc. He was a visiting attorney in the USA with the law firm McGuire Woods Battle and Boothe.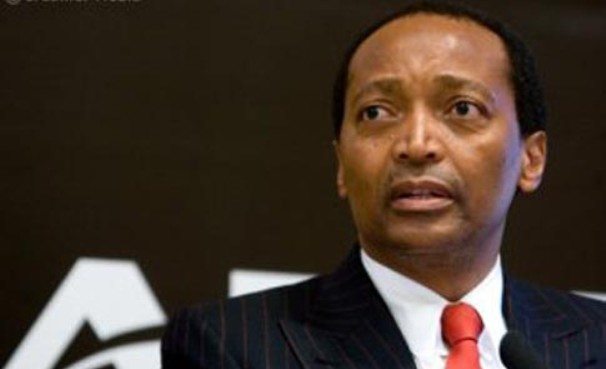 READ ALSO
Eskom Swart Bemagtiging (B-BBEE)
Strangled Eskom "PYRAMID SCHEMES"
Eskom, Nersa, Salga and Municipalities
***
FROM SANLAM:
Dr Motsepe has been a member of the Board of directors since 2004. He is a non-executive director and is a member of the Nominations and Human Resources committees. He is an expert in governance, law, compliance, as well as general and international business.
In 2002, Dr Motsepe was voted South Africa's Business Leader of the Year by the chief executive officers of the top 100 companies in South Africa. In the same year, he was the winner of the Ernst & Young Best Entrepreneur of the Year Award.
Dr Motsepe is a member of the International Business Council (IBC) of the World Economic Forum, which is made up of 100 of the most highly respected and influential chief executives from all industries. He is also a member of the Harvard Global Advisory Council and the International Council on Mining and Metals (ICMM).
Dr Motsepe is a recipient of numerous other business and leadership awards and recognitions including:
World Economic Forum Global Leader of Tomorrow, 1999;
Afrikaanse Handelsinstituut, MS Louw Award for Exceptional Business Achievement, 2003;
South African Jewish Report, Special Board Members Award for Outstanding Achievement, 2004;
African Business Roundtable, USA, Entrepreneur and Freedom of Trade Award, 2009;
McGuire Woods Outstanding Alumnus Awards, 2009;
BRICS (Brazil, Russia, India, China, South Africa) Business Council, Outstanding Leadership Award, 2014;
Harvard University Veritas Award for Excellence in Global Business and Philanthropy, 2014;
Forbes Magazine, "100 Greatest Living Business Minds", 2017; and
Sunday Times Lifetime Achiever Award, 2017.
In January 2013, Dr Motsepe and his wife, Precious, joined the Giving Pledge, which was started by Warren Buffett and Bill and Melinda Gates.
Dr Motsepe committed to give half of the wealth of the Motsepe family to benefit the poor and to be used for other philanthropic purposes both during and after the lifetimes of himself and his wife.
Dr Motsepe has the following qualifications: BA (Legal) (UNISWA), LLB (Wits), Doctorate of Commerce (Honoris Causa) (Wits), Doctor of Management and Commerce (Honorius Causa) (Fort Hare).
***
Patrice Motsepe  Professional Positions
2006 – Present: Non Executive Director of Sanlam Life Insurance Limited.
2004 – Present: Deputy Chair of SANLAM Ltd.
2004 – Present: Executive Chair, African Rainbow Minerals Ltd.
2004 – Present: Non Executive Director of Absa Bank Limited.
2004: Non Executive Director of Barclays Africa Group Limited.
2003 – Present: Non Executive Chair of Harmony Gold Mining Company Limited.
1997 – Present: Chair of Naledi Mining.
1995 – Present: Chair of Future Mining.
1995 – Present: President and Owner of Mamelodi Sundowns Football Club.
1995 – Present: Chair of TEAL Exploration and Mining Incorporated.
1995 – Present: Director of African Fashion International.
1995 – 1996: Partner of Bowman Gilfillan Attorneys.
1994 – 1995: Associate partner at Bowman Gilfillan Attorneys.
***
In 1997, he purchased marginal gold mines from AngloGold under favourable finance terms. AngloGold sold Motsepe six gold mine shafts for $7,7 million allowing him to repay the debt out of the future earnings of the company now known as African Rainbow Minerals.
***
In 2013 he purchased a house in the exclusive suburb of Bishops court in Cape Town for R69 million. The grand home, om a plot of 12000m², first hit the market for R98 million in 2011. In 2013 the European owner needed an urgent sale and slashed the price by R20 million.
***
The Motsepe family, was the first family on the African continent to join The Giving Pledge, started by Bill Gates and Warren Buffet, and pledged half of the funds generated by their family assets to the poor.
The Motsepe Foundation has contributed to global health research into developing a cure for HIV/AIDS, the donation was given to the RED campaign, an initiative founded by renowned activist and Musician Bono. The Motsepe Foundation has also made contributions to cancer research; as well as to wildlife, nature conservation and environmental protection.
On the African Continent, the Motsepe Foundation recently contributed to the global fight against Ebola, making a contribution of US$1m to the affected countries and another contribution of US$1m to the African Union directly.
In South Africa, the Motsepe Foundation has allocated US$50 million for sustainable projects that will benefit the poor and needy in various fields. This is done through 5 key pillars or focus areas.
***
TymeBank, which Patrice Motsepe's African Rainbow Capital bought from the Commonwealth Bank of Australia in August, has unveiled its first set of products, centred on a transactional bank account, called EveryDay, with no monthly fees. This is a first in the South African market.
It began signing up clients for its new digital bank earlier this month and says "the money we save by not having branches benefits" customers, as "it allows us to charge you a lot less for your banking services. Which means no monthly fees, many day-to-day banking transactions are free and low charges for other transactions."
The catch – for now – is that this is TymeBank's soft launch and there are currently only six kiosks where you can open an account (at Pick n Pay stores in Rosebank, Kensington, Bedfordview and Kenilworth, and Boxer outlets in Alexandra and West Street, Durban).
However, the bank says it continues to roll out kiosks and will eventually have in excess of 700. These kiosks are Wi-Fi hotspots, allowing customers to download the TymeBank app for free.
https://citizen.co.za/business/2036085/patrice-motsepes-bank-disrupts-market-with-a-free-transactional-account/
***
2015 – Africa
***
2018
***
MALEMA – 2018 – PATRICE MOTSEPE
***
EFF – Reveals Why Patrice Motsepe Is Rich Must Watch