The mass gatherings outside Zuma's home have left ordinary South Africans furious, with many asking why police allowed so many people to break lockdown regulations.   Many of  the supporters were seen not wearing masks with very little social distancing being observed outside his KwaDakudunuse homestead.     Zuma addressed the media from his homestead, where he criticised a Constitutional Court judgement that sentenced him to a 15-month jail term for being in contempt of court, referring to it as unjust.
Niks verbaas mens meer dat Zuma die huidige kommunistiese stelsel en die Grondwetuitspraak gelyk aan die van die sogenaamde apartheid.   Apartheid kry steeds die blaam vir alles rondom hom en sy kaders.   Zuma het mos geleentheid gehad om te getuig voor die Zondo kommissie wat hy aangestel het, niemand anders nie.   

Die twee is nie vergelykbaar met mekaar nie, net soos appels nie lemoene of koejawels is nie.  Daar is geen teken van 'n vorige regering al vir bykans 30 jaar nie, tog staan hy en sy ondersteuners stil by 'n toegemaakte venster.  Onder Zuma se bewind het Trust en CPA (grondeise) floreer, en heelwat swart en khoi san bly al van voor 1990 in die aparte gebiede en dit het nooit verander nie.   Dit is nie die virus se skuld dat hy nie die kommissie wou bywoon nie, hy het dit self besluit.

Duidelik het van die optoggangers (betogers) nie ooghare of liefde vir Ramaphosa nie.

https://sp.rmbl.ws/s8/2/h/a/u/8/hau8b.caa.mp4?b=1&u=qnnu



The insulting of Ramaphosa, using Zulu expletives, happened around 11am on Sunday while one of Zuma's sons, Duduzane, the twin brother of Duduzile, was doing a live interview with the media. 
While all was going well, Duduzane then granted the media an interview. As he spoke, some of the supporters around him started uttering slogans insulting Ramaphosa and calling him derogatory names. Not spared from the insults was Sihle Zikalala, the provincial chairperson of the ANC in KwaZulu-Natal. 
The media were not spared either and were forced to end the interview with Duduzane.    Just when the situation was stabilising after Duduzane went inside the home, some unruly Zuma supporters started firing their guns in the air. The firing of the guns was heard in at least three different locations outside the home and it appeared that the illegal acts were co-ordinated. 
By 1pm on Sunday, about 4 000 people and about 150 cars had convened in the area.
https://www.iol.co.za/news/politics/watch-jacob-zuma-supporters-insult-ramaphosa-while-marching-with-duduzane-819dfdef-532b-4216-aada-66ca0613efe6
*

https://ewn.co.za/2021/07/05/cele-defends-police-inaction-as-zuma-supporters-flouted-covid-rules-in-nkandla
Zuma was found guilty of contempt by the constitutional court last week – he had until yesterday to hand himself in – failing which the police had three days to effect arrest. 
The former leader also said in spite of his age and ill health, all he sought was justice – arguing that he was not given a chance to air his side even though he refused to participate in Constitutional Court processes hearing the matter, instead opting to write open letters to the chief justice.
Former President Jacob Zuma has described his 15 months jail sentence from the Constitutional Court as a travesty to justice, comparing the courts in democratic South Africa to those in the apartheid era.   He has complained about the level 4 lockdown regulations comparing them to the state of emergency and expressed concerns over the country sliding into an apartheid-type rule.   He also shared some of his concerns should he go to jail: "Sending me to jail during the height of a pandemic at my age, is the same as sentencing me to death."

https://ewn.co.za/2021/07/05/an-angry-judiciary-zuma-likens-democratic-courts-to-those-under-apartheid-era/
*
*
Buthelezi – Zuma and Nkandla
Political and Coronavirus
Prince Mangosuthu Buthelezi, in his capacity as an elder statesman, is addressing the media on what is transpiring in Nkandla, around former president Jacob Zuma.
https://www.youtube.com/watch?v=DUGhe0d0DyQ
*

When one watches the people congregating at Nkandla, there is barely a face mask in sight. They are jeopardising their lives, and the lives of every one of us in whose midst they are living. That is the greatest irresponsibility of all," he said.
Inkosi Mangosuthu Buthelezi has lashed out at the supporters of former president Jacob Zuma, saying their week-long behaviour in Nkandla was treasonous and made a mockery of the Zulu nation.
Buthelezi, while addressing an impromptu press conference in Ulundi, northern KwaZulu-Natal, and speaking as an "elder", said that although he sympathised with Zuma and his family as he faced difficult times emanating from his Constitutional Court sentence, which earned him 15 months in prison, any lawyer would have known the consequences awaiting the former president if he refused to comply with the Constitutional Court's order to appear at the State Capture Commission.
https://www.iol.co.za/news/politics/watch-buthelezi-lashes-out-at-zuma-supporters-behaviour-in-nkandla-says-mgilija-nhleko-no-commander-of-zulu-regiments-4ab59fc6-8568-4f6c-a511-9906b7b8923c
*
*
*
*
Wie as burger, het al tevore 5 dae kennis gekry om hulle by die polisie aan te meld vir 'n vonnis – niemand nie – waarom word Zuma uitgesonder.  Indien iemand skuldig is soos wat Zuma is, is hul dadelik weggeneem en gevonnis.   Dis nie die land se mense wat die vonnis oor Zuma uitgespreek het nie en was ook nie die Grondwethof wat Zuma nie geforseer het om Zondo kommissie by te woon.   Zuma het self gekies en dit geweier.   
Hy is dit alles aan homself te danke – Zondo is destyds deur Zuma aangestel in die kommissie.
*
It was said the police will release a statement detailing progress of the police's work on the matter. When asked when the statement would be released, he did not provide much detail.
Zuma was sentenced to 15 months in prison by the Constitutional Court on Tuesday.  He was ordered to hand himself over to the police within five days to begin his sentence, failure of which will force Cele and the National Police Commissioner Lieutenant General Khehla Sithole to force the arrest.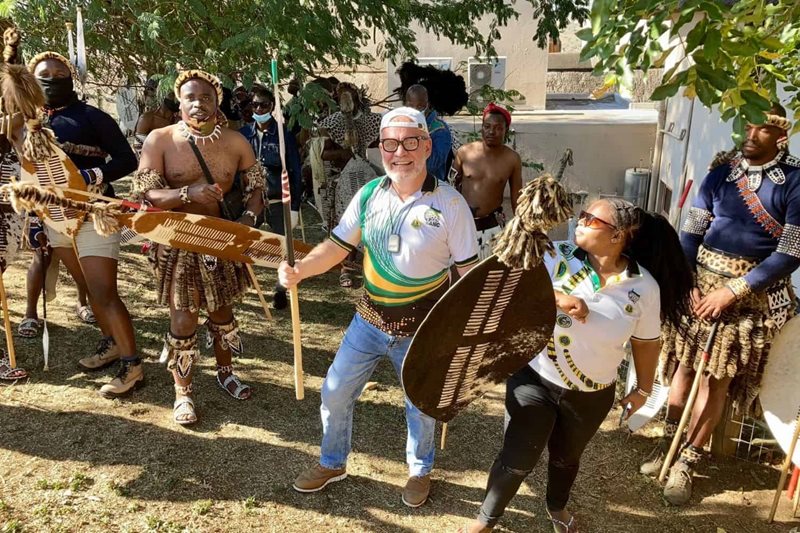 The Nkandla storm – a virus and political storm
Speak about the conflict in the ANC.
The ANC in KwaZulu-Natal says it hopes that the Constitutional Court will consider the arguments that former president Jacob Zuma has put forward in an application to rescind his impending arrest for contempt of court. KwaZulu-Natal ANC chairperson, Sihle Zikalala, and provincial secretary, Mdumiseni Ntuli, held a meeting with Zuma at his Nkandla residence. A large number of Zuma's supporters have continued to gather outside Zuma's home, to pledge solidarity with the former president. Suspended ANC secretary-general, Ace Magashule, was among those who visited Zuma. Earlier, the ANC cancelled its National Executive Meeting that had been scheduled for the weekend, and opted instead, to deploy some NEC members to KZN to work with the provincial officials as an intervention to the on-going impasse with its former president…. To help us unpack some of these political developments, we are now joined by Political Analyst Gogo Aubrey Matshiqi.
*
*

Gupta – Denel – Ramaphosa – CPA's

Zondo Commission – Zuma – 2021

Zondo – Guptas – Duduzane Zuma

ANC, MK, Zuma and their struggle

Zuma – 17 May 2021

"Hands off Zuma"

Zuma – sage

Zuma and Zondo