Afgesien van heelwat miljoenêrs en biljoenêrs wat na 1994 ontstaan het, is daar diegene wat nog meer ryker is, wat opgang gemaak het in 27 jaar. Heelwat kom nie slegs uit die blanke volk soos wat beweer word nie.  (Nie net blanke kapitaal nie).  Die rykes bevat alle rasse.   Indien na die agtergrond, vanne sowel as tipe besighede gekyk word, sowel as waarvandaan, is dit heelwat uit minerale afkomstig en veral as gevolg van swart bemagtiging aandele en byvoordele.  Elkeen het ook 'n geskiedenis in die land, wat vorige geslagte hierby insluit.   As daar na die opsommings gekyk word, lyk dit nie of Suid-Afrika in so 'n swak toestand is as wat daar voorgegee word nie.   
*
Black millionaires

Black billionaires and millionaires – SA
29 000 millionaire civil servants


*

Forbes 2021

According to the latest Forbes rich list, the fortunes of five prominent South African businessmen reached dizzying heights during a pandemic that otherwise impoverished millions and put livelihoods at risk.
The 2021 Forbes annual billionaires list includes a record-breaking 2,755 billionaires, with the plutocrats bringing a combined fortune of $13.1-trillion (about R188.7-trillion at the time of writing), up from $8-trillion on the 2020 list. About 493 people joined the rich list – roughly, one new billionaire was added every 17 hours.  
Among local billionaires, the highest on the list is Nicky Oppenheimer, whose family fortune was generated mostly from investments in diamond firm De Beers and mining group Anglo American. Oppenheimer is the front-runner among South Africans, with a net worth of $8-billion (R114.2-billion) in 2021, up from $7.4-billion in 2020. He is followed by Johann Rupert, the chair of Swiss luxury goods firm Richemont, who has a fortune of $7.1-billion (R101.4-billion), up from $4.6-billion.
Others on the Forbes list are the chairperson of global media group Naspers, Koos Bekker, with a net worth of $3-billion (R42.8-billion), up from $2-billion; the founder of mining and minerals company African Rainbow Minerals, Patrice Motsepe, who has a fortune of $2.9-billion (R41.3-billion), up from $1.4-billion; and Capitec Bank founder Michiel le Roux, who re-entered the rich list with a net worth of $1.1-billion (R15.6-billion).
Their combined fortune is worth R315-billion, equivalent to about 60% of Eskom's total debt, which is nearing R500-billion. Put differently, their fortune could help alleviate debt pressures at Eskom, the struggles of which are the biggest threat to SA's economy.
ONLY BLACK ECONOMIC EMPOWERMENT (B-BBEE)

Not to any Whites (only B-BBEE)

Although the rich got spectacularly richer during the pandemic, some did humanitarian good with their wealth. For example, the Oppenheimer, Rupert and Motsepe families each pledged R1-billion to help financially distressed small businesses get through the pandemic. And, through their respective companies, the billionaires are big job creators. As Paul Theron, CEO of Vestact, a company that specialises in stock market investing on behalf of private clients, put it: "The more billionaires, the better."

https://www.dailymaverick.co.za/article/2021-04-18-forbes-2021-billionaires-list-during-the-pandemic-the-very-rich-got-very-much-richer-even-in-south-africa/


*
South Africa is a land filled with innovative business minds aggressively climbing up the successful billionaires' ladder and making use of every opportunity they get. The chase for success has seen the wealthiest South African families become lead philanthropists and inventors of their time. 
*

Father-son duo, Anton and Johann Rupert both featured on the Forbes list of billionaires in their own eras. Anton started building his family's legacy from selling cigarettes in his garage to building the tobacco and industrial compound. Johann sits as Chairman of Swiss luxury goods firm Compagnie Financiere Richemont. The family was ranked as the second-richest in South Africa on the 2020 Forbes list, with a fortune reported as US$5.4 billion. 

Networth:  R131 billion

related

Broederbond aka Afrikanerbond

REDDINGSDAADBOND (1940)
Afrikanerbond – Afrikaner-Broederbond in SA
Sabido – Remgro – Rupert
Remgro – B-BSEB-B-BBEE
*

The infamous Oppenheimer's are known as the billionaire family that made a fortune from mining and diamonds. It all started in 1917 when Sir Ernest Oppenheimer, a mining entrepreneur founded the Anglo-American Corporation of South Africa and became Chairman of the De Beers diamond company in 1929. His son Harry went on to lead both the Anglo-American Corporation and De Beers Consolidated Mines as Chairman. 
Networth: R109 billion
Source of wealth: Diamonds and mining

Gold and Diamonds – South Africa

*

Founder of African Rainbow Minerals, Patrice Motsepe, became a billionaire in 2008 as the first black African on the Forbes list. In 2020 Forbes also ranked Motsepe as the 1,307th wealthiest person in the world with a fortune of US$2.1 billion. His sister Bridget Radebe is also an affluent businesswoman and recognised as one of Africa's first black female mine owners. 
Net worth: R46.47 billion
Source of wealth: Mining

RELATED
Eskom – Ramaphosa-Radebe-Motsepe
Sanlam – Motsepe – Ubuntu-Botho – B-BBEE
Eskom>AREP>IPP – Ramaphosa>Motsepe>Radebe


*

Douw Steyn and his family remain the wealthiest people in the UK's insurance industry. Steyn founded the BGL Group, a UK-based insurance and financial services company in 1992. In 2020 the Steyn Family pledged R320 millon to assist with Covid19 relief efforts in South Africa. 
Net worth: R16.74 billion
Source of wealth: Insurance

*
Manfred Gorvy founded Hanover Acceptances, a property and financial investment company based in London that. His wife Lydia R. Gorvy served on the Board of Directors of Hanover Acceptances since 1991. A lecture theatre at the Victoria and Albert Museum in London was renamed 'The Lydia and Manfred Gorvy Lecture Theatre' in honour of the couples great strides in their careers.
Net worth: R17. 72 billion
Source of wealth: Property and food

*
This family's wealth has been built since the 1950's. It started with founder of South African insurer Liberty Life, The late Sir Donald Gordon who was a South African-born insurance and shopping-mall tycoon. He was also behind the development of Sandton City, Africa's most iconic shopping centre.
Networth: R11.6 billion
Source of wealth: Insurance and property

*


Raymond Ackerman is a South African businessman known for purchasing the Pick 'n Pay supermarket group from its founders. The big giant business is run as a family with Raymond's wife Wendy and his four children, all at the forefront of the business in their eras. Both Wendy and Raymond have assisted in driving change, growth, vision and innovation within the african retail sector.
Net worth: R7 billion
Source of wealth: Retail

*
The Tabatznik family fortune is led by their involvement in the pharmaceutical industry. Tony Tabatznik ran his family's business, Stevenage firm Arrow Generics, which specialises in sterile products and respiratory drugs. The family struck gold when he sold Arrow Generics for R25 billion to a US drug company in 2009.
Net worth: R9.3 billion
Source of wealth: Pharmaceuticals

*
Most of Nathan Kirsh's fortune comes from his 75% stakes in Jetro Holdings, which operates more than 100 cash-and-carry stores and restaurant depots in America. His son Philip Kirsh, a businessman himself paired up with his sister Linda Mirels to purchase four apartments in Trump Tower, New York with a combined value of $56 million.
Net worth: R65.78 billion
Source of wealth: Cash and carry, property and investment

Ultra-rich South Africans
Nathan Kirsh


https://swisherpost.co.za/lifestyle/wealthiest-south-african-billionaire-famillies/

*

WOMEN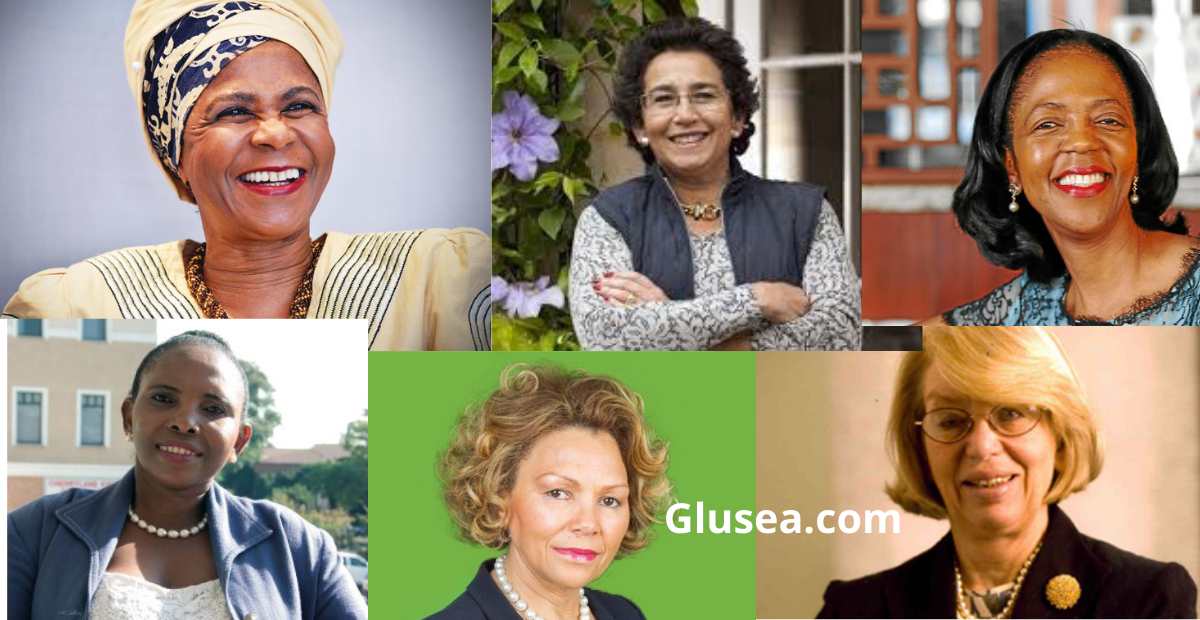 List of the richest women in South Africa
Wendy Appelbaum – R2. 6 billion. …
Bridgette Radebe – R1 billion..
Sharon Wapnick – R433 million. …
Elizabeth Bradley – R332 million. …
Judy Dlamini – R124 million. …
Nonhlanhla Mjoli-Mncube – R94 million. …
Mamphela Ramphele – R55 million. …
Christine Ramon – R49,67 million.

https://www.glusea.com/top-10-richest-women-in-south-africa/


RELATED

Ramphele works for Soros – OSF.SA

She is also involved with other organisations:
ABN en Dinokeng

George Soros – OSF.SA – FW stigting – Grondeise: 1994