Die lede van parlement is nie al uitgawe wat uit die staatskas kom nie –  daar is baie meer wat nie saamgevoeg word nie.   Alles onder die "grondwet" en "wettig".       We as a small white community, included Afrikaners and Boers are not part of them.   Were not part of them.  Ramaphosa always speak of their own people.   There was a White paper and different agreements since Codesa regarding this ethnic groups of different peoples.   They are still  living on homelands (now called Trustlands) and landclaims (CPA's) (communal lands).   None of them are "landless".   There were thousands of landclaims since 1994 – it is in Hansards as well.  ALL gameparks (sanpark) belong to government.  Government bought food productive 5000++ farms since 1994 with TAX money – what happened with this "land reform and productive farms"?  Mining – all mining permits came from the current government – there are more than 8000 old mines that never received any attention for rehabilitation –  Land that belongs to whom?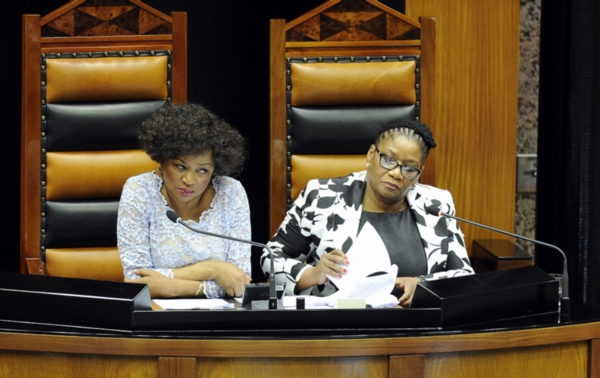 ***
President Cyril Ramaphosa has announced his new cabinet, trimming the number of ministries from 36 to 28.
The reappointment of finance minister Tito Mboweni and minister of public enterprises Pravin Gordhan has been positively received by the market, with Ramaphosa also ditching controversial figures such as Nomvula Mokonyane and Bathabile Dlamini.
However, Ramaphosa also surprised with a number of appointments – including GOOD party leader Patricia De Lille who has been named minister of Public Works and Infrastructure.
Questions will also be raised as to whether Ramphosa has done enough in reforming the size of his cabinet, with certain departments now boasting two deputy ministers.
While the number of departments was reduced to 28, the actual cabinet was only reduced by 8 people.
The new cabinet will now be made up of 64 members (from 72 before) – including president Ramaphosa, deputy president David Mabuza, 28 ministers and 34 deputies.
These extra deputies will come at a cost for South African taxpayers as they are scheduled to receive R1,977,795 each in the 2018/19 financial year.
Ramaphosa's new ministers are slated to earn R2,401,633 while returning deputy president David Mabuza is set to earn R2,825,470.
For comparison purposes, a normal member of the National Assembly (MP) will earn R1,106,940, while the leader of a minority party will earn R1,309,563.
Had the cabinet been kept the same (at 72 members, with 36 ministers and 34 deputies) the total cost – excluding the president – would have come to R156.5 million – thus Ramaphosa's reduced cabinet only saved the country R19.2 million.
Benefits
Ramaphosa's new cabinet will also be entitled to a number of benefits as included in the ministerial handbook.
While the handbook's contents are a closely guarded secret, AfricaCheck reports that some of the major perks include:
Private cars – Members of cabinet get 25% of their salary towards a private vehicle, its running and maintenance as well as comprehensive insurance;
Official vehicles – Ministers (and deputy ministers) are allowed to purchase one car for official use in Pretoria as well as one in Cape Town. The value of each vehicle cannot be more than 70% of their salary;
Accommodation – Cabinet members can live free of charge in one state-owned residence in the capital of their choice. If they want to move into a second state-owned house for official purposes they must pay a 'market related' rent;
Travel – Cabinet members and their spouses may book first class tickets for official international journeys. They are also both entitled to 30 single business class flights per year within South Africa. Dependent children get six single economy class flights per year;
Other expenses – A cabinet members' department can pay for all "reasonable" out-of-pocket expenses ("including gratuities and reading material, but excluding alcoholic beverages not consumed with a meal") connected with the subsistence of the members, their spouses as well as family members who need to accompany them when travelling. Slips only need to be supplied "if at all possible".
***
https://citizen.co.za/news/south-africa/government/2136686/how-much-do-south-african-mps-earn/
Both the speaker of the National Assembly and the chairperson of the NCOP will earn R2,825,470 in the 2018/19 financial year.
You'd be forgiven for wondering how much work gets done in South Africa's parliament, given the media attention its members get for either brawling or sleeping on the job.
Economic Freedom Fighters (EFF) MPs get much of the attention, with their role as parliament's nap prefects. It started when one of their MPs accused international relations minister Maite Nkoana Mashabane of sleeping during an April 2016 debate on the impeachment of then-president Jacob Zuma.
A month later, EFF MPs again made headlines after parliament's security ejected them from the chamber and their leader, Julius Malema, vowed never to let Zuma talk in parliament in peace again.
MPs are paid – handsomely – to represent the public in parliament, out of money the government gets from taxpayers.
In this factsheet, Africa Check looks at how much South Africa's MPs earn and what they actually do. We also try to identify the hardest-working MPs, using the available data.
What do MPs earn?
National Assembly speaker and National Council of Provinces chairs
The highest-paid MPs are the speaker of the National Assembly and the chairperson of the National Council of Provinces (NCOP).
Those positions are currently held by Thandi Modise and Amos Masondo. Both are members of the ruling African National Congress (ANC).
The government gazette shows that both will earn R2,825,470 in the 2018/19 financial year. That works out to R235,455 a month.
Their salaries are the same as the deputy president's, an indication of their seniority. They also earn more than cabinet ministers, who get R2,401,633 a year – or R200,136 a month.
National Assembly deputy speaker
The next highest-paid MP is the National Assembly's deputy speaker, who earns R1,977,795 a year – the same as a deputy cabinet minister. This works out to R164,816 a month. Lechesa Tsenoli is the deputy speaker.
House chair
The house chairperson is next on the pay scale. It's currently Sylvia Lucas, who earns R1,882,488 a year.
Senior MPs
After the house chair comes a group of senior MPs – the chief whip of the majority party, the chief whip of the NCOP, and the parliamentary council president and deputy president – who earn R1,600,467 a year. The leader of the opposition, currently Mmusi Maimane of the Democratic Alliance, is also in this group. Their monthly salary works out at R133,372.
Committee chairs
MPs who chair parliamentary committees earn R1,405,015 a year, or R121,251 per month.
Minority party leaders
Leaders of minority parties, such as Mangosuthu Buthelezi of the Inkatha Freedom Party and Bantu Holomisa of the United Democratic Movement, earn R1,309,563 a year or R109,130 a month.
Regular MPs
The lowest salary an MP in the national assembly or NCOP earns is R1,106,940 a year, or R92,245 a month.
What benefits do MPs receive?
We asked parliament what benefits MPs receive other than the salaries listed in the government gazette.
MPs also get "facilities", parliamentary spokesperson Moloto Mothapo told Africa Check. These are the costs for:
88 single journeys a year (by air, train, bus or car)
Daily commuting
Travel to and from airports
Parking at airports
Relocation
Travel for their dependants
Tools of trade, including a cellphone, tablet, and laptop
Equipment and furniture for their offices
Stationery
Personal accident insurance
Accommodation in parliamentary villages (three complexes in Cape Town that house MPs when parliament is in session)
Transport from the villages to parliament
The facilities are provided to "enable members to perform their duties as elected public representatives", Mothapo said. But the details of what's included in these facilities are not available. "They are published in a handbook distributed to members of the national assembly and permanent delegates of the NCOP."
MPs get annual salary increases based on recommendations by the Independent Commission for the Remuneration of Public Office Bearers and benchmarked on forecasts of average annual inflation. The commission recommended a 4% salary increase for MPs for the 2018/19 financial year.
But President Cyril Ramaphosa decided not to follow the commission's recommendations, announcing a freeze on increases for 2018/19. A December 2018 government gazette confirms that MPs will get the same salaries they received in 2017/18.
How do MPs earn their salaries?
The job of MPs is, in short, to make laws, enable public involvement by "providing a national forum for public consideration of issues", and oversee the work of the executive, such as cabinet ministers.
Ministers are accountable, collectively and individually, to parliament. They have to "provide parliament with full and regular reports concerning matters under their control", according to the constitution.
An MP can be either a member of the National Assembly or NCOP. The NCOP's members make sure the national government takes the province's interests into account, according to parliament's website.
MPs' work is divided into parliamentary sessions and constituency periods.
In constituency periods MPs must be available to the people they represent, reporting back on what is happening in parliament and the like.
An Africa Check analysis of the 2018 parliamentary programme reveals that 30% of the year's working days are allocated to constituency duties.
When they are in parliament, MPs attend:
Plenary groups. All the members of a house, either the National Assembly or the NCOP, meet in one group. They debate recommendations made by committees and take final decisions.
Joint sittings. Members of both the National Assembly and NCOP meet in one group for proceedings such as the president's state of the nation address and the finance minister's budget presentation.
In the 2017/18 financial year, more than 1,600 committee meetings were held and parliament passed 18 bills. National Assembly MPs asked 5,719 questions of the president and cabinet ministers, while NCOP MPs asked 542.
Africa Check asked parliament how many plenaries, joint sittings and committee meetings were held in the 2018 calendar year, but we are yet to receive a reply. Our analysis of the parliamentary programme shows at least 118 plenaries and 14 joint sittings were scheduled for 2018. Parliament's annual report for the 2017/18 financial year lists the 18 bills that were passed.
Committees – parliament's 'engine room'
The committees are described as the "engine room" of parliament because they are where much of the lawmaking and oversight work is done. The committees report regularly to the house, where their recommendations are debated and final decisions are taken.
The different types of committees include:
Portfolio committees. One for each government department, made up of members of the National Assembly.
Select committees. These oversee the work of government departments, but are made up of NCOP permanent members. Each committee covers more than one national department.
Internal committees. These deal with matters affecting the running of parliament.
Ad hoc committees. These are appointed when a specific task must be done.
Joint committees. These are appointed by both the National Assembly and NCOP.
More than 1,600 committee meetings were held in 2017/18. But moves have been made to set rules for attendance.
In a May 2016 report, the National Assembly's rules committee issued a wide-ranging review of the chamber's rules, underway since 2012. It says one purpose of the review is to "provide minimum standards for attendance of members in the business or activities of parliament".
Some of the revised rules are that:
All political parties must keep attendance records for their members and submit them to the speaker for publication.
An MP who is a full member of a committee but absent, without party approval, from three or more consecutive meetings may be fined R1,000 for every day absent.
The committee secretary must submit a report to the speaker every three months on all members who have been absent from three or more consecutive meetings without approval.
The National Assembly rules committee adopted the new rules soon after the report came out.
The Parliamentary Monitoring Group (PMG), an information service NGO, has for a long time asked parliament for plenary and committee attendance records, according to Rashaad Alli, their projects and monitor manager.
The Parliamentary Oversight Authority agreed to make this information available on parliament's website in late 2013, he said. "But this never materialised. So we started collating our own information from the beginning of the fifth parliament in June 2014."
The PMG found that the data it collected in many cases contradicted poor public perceptions of the work ethic of MPs. Many of South Africa's MPs worked diligently, said Alli.
The group has created an attendance calculator for its People's Assembly website using the data it collected on MPs of the three main parties.
"Attendance at meetings is part of an MP's job and should not be taken lightly," said Alli.
But he added: "It is important to note that there are many reasons why MPs can be absent. They can be ill, busy with party work, studying, attending workshops/conferences, travelling, media work, and meeting clashes. This last reason is particularly applicable for smaller parties who sit on multiple committees either as full or alternate members."
Who are the hardest-working MPs?
Africa Check used the PMG's publicly available attendance data to find the "hardest-working MPs" – according to how many committee meetings they attended in 2018.
The highest number of committee meetings attended by an MP was 108. The lowest number was one. The MP who attended the most meetings is a member of the ruling party.
TRADITIONAL LEADERS
***
TRADITIONAL LEADERS ARE NOT LISTED WITH THE MP'S AND CABINET MEMBERS
There are 8840 traditional leaders as well.
read this information about them:
Traditional leaders South Africa: 8840
South Africa: Traditional leaders
Zwelithini: Traditional leaders: SA – budget
*
THE LIES OF THE LIBERALS THAT THERE IS NO SEPARATE AREAS – HOMELANDS CHANGED TO TRUSTLANDS – and the 8840 leaders are part of this "scheme".
We as Afrikaners and Boers (whites) have a right to live and rule ourself in our own country.
Daar is 8840 tradisionele leiers wat almal "wettige" salarisse verdien – en dis ook in .die 1996 grondwet vervat.
Die "etniese volke" wat sedert toeka al op tuislande gebly het, bly steeds daar.  Na 1994 word dit Trustgebiede gedoop en die grondeise, wat die gebiede groter gemaak het, is alles onder die "kommunale reg" (CPA) vervat.
Selfs name en vanne van spesifieke volke word gelys.  Ingonyama Trust vir die Zoeloes bevat ook hulle eie mense – slegs Zoeloes.    Die blank verligte liberales, soos fw en ander nie op met sing "aparte" gebiede is weg terwyl die teendeel die waarheid is.
Van die tradisionele leiers het meer as een vrou en elkeen hul eie paleis, plus byvoordele.
Is net 'n foefie om die indruk te skep swartes en bruin mense (khoi san ingesluit) is "LANDLESS".   Hoe kan 30 miljoen landless wees.
Die Richtersveld is 'n Trustgebied en CPA en slegs vir Khoi san al sedert Mbeki se dae.
Hoekom lieg die liberales en fw en sy kollegas so om te vertel almal van hulle besit geen land nie en die blankes besit alles.  En hoekom mag ons as volk nie ons eie onafhanklike soewereine gebiede verkry nie, want ons is nie deel van hulle nie.   Dis hoekom daar moorde gepleeg word om ons totaal en al uit te wis.
WEES PARAAT – ALTYD EN SPANDEER TYD, ENERGIE EN FINANSIES OM JOUSELF TE BEVEILIG