THE FOOTSTEPS OF ZIMBABWE
Wie sit werklik agter al ons chaos en wie dryf die land oor die afgrond – natuurlik is daar politieke partye en vuilspel, korrupsie en moorde – ons almal weet dit?  Moorde veral wat ons blankes met 'n vuishou tussen die oë tref omdat dit gepaardgaan met marteling, dreigemente, liedere en manipulasie van die politieke leiers, en hulle voer die opdragte van hierdie finansiers met presiesies uit, om vrees te kweek omdat hulle mag wil behou en dit nie wil verloor nie.     Daar is baie "liberales" wat steeds die ANC steun en daar is heelwat klassieke liberales wat soos ons lyk en praat wat niks van ons volk is nie.  Pasop vir hulle wat multi-kultuur is en geld uitdeel aan ander.
TO TAKE ANY LAND OR BUSINESS IS STEAL – THAT IS AN INTERNATIONAL CRIME – TO PUT LEGISLATION IN PLACE AGAINST A RACE GROUP IS AN INTERNATIONAL CRIME.  B-BBEE IS AN INTERNATIONAL CRIME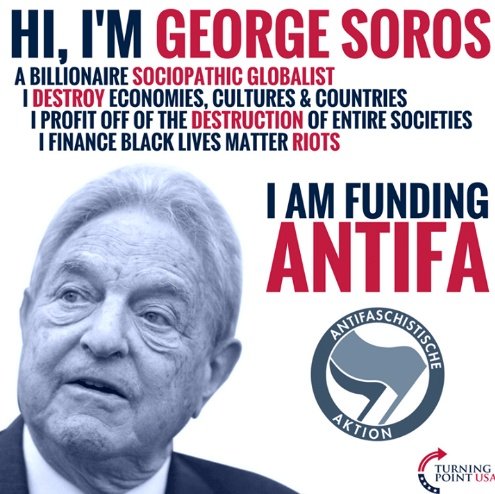 Wie beheer alles – Soros – Maar die wat dit uitvoer, hoef nie hom te gehoorsaam nie en hulle doen dit al vir dekades.
Rassisme (B-BBEE) word gedryf deur liberale en kommuniste, Ramaphosa was die leier van sy kommissie om ons ekonomies uit te wis en liberale speel in sy kraal, vir geld, mag en manipulasie.  Onteiening is deel daarvan.  Dis 'n internasionale misdaad – wat die ANC en selfs vorige regering onderskryf het.  Dus, as hulle help skryf het aan die Grondwet is hulle netso skuldig as Soros.
Dit word verkondig dat "aparte gebiede" weg is, terwyl die teendeel waar.  Dit word verkondig swartes en ander is grondloos, terwyl die Trustgebiede en Grondeise bewys die teendeel.   Elke etniese volk is in hierdie aparte gebiede sodat ons uitgewis kan word – oor die 30 miljoen bly steeds in ou Tuislande wat Trustgebiede genoem word.   Daar is reeds 8840 tradisionele leiers en almal verdien 'n groot salaris.   Wie lieg dus vir wie – ons as Afrikaners en Boere wil ook ons eie land en gebiede hê, maar dit word as "apartheid" gesien.
There are 8840 tradisional leaders in those areas.   It is also in Hansards of Parliament.   There are millions and millions immigrants living on "state" land – some of those were previously productive farms as well.
Traditional leaders South Africa: 8840
Trustgebiede – Trustlands (segregation)
Ramaphosa's new cabinet, mp's and perks and traditional leaders
Zwelithini: Traditional leaders: SA – budget
Mkhaya award – anti-xenophobic groups
Immigrants – Immigrante (SA) (IOM)
Miljoene Immigrante stroom in en word nie regtig gestop om gruwelike terreurdade te bedryf nie.   Dit word selfs uit die tronke ook gedoen met die mafia bendes – onder andere die nommer bendes.
Fokus op u eie veiligheid, want hierdie liberales en kommuniste gaan u nie beskerm nie, inteendeel, net soos wat daar gelieg word oor swart bemagtiging en moorde wat "oorsee aangemeld" word, netso min word ons beskerm.   Skakel in by groepe of skep eerbare groepe saam u huisvriende en families – buite sosiale netwerke.   Skakel in by Burgerlike Beskerming vir opleiding.  En diegene wat hulp kan verleen met opleiding, skakel in by die groep sodat dit landwyd uitgebrei kan word.

***
TO TAKE ANY LAND OR BUSINESS IS AN INTERNATIONAL CRIME – TO PUT LEGISLATION IN PLACE AGAINST A RACE GROUP IS AN INTERNATIONAL CRIME.
#EXPROPRIATION will destroy both #SA and #NAM like ZIMBABWE!! JOIN THE MOVEMENT in SA and NAM: South Africans Against Expropriation of Land Without Compensation! (SAAEWC)
No matter what your skin tone, race or social standing, amending the Constitution to cater for expropriation without compensation, is a threat as the current government can and will take your property from you.  Property is not limited to land – it is everything you own including businesses, copyrights, intellectual property and anything the state deems necessary.
Your right to property is a pillar of democracy as every existing right, or the exercise thereof depends upon secure private property rights.
Expropriation without compensation is nothing more than theft.
The Constitution of South Africa already caters for land reform to correct the wrongs of the past, while providing the mechanisms and method of compensation.
***
WHAT ARE THE "WRONGS" OF THE PAST?   THERE WAS NOTHING WRONG WITH HOMELANDS AT ALL
Since 1994 ANC government bought more than 5000 productive farms for "land reform" but nothing happened with them.
Since 1994 the old ethnic peoples still live on their Homelands, but just call the land Trustland.  Lanclaims followed and thousands of CPA's are registered, only for certain groups of people – all separate from each other.
There are 8840 tradisional leaders – in terms of their Constitution and legislation, but not for any white, Afrikaner or Boer is it allowed to have their own lands.
The "leaders" selling it that the blacks are landless, while it is not the case.
***
I am a Black South African citizen …✋
~ I am Going To Speak ~ Independently; I am Going to Write Freely and Democratically !
This is just a word of advice to the African National Congress government: You, as government, you are going to cause the most unbelievably "constitutional debacle" in the history of all democratic states.
You see? Your products? the "30% pass rate Matriculants" really believe you and every word you are saying… that:
~ "their land was stolen by all white people living today" ~
Fact and Truth..The Union of South Africa 1902
The British, after defeating the Boer Republics, subequently declared most Southern African lands as colonies of Great Britain; from what is now Tanzania, Zambia, Zimbabwe, Namibia and South Africa. Botswana, Swaziland and Lesotho opted to go the route of "protectorate states" of Great Britain…. sort of like the homeland bantustans under Apartheid, called "self-governing homelands" under direct control of the South African government.
Fact and Truth..The Republic of South Africa 1961….
South Africa became a Republic, but on condition it remained part of the Great Britain Commonwealth of Nations.
(covered elsewhere in my posts.)
Fact and Truth..
The Convention for a Democratic South Africa (CODESA): 1991
CODESA was a process that was influenced
by a number of stake-holders like Britain,
USA, Japan, West Germany and giant local factory and mine owners; the banks, the Nationalist Party, the ANC and other lesser forces.
The purpose of the process was to ensure
that in the long and short term, the interests
of capitalism and imperialism in Southern
Africa are safeguarded through stability.
It was a by-product of ANC officials who
had political ambitions to occupy government posts, including the presidency, those who would be duly rewarded for their co-operation with the capitalists and imperialists.
South Africa became a Democratic Republic
with a government of National Unity, under the majority rule of the African National Congress (ANC); but it also remained part of Great Britain's managed Commonwealth of Nations.
Now with the EFF misguided:
"land expropriation without compensation";
The youth are now on the rampage… invading each and every piece of land they can see, even land that is owned by other black people…
Government? You should rather be informing young black people that they should rid themselves of the view that all white people walking around South Africa today own land.
Furthermore; You yourselves as government, know this to be true..that…
Those white people who do own land today, they bought it and you, as government, you issued the "legal tender" documents called "TITLE DEEDS". Issued by the New
SA Government".
To my mind and growing up experience,
I have never come accross someone called van Riebeeck who still own land today in South Africa, since 1902..
Historical processes did take place… up to the point were you took control of the country, it's land and it's people.
You did this after adopting a 'constitution' that made this country a 'sovereign independent state'. There is nowhere in that "constitution" that states that "this land is stolen property".
If it was so? Then, you as government, could've taken that "stolen land" back from them long time ago. You controlled the police, the army the navy and the airforce.
You had a full quarter century to do so without prejudice ~ BUT if "the whites" produce and show you a "TITLE DEED" that was issued by your government.
Then frankly you don't have "a leg to stand on" in any Court of this Country and even the International Criminal Court (ICC). Unless, you can counter-produce another "TITLE DEED" that says: ""This Is Government Land.""..
Blacks can hate me if they want to… 😣
Haibo! This is "nonsense" nje! We are gonna
be "a laughing stock" of the everybody in the international arena.
Lawrence Ntlokoa
https://www.facebook.com/lawrence.ntlokoa