An article of October 2021 stated that Denmark has again ranked number one in the Rule of Law Index published by the World Justice Project, an independent organisation advocating the advancement of rule of law around the world.   It is the sixth time in a row that Denmark has ranked first – this time above 138 other countries.   The Nordics tend to dominate, and 2021 was no different with Norway, Finland, Sweden and Germany completing the top five.   What about South Africa ?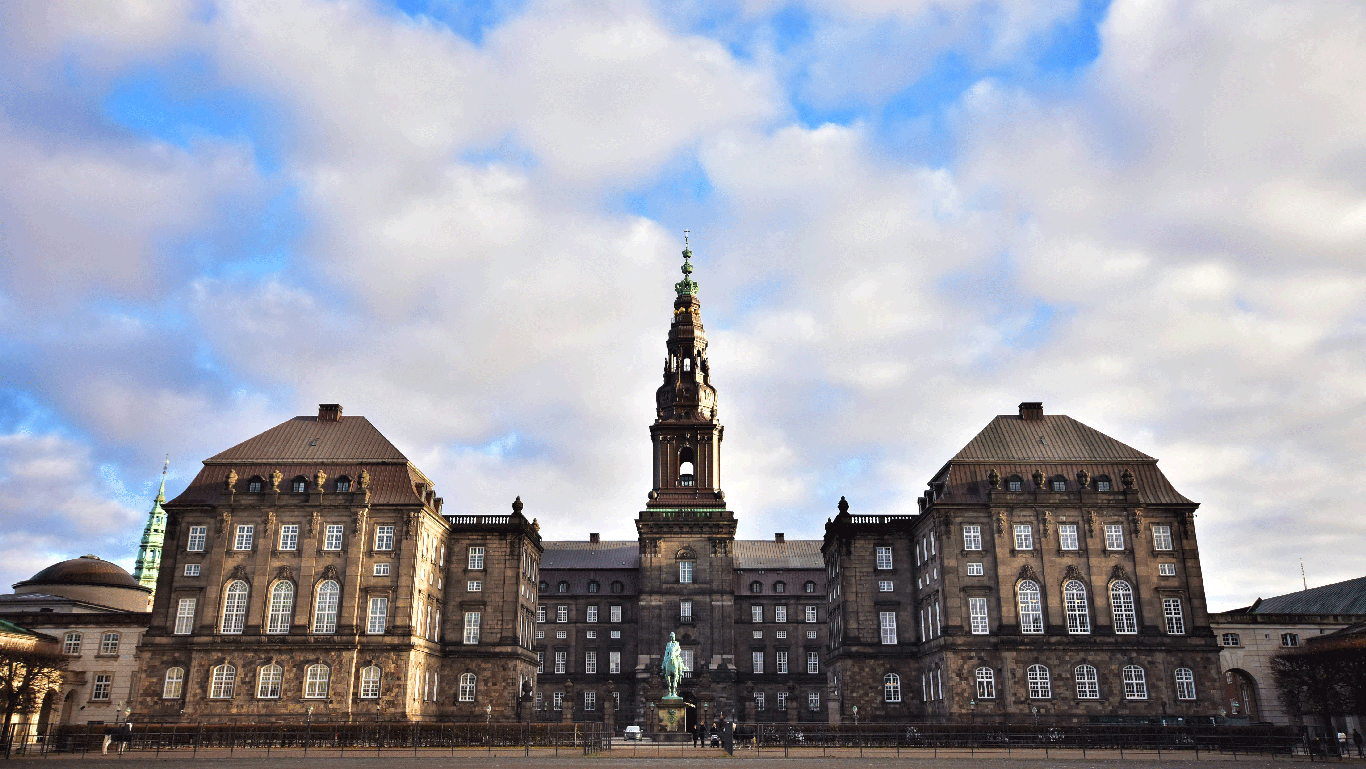 *
Die ANC wat Suid-Afrika in die afgrond in bestuur, moet gaan leer hoe 'n demokrasie regtig werk sonder of met weinig en min korrupsie en misdaad in hul land.  Dit help nie Suid-Afrika, hul kommunistiese leiers en liberale blanke grondwetskrywers spog met 'n sogenaamde demokrasie, wat eenvoudig vals is, valse tentakels uitstuur en beslis nie uitvoerbaar is vir die wat die land regeer sedert 1994 oorname nie.   Dan is daardie 'grondwet 1996' niks werd nie en dis hoe elkeen in die land dit beskou.   Nie eers onder Kommissies en Regters wat volgens hierdie grondwet benoem word, hoog betaal word, om korrupsie en misdaad vas te vat, is van enige waarde vir die publiek en burgers van die land nie.   Dit gaan al so aan sedert 1994.
*
DENMARK
THE PEOPLE
Danish (includes Greenlandic (who are predominantly Inuit) and Faroese) 86.3%, Turkish 1.1%, other 12.6% (largest groups are Polish, Syrian, German, Iraqi, and Romanian) (2018 est.) note: data represent population by ancestry.    The largest Denmark racial/ethnic groups are White (98.6%) followed by Asian (1.1%) and Islander (0.3%).  Denmark is an expensive country – but the standard of living is among the highest in the world. Although Denmark's no tuition fee policy is very attractive to EU students, living costs are generally higher than most places, well above the European average
https://www.maine-demographics.com/denmark-demographics
&

The system of governance in Denmark is a parliamentary democracy. The Parliament in Denmark is called the Folketing, and it has a multi-party structure.   The current constitution is from 1953. It is one of the oldest constitutions in the world. The Constitutional Act has been changed a few times. The wording is general enough to still apply today.
The framework for Danish democracy is the Danish Constitution of 1849, making it one of the oldest constitutions in the world. This Grundlov, or basic law, is a set of fundamental principles and rules for society that other laws must comply with, such as freedom of expression and freedom of assembly.
In Denmark, politics are about consensus. There are representatives of 14 parties in the Danish parliament, and since 1909 no party has had enough representatives to rule entirely on its own. Instead, multiple parties put together a ruling coalition.
https://denmark.dk/society-and-business/government-and-politics
*
The Danes are known for being cosmopolitan, well-educated, and openminded people. Equality is a keyword in Danish culture.
Denmark consists of a peninsula and 400+ islands in the North Sea. A bridge between Scandinavia and continental Europe, this friendly northern country is a confluence of modern, cosmopolitan cities; simple, historic architecture influenced by Nordic tradition, and fairytale villages with town markets, country churches, and castles. The flat country, with moors, lakes, farmlands, and woodlands, and traffic-free pedestrian streets are ideal for riding bicycles or chatting with friends at a cafe. In Danish culture, people value their personal space and love to be cozy and comfortable—following the concept of hygge.
https://www.afsusa.org/countries/denmark/
https://www.oecd.org/corruption/denmark-oecdanti-briberyconvention.htm
Corruption is not a major issue in Denmark (in the Corruption Perceptions Index 2012 Denmark, Finland and New Zealand tie for first place with scores of 90, helped by strong access to information systems and rules governing the behaviour of those in public positions). However, the fight against corruption is priority for the Danish development assistance, and the negative impact of corruption on the enjoyments of human rights and sustainable development is generally recognized.
https://www.ohchr.org/Documents/HRBodies/HRCouncil/AdvisoryCom/Corruption/Denmark.docx
Danish Criminal Code
The Danish Criminal Code criminalizes both bribery in the public and the private sectors. Granting, promising, offering a bribe is considered active bribery, whereas receiving, demanding or accepting a bribe is considered passive bribery. Both active and passive bribery is criminalized under the Danish Criminal Code.
The Danish Criminal Code criminalizes both bribery in the public and the private sectors.
The Danish Criminal Codes makes no distinction with respect to the jurisdictional reach between acts committed by a physical person or legal person.
Political or charitable contributions are governed by the Danish Act on Private Contributions to Political Parties and the Publication of the Accounts of Political Parties (the Party Accounting Act) as set forth in in the Executive Act no. 139 of 7 February 2019.
https://www.dlapiper.com/en/us/insights/publications/2019/09/bribery-offenses-guide/denmark/
https://www.thelocal.dk/20220125/denmark-tops-list-of-worlds-least-corrupt-countries/
https://globalanticorruptionblog.com/2021/06/25/something-is-rotten-from-the-state-of-denmark/
*
Denmark
Denmark has been placed at the top of the list of the least corrupt countries in the world in the latest annual Transparency International index for perceived corruption.
*
South Africa
On 27 April 2021, the President announced to the nation that the country will be celebrating the 25th anniversary of the Constitution. This follows Cabinet's approval of the commemorative programme led by the Department of Justice and Constitutional Development. Government as a whole, as well as civil society and communities at large will take the opportunity and collaborate to mark the occasion.
South Africa's Constitution is one of the most internationally acclaimed constitutions in the world. It is widely acknowledged not only as one of the most progressive constitutions, but also as a transformative constitution with its primary concern being to facilitate change in political, economic and social relations in South Africa.
https://www.justice.gov.za/legislation/constitution/docs/25thAnniversary.html
*
Overall the index painted a disappointing picture of global justice.  Nevertheless, there were some countries with big gains: most notably Uzbekistan, Moldova and Mongolia. In Europe, Belgium, Norway, Germany and Finland all made big progress.
Belarus and Myanmar were the biggest fallers – Poland and Hungary slipped the most in Europe – while Venezuela, Cambodia, and the Democratic Republic of Congo were the lowest scorers.
*
The index assesses eight parameters, and Denmark ranked first in five of them: Constraints on Government Powers, Absence of Corruption, Fundamental Rights, Regulatory Enforcement and Civil Justice.
The other three parameters are Open Government, Order and Security and Criminal Justice.
The National Board of Justice was delighted. "The Danish Courts work daily to maintain the high quality of the rule of law, which is a cornerstone of Danish society," enthused the board's head of development, Merethe Eckhardt.
"The first place is a recognition of the great work that the courts and every single employee do every single day. Through the courts, the way is paved for equal access to justice, and this is a particularly valuable task that we undertake together.
https://cphpost.dk/?p=128813#:~:text=Denmark%20has%20again%20ranked%20number,time%20above%20138%20other%20countries.
*
CORRUPTION IN THE WORLD – DISRUPTION
2020  CR – Corruption costs the world nearly $3trn a year. Here are some of the innovative ways in which communities, companies and countries are tackling it.
Nobody is interesting to end crime, rapes, killings or corruption
Farm attacks, tortures and killings in South Africa
ZONDO COMMISSION
State capture –  Zondo commission  –  Molefe  – Gigaga –  Guptas
Capture of people  Black Empowerment – Zondo
Zondo: Guptas, Zuma, Ramaphosa etc
Sabotage inside Eskom 2020 report
*
2020
The Index measures how the rule of law is experienced and perceived worldwide based on household and expert surveys in 139 countries and jurisdictions. Our data provides current and reliable information to policy makers, civil society organizations, academics, the media, citizens, businesses, and legal professionals, among others. It is intended to encourage policy reforms, guide program development, and inform research to strengthen the rule of law.
https://worldjusticeproject.org/our-work/research-and-data/wjp-rule-law-index-2020
2021
The World Justice Project Rule of Law Index® is the world's leading source for original, independent data on the rule of law. Covering 139 countries and jurisdictions, the Index relies on national surveys of more than 138,000 households and 4,200 legal practitioners and experts to measure how the rule of law is experienced and perceived worldwide.
https://worldjusticeproject.org/our-work/research-and-data/wjp-rule-law-index-2021
*
Place of Caves (Brittain) … Five Boroughs of the Danelaw // Vikings Documentary