Thank you Alex.   Good Article.  One of the components of the Great Reset agenda involves the merging of machines/technology with humans.  It's called transhumanism.  Although we've alluded to this in past programs, this entire program looks at this issue.  It's an important one because transhumanism seeks to take surveillance, which up until now has been outside the body, and concentrate it underneath the skin.  Transhumanism may sound like bad science fiction but it's not.  Many of the most powerful people on earth are the leading proponents of this movement.  That includes Klaus Schwab of the World Economic Forum, Microsoft Founder Bill Gates and Ray Kurzweil who is the director of engineering at Google.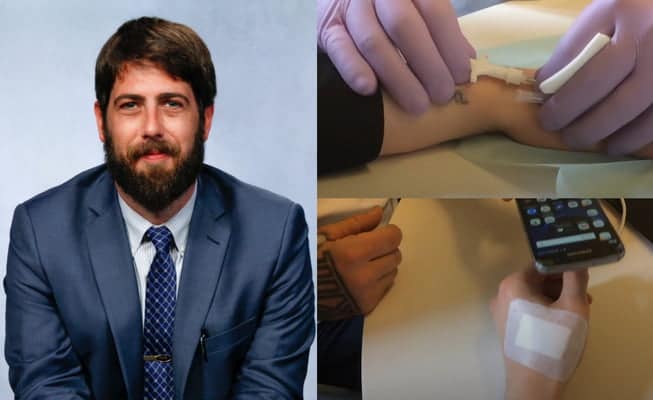 *
Returning to Crosstalk to discuss this issue was Alex Newman.  Alex is an award-winning international freelance journalist, author, researcher, educator and consultant.  He is senior editor for The New American and contributes to other publications as well.  He is author of Crimes of the Educators and Deep State: The Invisible Government Behind the Scenes.  He's Founder of Liberty Sentinel.
Why does Alex believe this issue is so significant?  It's because what's at stake is the future existence of humanity.  He cited homosexual activist Yuval Noah Harari, who's deeply connected to the World Economic Forum and an advisor to Klaus Schwab.  Harari's material isn't well known among the general public, but at the level of the elites, people like Barack Obama and Angela Merkel read his books.
Harari believes that in the next 100 or so years, humans may not exist at all as we'll become deities ourselves; like little gods and masters of evolution.  The new transhuman-human will be so different from current humans that they won't even be the same species.
Some individuals have been dreaming about this for decades but we lacked the technology for anyone to take the concept seriously.  Alex believes we're quickly entering the "marketing phase" where we'll start hearing more about this within popular culture.  It'll probably be marketed within the contexts of convenience and security, perhaps even fun.
There's a range of technologies involved in this, one of them being technological upgrades to human beings.  This involves allowing the human brain to interact with computer systems.  Another involves biological engineering where genes can be activated. Combine this with the surveillance digital identity systems and digital currencies and for Alex this paints a very concerning picture for our future.
5G is connected to this as well because you need to be able to have numerous devices communicating with each other at rapid speeds.  This is why you may have heard the phrase, "The Internet of things" which can include "smart" items such as your TV, refrigerator, home alarm system and more.  However, the next step is the "Internet of bodies" and that requires technology to be implanted in the body.  This might include taking a pill that monitors your health or microchips implanted in the brain.  5G is needed to keep all these parts communicating with each other.
There's much more to take in from this broadcast including audio clips from Yuval Noah Harari and input from listeners.
Listen to Alex
&
TRANSHUMANISME
Is iets aan die broei op baie hoë vlakke van regerings of het dit reeds 'uitgebroei' as daar na dieper dinge gekyk word.   Dis nie net bloot bespiegelinge nie.   Alex skryf ook daaroor in sy artikel van April 2022.    Dit het ook niks met sameswering te doen nie, want dit is feite wat reeds op internet beskikbaar is.   Doen bietjie moeite en moenie alles afmaak as 'sameswerings' nie.  Verseker sal daar weer diegene wees wat alles ontken.    Natuurlik sal daar ander inligting wees wat nie openlik bekend is nie.
Een van die komponente van die Groot Herstel-agenda behels die samesmelting van masjiene/tegnologie met mense en daarvoor is 'n vinniger en duurder tegnologie nodig.   Dit word transhumanisme genoem.
Dit is belangrike om te onthou.    Transhumanisme poog om te beheer en kontrole uit te oefen op 'n wêreldvlak.   Wat tot dusver buite die liggaam was, te neem en dit onder die vel te voeg en sodoende alles met mekaar, binne die liggaam en elders kan kommunikeer.
Transhumanisme klink dalk soos slegte wetenskapfiksie, maar dit is nie. Baie van die magtigste mense op aarde is die voorste voorstanders van hierdie beweging. Dit sluit in Klaus Schwab van die Wêreld Ekonomiese Forum, Microsoft-stigter Bill Gates en Ray Kurzweil wat die direkteur van ingenieurswese by Google is.   En hierdie het nie in 24 uur gebeur nie.
Hoekom glo Alex hierdie kwessie is so belangrik, nie net vir ons as mens nie, maar vir die hele wêreld, diere en omgewing ingesluit?    Wat hou dit vir ons in as mens?  Dit is omdat wat op die spel is die toekomstige bestaan van die mensdom gaan vernietig.    In sy artikel,  het hy die homoseksuele aktivis Yuval Noah Harari aangehaal, wat diep verbonde is aan die Wêreld Ekonomiese Forum en 'n adviseur van Klaus Schwab. Harari se materiaal is nie bekend onder die algemene publiek nie, maar op die vlak van die bevoordeeldes en rykes, het mense soos Barack Obama en Angela Merkel sy boeke gelees.   Sien ook die video materiaal hieronder.  Daar is lande wat reeds 'spog met inplantings' onder die vel.
Daar is 'n reeks tegnologieë hierby betrokke, een daarvan is tegnologiese opgraderings vir mense.  Dit word ook op die internet bespreek.   Dit behels dat die menslike brein met rekenaarstelsels kan kommunikeer. Nog een behels biologiese ingenieurswese waar die menslike gene geaktiveer kan word. Kombineer dit met die toesig digitale identiteitstelsels en digitale geldeenhede en vir Alex skets dit 'n baie kommerwekkende prentjie vir ons toekoms.   Dit mag ook beteken dat 'n sekere groot hoeveelheid van die mense in 100 jaar nie meer kan of gaan voortbestaan as dit sterk geïmplementeer is nie.   Die mensras sal totaal en al verdwyn en moontlik diere ook.
Dis myns insiens niks anders as beheer en kontrole, waarvan die Woord (Bybel) ook praat.   Die merk van die Dier.
Sonder internet tegnologie is al hierdie nie moontlik nie, veral 5G is hieraan gekoppel, want daar moet of gaan talle toestelle wees wat teen vinnige spoed met mekaar kan kommunikeer.    En as daar gekyk word hoeveel 'satelliete' hardloop bo-oor ons koppe wat ons as mens gaan vernietig en beheer, is dit ook reeds in plek.    Net sekeres sal lewe, die res sal 'robotte' wees wat beheer word.
Sekere toerusting soos selfone, televisie, yskas, alarmstelsels kan ingesluit wees.    Tegnologie sal vereis dat dit in die liggaam ingeplant gaan word.   Dit kan ook 'n pil insluit wat gesondheid en ander dele van die liggaam monitor.   Die 5G is nodig hiervoor.  Luister ook na ander video materiaal hieroor.
*
VIDEOS
The bestselling author and historian offers his predictions on how technology will alter the evolution of humans and change society. Anderson Cooper reports. "60 Minutes" is the most successful television broadcast in history. Offering hard-hitting investigative reports, interviews, feature segments and profiles of people in the news, the broadcast began in 1968 and is still a hit, over 50 seasons later, regularly making Nielsen's Top 10.
*
What can we learn from a history of the future? Historian Yuval Harari takes us on a journey through technological development and challenges leaders to develop a substantive vision of what it means for society, politics, religion and ideology.
*
World Economic Forum | Centre for the Fourth Industrial Revolution Network
*
Recent advances in brain-computer interfaces are blurring the lines between mind and machine. What steps do leaders need to take now to ensure the ethical and responsible application of human enhancement?
*
What does transhumanism mean? What is the definition of transhumanism? Philosopher Julian Baggini explains the radical vision of transhumanism – where humans become part-machine… and are all the better for it. Feminism, Darwinism, capitalism, socialism, existentialism..