Who are those "runners, looters and terrorists"?   Were they all here on a free to take for everybody – and that is not only in KwaZulu-Natal or Gauteng, it is ongoing for 27 years now and they still want more?     Are they all South Africans or illegal immigrants?  They are and were controlled by whom since 1994 and now?   A week after this physical attack on businesses and the public, the (second) largest deployment of soldiers were sent out to enforce the "looting".  How many of those looters and terrorists are in police cells?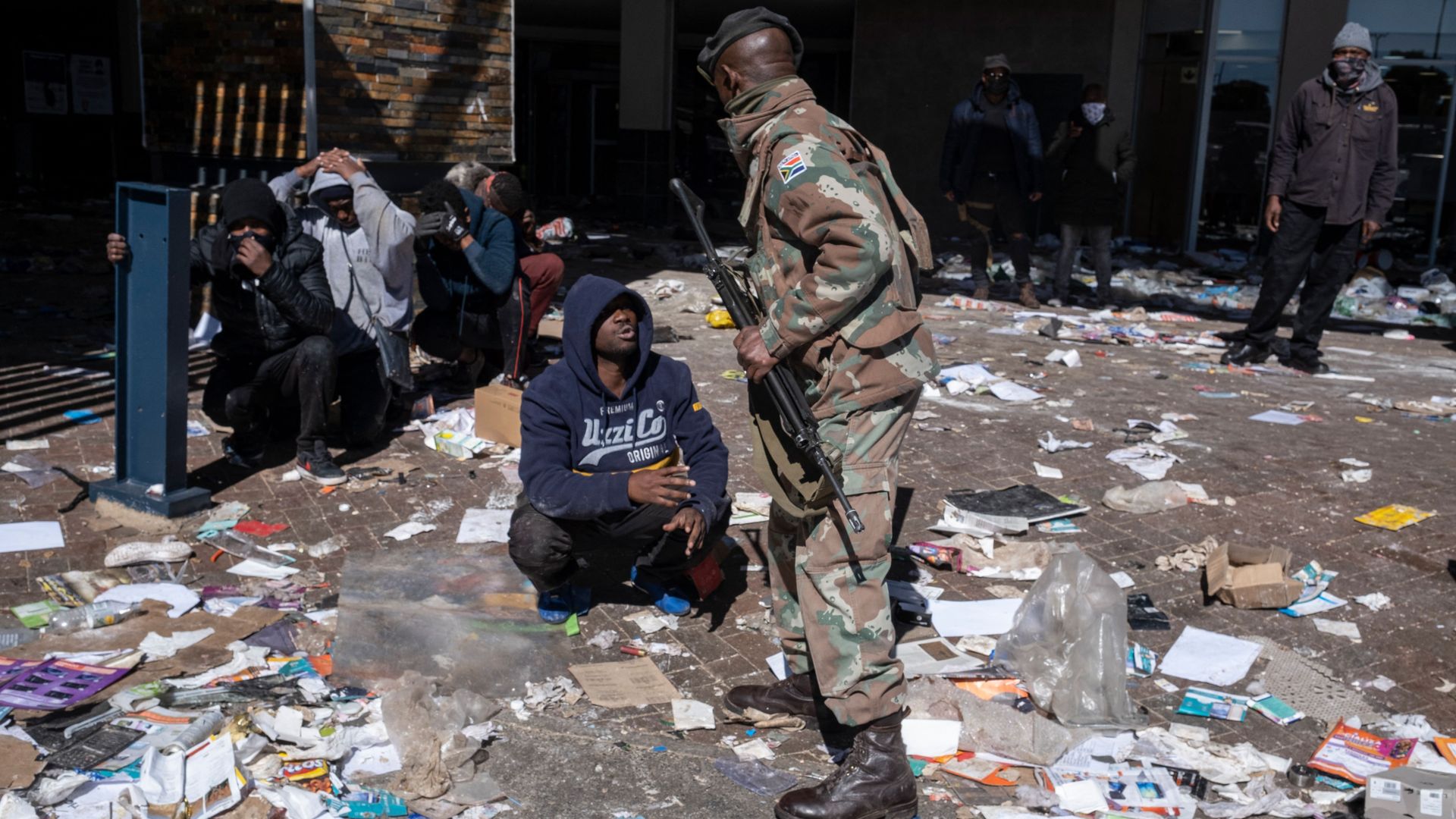 *
Videos –
2021 – will never recover
Capture of the Economy totally destroyed
https://www.youtube.com/watch?v=DePpz8w8PeY
*
2019 – terrorism and sabotage to the country
https://www.youtube.com/watch?v=ma73FHuut5k
*
2021 in Gauteng
https://www.youtube.com/watch?v=kl6WX6i_AOQ
*
SA CONSTITUTION

WHO WILL APPOINT THOSE COMMISSIONERS IN TERMS OF THE ANC-SACP-EFF-DA CONSTITUTION?
Paul Hoffman SC is with Accountability Now, an organisation which describes itself as being "devoted to ensuring the rule of law is upheld and enforced for the good of all by ensuring that governments, parastatals and the private sector are held to account."

The organisation has created a Chapter 9 institution. Hoffman explains what exactly a Chapter 9 institution is. "Traditionally, the way government's are organised is like a three-legged pot. Legislature, executive and the judiciary. In SA, when we converted from parliamentary sovereignty to the constitutional democracy under the rule of law – that is currently in place, the founders thought that it would be proper to create a fourth leg on the pot which is the leg created by Chapter 9 of The Constitution. Chapter 9 is a reference to the chapter under which, at the moment, there are six institutions that, essentially, exist to bed down democracy."
https://www.youtube.com/watch?v=19gwsKZwP2A
*
*
Niemand sal weet wie hierdie persone is wat so van besigheid tot besigheid hardloop of dalk eerder vinniger vervoer word om by hul "bestemmings" uit te kom om die nodige plundertogte en brandstigting te doen nie.   

Eers word alles gestroop, dan word algehele chaos veroorsaak met al die papiere en gemors wat rondgestrooi word en daarna alles aan die brand gesteek om bewyse te vernietig.   Al daardie besoedeling wat gesondheid en omgewing aantas.

Het hulle die Corona virus ook hier kom aflaai met al hul protesaksies en geweld, om die ware redes te versteek?   

Hulle is myns insiens nie werkers nie, kwansuis arm en honger, hul kom voor of hul goed besoldig word vir die dade van terreur as daar na hul kleredrag gekyk word.  Dis beslis nie armoede of honger nie.   En later word daar kennis geneem hoe hoog is die Corona gevalle.  Ironies of hoe – Gesondheidwerkers werk reeds hard om daarop te fokus.
*

SABOTASIE – SABOTAGE
BACKGROUND INFORMATION ON 'AFRICAN REVOLUTION'
This is not about Poverty anymore – it is all about to destroy the whole economy of South Africa.    It is not only looting, but they burn it down afterwards.   All of those so-called protest actions are violent – show one incedent since 1994 that is not violent?
They are all unhappy with Ramaphosa, it was so with Mbeki, Zuma and Mandela. 

With the B-BBEE acts in place, it is for 27 year not about inequality in South Africa but about to sabotage their own people.   Their so-called policies are legislations, on all governments and private sector.   The government and specific ministers invited people of Cuba and Brics countries to work in South Africa.
Swart bemagtiging is rassistiese wetgewing wat teen blankes diskrimineer.
Racism and discrimination against the white minority in South Africa
Inhoudsopgawe B-BBEE Index
*

It is for 27 years that those terrorists burnt down businesses, busses, trains, infrastructure, schools. 

They burn down their own work opportunities and infrastructure.  Some of the B-BBEE appointments can not cope to do the work they suppose to do, especially at municipal levels.     
The one day they burn down their own schools, transport and businesses, and the next day they are protesting about the lack of schools, transport and work employment.
*

Damage and sabotage to the country

THEY DO NOT CARE ABOUT ANYTHING – but want everything for free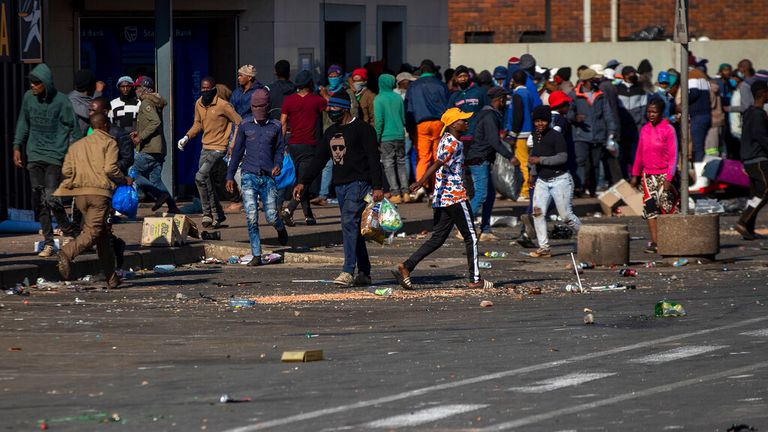 Sabotasie en terreur beheer die land
Heelwat besighede het vanaf 1994 onttrek weens die rewolusie en geweldadige afbrand van besighede na 1994.  Baie regerings van oorsese lande, burgers van ander lande weet nie wat in Suid-Afrika aan die gang is nie, want baie nuus word nie gelees of versprei nie en heelwat word gesien as "propaganda".
Die werklikheid, veral op finansiële gebied is op Hansards van parlement, wie en watter swartes en khoi san volke kry befondsings.    Daarin word uitgespel wie gehelp word en hoeveel swart bemagtigers daar is op alle vlakke van regering sowel as staatsinstellings soos Eskom, SAL en ander.     

Dit is nie blankes wat meer munisipaliteite bestuur nie.  Heelwat Chinese, Kubane en selfs ander word ingevoer met groot salarisse en ook geakkommodeer onder ANC-EFF beleid.
*
*

APARTE GEBIEDE NA 1994   

Separate areas did not vanish in thin air.  All those areas are still there under new names and legislations.   Crownlands – Reserves – Homelands became CPA and Trustland areas.  With own leaders, chiefmen and women.

KROONGEBIEDE-RESERVATE-TUISLANDE WORD CPA EN TRUSTGEBIEDE
Die meerderheid (wat oor die 28 miljoen is) swartes en khoi san het steeds hul aparte gebiede behou vanaf Kodesa, en dit word steeds apart bedryf.   Almal dink mos aparte gebiede is weg en dood.   

Wie is dan nou die armes vandag?  Nugter alleen weet.  Immigrante uit Afrika, want miljoene word nie getel nie.

Aparte gebiede sedert 1840 onder Britse beheer

Kroongebiede en Reservate kom al sedert 1840 aan waar khoi san en swartes hul eie gebiede so genoem het onder Britse beheer.   Hul keuse en na 1961 het hul amptelik daarvoor gestem onder Tuislande (dieselfde grondgebiede as Reservate).  Dis nie ons wat Reservate en Kroongebiede geskep het nie, dis die Britte wat dit geannekseer het en so genoem het, met hulp van hoofmanne en oudstes, apart van mekaar.
Na 1994 is daar  oor die 8840 tradisionele leiers volgens die parlementêre notules.  Daar is wetgewing in plek sedert Kodesa en na 1994  (Trust en CPA) wat grondeise moontlik maak vir etniese swart en khoi san volke om daardie gebiede te bly en werk, apart van mekaar – net soos voor 1994 en 1900 te wete Kroongebiede en Reservate.  Dit word totaal apart bestuur deur hul eie leiers, met die ANC se hulp.  Elkeen het hul eie wetgewings in plek.   

CPA's en Trustgebiede is al heelwat voorsien van saad (groente en landbousektor), sowel trekkers en finansiële steun. 

Liberales en lande oorsee glo meestal dat aparte gebiede verby is en ons blankes is steeds die oorsaak van hierdie enorme groot hoeveelheid swartes wat arm bly.   Nee – dis nie so nie.   

Hulle ontvang gereeld, maar wat hul daarmee maak sal net hul alleen weet.  Trekkers staan op sommige plekke en oproes, terwyl saad in store geberg word vir dekades.
Daar is letterlik duisende swart en ander miljoenêrs en oor die 7 miljoen swartes het geregistreerde eiendom (met titelaktes) waarop hul bly.   Dit sluit nie die miljoene in Trust en CPA gebiede in nie.   

Daar is oor die 8840 khoi san en swart tradisionele leiers.



*
It was asked in an article

Why did the protests turn violent?
Although the immediate trigger for the violence was the arrest of Zuma, the situation evolved into an outpouring of anger over poverty and inequality in South Africa for the past 27 years.
What is the rate of unemployment in the country?
Unemployment stood at a new record high of 32.6% in the first three months of 2021.   In 1994 the unemployment rate stood at 20.5 per cent for the standard definition and 31.5 per cent for the expanded definition.   There is a surplus of unskilled and low-skilled job seekers in South Africa – caused largely by historically low levels of investment in African education.
read more:
https://gulfnews.com/special-reports/what-is-behind-south-africas-latest-unrest-1.1626187471074

*

2015
https://www.thenigerianvoice.com/news/175946/extremely-graphic-videos-south-african-are-killing-foreigne.html 

http://www.fahamu.org/ep_articles/infographic-south-africa-firms-big-in-rest-of-africa-xenophobic-attacks-dont-make-dollar-sense/


*

Terrorism Sabotage – Sabotasie Terrorisme
Terrorisme en sabotasie aan besighede en infrastrukture 10 Julie 2021



So wie besit twee of meer eiendomme?   
Blankes word beraam op 4 miljoen
Shepstone – Natal, roots of segregation
The 7.5 million black ownership in SA
Black billionaires and millionaires – SA
29 000 millionaire civil servants


Richtersveld 1847

Richtersveld – Diamonds
Richtersveld – KHOISAN AND CPA

Indigenous land (old homelands) – Trustland – CPA – landclaims

Trustgebiede>Tuislande>Reservate

Traditional leaders South Africa: 8840

Parliament – Salaries 2020 – the elites

Top Salaries and benefits – South Africa (expenditures)

Ramaphosa and his Traditional leaders and others

Traditional houses – South Africa