A statement in the media made on 18 June 2020 that top earning public office-bearers in Chapter Nine institutions that are pocketing more than R1.5 million a year are likely not to receive salary increases.   Parliament is set to receive a recommendation from the justice and correctional portfolio committee backing the salary freeze as determined by President Cyril Ramaphosa.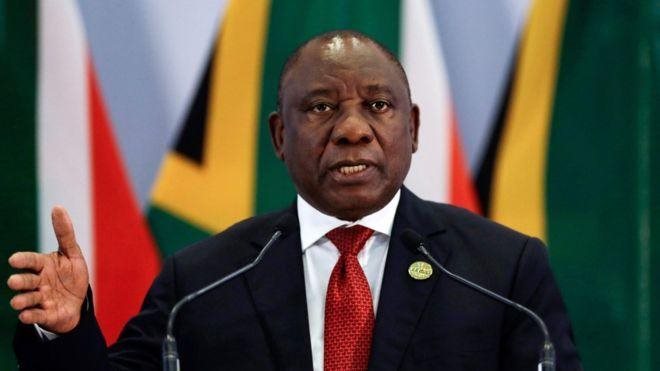 *
NOTICE 90 OF 2020 90 Remuneration of Public Office-Bearers Act, 1997
(Commission Act):
Annual Remuneration Recommendations for 2019/2020   (43019)

(refer to the salaries in tables in document)

https://www.gov.za/sites/default/files/gcis_document/202002/43019gon90.pdf
*
The portfolio committee gave the go-ahead for the salary freeze and increase for certain categories of public office-bearers.   This comes after Ramaphosa wrote to National Assembly Speaker Thandi Modise in March requesting that the national legislature consider and approve the salaries of the public office-bearers.

In his letter Ramaphosa said he received recommendations on salaries for the public office-bearers from the Independent Commission from the Remuneration of Public Office-Bearers.   "The commission recommended 3% salary increment for all office-bearers of Independent constitutional institutions earning above R1.5m and 4% salary/allowance increment for office-bearers below R1.5m with effect from 1 April 2019," Ramaphosa wrote.    He said the laws governing the Chapter Nine institutions provide that the allowances and benefits to commissioners to be determined and approved by the National Assembly.

The affected institutions include the Human Rights Commission, Public Protector, Auditor-General, Independent Electoral Commission, Independent Communications Authority of South Africa, Commission on Gender Equality, Financial and Fiscal Commission as well as the Commission for the Promotion and Protection of the Rights of Cultural, Religious and Linguistic Communities.     Ramaphosa said he has determined the salaries of the public office-bearers after having considered the serious economic challenges facing the country.   He decided salary freeze for those earning R1.5m and above, 2.8% salary increase for those between  R1m and R1.5 brackets and 4.5% for public office-bearers below R1m.

The justice and correctional services portfolio committee said it was the first time that Parliament was requested to approve the decision on an increase for remuneration of independent constitutional institutions.   It was previously only done by the executive, but this was amended last year and it is now required that the President recommend it to Parliament.   Committee chairperson Bulelani Magwanishe said the committee approved thRamaohosa-s determination with the salary increases backdated to July 1.

"It is important that the public should be made aware that this salary adjustment is a retrospective increase for the previous financial year. This is not a current increase," Magwanishe said.   "The whole country is facing financial challenges due to the Covid-19 pandemic and we would not want South Africans to be under the impression that we are condoning salary adjustments of this nature in this difficult economic times," he added.

Magwanishe said the increase would pertain to those office bearers earning up to R1.5 million per annum in the South African Human Rights Commission and the Office of the Public Protector.   If the salaries disclosed in the 2018-19 Annual reports are anything to go by, Public Protector Busisiwe Mkhwebane, Auditor-General Kimi Makwetu as well as chairperson of the IEC, Icasa, Human Rights Commission, Financial and Fiscal Commission won't be receiving backdated salary increases because they earn R1.5m and above.

https://www.iol.co.za/news/politics/no-salary-hike-for-public-office-bearers-earning-more-than-r15m-49548484

*

Media reported in February 2020, that Cyril Ramaphosa will be the first president of South Africa to earn more than R3 million a year following the Independent Commission for the Remuneration of Public Office Bearers' recommendations.   The commission has recommended that public representatives at national, provincial and local government levels, members of the judiciary and magistrates and traditional leaders, be paid between 3% and 4% more, backdated to April last year.

His salary will be almost R90000 more if he accepts the 3% recommendation by the commission.   The commission's recommendations mean that Ramaphosa's salary would increase from R2.99m to about R3.1m.   Deputy President David Mabuza would be paid R2.91m.    Commission chairperson, North West Judge President Mashangu Leeuw, noted that they were aware that the economy was in a dire situation and that the government's finances were under pressure.   "The commission recommends that independent constitutional institutions be treated in line with other public office bearers," the commission said.    The commission suggested to Ramaphosa a 3% adjustment to the income of public office bearers earning more than R1.5m and 4% for those who are paid less.

Among the reasons the commission cited for the increase was the country's ailing economy.  It noted that "deteriorating economic performance and revenue shortfalls have contributed to slippage in fiscal projections… the continued decline in the financial condition of state-owned companies has also led to requests for additional support from the fiscus".   Leeuw and the commission consulted Cabinet members Finance Minister Tito Mboweni, Co-operative Governance and Traditional Affairs Minister Dr Nkosazana Dlamini Zuma and Justice and Correctional Services Minister Ronald Lamola as well as Chief Justice Mogoeng Mogoeng and the lower courts remuneration committee.     Under the commission's proposals, the lowest public office bearer will earn a R1245 daily sitting allowance.   The commission admitted that not all concerns raised by stakeholders could be addressed.

The country's largest trade union federation has rejected the commission's recommendations.   Cosatu spokesperson Sizwe Pamla called for public representatives' salaries to be frozen for three years.   He said in the face of worsening poverty there was no justification for pay hikes for politicians. "We will fight over this." .   He said the country was R3 trillion in debt while there were millions struggling, and who were jobless.   According to Cosatu, until the economy was turned around nothing would turn around.    Pamla said senior government officials and politicians already received exorbitant perks and salary packages.   "There is no value in rewarding politicians," he added.   Pamla demanded that public representatives at all levels should pay the price like citizens.  "We can't have an elite trying to tell us how to prop up their lifestyles," he said.

Independent Media has previously reported that Mboweni rejected salary increases for members of some state-owned entities as part of the government's bid to cut costs.   The status quo is blamed on deteriorating economic performance and revenue shortfalls that have contributed to a slippage in fiscal projections, with the government is hoping to save R32.4 billion in the next three years.

https://www.iol.co.za/news/politics/president-cyril-ramaphosas-salary-set-to-top-r3m-government-pay-hikes-expected-42762597

*

PREVIOUSLY

As part of its annual budget, the National Treasury has published the proposed salaries for the president in 2019/2020 – subject to final parliamentary approval.   With the national elections set to take place in May this year, it also included the projected salaries that Cyril Ramaphosa can expect to earn (should he remain as president) for the 2020/21 and 2021/22 financial years.   For the coming financial year, president Ramaphosa has been apportioned a salary of R3.9 million.   This number is projected to rise to R4.2 million for the 2020/21 and R4.5 million 2021/22 financial years.   Treasury also published the proposed salaries for the Deputy President.    As is the case for other South African executive positions, the deputy president, David Mabuza, can expect to earn slightly less than Ramaphosa at R3.3 million this year.   This number is projected to rise to an annual salary of R3.6 million in 2020/21 and R3.8 million in 2021/2022.
*
A 2018 report by the Democratic Alliance found that this increase meant that South Africa's 35 ministers and 37 deputy ministers would earn R163.5 million and over R510.5 million over the medium-term.
How much money Mabuza and Ramaphosa are expected to earn in 2019
*
Ons as Blanke minderheidsvolk,  Boere en Afrikanervolk moet onsself elkeen afvra, hoeveel verloor ons as belastingbetalers in Suid-Afrika nie .  Hoeveel van ons blankes is al landuit of vermoor?  Ons maak 'n groot komponent uit van belastings, maar al ons menseregte word daagliks geskend.  Nie net is dit swart bemagtiging nie, maar ons het ook geen tradisionele leiers soos swart en khoi san / gekleurdes het nie.   Waarvoor en hoekom moet ons vir ander se luukshede en leiers betaal wat teen ons diskrimineer en niks van ons volk is nie.  Elke volk het die reg om deur hul eie leiers regeer te word, in hul eie lande.  Ons verskil eenvoudig te veel van hierdie ander etniese volke.
Salaries 2020 of Traditional leaders – South Africa