Die grondonteiening sonder vergoeding, wat in parlement positief aanvaar is, druis 100% in teenoor internasionale reg en wetgewing, verdrae wat die ANC onderteken het.   Ten minste bewys hierdie hele sage hoeveel die liberaal verligte FW de klerk reënboognasie grondwet werd is wat hulle by Kodesa met die ANC, Soros en Slovo (kommuniste) onderhandel het.   Die Grondwetskrywers tydens Kodesa,  veral moet seker baie trots op hulself voel met die prestasie wat die ANC deurgevoer het, asook met die volledige eiendom-oorhandiging van ons almal aan kommunisme.   SELFBESKIKKING IS ONS ENIGSTE KANS UIT HIERDIE KOMMUNISTIESE NES…
They are in a hurry to take land, all properties and equipment.   The   ANC chief whip Jackson Mthembu indicated that he would bring a motion to start a process of amending Section 25 of the constitution on Thursday.
Daar is vir etlike jare oor hierdie gevoelige puntjie op sekere bladsye op sosiale media verskil met die blanke liberale grondwetskrywers wat tans in parlement sit – wat dieselfde beloftes gemaak het as FW en sy broederbond (voor 1994).    Dis dieselfde politieke party bestuurslede wat die geleentheid gehad het om die aanbevelings van die Volkstaatraad vorentoe te neem – waarin daar aanbeveel was dat ons in verskeie gebiede 'n provinsie vorm, met die oog op ons eie regering en selfbeskikking (onafhanklikheid).  Destyds tydens die 1994 verkiesing,  is hierdie politieke party op die been gebring en met 37.5% positief gestem vir ons vryheid – selfbeskikking en volkstaat.    Dis hier waar die akkoord onderteken is.    Later is al hierdie aanbevelings betwis deur dieselfde bestuurslede en gefokus op hul eie belange op 'n plaasontwikkeling.  Vandag is hulle multi-kultuur en staan vir minderhede maar nie vir 'n spesifieke volk soos in 1994 nie.
*
NATIONAL ASSEMBLY MAKES HISTORY AS IT ADOPTS LAND REPORT
It has been described as a historic day in the National Assembly where MPs have agreed to amend the Bill of Rights for the first time in democratic South Africa.
LAND EXPROPRIATION WITHOUT COMPENSATION LAND EXPROPRIATION REPORT
CAPE TOWN – The National Assembly has passed a report calling for a constitutional amendment to allow for land expropriation without compensation.
The African National Congress (ANC), with the support of the Economic Freedom Fighters (EFF) and other smaller parties, managed to garner enough numbers to pass the report.
The adoption of the report follows a marathon 10 months of public hearings and debates on the desirability of amending the Constitution.
It has been described as a historic day in the National Assembly where Members of Parliament (MPs) have agreed to amend the Bill of Rights for the first time in democratic South Africa.
MPs debated the report for just under two hours before finally putting it to the vote.
Two hundred and one voted in favour and 91 opposed it.
**
quote
PARLIAMENT: Assembly votes to amend Constitution amid scenario planning for 2019 election, legal challenges
With a vote of 209 against 91, the National Assembly on Tuesday voted to amend the Constitution to expressly allow for expropriation without compensation. That result was on the cards after a 10-month process, and should not have surprised anyone. What will unfold next under the shadow of the looming 2019 election is what will be important, and none of it is guaranteed. But EFF leader Julius Malema, calling for 'black unity, in particular African unity', made sure everyone knew who should get the credit for this historic step – the EFF – as 2019 electioneering politicking marinated the debate.
The Struggle song on black land dispossession and pain, Thina sizwe esimnyama, sikhalelela izwe lethu… (*) resounded from the parliamentary benches of the EFF and ANC, and from a few other seats, as MPs stood waiting for the division the DA requested. Parliamentary tradition requires the bells be rung for five minutes. When the vote result was announced, it was 209 for and 91 against a constitutional amendment for land expropriation without compensation as recommended by the joint constitutional review committee.
That the vote happened on the eve of the birthday of Black Consciousness leader Robert Sobukwe, the founding president of the Pan-Africanist Congress (PAC), brings to full circle a 10-month process that started with the EFF motion, as amended by the ANC, being adopted on 27 February 2018, the 40th anniversary of Sobukwe's death. After Tuesday's vote and adopting, in a quick-fire step, ANC Chief Whip Jackson Mthembu stood on a point of privilege to announce that on Thursday, the last sitting of the National Assembly for 2018, the governing party would bring a motion to start the constitutional amendment drafting, most probably through an ad hoc committee or one established for a particular purpose.
The numbers had stacked up for the approval of the joint constitutional review committee report for weeks. Alongside the EFF and ANC, support came from the United Democratic Movement (UDM) and National Freedom Party (NFP), while during Tuesday's debate also in support emerged the African Independent Party (AIC) and African People's Convention (APC), with its MP Themba Godi calling it "a beautiful and befitting gift to Sobukwe".
It's really about the politics, and always has been. And the politics are rough and ready in the months before the 2019 elections. For the DA, it's about styling expropriation without compensation into a rallying cry at the hustings that it's now up to South Africans to use their votes to prevent the EFF and ANC from returning with sufficient numbers to affect a constitutional amendment to undermine property rights. That was the refrain from its speakers in Tuesday's debate.
Or as DA MP Glynnis Breytenbach put it:"This election road show for the EFF, paid for by Parliament and supported by the ANC, is nothing more than a cruel hoax. It has allowed thousands upon thousands of South Africans to believe that they will each receive a plot of land. Of course, the ANC has nothing of the sort in mind…"
Like the DA, other opposition parties opposed to compensationless expropriation also pointed out how the EFF led the public policy debates with the ANC under its thumb. "(T)he EFF tricked the ANC to support their motion regarding expropriation without compensation in Parliament. From that moment on, the EFF led the way in the matter and the ANC merely followed," said FF+ Chief Whip Corne Mulder.
But for the EFF and its leader Julius Malema that's not necessarily a bad thing. Having led the land expropriation push is a definite election ticket, and one that fits into the current race identity politics the party is pursuing. "This is happening after the successful motion of the EFF… And therefore anyone else, who doesn't want to hear this fact, is this person that wants to distort history," said Malema in the debate, in a clear reference to the EFF motion of late February. The process was fair, everyone was heard in the public consultations, but if this had been a referendum it would have come down 90% in favour of expropriation without compensation.
"White people, who came (to the public hearings) all of them… came in unison and opposed the expropriation of land. Where white interest and privilege is threatened, they protect each other. Why would people think alike like that, if it is not an issue of racism and privilege…" And so, added Malema, "black unity, in particular African unity, is very important", in an echo of what he said in late February 2017 when his motion on land expropriation without compensation was rejected on the back of ANC numbers with 261 votes in favour and 33 against – a move that led then president Jacob Zuma to censure his ANC parliamentary caucus.
On Tuesday, at a media briefing after the vote, Malema said it had been an important day. But there was just a hint of the behind-the-scenes politicking when Malema said that if the ANC chief whip had not risen on the next step, the EFF would have pushed for the start of the Constitutional Amendment Bill process. And here the future dispute will lie. The EFF in late February was content to have its state land ownership-focused motion amended by the ANC in return for support from the governing party whose focus is on a mixed economy in which compensationless expropriation is one means of land reform. That arises from the carefully phrased December 2017 national conference resolution that was adopted after a last-minute push, quite literally, from the radical economic transformation grouping. The EFF may not again be quite so accommodating, particularly if the 2019 elections turns out as it hopes – with more votes, and more public representatives.
As far as the EFF is concerned, victory of the ANC under President Cyril Ramaphosa is not guaranteed. And if Ramaphosa's Thuma Mina ANC does not win outright, they would need the EFF. "We might not want to amend the Constitution on the eve on elections," said Malema, in reference to the possibility of a return to Parliament with greater numbers – and being able to push for land nationalisation. Without doubt there's plenty of scenario forecasting all round. Or call it strategy and tactics planning. Many things are up in the air.
While the ANC will table the motion for the next step – an ad hoc committee and Constitutional Amendment Bill drafting – it's not clear when it would start working. Strictly speaking there are just seven working weeks left for this Parliament, which returns from recess on 7 February 2019 and rises on 2 April 2019. The 2019 elections are set to be before the end of May, as President Cyril Ramaphosa let slip, and the rumour mill seems to be settling on 5 May.
It's unrealistic to expect the constitutional amendment to be finalised by the current Parliament, even if that's what the report says. And Daily Maverick has reliably learnt the required law of general application – the Expropriation Bill – is again being delayed at Cabinet level and was not expected to be published for public comment by year end. In this game of scenario planning the ANC is hoping pressures would be eased by what party jargon calls an "overwhelming victory".
It's not guaranteed though. And so the ANC speakers in Tuesday's debate focused on process – it was all fair – healing the "original sin" of dispossession, history lessons in colonial and apartheid dispossession (the ANC was formed because of these discriminatory land laws) and styling the ANC as the party that had listened to South Africans in the countrywide public hearings where compensationless expropriation emerged as shorthand for social and historic justice. "Certain sectors of the South African and international (communities) continue to misrepresent the proposals," said ANC MP Vincent Smith, clearly in reference to some of the global lobbying by AfriForum, Freedom Front Plus and others.
"These sectors mischievously say our stance is informed by an anti-white agenda. The ANC never said whites or anyone should be discriminated against. "Is about redressing the original sin of dispossession…
This land is our land and we believe that meaningful reform that results in all of us, black and white, with equal access (to land) can no longer be postponed… Those who opposed the access to land (by all) must be remembered. It is those people that will keep us back from created (sic) a united, prosperous democratic SA."
The DA at a media briefing on Tuesday said it would head for the courts if the joint constitutional review committee was passed by Parliament. This could happen as soon as Wednesday afternoon after the National Council of Provinces (NCOP) deals with the report.
The immediate reaction of AfriForum, the alt-right grouping that said its fight against the "acceptance of the report will be continued in the courts at full steam",and to some measure that of AgriSA, was also to continue legal challenges."
AgriSA will continue to pursue all credible avenues to protect the interests of farmers and farming communities, including challenging an amendment of section 25 in court. Yesterday's decision by Parliament is not the final step in the process, and there is time and legal remedies remaining to halt an amendment," said the statement by organised agriculture.
There is a long road ahead, and the 2019 elections are key, in how expropriation without compensation will pan out, away from electioneering rhetoric. DM * Known by its shorthand "Thina sizwe", this Struggle song is about black South African land dispossession. It wassung by then president Jacob Zuma at the 15 December 2013 funeral of Nelson Mandela at Qunu, Eastern Cape, and at the memorial for Winnie Madikizela-Mandela. The Freedom Front Plus in July 2018 got hot under the collar when the song was sung as part of the World Choir competition. The lyrics roughly translate as: Thina sizwe esimnyama – We the black the nation; Sikhalelela izwe lethu – We are weeping for our land; Elathathwa ngabamhlophe – Which was taken away by whites; Mabawuyeke – They should leave it; Mabawuyek'umhlaba wethu – They should leave our land alone.
http://firstthing.dailymaverick.co.za/article?id=154751#.XAe-alUzaUk
C O M M E N T S   ON   LAND EXPROPRIATION WITHOUT COMPENSATION
THABO MBEKI
THABO MBEKI
****
PAID FOR THEIR LAND – NO FOOD AND JOBS – BONDS AND LAND BELONG TO BANKS
The UNCUT team tackles the land issue from an educated, researched, and objective perspective. Through expert opinions and insights, our documentaries shine a light on the misunderstood idea of #landexpropriation without compensation in South Africa.
other comments
ECONOMIC DISASTER
Two academics have painted a bleak picture of the likely outcomes of land expropriation without compensation. The findings from their macroeconomic impact assessment flags lower capital formation, a deep recession, rising budget deficits and debt levels. One of the academics, Roelof Botha from the University of Pretoria's Gordon Institute of Business Science joins us for some perspective on the findings.

FREEDOM FRONT PLUS
Expropriation without compensation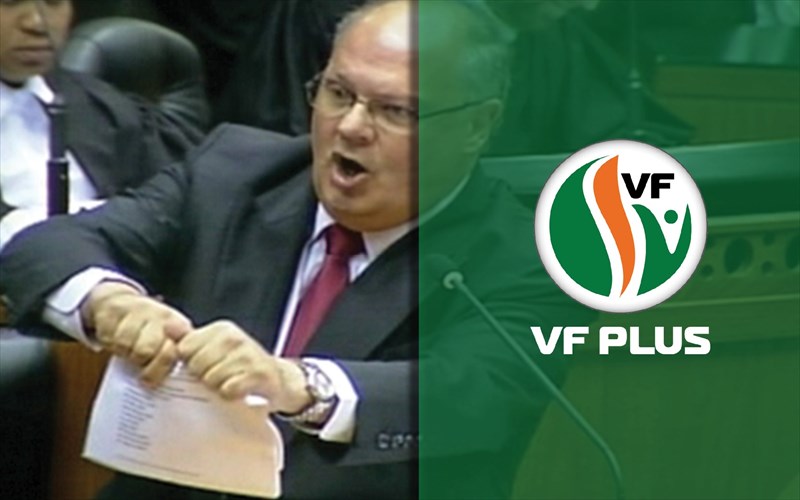 Corne Mulder, jy het ook deelgeneem en help skryf aan die grondwet wat al ons regte weggeneem het – grond – besittings – eiendom – menswaardigheid – swart bemagtiging – alles mooi netjies hierin vervat by Kodesa, saam met Mandela, Thabo Mbeki, Zuma, Ramaphosa, FW de Klerk, Roelf Meyer, Wessels, en veral  met George Soros en Slovo.   Daardie grondwet beskerm niemand nie, jy staan daarmee in jou hande.
Meerderheidsbesluit – meerderheid regeer – Dit word deel van jou grondwet wat jy help skryf het saam die kommuniste.  Waar is jou, FW / Roelf se waarborge nou heen?
>
https://www.vfplus.org.za/nuutste-nuus/besluit-oor-onteiening-sonder-vergoeding-soos-n-gifkelk-vir-suid-afrika
"Die verslag van die parlementêre komitee oor grondhervorming is nie die papier werd waarop dit geskryf is nie en die gevolge van onteiening sonder vergoeding hang soos 'n donker wolk oor Suid-Afrika se horison." Dit is hoe dr. Corné Mulder, hoofsweep van die VF Plus, vandag in die parlementêre debat oor onteiening sonder vergoeding gereageer het.
"Al Suid-Afrika se parlementslede het op Woensdag 21 Mei 2014 voor hierdie podium gestaan. Hier het ons 'n eed voor hoofregter Mogoeng Mogoeng gesweer om Suid-Afrika se Grondwet te handhaaf en te beskerm. Vandag sê julle nee wat, kom ons vergeet dié eed en verwyder 'n fundamentele beginsel van die land se Grondwet, 'n hoeksteen en basiese reg wat die wese vorm van die oppergesag van die reg in Suid-Afrika, soos vervat in die land se Grondwet.
"Onteiening sonder vergoeding is 'n kragtige instrument en dreigement in die hand van enige regering, totdat dit eindelik tog gebruik word. Dan word dit 'n giftige kelk teen die lippe. Onthou hierdie woorde en waarskuwing.
"Suid-Afrika is in hierdie haglike situasie omdat die EFF die ANC op 27 Februarie 2018 op 'n slu wyse oorreed het om hom in die parlement te steun oor onteiening sonder vergoeding. Vanaf daardie oomblik het die EFF die inisiatief gehad oor die saak en die ANC het gevolg. Selfs die finale aanbeveling in hierdie verslag is deur die EFF voorgestel en deur die ANC gesekondeer.
"Onteiening sonder vergoeding het die vermoë om enige staat 'n internasionale uitgeworpene te maak. Nie net president Donald Trump nie, maar selfs die egpaar Bill en Hillary Clinton het die ANC met hul besoek aan die land gewaarsku om nie die roete van onteiening sonder vergoeding te volg nie," het Mulder gesê.
Mulder het bygevoeg die parlement word mislei met die parlementêre komitee se verslag wat die parlement en die president nog in die verleentheid gaan stel.
Hy het gesê die verslag is nie die produk van 'n openbare deelnameproses, of van debat en ooreenkoms in die komitee nie en is fundamenteel gebrekkig oor die volgende redes:
Openbare vergaderings:
Daar is 33 vergaderings in al nege provinsies gehou waar gemiddeld sowat 75 mense by elke vergadering gepraat het. Daar is gemiddeld sowat 'n duisend mense hoofsaaklik daarheen aangery om deel te neem.
As hulle almal ten gunste van onteiening sonder vergoeding was praat ons van 33 000 mense en almal was nie ten gunste daarvan nie.
Geskrewe voorleggings:
Op 14 Maart vanjaar het pres. Ramaphosa in die parlement die publiek versoek om aan die proses deel te neem. Hulle het in groot getalle gehoor gegee aan sy versoek.
Meer as 630 000 skriftelike voorleggings is ontvang en meer as 200 000 e-posse is na die parlement gestuur. Nie een daarvan is aan die komitee of sy lede beskikbaar gestel nie. Die komitee het geen verslag wat handel oor die skriftelike voorleggings aangeneem of selfs net bespreek nie.
Wat skriftelike voorleggings aanbetref, was 75% gekant teen enige verandering aan die Grondwet.
Mondelinge aanbiedings:
"Daar is meer as vyftig mondelinge aanbiedings voor die komitee gedoen deur die burgerlike samelewing, akademici en sakewêreld – soos Business SA, die Vereniging van Banke en selfs Cosatu. Hiervan het 77% gesê die Grondwet moet nie verander word nie.
"Op 31 Julie, in die middel van die proses om oor die saak te besluit, het president Ramaphosa egter gesê: "Die ANC sal deur die parlementêre proses 'n voorgestelde wysiging aan die Grondwet finaliseer." Dit dui onteenseglik daarop dat hy toe reeds besluit het dit sal gedoen word, ongeag die openbare mening.
"In die hele proses is daar nooit in die komitee enige debat van enige aard toegelaat nie. Hoegenaamd geen debat nie. Dit is die eerste komitee sedert 1994 in Suid-Afrika se demokratiese parlement waar geen debat toegelaat is oor die inhoud of meriete van enige enkele feit wat onder die aandag van die komitee gebring is nie.
"Dit het verder gegaan. Selfs die finale aanbeveling wat vandag na die parlement gebring is, is nie gedebatteer nie. Geen debat is toegelaat nie. Die notule van die vergaderings sal dit bewys, alhoewel notules van die laaste twee vergaderings van die komitee nooit beskikbaar gestel is of aanvaar is nie.
"Die land en die wêreld moet daarvan kennis neem dat die proses wat die komitee gevolg het, 'n blote charade was. 'n Klugspel wat die geld en tyd van duisende mense gemors het. Die verslag is daarom nie die papier werd waarop dit gedruk is nie en moet verwerp word.
Published on Nov 13, 2018
The ANC and its supporters have deliberately tried to misuse the parliamentary Constitutional Review Committee on expropriation without compensation to obtain a false outcome regarding the land issue in South Africa. The FF Plus decided to take a stand against this and Dr Corné Mulder, Chief Whip of the FF Plus, objected strongly in the Committee against the ANC-driven scheming. Today, in his official submission to the Committee, Dr Mulder said, among other things, that the FF Plus is of the opinion that the current process followed by the Constitutional Review Committee is fundamentally flawed. He added that the FF Plus is also of the opinion that the Committee, which is chaired by two ANC MP's, is cooperating with ANC members to present to Parliament a report and process that does not reflect the truth and that will embarrass Parliament and the President. The EFF and the UDM are also keen to help the ANC do this. The FF Plus only decided to participate in the final process as it became evident that the abovementioned parties are willing to present to Parliament and the public of South Africa a flawed process with no regard for the truth. The FF Plus's observations and recommendations are made with the aim to object to the ANC's actions and to expose the invalidity and procedural errors of the process followed by the Committee. In amending the Constitution, or an entrenched part of it, by means of legislation, not a single procedural error can be made. The process that the Constitutional Review Committee followed is, however, riddled with flaws. The FF Plus distances itself from the procedural errors, outcome and recommendations of the Committee as well as the actions of some of the members of the Committee who were warned by the FF Plus on more than one occasion that their actions and the procedure that they are following is flawed.

https://www.youtube.com/watch?time_continue=1&v=OuDuyLCalzc
*
COMMENTS FOLLOW
Land expropriation without compensation is not going to give you land because all land will be under government.
There's vast amounts of land already in government's hands so you still don't have land.
Land expropriation without compensation is doing to kill the economy of this country so after government has taken the land you will be worse off
Malema is only looking to get to power to keep looting with his buddies like Mazzotti and he will forget about you.
*
And I quote
"90% of South Africans would have voted for land expropriation without compensation".   Clearly only 10% of the South African population understand what this predicament denotes and do not succumb to an overexcited exerciser of democracy.    When leaders fail at being strategic or when their innovation is of own interests they hype masses ……. Zimbabwe's biggest company "National Foods" (land beneficiary) officially seazed to operate today we just looking at land right now.   Maybe the idea is to let everyone build a house everywhere in the minds of the 90%.
*