Sien is glo – neem waar hoe grenslyne van onafhanklike lande is.   Klein landjies wat ook oor 'n eie weermag en veiligheid beskik.   Elke volk het die reg tot eie gebied(e) en om hulself onafhanklik te regeer.   Meeste lande binne hierdie GOS, het seker gemaak, die wat wil deel vorm van hul land is deel daarvan en steeds deel.   Hierdie lande het in 1991 almal 'onafhanklikheid' verkry op dieselfde basis, wat erkenning geniet het (Statebond (Gemenebes) van Onafhanklike State – SOS (GOS) ) (CIS – Commonwealth of Independent States).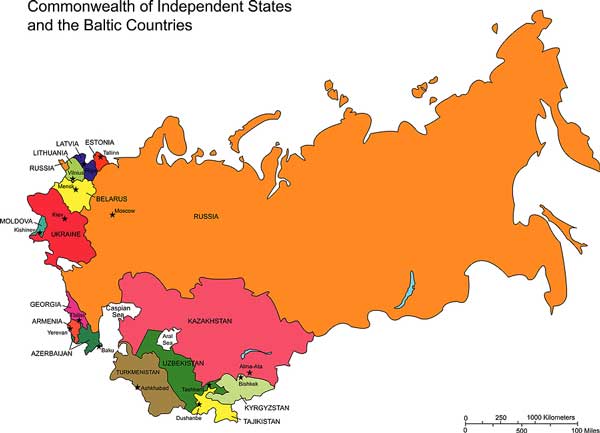 *
Verskeie ooreenkomste was vanaf die datum aangegaan in die tydperk van die Russiese val binne hierdie nuut geskepte 'GOS-CIS' streek / area.
Volgens opinie, tree die president van Rusland na regte op met ooreenkomste aangegaan met Ukraine en ander lande ?   Ander huldig die mening die Russiese leier oorspeel sy hand, maar doen hy?   Daar is vir etlike dekades al ooreenkomste bereik – gaan lees wat daardie ooreenkomste behels tussen hierdie eens kommunistiese Oos-blok lande wat op dieselfde beginsels onafhanklikheid verkry het.   Daar is ooreenkomste hoe hulle dit verkry het.

Wat ook duidelik is, ander lande moet hul weerhou van inmenging en opbou van weermagte of troepe aflaai, ens.   Indien Rusland verkeerd is, moet hulle dit ook staak.   Wat sit agter al hierdie optredes waar sommige berigte beweer alles is nie waar nie.  Wat is nou regtig die waarheid?
Wie maak hul regtig skuldig daaraan as lande hulself verdedig onder hul eie onderlinge ooreenkomste?  Watter reg het ander lande om daarmee in te meng?
*
Meer inligting – more information here:
Die Gemenebes van Onafhanklike State (GOS) is in Desember 1991 gestig deur elf lande uit die voormalige USSR: Armenië, Azerbeidjan, Belo-Rusland, Kazakstan, Kirghizstan, Moldawië, Oesbekistan, Rusland, Tadjikistan, Turkmenistan, Oekraïne. Georgië het daarby aangesluit in Desember 1993.
*
MORE ABOUT THE CIS
Commonwealth of Independent States (CIS) was created in December 1991. In the adopted Declaration the participants of the Commonwealth declared their interaction on the basis of sovereign equality.
 At present the CIS unites: Azerbaijan, Armenia, Belarus, Kazakhstan, Kyrgyzstan, Moldova, Russia, Tajikistan, Turkmenistan, Uzbekistan and Ukraine.
http://www.cisstat.com/eng/cis.htm
*
Q
1992
On 26 June 1992  in Minsk, eight CIS countries (Armenia, Belarus, Kazakhstan, Kyrgyzstan, Russia, Tajikistan, Ukraine, and Uzbekistan) signed the agreement on the coordination of work related to the issues of export control over raw materials, materials, equipment, technologies, and services used or capable of being used for the manufacture of weapons of mass destruction and missiles as their means of delivery. The States Parties agreed to pursue coordinated export control policies, including the application of sanctions against all economic entities that violate the export control requirements.
*
The Commonwealth of Independent States (CIS) was founded in 1991 after the dissolution of the Soviet Union.   Who is part of the CIS – 12 States — Armenia, Azerbaijan, Belarus, Georgia, Kazakhstan, Kyrgyzstan, Moldova, Russia, Tajikistan, Turkmenistan, Ukraine, and Uzbekistan.
Upon its foundation, members adopted the Alma-Ata Declaration, which confirmed the promise of the former republics to cooperate in various fields of external and internal policies, and announced the guarantees for implementation of the international commitments of the former Soviet Union. Georgia joined the Commonwealth in December 1993.
The CIS performs its activities on the basis of the Charter, adopted by the Council of Heads of States on 22 January 1993, which stipulates the goals and principles of the Commonwealth, and rights and obligations of the countries. The Charter states that the Commonwealth was formed on the basis of sovereign equality of all its members and that the Member States were independent and equal subjects under international law. The Charter also states that the CIS serves the development and strengthening of friendship, inter-ethnic accord, trust, mutual understanding, and cooperation between States.
The Commonwealth does not have supranational powers. Countries' interaction within the CIS is accomplished through its coordinating institutions: the Council of Heads of State, the Council of Heads of Government, the Councils of Foreign Ministers, Defense Ministers, Border Troops Commanders, the Inter-Parliamentary Assembly, the Executive Committee (the legal successor of the Executive Secretariat), and the Interstate Economic Committee of the Economic Union.
2000
At a 20-21 June summit in Moscow, the Presidents of the 12 CIS countries adopted a Declaration on Maintaining Strategic Stability. In this document, the Heads of States expressed their devotion to strengthening the world's strategic security. They welcomed Russia's ratification of the START II Treaty, the Comprehensive Test Ban Treaty (CTBT), and the 1997 package of agreements on missile defense. They expressed their hope that these documents would be ratified soon by the United States. In addition, they issued a joint statement saying that the Anti-Ballistic Missile (ABM) Treaty must remain the "foundation of global strategic stability, international security and peace around the world," and that any abrogation would undermine "steps toward the further reduction of strategic nuclear armaments." They also established a joint anti-terrorism center to be based in Moscow, which will be jointly run by Russia and Ukraine. Only Turkmenistan will not participate.
The CIS Heads of State and Heads of Government met in Minsk from 30 November to 1 December. Delegates focused largely on plans for the CIS Anti-terrorist Center, which will serve to coordinate the efforts of various bodies within CIS States to prevent the spread of international terrorist activity and help in conducting investigations and operations. They also adopted a joint declaration on the closing of the Chernobyl atomic power station, among other decisions.
Commonwealth of Independent States (CIS)
*

Behind the Deep state Ukraine-USA (Alex Newman)

2013-14 Ukraine bloodiest days
Holodomor -1929 –  Ukraine farmlands
Ukraine Scandal: Trump, the Deep State; and how the Democrats STOLE our government