Was this only an exercise?   It was during April 2021 when the Russians have surrounded Ukraine's border with tanks, missiles and thousands of men as it threatens 'full-scale combat operations.'    Footage has emerged of tanks, missile trucks and howitzers being freighted to the Crimea and the border of the disputed Donbass region in eastern Ukraine, which has been occupied by Russian-backed separatists since 2014.


*
It was stated that the Ukraine and Russia have remained technically at war since 2014.
Ukraine has accused Russia of having at least 32,7000 troops in occupied Crimea, and said Putin's officer are commanding some 28,000 separatist troops in the Donbass.   Tanks, military trucks and howitzers can all be seen allegedly being shipped to the border in unverified videos on social media.
Peskov told reporters: "No doubt such a scenario would lead to a further increase in tensions close to Russia's borders."
A NATO official told Reuters that Russia was undermining efforts to reduce tensions in eastern Ukraine, and NATO ambassadors had met on Thursday to discuss the situation.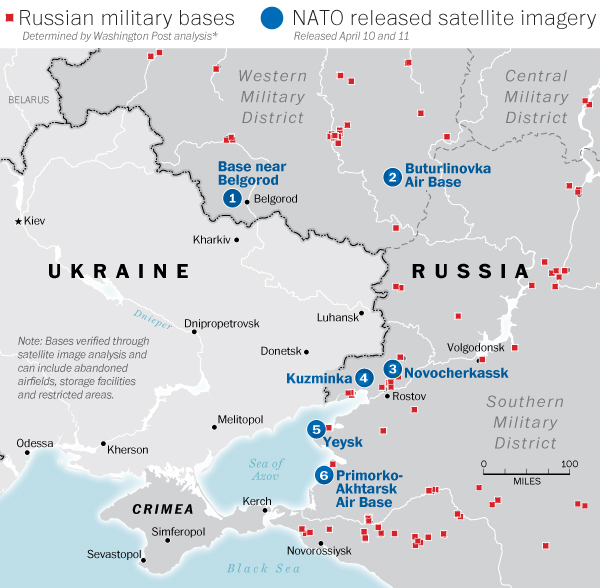 *
2021
https://www.thesun.co.uk/news/14529338/russian-troops-tanks-ukraine-war/
2015
Russia has pulled out of the treaty on Conventional Forces in Europe, a post-Cold War pact that limits the deployment of troops in Europe, so it is free to move extra troops and hardware to its western border.
A Reuters reporter saw workers at the site on Monday installing a metal fence and paving the road to the construction site, in a large cornfield near the village. Also there were several construction trailers, an excavator and heaps of rubble behind the fence.
Soloti –  Russia has started to build a huge military base housing ammunition depots and barracks for several thousand soldiers near the Ukrainian border, a project that suggests the Kremlin is digging in for a prolonged stand-off with Kiev.
The base, when completed, will even have its own swimming pool, skating rink and barber shop, according to public documents. This week workmen were erecting a fence in a cornfield outside the village of Soloti to mark out the perimeter, and told a Reuters reporter to leave, accusing him of being an Ukrainian spy.
In almost the same spot there was a flurry of military activity in April last year that coincided with intense fighting across the Ukrainian frontier that lies about 25 km (15 miles) away. A squadron of Mi-24 attack helicopters was seen there at the time, as well as army tents and trucks.
According to tender documents published on the Russian government website zakupki.gov.ru, the ministry is building the military base on a 300-hectare site near Valuyki, a small town not far from Soloti.
The ministry intends to build nine barracks for 3,500 soldiers, warehouses for rockets, artillery weapons, and other munitions with a total area of over 6,000 square meters.
In April, Russia staged massive military exercises at the southern border of Ukraine and on Crimea prompting intense concern in Kyiv and the West. But just a few weeks later the troops pulled back as suddenly as they appeared. What was behind this show of force by Vladimir Putin?
Russia's escalation at the Ukraine border: Show of force or a failed threat to the West? | DW News
*
22 April 2021
The Russian defense minister on Thursday ordered troops taking part in military drills near the Ukrainian border to return to their regular positions. The move could end weeks of tension caused by a buildup of troops and weaponry at the Ukraine border. "I believe that the goals of the snap check have been fully achieved. The troops have demonstrated their ability to provide a reliable defense of the country. In this regard, I have decided to complete the inspections in the Southern and Western military districts," Defense Minister Sergey Shoigu said in Crimea, the peninsula Moscow annexed from Ukraine in 2014. Ukrainian President Volodymyr Zelenskyy welcomed the pullback, saying the move "reduces tensions."
https://www.youtube.com/watch?v=dJy1I-S7abU
*
Ukraine says Russia will soon have over 120,000 troops near its borders. The US says the Russian build-up is bigger than 2014 – when it has annexed Crimea. Will Russia launch an offensive against Ukraine? WION's Palki Sharma tells you more.
*
Russia Ukraine War 2021 – Will Ukraine Crisis trigger World War 3? Geopolitics Current Affairs
*
Google and Facebook
A Russian court has fined Google and Facebook for failing to delete banned content that Moscow deems illegal. Russia has already placed a punitive slowdown on US social network Twitter for not deleting banned content.
*